<! MP3 09/20/08 > <! update 00/00/00 > <! pix 02/10/11 > <! icons 02/10/11 >
---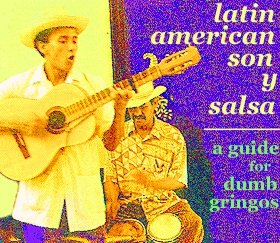 Welcome to my "guide" to some of my favorite Spanish-language music, stuff from Cuba, Puerto Rico, Latin America and beyond...
---
This page covers the letter "B"
---
A | B | C | D | E | F | G | H | I | J | K | L | M | N | O | P | Q | R | S | T | U | V | W | X | Y | Z | Comps
---
Cuban Music Links | Musical Styles | Record Label Guide
---

Don Barreto "1932-1935" (Harlequin, 1991)


Wow. Super-sweet recordings from one of the great early Cuban jazz guitarists. Emilio ("Don") Barreto toured Europe extensively during the 1920s and '30s, playing both in straight jazz and Latin American ensembles. His own recordings were a perfect mix of both styles; fans of gypsy jazz legend Django Reinhardt may find a similar appeal to Barreto's warm yet aggressive picking style. This batch of his earliest recordings on British Decca isn't as varied as the third Harlequin collection, Melody's Bar (below), but it's still pretty spiffy.
Don Barreto "Volume Two" (Harlequin, 1991)


Don Barreto "Melody's Bar: 1932-1946" (Harlequin, 1994)


Gorgeously sweet, melodic dance music from this Puerto Rican expatriate group. Recorded in Paris, these songs were obviously influenced by the ultra-popular Hot Club of Paris, particularly the Django Reinhardt-y guitar on several tracks. Other distinctive instrumentation includes the clarinet and flute of Filiberto Rico and Luis Fuentes. I love this CD! You might too.

Ray Barretto "Descarga Criolla" (Caney, 1999)


A great selection of latin-jazz material from drummer Ray Barretto, who worked extensively in New York's explosive bebop and post-bop jazz scenes, as well as in some of the top latin bands of the 1950s and '60s. I'm not sure of the exact time period covered in this collection; from the sound of things, I'd guess the late 'Sixties through the mid-'Seventies, although the liner notes give no specifics. Well, whatever the era was, the music itself is simply awesome. This set tilts heavily towards the "latin" side of the equation, and has plenty of swinging, solid grooves, with plenty of flashy percussion by Barretto... Cool stuff, certainly worth checking out! Recommended.


<! also - B0002ITAY2 >

Ray Barretto "Acid" (Fania, 1968)



Drummer Ray Barretto's debut for the burgeoning Fania label marked a sharp stylistic departure from his earlier work as a jazz sideman and a charanga bandleader. Still, despite the promising album title, this is hardly the Latin-psychedelic freakout you might imagine... The opening track, the aptly titled "El Nuevo Barretto," is pretty innovative, and a few tunes anticipate the sleek new "salsa" sound of the coming decade, but much of the album is a hangover from the R&B-tinged mid-'60s boogaloo scene, with a few jazzy flourishes woven in for good measure. By the standards of the boogaloo era, it's a better-than-average set, but it's not as electrifying as his later work. (Produced by Jerry Masucci.)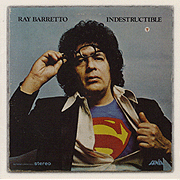 Ray Barretto "Indestructible" (Fania, 1973)



When Barretto's band walked out on him in '73, he regrouped with a new crew that, on the face of it, was pretty jazz-oriented. But when he cut loose and went for the old stuff -- guaracha-style dance tunes recalling the glory years of Arsenio Rodriguez and even a tune from 1930s bandleader Rafael Hernandez -- he paved the way for a bold-sounding modern salsa. Blending triple trumpets with a single flute, he fused the delicate sounds of old-school charaga with a more forceful, horn-based approach. It's archetypal 'Seventies salsa, some songs better than others, but all pretty good. Definitely worth checking out!

Joe Bataan & Las Fulanos "King Of Latin Soul" (Vampisoul, 2009)



New stuff from one of the legends of '60s Latin-funk boogaloo... Bataan is a Filipino-American from New York who was one of the top-name artists on the Fania label, and had several big hits in the 1970s, including an early rap classic recorded back in '79. This is his second album on Vampisoul, recorded after a two-decade retirement that started in 1981. His voice ain't what it used to be, but he's still got a funky band and he sure knows how to party. Nice to hear an old-timer gettin' down and gettin' gritty.


<! * 1967 Gypsy Woman (Fania 340) * 1968 Subway Joe (Fania 345) * 1968 Riot! (Fania 354) * 1969 Poor Boy (Fania 371) * 1970 Singin' Some Soul (Fania 375) * 1971 Mr. New York & The East Side Kids (Fania 395) * 1972 Sweet Soul (Fania 407) * 1972 Saint Latin's Day Massacre (Fania 420) * 1972 Live From San Frantasia (unreleased, Fania 432) * 1973 Salsoul (Mericana) * 1975 Afro-Filipino (Salsoul) * 1980 Mestizo (Salsoul) * 1981 II (Salsoul) * 1997 Last Album, Last Song (Bataan Music) * 2005 Call My Name (Vampisoul) >

Billo's Caracas Boys "1941-1944" (Harlequin, 1999)


Wartime swing music from one of Venezuela's hottest bands. Of course, there's a definite latin dance flavor, but these guys -- along with Puerto Rico's Rafael Hernandez -- stand out as early Latin American bands who really "got" the soft-but-swinging vibe of North American big bandleaders such as Glenn Miller and Artie Shaw. If you've ever purchased some old Spanish-language LP of schmaltzy vocal music that seemed to be taking its cues from Guy Lombardo instead of Benny Goodman, this is a disc which may help reaffirm your faith that, yes, our friends down south could also blow that mellow jive, instead of just tearing the mambo house down. A really cool collection of rare old recordings.

Bimbi y Su Conjunto Oriental "La Frutabomba: 1937-1941" (Tumbao, 1994)



The first recordings by this bouncy, saucy acoustic trio. Many of these catchy songs are about sex (as opposed to romance), so the general vibe is pretty upbeat and nudge-nudge, wink-wink. Similar to the better-known Trio Matamoros, but not as stately. Hella fun, though -- and highly recommended. (For similar material, check out my guajira page.)
Ruben Blades -- see artist discography

Willie Bobo "Feelin' So Good" (Verve, 1967) (LP)


Goofy easy-listening, Latin style... One can't help but suspect that Bobo could have recorded something more substantial than a set of covers of 'Sixties pop tunes such as "Call Me," "Sunny," "Yesterday" and "Sunshine Superman..." Still, it probably paid the rent...
Buena Vista Social Club -- Discographies and Reviews

Buena Vista: The Next Generation "Buena Vista: The Next Generation" (Pimienta, 2002)



Bandleader Juan de Marcos brought together this jam session which features many of the descendants of the BVSC crew (and many of their golden age compatriots such as Felix Chappotin, whose son, Elpidio, toots the trumpet on several tunes). Also included are progeny and close relatives of Ruben Gonzales, Miguelito Cuni, Compay Segundo and others. A few old-timers also chime in, such as Pio Leyva and Generoso Jimenez... it's telling that some of the other Social Clubbers, such as veteran vocalist Puntilla, whose son, Manuel Licea, sings on here, had already passed on by the time this album came out. I wouldn't go into album this expecting the melodic lyricism of the first few BVSC releases -- this is a much more hurried, percussion-heavy affair, a bit harsh by comparison, but it's certainly got plenty of solid musicianship throughout.
---
More Albums - "C"
---



---