<! MP3 09/20/08, 02/10/11 > <! update 00/00/00 > <! pix 02/10/11 > <! icons 02/10/11 > <! Facundo Cabral http://www.nytimes.com/2011/07/11/arts/music/facundo-cabral-argentine-singer-songwriter-dies-at-74.html?hpw > <! Milton Cardona www.nytimes.com/2014/09/27/arts/music/milton-cardona-keeper-of-new-york-salsas-beat-dies-at-69.html?hpw&rref=obituaries&action=click&pgtype=Homepage&version=HpHedThumbWell&module=well-region&region=bottom-well&WT.nav=bottom-well&_r=0 Milton Cardona & Eya Aranla "Bembe" (American Clave, 1986) B000005A2M B000QQUFHG Milton Cardona "Cambucha" (American Clave, 1999) B00001OHA4 B001H1BH26 >
---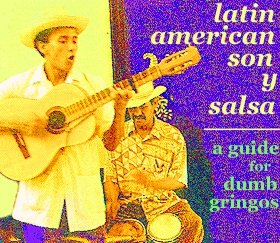 Welcome to my "guide" to some of my favorite Spanish-language music, stuff from Cuba, Puerto Rico, Latin America and beyond...
---
This page covers the letter "C"
---
A | B | C | D | E | F | G | H | I | J | K | L | M | N | O | P | Q | R | S | T | U | V | W | X | Y | Z | Comps
---
Cuban Music Links | Musical Styles | Record Label Guide
---
Cachao and the descarga jazz scene

Oscar Calle "Cuba En Paris" (Iris Musique, 1992)


Oscar Calle "Oscar Calle's Cuban Band: 1932-1939" (Harlequin, 1999)


Perky tipica recordings of one of the best Latin American bands in Paris during the Great Depression era... Pianist/flautist Oscar Calle formed his band in part with seasoned musicians from the recently-disbanded Don Apiazu Orchestra, and while this was clearly music meant for dancing, there's also a deep streak of hardcore Afro-Cuban percussion running thoughout. The opening numbers on this disc feature female vocals by Joaquina Serrano, the male vocals on later tracks are a bit cornier, but no less enjoyable. Another great archival release from the folks at Interstate Music!

Pupi Campo "Rhumbas And Mambos: 1948-1951" (Tumbao)



Wonderful! Cuban dance music with a heavy North American big band influence, but still with plenty of island-style zip and zam. Great vocals, a killer band (including Tito Puente, Chano Pozo and a bunch of yankee jazzmen...) playing with a strong emphasis on the melody. Highly recommended.


<! Pupi Campo, a Cuban bandleader who brought rippling syncopation to Jack Paar's "Morning Show" on CBS television in the early 1950s and to his long career in nightclubs around the country, died on Dec. 12 at a hospice in Las Vegas. He was 91. Pupi Campo and his band played on Jack Paar's "Morning Show" from 1954 to 1956 and in nightclubs across the country. His wife, Joette, confirmed the death. Mr. Campo and his band offered their boisterous Latin sounds on Mr. Paar's show from 1954 to 1956. He was part of a transformation of "The Morning Show" to an entertainment format from news and features; Mr. Paar replaced Walter Cronkite as host. By then Mr. Campo had made his name on the nightclub circuit as "the rumba maestro," a name The New York Daily Mirror gave him in 1948. Mr. Campo also served as something of a foil to Mr. Paar. "With his Latin American accent and deadpan playing," Val Adams of The New York Times said in 1954, "Mr. Campo has the ability of being amusing with some of his straight lines." The relationship had its darker moments, too. Mr. Campo sued Mr. Paar after Mr. Paar was quoted in a newspaper article as saying Mr. Campo lacked talent and was musically unfit to perform on a live broadcast. After leaving the show, Mr. Campo and his band returned to performing at nightclubs, like the Deauville hotel in Miami, the Paramount and the Chateau Madrid in New York, and Caesars Palace in Las Vegas. The band also performed on Ed Sullivan's "Toast of the Town" and on "The Name of the Game." Several Latin musicians who went on to become stars played in Mr. Campo's band, among them Tito Puente, Joe Loco and Cachao López. Jacinto Campillo (Pupi was his nickname, and he later compressed his last name) was born in Havana on May 1, 1920, to Jacinto and Delores Trujillo Campillo. He came to New York when he was 20 and was soon performing as a dancer at a Manhattan nightclub. There he met Diosa Costello, a stage actress, whom he married a year later. Through Ms. Costello, Mr. Campo met the columnist Walter Winchell, who suggested that he become a bandleader. It was a good idea. In a 2003 review of bands from the past, Latin Beat magazine wrote of "the infernal heat radiated" by the Campo band. Mr. Campo's first marriage ended in divorce. While performing on Mr. Paar's show, Mr. Campo met the singer Betty Clooney (Rosemary's sister) and they married soon after. She died in 1976. Besides his third wife, Joette, Mr. Campo is survived by a son, Carlos, and three daughters, Cari Leary, Cathy Muckle and Cristi Stretz, all from his second marriage, as well as a sister, Joann Herrera; 11 grandchildren; and five great-grandchildren. >

Havana Carbo "Luna De Varadero" (Consolidated Artists, 2003)



Havana Carbo "Through A Window, Like A Dream" (Modl Music, 2006)



Elegant, unhurried, classy ballads from Cuban-American vocalist Havana Carbo... She sings in several romance languages -- French, Spanish, Italian and Portuguese -- covering classics by Augustin Lara, Ernesto Lecuona and Bola De Nieve, as well as Brazilian composers Djavan and Edu Lobo. Highlights include a vocal version of Django Reinhardt's achingly beautiful "Nuages," and a gentle duet with guitarist Romero Lubambo on Edu Lobo's "Pra Dizer Adeus." The unifying force is Carbo's warm, weary, authoritative voice -- moving beyond middle age, Carbo is an older singer, and like many ballad singers, she has aged well, bringing emotional depth and color into her work, as well as a sense that she simply does not need to rush through any of this, or worry about how her work will be received. And while she is singing in the romantic tradition of Latin America, she eschews the bombastic side of the boleros -- hushed, calmer singers such as Joao Gilberto and Ella Fitzgerald (in her softer moments) come to mind... Perhaps there could be more variety to the tempo, but taken in small doses, this is a very rich and rewarding album. Worth checking out!
Cascarita -- A killer singer!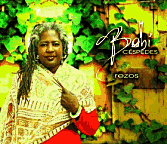 Bobi Cespedes "Rezos" (Six Degrees, 2002)



A challenging, adventurous solo project by vocalist Bobi Cespedes, a veteran performer of Berkeley, CA's venerable Conjunto Cespedes. Mixing rock, rap and moder, electro-tinged jazz with the well-established Cespedes brand of Yoruban-influenced Afro-Cuban dance music, she pushes the boundaries of her genre. I didn't always enjoy the results (in an I'd-put-this-on-to-chill-to-at-home kinda way...) but I definitely respect the process. Innovative and worth checking out.

Charanga Cakewalk "Loteria De La Cumbia Lounge" (Artemis/Triloka, 2004)


This is pretty cool... Working out of Austin, TX, auteur Michael Ramos (formerly of the rock band, the Bo-Deans) tackles Latin American dance music and gives it an odd, eerie, playful, kitschy twist... Ramos plays almost all the instruments on this album -- piano, Hammond organ, accordion and trumpet -- and wrote or cowrote all but one of the songs. It's similar in some ways to the avant-Cuban crossovers of Marc Ribot, but a little less cerebral and more of a mind candy album. It's fun. At first I wasn't that into this album, but then its goofy indie-rockish playfulness started to come through and I got into it. There are a lot of textures and layers to this album... Some of it's pure camp, some of it's deep musicianship and much of it is just some groovy tunes to have on at your next margarita-drenched backyard barbeque. Worth checking out!
Charanga Cakewalk "Chicano Zen" (Artemis/Triloka, 2006)

Jose Miguel Class "El Gallito De Manati" (Ansonia)


Another fine Puerto Rican jibaro singer, in the style of the great Ramito, with great guitar playing backing his high, keening vocals, and several songs shared between their repertoires. I'm not terribly familiar with his repertoire, but it looks like he morphed into a romantic balladeer in his later career: this is Class at his most traditional.
Jose Miguel Class "El Ausente" (Ansonia)


La Clave "La Clave" (Verve, 1973) (Reissued by Dusty Groove, 2008)


(Produced by Tony Bruno)
This San Francisco-based Latin funk-jazz ensemble cut a wide swath on the Bay Area music scene in the early 1970s, ultimately recording this fast-paced, funky album which showcased both the band's Latin American roots and modern, fusion- and dance-oriented elements. There are some interesting choices in repertoire, such as an amped-up version of "Sally Go Round The Roses" (a folk-pop hit for others a few years before) and a hefty dose of "Low Rider"-style Chicano funk. In the studio, La Clave's leader Benny Velarde made room for legendary jazz-pop composer-arranger Lalo Schiffrin, who plays keyboards and contributes a couple of tunes as well. This may be a bit forceful for the casual jazz fan, or Latinophile, but acid jazz fans will be psyched by this reissue on Dusty Groove's fledgling label.

Willie Colon "El Malo" (Fania, 1968)



A peppy but stylistically limited debut album by trombonist/arranger Willie Colon, one of the leading lights of the New York salsa scene. This disc is packed with lingering, late-'60s examples of the "boogaloo" dance craze, some of which, like "Skinny Papa" are pretty catchy, but nowhere near as cool as his later work. The jazz-oriented material is also good, but really just a stepping stone to future greatness. Worth checking out, especially to get a glimpse at his early years. Hector LaVoe leads on vocals.

Willie Colon "El Juicio" (Fania, 1972)



Kind of a standard-issue salsa set, with Colon's band pumping away while Hector LaVoe sings in his usual smooth, lithe style. Honestly, this one didn't totally grab me, but it's still strong material from the days when the salsa scene was still gathering steam.

Willie Colon "Lo Mato Si No Compra Este LP" (Fania, 1973)



Solid '70s salsa, though sort of on the mellow side, with a small-ish, compact band. Mostly full of good groove, but with a couple of lackluster tracks, and even the occasional aesthetic mild blunder (such as the closing synthesizer blatt on "Senora Lola...") Mostly, though, it's classic material, with Hector LaVoe on vocals, and the rest of the Colon crew -- Joe Torres, Milton Cordona, etc. -- in tow. Who's the dude he's threatening to shoot?
Willie Colon & Ruben Blades "Metiendo Mano" (Fania, 1977)


Willie Colon & Ruben Blades "Siembra" (Fania, 1978)


Willie Colon & Ruben Blades "Siembra: Live!" (Fania, 2010)



Discovered in the vaults thirty years after the original show, this album captures Blades and Colon still near their peaks in a live 1980 show... Worth checking out if you want to get a sense of what the energy level was like at the biggest salsa shows of the era...
Conjunto Casino "Cancion Del Alma: 1941-1945" (Tumbao, 1995)



Delightfully maudlin slower dance tunes -- boleros and guajiras -- from one of the most popular bands of the 1940s and '50s. Features vocals by Roberto Espi, Nelo Sosa and Roberto Faz.
Conjunto Casino "Mambo Con El Cha-Cha-Cha" (Tumbao)


Up-tempo, almost chirpy, Cuban dance music from the early '50s. By this time the Perez Prado-inspired mambo craze is in full swing, and these catchy tracks share his slick, brassy style. Excellent vocals by Roberto Faz, Roberto Espi, and "Rolito" Rodriguez. Lots of fun.
Conjunto Casino "Rumba Quimbumba: 1941-46" (Tumbao)



Conjunto Colonial De Nelo Sosa "A Burujon Punao: 1949-1953" (Tumbao)


Mellow material, cornier than the first Nelo Sosa disc (TCD-047). Features Miguelito Valdes as vocalist, primarily on romantic boleros and slower guajiras. Nice, but not as swinging as the other CD.

Conjunto Gloria Matancera "Vengo Arrollando: 1937-1949" (Tumbao)



Not to be confused with the long-lived ensemble, Sonora Matancera, this Cuban band from Matanzas featured a simpler, more old-timey, down-home sound. Nice, rolling percussion, trumpet and excellent tres playing as well as delightfully nasal vocals. Recommended!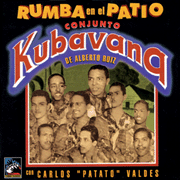 Conjunto Kubavana "Rumba En El Patio: 1944-1947" (Tumbao, 1994)


Smouldering, sinuous, uptempo dance music with a heavy Afro-Cuban flavor. The vocals -- which include early work by Roberto Faz and Roberto Espi -- are great, but more important is the music: along with muscular conga playing by Carlos "Patato" Valdes, the piano, bass and melodic trumpets bear all the marks of "modern" New York-style salsa. About thirty years ahead of its time, this band really kicked ass.
Conjunto Matamoros "Bailare Tu Son: 1948-1952" (Tumbao)


Miguel Matamoros, Rigoberto Diaz and Siro Rodriguez (the Trio Matamoros) stretch out a little with a larger band in these awesome mambo-era recordings. A very different sound than their usual acoustic bent -- this is Matamoros with a full-on Afro-Cuban dance beat, killer horn section and lots and lots of soul. Also features several tracks with the distinctive "coroneta china", also heard on a Trio Matamoros album on a Harlequin Records collection. Highly recommended.

Conjunto Niagara "Que No Se Acaba El Bongo: 1945-1947" (Tumbao)



A bunch of rare, postwar Cuban oldies, programmed more or less in chronological order. Despite vocals by Ruben Gonzales, the early tracks (from 1944-46) are a little flat at times, and start to sound alike. Midway through the disc, though, things pick up, and tracks begin sounding more distinctive. In 1948, vocalist Nelo Sosa joined the band, and when Niagra fell apart later that year, he and other band members set up shop as the vastly superior Conjunto Colonial.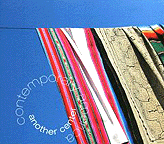 Contemporary America "Another Center" (Adventure Music, 2007)


A far-flung, highly experimental world-jazz collaboration featuring artists from seven different Latin American countries, including Argentina, Bolivia, Brazil, Chile, Columbia, Peru and Venezuela... The Brazilian faction is the strongest, with four of the artists hailing from the luso-sphere (although the vocals are mainly in Spanish...) The album's producer is pianist Benjamin Taubkin, while avantnik Ze Miguel Wisnik chimes in on the album's last track. The album is a little too noodly for me, but folks who enjoy albums from the likes of Marlui Miranda, Claudia Villela and Marta Topferova may find this pretty engaging, particularly the tunes that feature Columbia vocalist Lucia Pulido... Certainly and ambitious and challengingly diverse album.
Celia Cruz -- The Queen of Salsa
Compay Segundo -- The grand old man of guajira
Cuarteto Caney "...With Machito: 1939-1940" (Tumbao, 1991)


Cuarteto Marcano "1939-45" (Harlequin, 1996)


De-lovely stuff, made by some of New York's early Puerto Rican stars. Along the same lines as recordings by Cuba's Trio Matamoros, though livelier and jazzier; has the same gorgeous vocal harmonies, but with a trumpet added on for good measure. Highly recommended.

Cubanismo "Greetings From Havana" (AIM, 2007)



Swinging, driving, unremitting Cuban son, featuring a punchy horn section led by Jesus Alemany on trumpet, backed by a tight brass quartet and rock-solid rhythm section... Cubanismo haven't recorded for several years, and they've clearly marshaled all their power for this latest effort -- great traditionally-oriented dance music with an electrifying feel, though not too blaring or jazz-oriented. If you like old-school salsa, this album will get you up and dancing before you know what hit you. Nice to hear these guys back in action!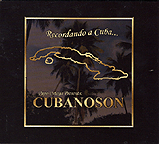 Cubanoson "Recordando A Cuba: Papo Ortega Presente Cubanoson" (Cubanoson Productions, 2006)



A solid, self-released set of traditionally oriented salsa/son from a New York City-based ensemble, led by pianist Leonel "Papo" Ortega... This disc doesn't go places we haven't been before, but it's good stuff... Live or on record, this is a band that can get your booty shaking and your feet slippin' around.

Julio Cueva "La Butuba Cubana: 1943-1944" (Tumbao)



Outstanding dance music featuring pleasantly muted brass arrangements and warm vocals. Cueva was sort of a Cuban Ziggy Elman, a sweet-sounding trumpet player who briefly set out on his own after stints in popular orchestras such as the Hermanos Palau band. All but four of the tracks on here feature vocals by Orlando Guerra (aka "Cascarita"), and the last two tracks feature Cueva as part of an early Bebo Valdes band. Recommended.

Julio Cueva "Desintegrando: 1944-1947" (Tumbao, 1996)



A stunning companion to the Tumbao's earlier Cueva collection (La Butuba Cubana), picking up right where that set left off. As with the first Cueva CD, most of the vocals are by Orlando "Cascarita" Guerra, whose range broadens from sweepingly corny ballads to super-swinging later tracks. The band follows the same arc, and by the postwar years they have a sharp sound with a strong big band/jazz feel to it. Highly recommended! (Also check out the Cascarita collection, and his work with the Orquesta Hermanos Palau both on the Tumbao label.)
Xavier Cugat --see artist profile

Jose Curbelo "Rumba Gallega: 1946-1951" (Tumbao)



A Cuban pianist who emigrated to New York in the late 1930s, Curbelo quickly hooked up with percussionist Tito Puente, who is featured on most of these tracks. The band also included vocals by the fabulous Tito Rodriguez and bongos by Chano Pozo, who brought the Cuban gospel to the jazz world while gigging with Dizzy Gillespie. Curbelo's approach is a little effete, with more than a touch of big band sensibility, but still pretty rocking. This is a goodie.
Jose Curbelo "Live At The China Doll, v.1" (Tumbao)



Includes a live show from 1946 featuring Tito Puente and Tito Rodriguez, as well as studio recordings from 1952-1954.
Jose Curbelo "Live At The China Doll, v.2" (Tumbao)


---
More Albums - "D"
---



---