<! MP3 09/15/08 > <! update 09/15/08 > <! pix 09/15/08 >
---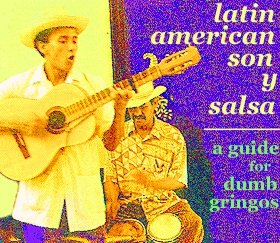 Welcome to my "guide" to some of my favorite Spanish-language music, stuff from Cuba, Puerto Rico, Latin America and beyond...
---
This page covers the letter "Z"
---
A | B | C | D | E | F | G | H | I | J | K | L | M | N | O | P | Q | R | S | T | U | V | W | X | Y | Z | Comps
---
Cuban Music Links | Musical Styles | Record Label Guide
---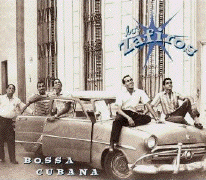 Los Zafiros "Bossa Cubana" (Nonesuch/World Circuit, 1999)



Los Zafiros "Los Zafiros Story" (Ahi-Nama, 2000)


This Beatles-era Cuban group mixed North American doo-wop and teen-pop with Latin American boleros, Cuban son and Brazilian bossa nova. To be totally honest, I didn't think the Nonesuch collection (which covered their career from 1963-'67) was as completely, colossally fabulous as all the other kids said it was. Me, I think the newly released Story CD is way more awesome: recorded in 1963, during the band's first flush of fame, these tracks are full of pep and vigor, and do a better job of showcasing their rock-pop influences, as well as their electrifying stage presence. The Frankie Lymon influences are more consistent, and the subtle interplay of rock and son motifs is pretty cool. Really, either of these discs will probably come as a revelation -- the Nonesuch album has better liner notes, but the Ahi-Nama release has a little more bounce in its booty. Both are highly recommended!
Los Zafiros "Du-Du-A" (Polygram, 2001)


Los Zafiros "Zafiras - Locura Azul" (Soundtrack) (Clave, 2007)


Los Zafiros "Bellecita" (Maype)



A reissue of one of their original albums from the 1960s.

Alberto Zayas "Grupo Afro-Cubano De Alberto Zayas: El Melodioso" (Tumbao, 2001)


Folkloric, percussion-based guaguanco-style rumba material, recorded in Havana, between 1955-56. This group, under the direction of bandleader Alberto Zayas, featured vocals by popular singer Carlos Embale, and Roberto Maza. Fans of percussion-based groups such as Los Munequitos De Matanzas should love this album -- the fine vocal performances make it even more accessible to the casual listener.
Zemog El Gallo Bueno "Zemog El Gallo Bueno" (Aagoo, 2002)



An intriguing blend of world beat and Afro-Latino dance styles, leaning more towards the salsa end of the mix. Unusual booty-shaking party music, with weird dips into the wellspring of free-jazz and what sounds like Eastern European dance music. Bandleader Abraham Delgado-Gomez has been at this mix'n'match approach for a while now, his last Boston-based band, Jayuya, turned people's heads a few years back; this disc may have a similar effect.

Zemog "Cama De La Conga" (Aagoo, 2006)



Cool, weird, and getting better with every album. When these East Coast guys started out a couple of years ago, they were like the forgotten love child of Marc Ribot and Crash Worship; now their interest in experimental Latin dance music has crystalized and the band's musical chops have greatly improved -- so now when they play their salsa riffs all tweaky and freaky, it sounds less fragmented and chaotic, and more like these guys are really onto something. There's also a strong hint of driving African rhythm here; indeed, this band may be to Cuban son what Antibalas is to Afrobeat: offbeat innovators playing to the beat of a different drum. It's an acquired taste, but defintely worth checking out.

Rafael Zequeira & Maria Teresa Vera "El Legendario Duo De La Trova Cubana" (Tumbao)



Ancient recordings by one of the earliest recording stars in Cuba, and a trailblazing female singer. Teresa Vera later worked with guitarist Lorenzo Hierrezuelo (Compay Segundo's cousin and musical partner), but these early works from 1916-1924 are the recordings that set the pace for her later work and for Cuban popular song in general. The vocal accompaniment by Rafael Zequeira is not always top-notch (or in tune) but Teresa Vera's vocals and guitar are... Not as dynamic as later Cuban music, but compelling nontheless, and packed full of some of Cuba's most cherished anthems. Songs such as "Extracto De Alfonsa" may be familiar to acoustic music fans.
---
Compilation Albums
---



Brazilian Music
World Music Index


---