<! MP3 09/20/08, 02/10/11 > <! update 00/00/00 > <! pix 02/10/11 > <! icons 02/10/11 >
---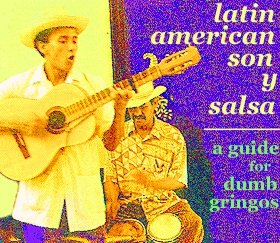 Welcome to my "guide" to some of my favorite Spanish-language music, stuff from Cuba, Puerto Rico, Latin America and beyond...
---
This page covers the letter "E"
---
A | B | C | D | E | F | G | H | I | J | K | L | M | N | O | P | Q | R | S | T | U | V | W | X | Y | Z | Comps
---
Cuban Music Links | Musical Styles | Record Label Guide
---

Carlos Embale "Rumbas, Sones y Boleros Cubanos" (Yerba Buena/Virgin-Spain, 2000)


An outstanding overview of the career of one of Cuba's greatest singers, spanning the 1950s, '60s and '70s... This opens with several swinging dance tunes, and Embale shouting away like his great rival, Beny More... Later it slows down into cooler, percussion-based folkloric material... All in all, a killer album. Recommended! (See also: Alberto Zayas, for more of Embale's work in a more traditional, folkloric guaguanco recordings.)
Carlos Embale "Que Bueno Canta Embale" (EGREM, 2002)


Frank Emilio "Cuban Danzas & Danzones" (Yemaya, 2007)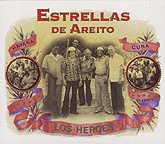 Estrellas De Areito "Los Heroes" (Nonesuch/World Circuit, 1999)



Stunning!! In the early 1970s, Cuban ensembles were left in the dust by the explosion of tight, aggressive horn-oriented salsa bands coming out of Miami and New York. It didn't take them long to catch up, though, and here's the proof. This 2-CD set distills a legendary thirty-person 1979 jam session which featured latin-jazz luminaries such as Arturo Sandoval and Paquito D'Rivera, along with old-timers like Ruben Gonzales and Felix Chappotin. This is the sort of smooth, relaxed, flute-and-violin based tipica salsa that cools you down when you hear it drifting onto the street corner on a hot, hot day. A wonderful mix of loping rhythm and irresistible melody -- this is an album that has to win your heart.
---
More Albums - "F"
---



---