<! MP3 09/20/08, 02/12/11 > <! update 00/00/00 > <! pix 02/12/11 > <! icons 02/12/11 >
---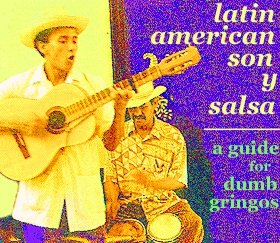 Welcome to my "guide" to some of my favorite Spanish-language music, stuff from Cuba, Puerto Rico, Latin America and beyond...
---
This page covers the letter "K"
---
A | B | C | D | E | F | G | H | I | J | K | L | M | N | O | P | Q | R | S | T | U | V | W | X | Y | Z | Comps
---
Cuban Music Links | Musical Styles | Record Label Guide
---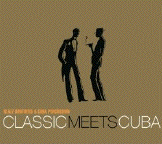 The Klazz Brothers & Cuba Percussion "Classic Meets Cuba" (Sony Classical, 2004)



Bach, Brahms, Mozart, Chopin and other highbrow icons get the royal Latin dance treatment... I was skeptical, to say the least, when I popped this one into my stereo, but when it started to play, my doubts were dispelled. Both the Afro-Cuban and the European classical traditions get their proper due, and the arrangements are neither sugary nor awkward. Some nice lyrical passages, and plenty of killer percussion as well. Worth checking out!

Kronos Quartet "Nuevo" (Nonesuch, 2002)



Doubtless, the San Francisco-based Kronos Quartet, like virtually anyone living in urban California, has had years of exposure to Mexican popular music. Mariachis, rancheras, pop styles and corridos percolate out of radios all across the state -- from open windows and door stoops, restaurants, truck cabs and worksites, Mexican music is a universal backdrop through much of the Southwestern US. For the most part it's considered lowbrow and backwoodsy, sort of like country music was until just a few years ago, and outside of a few enthusiasts such as Arhoolie Records founder Chris Strachwitz, not many people in the North American mainstream have paid it much mind. Kudos, then, to the ever-engaging Kronos Quartet, for recognizing the beauty of Mexico's melodies and working them into a new and enlightening tapestry of sound. The Kronos ensemble has previously introduced Jimi Hendrix (and many other "pop" artists) into the modern classical/chamber music canon, but while compositions such as Silverstre Revuelta's "Sensemaya" or Belisario Garcia de Jesus's "Cuatro Milpas" are hardly as recognizable as "Purple Haze," they are, bereft of that particular kitsch value, even more resonant in Krono's able hands. The album opens with a sonically distorted, musically expansive version of the ranchera standard, "El Sinaloense," the fiddles and strings filtered through a tinny haze that evokes the sound of the crappy transistor radios that for decades have brought this music to the world at large. The technological homage is brilliant, at once piquing our interest and acknowledging the populist roots of the style. Other standards by famous Latin American composers such as Agustin Lara and Alberto Dominguez are also given a unique, Kronos-y twist. The group has also gathered tunes from several of Mexico's more modern composers, such as Chalino Sanchez and Osvaldo Golijov, as well as lounge music icon Esquivel and rock en espanol supergroup Cafe Tacuba, whose producer Gustavo Santaolalla helped define the album's sound. It's an impressive effort, bringing overdue attention to the serious, substantive side of Mexico's musical heritage... Not that anyone South of the border needed any convincing, mind you... they've been digging this stuff all along!
---
More Albums - "L"
---



---