<! MP3 09/20/08 > <! update 00/00/00 > <! pix >
---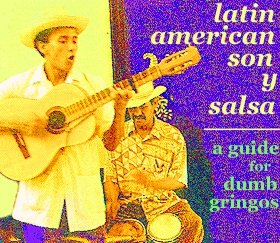 Welcome to my "guide" to some of my favorite Spanish-language music, stuff from Cuba, Puerto Rico, Latin America and beyond...
---
This page covers the letter "S"
---
A | B | C | D | E | F | G | H | I | J | K | L | M | N | O | P | Q | R | S | T | U | V | W | X | Y | Z | Comps
---
Cuban Music Links | Musical Styles | Record Label Guide
---

Sacambaya "From The Heart Of South America" (Arc Music, 2008)



This Bolivian folklore group specializes in a wide variety of Andean musical forms, including some regional styles that might be unfamiliar to longtime world-music fans. There are some innovative, unique pan-pipe arrangements - definitely worth checking out!

Anselmo Sacasas "1942-44" (Harlequin, 1996)


Smooth, ebullient dance music from the former arranger of the Orquesta Casino de la Playa. These wartime recordings were made for RCA while Sacasas lived in New York -- they are poppy and "Americanized," but sweet nonetheless. Lots of strong vocal tracks, notably those featuring Ruben Gonzalez and Cuso Montoya, who are both robust and rich-sounding in their youth. This disc has excellent sound quality, a notch or so above many similar archival releases. The music is notably punchy, an early and quite vigorous edition of the classic mambo sound, though without the super-shrill brass tone that other artists later adopted. (Note: Tumbao Records has also reissued some of Sacasas' work, along with that of the Orquesta Casino de la Playa.)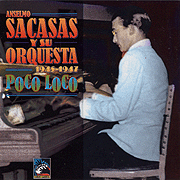 Anselmo Sacasas "Poco Loco: 1945-1947" (Tumbao, 1995)



Before forming his own group, pianist Sacasas crossed paths with many of the leading lights of Cuban popular music -- Tito Puente, Xavier Cugat, the Orquesta Casino de la Playa, Miguelito Valdes, etc. These post-war recordings dovetail with the Interstate Music disc of Sacasas' 1942-1944 band; both CDs feature bubbly dance music, which is alternately suave and tinny. With the great Ruben Gonzalez on vocals, no less! There's quite a bit of overlap between this and the 1942-44 album reviewed above, though each has several songs not included on the other, so both albums are worth picking up.
Anselmo Sacasas "Sol Tropical: 1945-1949" (Tumbao, 1995)



With Ruben Gonzales, vocals.
Anselmo Sacasas "In The Hall Of The Mambo King" (Werner Last's, 2008)


Salsa Celtica "The Great Scottish Latin Adventure" (Greentrax, 2000)


Salsa Celtica "El Agua De La Vida" (Compass, 2003)



Well, actually these fellows are from Scotland, of all places, and have played in a variety of Celtic "trad" bands (including heavyweight outfits such as Capercailie, Wolfstone, and Old Blind Dogs...) but they still hold their own playing straight-up Cuban style salsa. The novelty factor aside, this is a pretty competent band. Let la craic flow, ese!
Salsa Celtica "El Camino" (Discos Leon, 2006)



Poncho Sanchez "Out Of Sight!" (Concord, 2003)



This Latin-Jazz old-timer cuts loose with a tight, funky, soul-drenched set of good old-fashioned rhythm & boogaloo... Sanchez style! On the opening track, a muscular version of "One Mint Julep," you may find yourself thinking, "Man -- that guy sounds just like Ray Charles!" Well, surprise -- it is! Brother Ray kicks in on a couple of tunes, and is joined on the disc by several other high-power guest artists, including Fred Wesley of the JB Horns, Billy Preston, jazzman Pee Wee Ellis, and Afro-Cuban master percussionist Francisco Aguabella, who bangs a mean bata drum on "El Tambor Del Mongo." It's a lively, earthy set that avoids, for the most part the pitfalls of the jazzier side of the Latin/Jazz equation. If you're a fan, this disc will knock your socks off!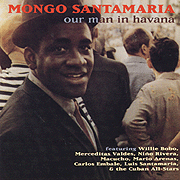 Mongo Santamaria "Our Man In Havana" (Fantasy, 1960/1993)



In 1960, drummer Mongo Santamaria returned to Cuba for several sizzling sessions, out of which came the recordings on this disc. The CD reissue combines material from two albums, recorded in Cuba and originally released in 1960, Our Man In Havana which is a rock-solid son set (with only tangential hints of his jazz background) and Bembe, which concentrates on traditional santeria drumming. Both albums were exemplary for their respective styles... Along with a crack team of Cuban locals, Santamaria's cohort Willie Bobo came along and added some nice work on the timbales. Recommended!
Antony Santos "La Chupadera" (Platano, 1992)


Antony Santos "La Batalla" (Platano, 1993)



Antony Santos "Corazon Bonito" (Platano, 1994)



(Produced by Antony Santos)
This is the third album by this early star of the booming Dominican bachata scene. Although the contemporary bachata sound had already been pretty well defined by this point, dominated by electric guitars and modern production styles, Santos sticks closer to the original bachata sound of the 1960s and '70s, with fluid, trilling guitar lines that could just as easily have been played acoustic as electric, and in particular, his searching, mournful vocal style, with clear roots in old-school bachata and Puerto Rican jibaro music. It's a tad too modern for me, but it's rootsy enough to hook me in. Definitely worth checking out!
Antony Santos "Cojelo Ahi" (Platano, 1994)






<! Discography * 1 La Chupadera [1992] * 2 La Batalla [1993] * 3 Corazon Bonito [1994] * 4 Cojelo Ahi [1994] * 5 El Mayimbe y Nada Mas [1995] * 6 Sabor Latino [1996] * 7 Como Te Voy A Dejar [1997] * 8 Me Muero de Amor [1998] * 9 Enamorado [1999] * 10 El Balazo [2001] * 11 Juego de Amor [2002] * 12 Sin Ti [2003] * 13 Lloro [2005] * 14 Ay Ven [2006] * 15 No Nos Vamos A Olvidar [2007] * 16 Cuanto Mas [2008] >


Nico Saquito -- That's "Mr. Cat" to you...




Savae "La Noche Buena: Christmas Music Of Colonial Latin America" (World Library Publications, 2005)



The San Antonio Vocal Arts Ensemble, or SAVAE, is known for its ferreting out of obscure material, but they have really outdone themselves on this outstanding holiday offering, which gathers together sixteen exquisite, antique compositions from the Christmas music of colonial Latin America. The composers date back to the 1500s, 1600s and 1700s; most are from Mexico, but Bolivia, Guatemala and Peru are also represented, and while the predominant influence is liturgical, traces of the indigenous musical cultures (and regional dialects) are also present, particularly in the strong rhythms on several tracks. The texts are often fascinating as well, addressing the colonial experience of Africans and slaves... often heady subject matter that comes draped in gorgeous chant-like harmonies. If you are a fan of the various "chant" revivalists, or on the prowl for some exciting "new" music to add to your holiday repertoire, then this disc will be the best present you can get yourself this year. Elegant, lovely and soulful... a fascinating mix of European and Meso-American cultures. Highly recommended!

Septeto Anacaona & Ciro Rimac "1936-1937" (Harlequin, 1993)


Two separate acts on this disc -- the Septeto was an all-female band, captured here on a half dozen tunes from the late '30s, all of which are pretty good. The real star of this show, though, is Latin-American gadabout, Ciro Rimac, who in the 1930s performed throughout Europe, South America, and the United States (with Cab Calloway, no less!) There are almost twenty Rimac tunes on here, including a few groovy, Brazilian-styled songs.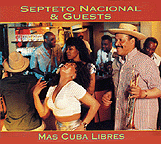 Septeto Nacional (& Guests) "Mas Cuba Libres" (Network, 1999)



Who says you can't judge a book by looking at its cover? This tasty album sounds just like the photo on the cover looks -- like a rollicking, rambunctious Cuban house party, with some fine, fine music that'll make you get up and shake a tail feather... The long-lived Septeto Nacional, founded in 1927 by composer Ignacio Pineiro, was one of the great Cuban dance bands of the 1930s, although it has been disbanded and reunited numerous times in the decades that followed. This edition of the band features singer Eugenio "Raspa" Rodriguez and guest vocals by Bertha Portuondo (sister to the renowned Omara Portuondo), as well as the great Pio Leyva, and stellar tres playing

Septeto Nacional Ignacio Pineiro "Sin Rumba No Hay Son!" (World Village, 2010)



(Produced by Francisco David Oropesa Fernandes)
A richly satisfying set of traditional acoustic Cuban dance music in the son habanero style... The Septeto Nacional is one of Cuba's longest-lived ensembles: founded in 1927 by composer Ignacio Pineiro, it has survived through political upheavals and changing cultural tides, playing pure, old-school rumba music. This is the fourth generation of musicians to take on the Septeto Nacional's mantle, led by singer and musical director Eugenio Rodriguez Rodriguez, who also goes by the nickname "Raspa." Raspa is a magnificent vocalist, excelling in the shouted, exclamatory style of old-timers such as Beny More and Pio Leyva -- he sings with conviction and joy, buoyed by crisp percussion, sleek tres guitar and a sly trumpet. Fans will also want to take note of the guest vocals by Nacional's infrequent collaborator Bertha Portuondo, on a sizzling version of "La Mulata Rumbera," an old Ignacio Pineiro original. This is all great stuff, solidly in the true, authentic tradition. Recommended!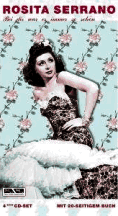 Rosita Serrano "Bei Dir War Es Immer So Schon" (Membran, 2004)


This is one of the weirder world music records you'll ever come across... and that's saying a lot. Rosita Serrano was a genuine South American, the daughter of a Chilean diplomat and opera singer Sofia del Campo... She wound up moving to Germany just as World War Two loomed on the horizon, and made her mark as an "exotic" stage and film star and recording artist during the peak of the Nazi era. Starting in 1938, she recorded hundreds of Latin-themed dance and novelty songs, many written by Germans and other Europeans, some adapted from Latin American sources, but all of them sung -- here's the kicker -- auf Deutsch. What's amazing, though, is that even though she was singing in German and with German bands, these songs have the right feel -- they certainly match the vigor of most of the Cubans-in-exile recordings coming from Paris around the same era. It's the recording dates that are most troublesome: Serrano recorded regularly throughout the war, and clearly had the favor of the German government, which tightly controlled music and artist under its grasp, and banned lots of jazz and ethnic music as being too "decadent," etc. Indeed, the Nazi propaganda minister Joseph Goebbels is said to have personally helped her career, and even though she fled Germany towards the war's end, Serrano became a cultural outcast, reviled by Germans and South Americans in the postwar era. Still, maybe the issue of artists as Nazi collaborators doesn't have the same bite that it did sixty, seventy years ago -- I suppose now we can just listen to the music and hear it for what it was, and Serrano's repertoire is certainly an intriguing cross-cultural melange. The politics are creepy, but the music has its merits.


<! Rosita Serrano Date of Birth 10 June 1914, Vina del Mar, Chile Date of Death 6 April 1997, Santiago de Chile, Chile Birth Name Maria Martha Esther Alduante Del Campo Nickname the Chilean nightingale Mini Biography Rosita Serrano (birth name Maria Martha Esther Aldunate Del Campo) was a Chilean singer and actress, who had large success in Germany in the 1930s and 1940s. Because of her bell-bright voice she received the surname "Chilean nightingale". She was the daughter of the diplomat HŽctor Aldunate and the opera singer Sofia del Campo, with whom she moved during the 1930s to Europe, at first to Portugal and France, and then, since 1936, to Berlin. She started to sing in the Winter Garden and in the Metropol theatre, and charmed the audience with Chilean popular songs. The German composer Peter Kreuder discovered her and she obtained a contract with Telefunken. From now on she sang particularly in German language and songs like "Roter Mohn", "Schšn die Musik", "KŸ§ mich, bitte, bitte, kŸ§ mich", "Und die Musik spielt dazu", "Der Onkel Jonathan", and "Der kleine Liebesvogel" became successful hits. Starting from 1938 she also got roles in movies such as Bel Ami (1939), Es leuchten die Sterne (1938), Kluge Schwiegermutter, Die (1939) and Herzensfreud - Herzensleid (1940). Besides, she performed on tour with two of the then most successful dance orchestras - Kurt Hohenberger's and Teddy Stauffer's . One of her best-known hits is the classic 'La Paloma', included in 'Wolfgang Petersens' ' Boot, Das (1981) and Bille August's The House of the Spirits (1993)'s soundtracks. In 1943 her career had an arrest: while she was on tour in Sweden, she was charged with espionage in Germany, because she had supported Jewish refugees with the incomes from a charity meeting. She didn't return to Germany to avoid the arrest, and her songs and movies remained on the black list of the Nazi regime until the end of the war. From Sweden she returned to Chile, then she tried to start a career in the USA, but she met hostility since she also had German songs in her repertoire. In 1951 returned to Germany, but had only moderate success. She participated in the German motion picture films Schwarze Augen (1951) and Saison in Salzburg (1952), and later she had only few appearances in German maintenance transmissions. A comeback attempt in 1957 on tour with Kurt Hohenberger didn't have a great success. She died in 1997, in extreme poverty, in Chile, where she had spent the last years of her life. >

Sexteto Bolona "Echale Candela: 1926" (Tumbao)



As with the Sexteto Habanero CDs (below), this collection of early sones may be a little stark and monochromatic in comparison to other Tumbao releases. The sound quality is also a little grey, though these 1920s oldies represent a big slice of early Cuban pop history.
Sexteto Habanero "1926-1931" (Harlequin, 1995)

Sexteto Habanero "1926-1948" (Harlequin, 1996)


Sexteto Habanero "Son Cubano: 1924-27" (Tumbao)



Beautiful small-ensemble acoustic music from one of Cuba's earliest popular groups. This shares a sense of genteel antiquity with old "sweet" big band recordings, and is often quite dreamy and haunting. Tumbao started off their series with these guys for a reason. Also, check out the Tumbao CD, Las Raices Del Son, which features later recordings by the Sexteto.

Sexteto Habanero "Las Raices Del Son: 1925-1931" (Tumbao)


This was the band which brought the dance style of the "son" from the rural Oriente province into the big capital city of Havana. In the process of popularizing the new afro-cuban music, the Sexteto also modernized and revolutionized it, and these 1925-1931 recordings are pivotal to the development of Cuban pop music. Although these old, haunting, lo-fi recordings may sound a bit like field recordings, they are also the basis of modern salsa, and the benchmark which all son bands were measured against for decades to come.
Sexteto Habanero "Grabaciones Completas, v.2: Eres Mi Lira Armoniosa - 1927" (Tumbao, 2003)


Sexteto Habanero "Grabaciones Completas, v.3: El Bongo Del Habanero - 1929-1934" (Tumbao, 2004)


Sexteto Habanero "Grabaciones Completas, v.4: Guantanamo - 1925-1931" (Tumbao, 2004)






<! Sexteto Nacional >

Sexteto Occidente "Yo No Tumbo Cana: 1926" (Tumbao)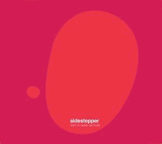 Sidestepper "3am (In Beats We Trust)" (Palm, 2003)



A low-key mix of latin dance music and blippy UK electronica. An interesting concept, but in this particular instance, not that amazing. The vocals didn't do much for me (too restrained) and the programming also seems fairly unadventurous, simply nonacoustic ornamentation, built on top of fairly standard son riffs. The rhythm work is pretty solid, though, and the production gains subtlety as the album progresses. Downtempo electro fans might get into this a lot more than I did, but approaching it from a latin dance perspective, I feel it could have been much bolder.

Myrta Silva "La Bombonera De San Juan -- New York: 1939-1942" (Tumbao)


Classic guaracha vocals with catchy back-up by Rafeal Hernandez and his Cuarteto Victoria. Puerto Rican-born Silva, who would later go on to be featured vocalist for the Sonora Matancera, had a pleasant, Doris Day-ish girl-next-door voice. Nice stuff -- recommended!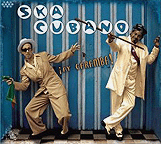 Ska Cubano "Ay Caramba!" (Cumbancha, 2006)



A pretty cool mix of island-style salsa and ska (along with a bit of cumbia and merengue from the mainland...) delivered with much more thoughtfulness and skill than you might imagine. This accomplished, cheerfully fluid ensemble gets the vibe just right, mixing the best of both styles, and moving through the different rhythms with a surprising grace and ease. Definitely worth checking out... these folks are pretty hot!
Sol Y Canto "Cada Dia Un Regalo" (MusicAmador, 2008)



(Produced by Brian Amador & Nando Michelin)
Mellow, folkloric Latin American music from this Massachusetts-based ensemble, featuring the husband-wife team of Brian and Rosi Amador. The group is an offshoot of the band Flor y Cana (which disbanded in 1994), and has been performing together for over fourteen years. While their overall approach is a little too genteel for me, world music fans who prefer a softer side to latino culture may find this a rich and appealing set, with an acoustic-folkloric approach that lends itself to contemplation and reflection. Very pretty-sounding and delicate.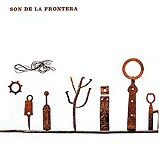 Son De La Frontera "Son De La Frontera" (World Village, 2006)



Raw-boned, energetic Spanish flamenco, with a warm stylistic twist. Guitarist Raul Rodriguez introduces the double-stringed Cuban tres into the flamenco ouvre, and the cross-cultural experiment pays high dividends. The mellifluous tres, which lends itself to melodic improvisation, adds a fluidity to the ofttimes severe flamenco style, while the crushing muscularity of flamenco gives the tres a bit of a goose, demanding it be played with more authority and force. Mostly, though, this is a traditionalist album, with Rodriguez and his cohorts taking up the mantle from one of Seville's master musicians, Diego del Gastor, who developed much of the group's repertoire. If you enjoy flamenco with its original raw, elemental power, the thunderous chords and keening vocals, then this electrifying debut will knock your socks off. Recommended!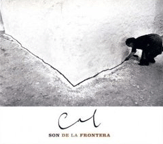 Son De La Frontera "Cal" (World Village, 2007)



Another excellent modern flamenco album... Powerful, passionate material that brings the style back from the pop-kitsch brink it was brought to by bands such as the Gypsy Kings (and their many imitators)... The guitar playing is authoritative, but not uniformly forceful -- there's a lot of flashy picking, but it's all very soulful and melodically rich. If you are a fan of the style, or just curious to find out what the real stuff sounds like, give this disc a shot! It's pretty rewarding.

La Sonora Matancera "La Ola Marina" (Tumbao, 2002)


Here is a Cuban music collector's dream disc, gathering many of the earliest recordings made by this esteemed ensemble in 1944 for the influential Panart label. Features some fine, fiery material from one of the island's best dance bands. Although La Sonora had actually formed in the late 1920s, they were slow getting recorded under the Matancera name, and the earlier tracks on this disc seem to reveal a little unsureness working in the studio. As they gathered steam, though, and studio acumen, the band starts to sound more like the unstoppable force we know from all their decades of recording since. Their tightly-arranged, well-conceived guaracha tunes helped lay the foundation for dance styles such as the mambo, which later swept the States and Europe. Fans will definitely want to snap this disc up!
La Sonora Mantancera "En CMQ, 1957: La Sonora Trae Un Tone" (Tumbao)


Great late-'50s live performances by one of Cuba's best dance bands, taken from radio shows made for the CMQ radio station. These 1957 performances were actually made for rebroadcast in Peru, and several of the announcements between songs have local (Peruvian) significance... The sound quality is a little rough, but not appalling. Mostly, these are priceless examples of first-rate live showmanship, including the added flavor of the announcers pumping up the audience, and promoting the station and musicians... a great glimpse into part of Cuba's old musical legacy.

La Sonora Sonora "Sarandonga!" (Ahi-Nama, 2000)



The LA-based Ahi-Nama label has made a mission of presenting some of the best contemporary Cuban dance bands... including many lesser-known artists who generally fall of the radar of the world music/latin jazz crowd. Jose de Jesus Hernandez Boza (better known as "Laito, Jr."), is the charismatic heir to the band and sound of the Cuban cancionero, Estanislao Sureda Hernandez (aka "Laito") who once sang with Sonora Matancera and who later founded La Sonora Sonora... Junior's approach to this old-style romantic dance music is only fractionally less traditionalist than his predecessor... It's pretty solid, captivating stuff... one of my favorite records on this label (topped only by the Laito, Sr. album of a few years back!) Recommended!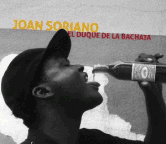 Joan Soriano "El Duque De La Bachata" (iASO, 2010)



(Produced by Benjamin De Menil)
This is one of those records that, the more I listen to it, the more I love it. A delicious set of traditional, acoustic-based bachata music from the Dominican Republic. A sweet, acoustic style that dates back to the 1950s, in the '80s bachata morphed into a hyperactively fast, frantic, modern pop genre -- a hugely popular regional fad, but pretty far removed from its mellow, romantic roots. Singer Joan Soriano is a welcome throwback to the old days, an expressive, crooning stylist with wonderfully understated, expressive vocals, concise phrasing and a strong connection to this old-style music. He's not quite on a par with bachata elders such as Leonardo Paniagua of Rafael Encarnacion (heard on iASO's incredible BACHATA ROJA collection, but hey -- the kid is still young. Give him a few years to catch up! This CD comes along with a DVD disc with an hour-long documentary about Soriano and the revival of old-school bachata music. Sweet stuff and highly recommended!

Omar Sosa "Preitos" (Ota, 2000)



A mad, multi-lingual mix of free jazz, latin jazz and hip-hoppish spoken word, incorporating influences as diverse as Tito Puente, Gil Scott-Heron and and Miles Davis. Sosa breaks out of the standard confines of latin jazz to include diverse South American and African styles (notably traditional Ecuadoran and Moroccan styles) as well as mixing in jazz influences that hearken back to outsider artists such as the Last Poets and Sun Ra. Personally, I find this album to be a little cluttered and dense -- irritating, even -- but anyone who's into the artists I mentioned above might wanna check this out. It's quite skillfully delivered -- just not my cup of tea.
Nelo Sosa "Arrimate Carinito: 1950-1951" (Tumbao)



One of the best Tumbao discs! Super-sweet mambos with a heavy, Afro-Cuban backbeat. Sosa's nasal, emphatic vocals as a striking prototype for the style adopted by '70s salsa singers. The last three tracks on this disc come from the mid-40s, right after Sosa had taken the Conjunto Colonial band over from co-founder Senen Suarez (see below), and are a little less powerful. For Nelo Sosa's slower, sappier side, check out the A Burujon Punao below).
Nelo Sosa "A Burujon Punao: 1949-1953" (Tumbao)



Mellow material, cornier than the Tumbao label's first Nelo Sosa disc, Arrimate Carinito. Features Conjunto Colonial with Miguelito Valdes as vocalist, primarily on romantic boleros and slower guajiras. Nice, but not as swinging as the earlier collection.

Son Sublime "Irresistible" (LASEMCo, 2001)



Nostalgic for the golden days when Hector LaVoe and Ruben Blades hung out on the front stoop somewhere in a mythic New York barrio and played salsa music 'til the sun went down? Then check out this gorgeous record of melodic old-school nuyorican tipica, full of hypnotic, addictive riffs and swaying, endlessly repeated rhythms, with the classic mix of violin, flute and tres that made all those old albums by Orquesta Broadway so lovely? Son Sublime is a reconstitued, 10-piece version of a sucessful mid-'70s charanga band, led by vocalist Jesse Leandro Herrero. The decade of so of downtime between their last album and this haven't dimmed the group's sweetness -- this is great album to have on the deck for a few hours on end. It's dreamy and languid, just like we love it. Recommended!
Son Sublime "Gran Reserva" (LASEMCo, 2002)



While their first album was a welcome return to the good old days of NYC-style '70s salsa, this disc polishes and perfects the sound. The group sounds more relaxed and fluid here, as if they had found their feet in the studio and were more comfortable just kicking back and enjoying themselves. The disc is punctuated throughout with a dancing, birdlike flute that dapples most songs in that lovely, timeless, classic island style. This is a really sweet album, definitely worth checking out!

Son Sublime "Bailando Con Son Sublime!" (LasemCo, 2006)



Another rock-solid old-school salsa/son tipica set from this revitalized East Coast dance band. If you love the classic sound of '70s salsa, this album (along with their last two) may come as a real treat. Tight, professional playing that still keeps a mellow, easygoing vibe. Recommended!

Conjunto Colonial De Nelo Sosa "Arrimate Carinito: 1950-1951" (Tumbao)


One of the best Tumbao discs! Super-sweet mambos with a heavy Afro-Cuban backbeat. Sosa's nasal, emphatic vocals as a striking prototype for the style adopted by '70s salsa singers. The last three tracks on this disc come from the mid-40s, right after Sosa had taken the band over from co-founder Senen Suarez and are a little less powerful. For Nelo Sosa's slower side, check out the album below...

Nelo Sosa "A Burujon Punao: 1949-1953" (Tumbao)


Mellow material, cornier than the first Nelo Sosa disc... Features Miguelito Valdes as vocalist, primarily on romantic boleros and slower guajiras. Nice, but not as swinging as the other CD.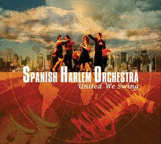 Spanish Harlem Orchestra "United We Swing" (Six Degrees, 2007)



A rock-solid, high-energy Latin dance album, in the classic nuyorican salsa style. This band plays it muy caliente, with a driving tempo and punchy brass arrangements and razor-sharp rhythms... Formed only a few years ago, Spanish Harlem Orchestra is the brainchild of pianist/arranger Oscar Hernandez, best known for his long association with salsa superstar Ruben Blades. It's not surprising there's a great stylistic similarity, since Hernandez has done so much to help shape Blades's sound, although this ensemble sticks closer to the pure salsa style, and hardly dips into jazz stylings at all. If you are looking for a dance album with a more traditional, driving feel, this disc is hard to beat. Great vocals by Ray De La Paz, too, recalling the glory years of Ismael Miranda and the other legendary salsa singers of the 1970s... World-beat pop guru Paul Simon also makes an appearance on the album's closer, "Late In The Evening/Tarde En La Noche," a bilingual revamp of one of his fine, old urban ballads. All in all, a very strong album, definitely worth checking out!

Senen Suarez "Guaguanco Callejero: 1952-1953" (Tumbao)


Although the sound is a little grey, the music is awesome. Suarez was a longtime veteran of the Cuban music scene by the time these recordings were made. He had previously worked with the acoustic guajira pioneer, Nico Saquito, in the '40s, then started his own band which later became Nelo Sosa's Conjunto Colonial (see above). Here he is a featured vocalist, along with "Laito" Sureda (who in 1997 put out an excellent new album on the Ahi Nama label). Highly recommended.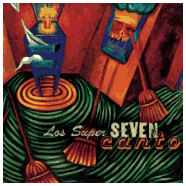 Los Super Seven "Canto" (Sony Legacy, 2001)



(Produced by Steve Berlin)
The first record by this Los Lobos-related supergroup was a Grammy winner back in 1998... and this followup is no disappointment. The inclusion of Brazil's Caetano Veloso and Peruvian diva Susana Baca signal a determined southward move in their exploration of el mundo musical, although as before these folks are reveling in the lushness and glory of classic Latin American music. The album kicks off with a super-schmaltzy rendition of the classic bolero, "Siboney", and continues right along into a series of gorgeously produced (but still rather understated) updates of tunes associated with the likes of Beny More and Nico Saquito... The group captures the rhythmic intensity of latin dance, while skillfully adding a nice modern gloss; the richness and sonic depth of the production liberates the material from the shrillness and relatively flat sound engineering of many of the old classics. Other than Susana Baca's track (which I found predictably sugary), this is a pretty fab album. Check it out!
Los Super Seven "Heard It On The X" (Telarc, 2005)


In its original incarnation, Los Super Seven presented a gleeful pastiche of Latin American musical styles, spanning the Americas, North and South, and exemplified the wide range of cultural expression Latino culture has wrought. In this third disc, the amorphous Super Siete project has considerably narrowed its focus, honing in on the roadhouse blues of the Southwestern United States, and even more specifically on the Texas roots-rock sound. The guys from Los Lobos have bowed out (for now), but Joe Ely, Freddy Fender and Rick Trevino are holdovers from the first album, joined by Rodney Crowell, John Hiatt and Lyle Lovett, alt-country old-timers who have little chance to demonstrate their well-documented affinity for Tex-Mex music, as this disc tends towards the thumpy and muscular end of the musical spectrum. I, for one, miss the old band's emphasis on softer, bolero-style music, as well the more distinctly Latin touch that seems to have been set aside this time around... I'm sure this album will find an enthusiastic and welcoming reception among the more blues-and-rock oriented wing of the Americana audience, though others may find it a bit heavy-handed.

Super Uba "Tierra Lejana" (Iaso, 2005)



A giddy set of guitar-based acoustic music from the Dominican Republic, featuring singer-guitarist Super Uba and his partner, guitarist Edilio Paredes, one of the early pioneers of the lively bachata style that's featured here. It sounds a lot like Cuban guajira, but with a more manic, driving edge to it. You gotta love the melodies and sincere passion in the performance, even though the pace of the album may get a bit exhausting. It's mostly pretty sweet, though, and well worth checking out! (For more info, check out the label's website, www.iasorecords.com )
---
More Albums - "T"
---



---