<! MP3 09/20/08, 02/12/11 > <! update 00/00/00 > <! pix 02/12/11 > <! icons 02/12/11 >
---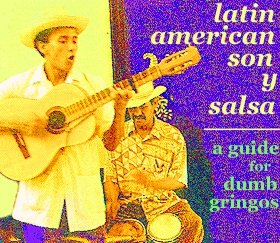 Welcome to my "guide" to some of my favorite Spanish-language music, stuff from Cuba, Puerto Rico, Latin America and beyond...
---
This page covers the letter "M"
---
A | B | C | D | E | F | G | H | I | J | K | L | M | N | O | P | Q | R | S | T | U | V | W | X | Y | Z | Comps
---
Cuban Music Links | Musical Styles | Record Label Guide
---
Antonio Machin -- The definitive bolero singer
Machito and Graciela -- Latin Jazz Mambo Masters

Enric Madriguera "1920-1941" (Harlequin, 1994)


A Spanish-born latin band leader and violinist who didn't make it quite as big as his countryman, Xavier Cugat, but who followed a similar path. Madriguera emigrated to America in the 1920s, and after working in hotel orchestras became first the "Latin" music director at Brunswick Records, then took a similar job at Columbia in '28. This disc collects rare 78s he made under a variety of pseudonyms, and with various bands. For the most part it's pretty prissy stuff, ballroom orchestras which showcase his European/classical leanings. A little too prim for my tastes, although on the last couple of tracks we are treated to some exceptionally early examples of Tito Rodriguez's vocals.
Enric Madriguera "Volume Two: 1932-1950" (Harlequin, 1994)

Maraca "Descarga Total!" (Ahi-Nama, 2000)



Orlando "Maraca" Valle is a sharp, young Cuban bandleader from modern-day Havana, whose style ranges from old-style tipica to full-blown flights of Latin-jazz jams. The jazzier stuff doesn't appeal to me, but the ensemble is pretty tight, and other folks may enjoy this disc a lot. Worth checking out!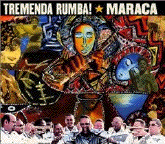 Maraca "Tremenda Rumba!" (Ahi-Nama, 2002)



Rock-solid, somewhat relentless, traditional-sounding salsa/son from this talented Havana ensemble. Flautist and bandleader Orlando Valle (aka "Maraca") embraces multiple musical styles, ranging from good old-fashioned Cuban danzones and son montuno to Columbian and Caribbean rhythms such as cumbia and even a hint of reggae. It's pretty sharp, lively stuff... definitely worth checking out.

Mariachi Real De San Diego "Mariachi Classics" (Mardi Gras Records, 2009)



(Produced by Mauricio Gonzales)
Founded in 1978, this California-based traditional band plays mariachi music with great affection and brio. To my untrained ear, these performances sound a little less tinny than what I hear on ranchera radio (but then again, I'm not hearing this on an AM station...) Part of the difference is that this is a smaller ensemble, a six-piece with only two trumpets, so the horns don't blare; the vocals, while robust, are also rich and relaxed, and don't go for the keening, searching quality of more emotive singers. This particular album is the result of some determined crate-digging in the record bins of Mexico City, looking for classic songs that have dropped out of the repertoire; I'm not that familiar with the canon, but these renditions certainly sound nice. Certainly worth checking out if you're into the style.

Cheo Marquetti "Region Matancera" (Tumbao, 2001)



Captivating, soulful guajira-son and son montuno dance music from a fine singer and bandleader who nevertheless never quite hit it big, either in Cuba or during his frequent sojourns abroad. These recordings, from 1955-57, when Marquetti had returned from several years in Mexico, mark the highpoint of his work as a bandleader, and it is mighty fine stuff -- cheerful, catchy, and full of life. He may not have had tremendous financial success way back then, but the guy can still set a room to dancing today, thanks to the miracle of digital technology!
Cheo Marquetti "Legends Of Cuban Music" (NC, 2002)

Cheo Marquetti "El Rey Del Ritmo" (EMI, 2004)


Juanito Marquez "Arrimate Pa'ca" (Caney, 2003)


A real mixed bag of sometimes-driving, sometimes-kitschy performances by Cuban guitarist-composer Juanito Marquez, who worked with Omara Portuondo and other stars of the '50s and early '60s, and who later became a session player in Miami, during the 1970s. His dance tune, "Arrimate Pa'ca," became a hit in 1964, on his first recording as a bandleader, and is featured among these early '60s recordings, made in '61 and '64. Marquez moves between straight-up son material and lighter arrangements more akin to the American easy listening/pop jazz popular at the time... The prominence of the amplified guitar in these recordings is unusual; mostly this is pretty fun stuff, though it does get pretty goofy at times.
Juanito Marquez "Cubaneo" (2009)



Aurelio Martinez "Laru Beya" (SubPop/Next Ambiance, 2011)



(Produced by Ivan Duran)
A beautiful new set by Aurelio Martinez, one of the torchbearers of the Garifuna culture, a Central American enclave with deep African roots. Here, Martinez is backed by the legendary Senegalese band, Orchestra Baobab, who add an even deeper African groove to the music. The first time I listened to this album, I thought it sounded a little slick; the second time, I heard all sorts of new melodies and sounds I hadn't noticed before; the third time I listened I realized how multi-layered it truly was and now -- still hearing new things every time -- I've left it in permanent rotation in the old home jukebox. Solid West African dance music melds perfectly with a subtle blend of Latin American styles and pop motifs, with sometime-sweet, sometimes-keening vocals. An exemplary world music album that will reward listeners for years to come!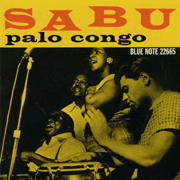 Sabu Martinez "Palo Congo" (Blue Note, 1957)



Jazz percussionist Sabu Martinez cut his teeth in the late '40s playing in some of the hottest bands in the New York latin dance scene, then he made the jump into straight jazz, playing with bopsters and hard-jazz composers such as Art Blakey, Dizzy Gillespie, Charlie Parker and Thelonious Monk. Here, he went back to his Cuban roots -- and how! Playing with a handful of fellow New York-based expatriates, including four additional conga players along with the great Arsenio Rodriguez and members of his band, Sabu delves deep into the tradtional, African-based drumming of the island, with a little jazz twist and touches of Rodriguez's aggressive guitar style as well. It's a solid set, and also a little more fluid and wide-ranging that similar efforts by bands such as Los Munequitos De Matanzas... Although the relatively stark sound confounded jazz fans (Sabu's main audience) and sold poorly when it first came out, this album has found new life in the digital era... It's worth checking out, although you have to come at it from a Afro-Cuban standpoint, rather than as jazz. Soulful stuff, definitely worth checking out!
Miguel Matamoros -- his Conjunto and Trio, too!

Kiko Mendive "Un Cubano En Mexico: 1943-1952" (Tumbao, 2002)



Wow... this is a real find for folks who can't get enough of good-natured, robust guaracha singers like Cascarita and Beny More. Kiko Mendive was a comedic actor who found the Mexican film industry to be a fertile ground for career success, and later in life wound up working on Venezuelan TV. Along the way, he hooked up with several top orchestras, including those of Silvestre Mendez, Arturo Nunez, Ismael Diaz and Homero Jimenez, and worked with arranger Perez Prado, early in his career. This disc opens with a sensationally bold Prado arrangement on "El Caballo Y La Montura," which is a good indicator of the high caliber of all these recordings. Mendive apparently modeled himself quite closely on Cascarita's act, and it was when his idol also moved to Mexico that Mendive decided to relocate to South America -- the country just wasn't big enough for the both of them, it seems. Perhaps at the time his work may have been derided as derivative, but as the decades have passed, and their rivalry has receded into obscurity, all that's left is some really great music. This is another great Tumbao album, one of my favorites of recent vintage. Highly recommended!
Lydia Mendoza "The Best Of Lydia Mendoza" (Arhoolie, 2008)



Arhoolie Records has long been the curator of the legacy of Texas music legend Lydia Mendoza, one of the most powerful singers to hail from the Tex-Mex border area in the 20th Century. Mendoza passed away in December, 2007, and this collection is a fitting legacy. Culled from the many albums Arhoolie issued over the years, it presents Mendoza's passage from the powerful stylist of her youth (the opening tracks, from the 1930s, evoke the same sort of gravitas and depth as Edith Piaf during the same era) to her more mature years, including live performances in the 1980s that show her still a tremendous singer and interpreter of song. There is musical experimentation along the way, and a variety of styles that always serves to underscore the clarity and beauty of her voice. This is a great single-disc introduction to a highly-revered artist; if you like what you hear on this best-of set, there's plenty more to explore from here.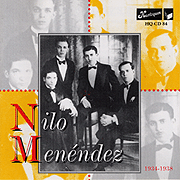 Nilo Menendez "1934-1938" (Harlequin, 1997)


Sweet danceband music featuring pianist Nilo Menendez, performing with several different lineups. Before starting his own band, Menedez worked in the Xavier Cugat orchestra, but his solo work isn't nearly as corny and has a lot more vigor than most of Cugie's recordings from the same era. That being said, one of the highlights of this collection is an instrumental, rumbafied version of "Bei Mir Bist Du Schon". Kitschy and light, and fun.

Mariano Merceron "Yo Tengo Un Tumbao: 1940-1946" (Tumbao)



KILLER Cuban dance music, with a whole slew of great vocalists and an awesome band. These upbeat guarachas and "son afro" recordings really rock -- the band is swinging and soulful, and way ahead of its time. Highly recommended: this is one of my favorite Tumbao releases!

Mariano Merceron "Negro Nanamboro: 1942-1943" (Tumbao)



Pablo Milanes "The Definitive Pablo Milanes: 60 Years On" (Wrasse, 2003)


Honestly? I've never been a big fan of Cuban nueva trova troubadour Pablo Milanes, and this set of his later work (mostly from the 1990s) has plenty of the florid, softcore pop production touches that turn me off from his work. For fans, I suppose this would be a nice set. Not bad when he sticks strictly to the acoustic, but those tracks are few and far between.
Rita Montaner "Rita De Cuba: 1928-1941" (Tumbao)


A star of radio, stage and film, Rita Montaner's operatic, chirpy voice may not be for everybody. Generally speaking, the bands backing her on this disc do not really get too funky, and hearing Montaner herself is sort of like listening to a Cuban Fanny Brice, archaic and cute, but not necessarily that accessible to modern ears.
Rita Montaner "Rita La Unica" (Alma Latina, 1995)


These early recordings, from 1928-29, are probably a bit too operatic or stilted for most listeners, particularly for those looking for more Afro-Cuban style music, as opposed to the more European, art-songish approach favored by Monatner at the start of her career. Still, these are also some of the first recordings of composer Ernesto Lecuona's music, setting the tone for future interpretations of his vast body of work. A nice historical document, but probably not suited to the casual Cuban music fan.

Los Montaneses Del Alamo "Primer Grabaciones 1940-1950" (Arhoolie, 2002)



A great set of old-fashioned Mexican border music from the Sierra Madre Oriental region in northeastern Mexico. The music on this collection is archaic, a "salon" style that is based on colonial, European roots, particularly on French society music, with plenty of waltzes, polkas and schottiches among the Spanish-influenced danzas and habaneras... Although the Mier family, who were the heart of this long-lived ensemble, performed and recorded at the same time as many of the popular Mexican conjuntos, their style predates the accordion-based music that is most often associated with Tex-Mex border music, so the gentle flute-and-fiddle arrangements on this album are a pleasant contrast to the Mexican music we're used to hearing, much closer in tone and temprament to early Cuban popular music. A very nice disc, highly recommended!
Polo Montanez "Guitarra Mia" (Lusafrica/Evolver, 2002)



A nice smooth mix of guajira- style guitars and mellow, bolero-flavored vocals. Montanez hails from Cuba's Oriente province, home to the legendary Trio Matamoros, Compay Segundo, and other Cuban greats, and he certainly keeps up the standards set by those great forebearers. Although his vocal style isn't forceful or notably powerful, it is quite sly, unpretentious and appealling, and the songs on this album, all written by Fernando Borrego Linares, are also quite nice, For something mellow and modern, this is a disc well worth checking out.
Noro Morales & Miguelito Valdes "Mr. Babalu: 1949-1950" (Tumbao)



Super-corny ballads with a poppish bent. The highly esteemed vocalist Valdes is hamming it up mercilessly on the first half of this CD -- he plays it straighter on other CDs, including releases on Interstate Music's Harlequin series. But if you're looking for schmaltz, this might fill the bill.
Noro Morales "Rhumbas And Mambo: 1948-1951" (Tumbao)


Killer dance music from the late 1940s and early '50s... As brassy as Perez Prado, but smoother and more swinging. Includes vocals by Tito Rodriguez and Vicentico Valdes, as well as some hot playing by a Yankee ensemble which included Doc Severinsen. Definitely recommended! (Also check out the Tumbao label's Rumba Rhapsody CD (below) for a peek at Morales' less vigorous sides.)

Noro Morales "Rumba Rhapsody: 1945-1951" (Tumbao)



Despite Morales' huge popularity in the 1940s rumba scene, I can't say as I'd recommend this one. Mainly, these small-combo recordings highlight his piano playing, which more often than not is too noodly, and borders on easy listening. Plus, it all sounds the same, with the exceptions of a few more lively tracks towards the end of the disc.
Beny More -- "El Barbaro del Ritmo"

Los Munequitos De Matanzas "Guaguanco Mantancero" (Tumbao, 2001)


Early archival recordings from one of Cuba's most beloved percussive bands. Low-key drumming and equally relaxed vocals form this band's appeal, and it's a formula which hasn't changed much over the years -- hence the group's status as guardians of the island's Afro-Cuban culture. Although the band formed in 1953, they didn't record anything until 1956, and that first old 78 is included on this CD, along with over a dozen others from '56-'63. Personally I've always found Los Munequitos style to be a little too static, but it's great to hear them sounding so damn young on these early recordings. If you're a fan already, then this disc is an absolute must!

Rafael Munoz "Volume 1: 1938-1943" (Harlequin, 1996)


"The Glenn Miller of Puerto Rico," according to the liner notes. It's a pretty apt parallel, although Miller sounded a little smoother, and was a little less versed in Latin American rhythms. Munoz definitely had the big brass section and tight, bouncy arrangements appropriate to the Big Band era, as well as one or two corny vocalists bucking for the Bob Eberly comparison. Fun, interesting WWII-era dance music.
Rafael Munoz "Volume 2" (Harlequin, 1998)

Rafael Munoz "Volume 3" (Harlequin, 1999)

Rafael Munoz "Volume 4" (Harlequin, 1999)

---
More Albums - "N"
---



---