<! MP3 09/20/08 > <! update 00/00/00 > <! pix > <! Maso Rivera - early jibaro star German Rosario - also jibaro? >
---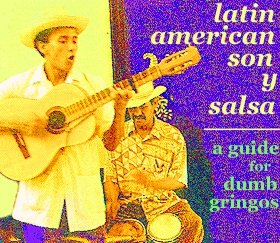 Welcome to my "guide" to some of my favorite Spanish-language music, stuff from Cuba, Puerto Rico, Latin America and beyond...
---
This page covers the letter "R"
---
A | B | C | D | E | F | G | H | I | J | K | L | M | N | O | P | Q | R | S | T | U | V | W | X | Y | Z | Comps
---
Cuban Music Links | Musical Styles | Record Label Guide
---

Ramito "El Cantor De La Montana" (Ansonia, 1960)


This guy is the ultimate superstar of the great acoustic Puerto Rican jibaro style... For me, this disc is where is where a deep and abiding love of this style of music all began. I taped this album off the radio way back in the '70s, and it was the similarity between this and the guajira and trova I heard years later that drew me to Cuban acoustic music. Ramito is the main man of Puerto Rican jibaro music -- the music of the rural "mountain" people. This early album showcases him at his absolute best -- for magical, entrancing, enthralling world music, this just can't be beat. The interplay of rhythm and melody is so sleek and hypnotically crafted that this is just plain addictive. Plus, Ramito's vocals have a piercing quality that makes him one of the most distinctive singers in the world. There are a bunch of records from the same time period -- and they are all quite good. One of my all-time faves.

Ramito/Lusito/Moralito "Los Tres Hermanos" (Ansonia)


For a more casual dip into the world of Puerto Rican acoustica, this collection might be a nice place to start. I don't really know much about the other two guys -- apparently they really were Ramito's brothers -- but their stuff holds up against the tunes by the ever-sublime Ramito. (This isn't, by the way, a collaborative effort -- the disc is made up of several tracks each of these three singers.) More nice stuff; the only liability is Ansonia's lamentable habit of including next to zilch in the liner notes department...


<! only guessing at 1962 date > <! http://en.wikipedia.org/wiki/Ramito >

Marc Ribot & Los Cubanos Postizos "The Prosthetic Cubans" (Atlantic, 1998)



Avant-hipster rock-jazz guitarist Marc Ribot, known for his offkilter work with Tom Waits, and on various John Zorn-related projects, gets into a more casual mode with this oddball tribute to Arsenio Rodriguez. I guess I have to side with the faction that finds this disc a little less than stellar -- I agree that it's super-cool to have such an iconic artiste steering folks towards this wonderful, old-time Cuban music, but I can't help but feel that he doesn't quite get the tone right. I guess I had expected something either a bit truer to the languid/lively feel of the original material, or a little more twisted and "out there." As is, this is a pleasant disc, and one that a lot of people really dig. If you're at all curious, you should check it out for yourself and see what you think.
Marc Ribot & Los Cubanos Postizos "Muy Divertido!" (Atlantic, 2000)



Greg Ribot & Cumbia Del Norte "The International Conspiracy" (Cathexsis, 2001)



An upbeat, swinging album, combining cumbia rhythms, klezmer-style clarinet and lighthearted, bouncy jazz. There's also a dash of mambo, a pinch of samba, a jigger of soca and even some of that Andean folk music. And, yes, saxophonist Greg is guitarist Marc's brother... Marc plays on several tunes, but doesn't overshadow anyone... This is a very fun album; not a wide variety of tone, but a great, playful feel. Recommended!

Rico's Creole Band "Rico's Creole Band: 1931-1937" (Harlequin, 1993)


Genteel yet alluring dance music from one of the many Parisian-based Depression-era bands, a small group led by Cuban-born clarinetist Filiberto Rico... Rico was apparently one of the earliest exponents of Latin dance music to perform in France, arriving at roughly the same time as guitarist Don Barreto, who also featured "congas," beguines and other bouncy current dance styles. The sound isn't riotous, but it is quite pleasant, with clacking maracas, rolling piano riffs and muted trumpets galore. The magnificent Antonio Machin sings on several of the later tracks on this collection; also included are Fernando Collazo and Chiquita Serrano... It's old-time, archaic Latin dance music at its best, with a strong Continental, sweet dance influence.

Rico's Creole Band "Volume 2: 1931-1934" (Harlequin, 1994)


Latin dance expatriates, recording in Paris (?) with female vocals on many tracks. Nice sentimental dance ballads, with a "sweet" big band flavor. Maybe a little prissy overall, but lovely old stuff nonetheless.

Ciro Rimac & Septeto Anacaona "1936-1937" (Harlequin, 1993)


Two separate acts on this disc -- the Septeto was an all-female band, captured here on a half dozen tunes from the late '30s, all of which are pretty good. The real star of this show, though, is Latin-American gadabout, Ciro Rimac, who in the 1930s performed throughout Europe, South America, and the United States (with Cab Calloway, no less!) There are almost twenty Rimac tunes on here, including a few groovy, Brazilian-styled songs.
Ritmo Oriental "Historia De La Ritmo, v.1" (Qbadisc, 1993)


These mid-'70s salsa recordings, originally issued on the Cuban EGREM label, feature this long-lived ensemble tearing through a series of hard-hitting, fast-paced dance tunes. It's all a little too aggro for me... The melody is held too rigidly inside the beat, and the tempo is too unremitting; it's muscular, but it ain't that sexy.
Ritmo Oriental "Historia De La Ritmo, v.2" (Qbadisc, 1994)


Ritmo y Canto "Ritmo y Canto" (Everlovin' Records, 2005)



Traditional Afro-Cuban son montuno featuring a wide swath of LA's finest Latin-oriented musicians... The group is headed by drummer Adam Topol, whose day job is slapping the skins for the Jack Johnson Trio; it's pretty cool to hear a "pop" musician like that who has delved so deeply (and so effectively) into this music, and has stayed so true to its authentic core. Also on board are members of Latino agit-pop band Ozomotli, some folks from the UCLA music department and various other bands. Lead vocalist Tesesita Dome Perez has one of those true, timeless, wailing voices that anchors this album and provides an emotional core... But the musicnship backing her up is rock-solid, and this is a fine, fine record for the style. If you like Los Munequitos De Matanzas, for example, you will probably love this as well.
Maso Rivera "60 Anos De Musica Y Arte" (Disco Hit, 1999)





<! http://en.wikipedia.org/wiki/Maso_Rivera legendary Puerto Rican cuatro player >

Maso Rivera "20 Exitos Gold Series" (Disco Hit, 2003)

Maso Rivera "Lo Mejor De..." (Canal, 2008)

Maso Rivera "Danzas Y Danzones" (Canal, 2008)

Arsenio Rodriguez -- Soulful salsa pioneer

Ray Rodriguez "Delusion" (Fania/Alegre, 1969)


Despite the groovy, sorta-psychedelic artwork, this is fairly standard, although fairly good late-'60s Latin dance music. Coasting off the pachanga and boogaloo years into the '70s salsa scene, the Rodrigues brothers, Ray and Bobby, cranked out some solid horn-based grooves... Not as loose as some of their contemporaries, but still pretty solid.
Silvio Rodriguez -- political folkie extraordinaire!

Orquesta Antonio Maria Romeu "El Mago De Las Teclas: 1937-1940" (Tumbao)


Older style Cuban dance music -- danzones and boleros which are dominated by flute melodies and arpeggio riffs which recall "Looney Tunes" cartoon music. Romeu was a major composer in this once-dominant dance style; after his death -- vocalist Barbarito Diez took over the band, and led it for several decades, until his death in 1995. This is a nice glimpse of their band during its Depression-era prime.

Edmundo Ros "The Wedding Samba" (ASV, 2001)


Sure, I know it's not considered hip, or even perhaps politically correct, to like Edmundo Ros... But it has to be admitted that his cornball brand of commercialized Cuban music has its charms; in fact, I like him a lot. This is a pretty solid selection of Ros' work from the 1940s, when he took up the mantle as Britain's reigning king of lite Latin swing. Born in Trinidad, schooled in Venezuela, Ros broke into the English dance band scene as a member of Don Barretto's band, then swiftly became one of the most commercially successful "Cuban" bandleaders in Europe. This is kitschy stuff, sure, but still can be fun... It's funny, though, to hear him sing: he sounded a lot like Burl Ives! At any rate, for a sympathetic introduction to his work, this is a pretty spiffy collection.
Edmundo Ros & His Rumba Band "Volume 1: 1939-41" (Harlequin, 1994)


Deliriously schmaltzy latin dance music recorded in England both during and after the War. These discs will be a very pleasant surprise for folks who are mostly familiar with Ros' endless series of tepid EZ listening albums of the '50s and '60sÉ What we hear here are perky, sprightly novelty tunes galore, with plenty of overwrought, corny vocals by Ros and crooners such as Ronaldo Mazar, Denny Vaughn, and others. This chronologically programmed series shows the growth of Ros' kitschy sound, from its rinky-tink origins to the postwar era, when his band had become a finely oiled, efficient machine, churning out endlessly pert, perky dance tunes. Many of these songs are novelty number, often showcasing Ros' cheerfully bland vocals, which sound quite strikingly like Burl Ives. Ros riffs on Brazilian themes and money worries; many fans of "authentic" Latin dance music despise this stuff, but I think it's pretty charming. And his band certainly did not suck; they just did the job that was given them, and they did it very well. Definitely worth checking out!


<! Volume One includes early recordings with Don Barreto's band, as well as a few clips from an interview where Ros cheerfully takes credit for the popularization of rumba music, reminisces about playing during the Blitz and tells how he stole Barreto's band. >
Edmundo Ros & His Rumba Band "Volume 2/1942-44: Tropical Magic" (Harlequin, 1995)

Edmundo Ros & His Rumba Band "Volume 3/1945: Cuban Love Song" (Harlequin, 1996)

Edmundo Ros & His Rumba Band "V. 4/1946-1947: Chiquita Banana" (Harlequin, 1998)

Edmundo Ros & His Rumba Band "Volume 5/1948: La Comparsa" (Harlequin, 1999)

Edmundo Ros & His Rumba Band "Volume 6/1948-49: Chocolate Whiskey & Vanilla Gin" (Harlequin, 2000)

Edmundo Ros & His Rumba Band "Volume 7/1949-50: Mambo Jambo" (Harlequin, 2000)

Edmundo Ros & His Rumba Band "Playtime In Brazil" (Harlequin, 2002)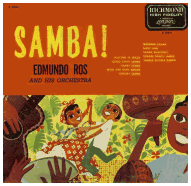 Edmundo Ros "Samba!" (London/Richmond, 1960)


Trinidad-born Latin-pop bandleader Edmundo Ros dabbled in sambas from the start of his career (along with practically every other kind of Latin American dance style...) but this was his first album exclusively devoted to the style. It's okay, but not great... Don't get me wrong: I actually like Ros's kitschy, popped-up, cartoonish style, but these mid-1950's recordings don't have as much sparkle and energy as his earlier work in the '40s, and while these are cute and perky, they aren't as genuinely charming as the older stuff. Also, he has a tendency to slip into a calypso vocal style, and never really gets into the slippery rhythms and timing of genuine Brazilian music. On the other hand, this isn't as bland as his later work, when the bounciness gave way to easy-listening torpor, so relatively speaking this is kind of lively. Worth a spin, I suppose, though there's definitely better Edmundo Ros material to explore (see above) and way better classic samba-cancao from Brazil.

Gonzalo Rubalcaba "Paseo" (Blue Note, 2004)



Latin-jazz bandleader Rubalcaba, guiding on piano and percussion, dips deeper into the "Latin" side of his art, with tracks like the opening number, "El Guerrillero" and "Paseo Con Fula," which delve into the older styles which led to the modern-day Afro-Cuban son and salsa we know and love today. Overall, this is too jazz oriented for me, but Latin-jazz fans will find these explorations of the tradition's roots refreshing and true... The playing is certainly vigorous and earnest... I'm just not that much of a jazz fan to savor it...

Las Rubias Del Norte "Rumba Internationale" (Barbes, 2005)



This Brooklyn-based acoustic ensemble revives the classic music of Cuba (and other Latin American and European lands) with obvious affection and delight... The keening vocal style of classically-trained singers Emily Hurst and Allyssa Lamb might not be for everyone, but it does recall some of the more plangent tones of Latin dance music in the 1930s -- and its oft-forgotten foundations in European classical music, The group is remarkably versatile, as seen in their set list, which includes chestnuts such as "Quizas, Quizas, Quizas," alongside tunes from Bobby Capo, Margarita Lecuona and others, as well as a dash of Mozart, and even a kooky cover of the Sons Of The Pioneers' "Tumbling Tumbleweeds." This first album definitely has the feel (and sound) of a self-produced, modestly-budgeted affair, but it also has the enthusiasm and elan that has been lost in much of modern pop. Probably not for everyone, but students of archaic Latin American music such as the rumba and danzon will be happy to find a modern band in North America that's reviving this material: you can find out more through the band's website at www.lasrubiasdelnorte.com.

Las Rubias Del Norte "Panamericana" (Barbes, 2006)



(Produced by Las Rubias Del Norte & Olivier Conan)
The second album by Las Rubias shows the band moving from strength to strength, and from nation to nation, in this wide-ranging collection of songs from several Latin American countries... The sound mix has more density and richer texture, and the music gets more complex and adventuresome, with hints of darker modernism, along the lines of Marc Ribot's forays into Latin American music. While not as far-flung or overtly avant-garde as Ribot's band, Los Cubanos Postizos, Las Rubias add slight, subtle grungy guitar tones and crunchy, hard rhythms amid the genteel confines of styles such as the bolero and vals... They also indulge in some funky dance music with good, old cumbias and old-fashioned Mexican ranchera music, along with a Brazilian tropicalia tune, thrown in for good measure. And there's another Sons Of The Pioneers cover... Now that's my kinda playlist! Vocalists Emily Hurst and Allyssa Lamb also seem to be loosening up a little and getting more down-home... All in all, a nice set and hopefully an indication of more good things to come. Worth checking out!
---
More Albums - "S"
---



---