<! MP3 09/20/08, 02/10/11 > <! update 00/00/00 > <! pix 02/10/11 > <! icons 02/10/11 >
---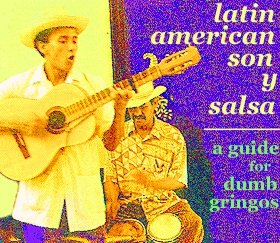 Welcome to my "guide" to some of my favorite Spanish-language music, stuff from Cuba, Puerto Rico, Latin America and beyond...
---
This page covers the letter "F"
---
A | B | C | D | E | F | G | H | I | J | K | L | M | N | O | P | Q | R | S | T | U | V | W | X | Y | Z | Comps
---
Cuban Music Links | Musical Styles | Record Label Guide
---
Candido Fabre "Son De Cuba" (Tumi Music, 1996)



Candido Fabre "La Habana Quiere Guarachas Contigo" (Tumi Music, 2000)



Hip-hop freestylers could do well to study the flow of this fellow, who is hailed as a star of the new generation of Cuban guaracha singers, and as an heir to the throne of the great Beny More. While Fabre has nowhere near the vocal power or purity of tone that More had, he is certainly a deft wordsmith and can dash off tounge-twister lyrics at lightening speed. What's most impressive about this set is that all the tracks on here were written by Fabre himself -- almost unheard of in Cuba, where standards and tradition are the watchwords of the day. His band is also pretty sharp, with a strong rhythm section and nice charanga arrangements. Definitely worth checking out.
Candido Fabre "Cubano Soy" (Tumi Music, 2006)






<! MANY Fania All-Stars MP3s >

Fania All-Stars "Que Pasa: The Best Of The Fania All Stars" (Columbia Legacy, 2002)



For a brief time in the late 1970s, salsa music seemed poised to crack into the American mainstream, with slick Latin rhythms suffused throughout the jazz fusion world, and hints of son rhythms creeping into the Miami disco scene. The Fania All-Stars, as the name would imply, was a celebrity-packed jamfest, with a rhythmic core drawn from the ranks of the Fania label's roster, including Johnny Pachecho, Bobby Valentin, Papo Lucca, Roberto Roena, Johnny Rodriguez and others, along the elite of the booming North American salsa scene, artists such as Celia Cruz, Mongo Santamaria and Ruben Blades. This CD collects material from four albums the ensemble recorded for Columbia Records (in itself, a significant crossover milestone): 1976's Delicate And Jumpy, 1977's Rhythm Machine, Spanish Fever, from 1978 and Cross Over, from 1979. It's a solid, swinging set, ranging from reworkings of seminal Latin pop hits such as "El Manisiero (The Peanut Vendor)" to more modern, aggressive dance tunes. This collection also offers plenty of strong performances and a good impression of the breadth of pop styles the All-Stars were willing to take on -- a dash of disco and '70s-style soul/R&B, some rock, and plenty of commercial and fusion jazz. Non-Latin guest stars include folks such as rocker Steve Winwood, soft-jazz saxman David Sanborn, soul singer Gwen Guthrie, and the inevitable Brecker Brother or two. All in all, a nice sampling of this well-named, well-regarded crossover crew. Recommended!
Joseito Fernandez "Guajira Guantanamera" (Musica Del Sol, 2003)


Iffy old material from the fella who co-composed "Guantanamera," one of the most famous Cuban songs ever written... Fernandez (born Jose Fernandez Diaz, in 1908) may have had stronger recording sessions elsewhere, but this set is pretty rough-hewn and somewhat sloppy. The provenance is unclear (the liner notes don't tell where or when these tunes were recorded) but since Fernandez was a radio star, I'd guess much of it comes from his daily radio shows... At any rate, these seem to be old jam-sessions with pretty loosey-goosey arrangements... I enjoy informal music, but found my attention waning on most of this album. Also, no matter what the song titles were, almost every track winds up in a reprise of the "Guantanamera" chorus... Didn't do much for me, but it's probably worth checking out for the historical value.

Ruth Fernandez "Es De Borinquen" (Tico, 1963)


A middle-period album by one of Puerto Rico's leading female singers. Ms. Fernandez worked as a child star in the '30s and '40s, and became an internationally known performer in the 'Fifties. This album, with backing by Machito and his band, frames the husky-voiced diva in fairly lackluster arrangements -- brassy, but not that fiery. It's okay, but didn't really grab me.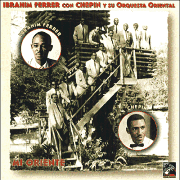 Ibrahim Ferrer & Chepin y Su Orquesta Oriental "Mi Oriente" (Tumbao, 1999)


Wow. What a coup for Tumbao! Cuban vocalist Ibrahim Ferrer's star has never shone brighter than now, with the universal popularity of the Buena Vista Social Club, yet here is an amazing chance to hear Ferrer in his youth, as a singer for the 1960-61 orchestra of composer Electo "Chepin" Rosell (co-leader of the reknown earlier Chepin-Choven band). Ferrer actually only sings on half the tracks here, but those eleven songs are all pretty swell, especially "Habana Camilo" and "El Platanal de Bartolo," two Chepin originals. If you want to hear what the best Batista-era bands sounded like, plus to hear what everybody's favorite bolero singer was like when he got the chance to rock out on a swinging son-montuno, check this puppy out!

Ibrahim Ferrer "Buena Vista Social Club Presents..." (Nonesuch/World Circuit, 1999)



This spinoff is the closest to the seductive, fluid feel of the first Buena Vista album. This is hardly surprising since, like the first album, it also features slide guitar and guidance by Ry Cooder, and percussion by Cooder's son, Joaquim. Ferrer is a stunning bolero singer, able to stretch out his phrasing and make the most of the rich instrumental bed provided by Cooder and company. As attested to by decades worth of indifferently produced bolero albums, it's a genre in which it's difficult to strike a healthy balance between romantic schmaltz and sheer cheese. If you've ever wondered about the best way to hear this stuff, look no further. This is a gorgeous collection of slow ballads and swaying dance songs -- Highly recommended!

Ibrahim Ferrer "Buenos Hermanos" (Nonesuch/World Circuit, 2003)



Another fine album by this remarkably powerful septegenarian vocalist. Producer Ry Cooder steps back into the foreground, taking his strongest role as performer and arranger since the first Buena Vista Social Club record. His distinctive melodic sense and loose-limbed, virtuoso playing are evident throughout this disc; the traditionalist detractors who complained about his influence on the original BVSC project will probably want to skip this one, or at least try not to be so crabby about it. (Their loss, though... the rest of us will just have to groove out on it without them!) The most impressive aspect of this album, however, is Ferrer himself... an amazingly vital, expressive performer, well into his fifth decade as a featured performer. Definitely worth checking out.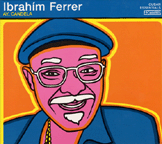 Ibrahim Ferrer "Ay, Candela" (Escondida, 2005)



As with other volumes in this fascinating series on the Escondida label, this album sheds light on some less well-known material from a popular Cuban performer. This disc collects material from 1963-85, after Ferrer first made his mark as a vocalist in "Chepin" Rosell's early 'Sixties band, but well before his elevation to global stardom as one of the artists featured in the Buena Vista Social Club documentary... These old EGREM recordings have much of the bright, brash, and relatively unpolished sound of Cuban music in the '70s and '80s, a tinny quality that stands in sharp contrast to the polished elegance of the more recent (and more high-budget) Buena Vista recordings. But it's also lively, highly energized material, with Ferrer riding atop arrangements that are joyous and wild -- and when he really hits a groove, watch out -- this is smoking hot! Recommended, especially if you want to dig deeper into Ferrer's "missing years."

Ibrahim Ferrer "Mi Sueno" (Nonesuch/World Circuit, 2007)



Before he passed away in 2005, the superlative Cuban vocalist Ibrahim Ferrer was working on an album of Latin American boleros, the slow, lachrymose romantic ballad style that once typified corniness and excess in Latin music. Although his voice was notably diminished by the time of these recordings -- his phrasing was occasionally halting and stiff, lacking the nimbleness and drive of his older guaracha recordings -- Ferrer was still a masterful singer of song. Indeed, the creaky moments on this album underscore the emotional vulnerability that runs throughout the genre, introducing a humanity and fragility that is a welcome contrast to the bombastic, belting approach favored by many bolero performers. This set also includes an older track from 1998 produced by ethnomusicologist Ry Cooder, who brought Ferrer to global fame as part of the Buena Vista Social Club project. The first time you listen to this album, you might be a little put off by the flaws -- but as you listen more intently and are drawn in, they will become part of the enchantment that Ferrer wove for this last great effort. Worth checking out!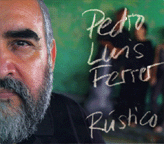 Pedro Luis Ferrer "Rustico" (Escondida, 2005)



Nice-sounding acoustic music with a political edge, from Cuban dissident Pedro Luis Ferrer (who I'm told has been banned from Cuban TV for several years, and releases records outside of the country...) This combines the popular changui style with less familiar modes from Central Cuba, where Ferrer hails from. The tres guitar playing is quite nice and typically seductive, although the female vocals by Lena Ferrer (presumably his daughter?) are more folkie, in the protest-song tradition of the Cuban trova, and seem at odds with the elegance of Papa Ferrer's skillful guitar work. His lyrics weave between oblique romantic versification and relatively blunt critiques of those in power; I imagine that to some Cubans this is still controversial stuff, though I suspect that for many, the political struggles of Castro's waning years is less about manning the barricades, and more a matter of simply running the clock down. Guess we'll find out someday. Anyway, if Cuban politics intrigue you, Ferrer does his best to assume the role of a gadfly, which certainly makes his music different than other musicians who keep their heads down and stick to traditional themes... But the musicianship is solid as well, so you don't necessarily have to fret over whether this guy is a reactionary or a poet... You can also just enjoy the pretty music.
Mary Fettig "Brazilian Footprints" (F Major Records, 2008)



Swingin', latin-flavored smooth jazz from flautist/saxophonist Mary Fettig, a veteran player who's worked with Tito Puente, Stan Kenton, Flora Purim, and others. Although there are tunes on here that would place more in the realm of "latin jazz," there is an authentic Brazilian vibe at play as well. The repertoire is refreshingly free of Brazilian standards (no Jobim, nor Pixinguinha) and includes several original compositions by Fettig's pianist, Marco Silva, and by guitarist Chico Pinheiro. Vocalist Claudia Villella also contributes... The sound is a little too "smooth" for me, but if you like the style, this is a very strong album, showcasing lots of new talent. (Available through Mary Fettig's website, www.maryfettig.com/a>)

Pedro Flores "1935-1938" (Harlequin, 1996)


A contemporary of Davilita and Rafael Hernandez in the early New York nuyoriquen Depression-era dance scene, Pedro Flores led a likeable, but palpably second-string ensemble... The format and style are the same as the other artists, but the execution is a little sluggish, particularly in the rhythm, and the players often seem to have trouble melding their performances. Still, there are plenty of lovely songs on here, and this is quite enjoyable, particularly on some of the slower, more redolent songs. Definitely worth checking out!
Pedro Flores "1933-1942" (Harlequin, 1998)


Roberto Fonseca "Zamazu" (Enja/Justin Time, 2007)



Innovative, introspective and remarkably elastic Latin jazz from Cuban pianist Roberto Fonseca, a recent addition to the extended Buena Vista Social Club clan... Influenced by fusion artists such as Herbie Hancock and Keith Jarrett, Fonseca also has a deep affinity for old-school Cuban son, and mixes the two in a way that is fairly unique. Instead of teetering back and forth between dense, showy jazz riffs and explosive bursts of salsa (as is typical of the genre), Fonseca really weaves the various strands together in a sinuous, expressive way... I'm not normally a big mainstream or Latin jazz fan, but I found this album to be consistently engaging and persuasive, as well as quite diverse. Some cool guest performers as well -- Brazilian percussionist Carlinhos Brownjoins in on a version of Abdullah Ibrahim's "Ishmael," while Buena Vista cohort Cachaito Lopez plays bass on several tracks, and Omara Portuondo sings on a stripped-down duet, "Mil Congojas." If you're looking for new Latin jazz with heft and soul, check this album out.
---
More Albums - "G"
---



---