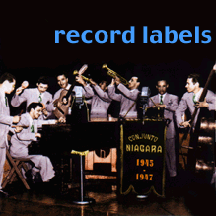 ---

Here are some of my favorite Cuban (and Latin American) music labels...
---



Ahi-Nama Music
This LA-based label features a wide variety of contemporary Cuban music, from the most hardcore old-style sones and traditional percussion to hipper, urban crossover material. Modern, but not too slick.

Alma Latina
An impressive reissue label from Barcelona, specializing in boleros and slower romantic material...


Arhoolie
Founded in 1976 by folklorist, record collector and cultural good samaritan, Chris Strachwitz, Arhoolie is one of America's rootsiest roots labels. Their catalog includes dozens of fascinating Cuban, Mexican and Latin American releases.


Bembe Records
An independently-owned label from Redway, California. Bembe's modest catalog ranges from the traditionally oriented Conjunto Folklorico to several contemporary Cuban salsa/dance and latin jazz bands. The gem of their catalog is a sizzling set of mid-1960s recordings by Generoso Jimenez, featured trumpet player for the band of legendary vocalist Beny More. Nice folks.
Blue Jackel Records
Along with its excellent selection of contemporary Brazilian releases, Blue Jackel also has the stunning "CUBA: I AM TIME" 4-CD set, which features an wide and impressive sweep of artists old and new.

Caney Records
An incredible reissue label from Barcelona. Historic dance music from Cuba, as well as later recordings by Cuban artists living in Spain. The Caney CDs I've heard have all had remarkably good sound... nary a pop or tape hiss to be heard. Caney's catalog also includes several outstanding decarga (Cuban jazz) albums.
Corazon Records
Formerly the Latin-American wing of the Rounder Records empire, Corazon offers a slew of absolute gems, including material from Cuba and Mexico. Licencing arrangements have changed in recent years -- Rounder only carries a few Corazon titles now -- but the old CDs are all well worth tracking down. Not to be missed are CDs by Ochoa Eliades and his group, Cuarteto Patria, as well as the outstanding ANTHOLOGY OF MEXICAN SONES, a three CD box set which reissues material from a multi-LP series of traditional music, originally issued by the Mexican government in 1985. Check out the music from Veracruz: a more hypnotic sound would be hard to find. (NOTE: Rounder also has a few Cuban collections hidden away in their regular "Rounder" imprint, so check in there as well.)
Interstate Music -- Harlequin Records
The answer to all our prayers. The Interstate catalog includes country, blues, gospel and jazz, as well as dozens of outstanding archival collections of world music. Their Cuban and Latin American collections are particularly amazing. A fairly complete description of their catalog is now within your grasp.
Nonesuch Records has a complete line of Buena Vista Social Club-related albums, all reviewed on my BVSC page, as well as an impressive catalog of other great world music and modern classical releases. Check it out!
Qbadisc Records
True believers who offer some of the finest Cuban music in town... any town. Their CUBAN GOLD compilations should rock your socks off-- five CDs which collect some of the finest dance Havana dance tracks of the 1960's, '70s and '80s. The fine folks at Qbadisc remastered the older material so that the archetypically shrill brass sections now sound mellow and sonorous (which is how they originally sounded: until now, we've just heard poorly mixed versions of the same material). I personally love that the discs are organized by decade, so if you like the stuff from the '60s, that's what you'll get when you pick up Volume 3. Qbadisc also offers albums by many contemporary bands, including the ultra-traditionalist percussion ensemble, Los Munequitos de Matanzas, and modern bands such as Irakere and Sintesis. (Qbadisc can be reached at P.O. Box 1256, Old Chelsea Station, New York, NY. 10011, or via e-mail them at: qbadisc@interport.net and tell Ned I said "hi.")
Tumbao Records


Wow. Classic Cuban music from the 1920s, '30s, '40s, and '50s. Over a hundred excellent CDs by well-known artists such as Perez Prado, Beny More, Xavier Cugat and Arsenio Rodriguez, as well as more obscure, but astoundingly groovy musicians, such as Armando Valdespi, Servando Diaz and Nelo Sosa. This music was originally issued on 78 RPM recordings that you'd have stage a coup d'etat to own in real life. The Tumbao catalog is described within.
Tumi Music's catalog is a bit more modern, but certainly worth checking out.
---
FINDING THE STUFF: Music Distributors
---
Descarga Distribution is one of the best latin American music distributors in the world. They have a groovy website and big old thick catalog of all the records they carry. You can either contact them directly, or maybe have your local record store do it for you. (PS-- I don't work for Descarga, or anyone else. I just know they have good stuff to offer...)
Also, Down Home Music in El Cerrito may be of help. They carry a wide variety of roots, jazz and world music and do a lot of mail order business.
---

Cuban Music Index
Other International Music
Slipcue Main Page



---