<! MP3 09/20/08, 02/12/11 > <! update 00/00/00 > <! pix 02/12/11 > <! icons 02/12/11 >
---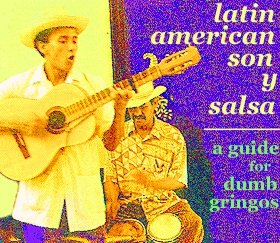 Welcome to my "guide" to some of my favorite Spanish-language music, stuff from Cuba, Puerto Rico, Latin America and beyond...
---
This page covers the letter "L"
---
A | B | C | D | E | F | G | H | I | J | K | L | M | N | O | P | Q | R | S | T | U | V | W | X | Y | Z | Comps
---
Cuban Music Links | Musical Styles | Record Label Guide
---

Laito Jr. & Laito Sr. "Siempre Juntos" (Ahi-Nama, 2001)



Jose de Jesus Hernandez Boza (better known as "Laito, Jr."), is the charismatic heir to the band and sound of the late Cuban cancionero, Estanislao Sureda Hernandez (aka "Laito," one-time star of the fabled Sonora Matancera, and founder of La Sonora Sonora...) Laito Jr.'s approach to this old-style romantic dance music is only fractionally less traditionalist than his predecessor... This is another great, rock solid album, featuring their combined talents and plenty of great, eminently dancable music. Recommended!


<! B000WAU0VM "Saradonga!" under La Sonora ...? >
La Lupe & Tito Puente "Tito Puente Swings, The Exciting Lupe Sings" (Tico, 1965)



La Lupe & Tito Puente "Tu y Yo (You 'n' Me)" (Tico, 1965)



This collaboration with the odd-voiced and erratic singer La Lupe is, perhaps, not Tito Puente's finest hour. At least it's not the same fiery dance music we know and love him for. Rather, it's streamlined and poppy, with the subdued band at the service of Ms. Lupe Victoria Yoli Raymond, aka La Lupe, "The Little Queen of Latin Soul," whose mildly grating vocals run against the grain of the normal sleekness of latin dance music. I suppose she's closer in some ways to North American R&B singers such as Etta James or Sugar Pie DeSanto, a little rough around the edges and wild in an unusual way. I know she has a big cult following, but I gotta confess: I don't quite get it. This was the followup to the wildly successful Tito Puente Swings, The Exciting Lupe Sings, which came out earlier the same year.
La Lupe & Tito Puente "La Pareja" (Tico) <! 1978? >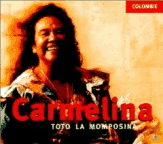 Toto La Momposina "Carmelina" (Indigo, 2000)


A stunning set from this Columbian diva... This veers sharply away from the standard-issue hyperactive cumbias that dominate most Columbian releases, with an electric mix of Cuban-style sones and guarachas, African percussion and indigenous South American folk styles. Okay, so I admit that may sound a bit academic on paper, but that's why you owe it to yourself to pick this album up and see if you think it sounds as groovy as I do. La Momposina is an arresting vocalist, and these tunes are delivered with a solid, swinging beat. Highly recommended!

Rolando Laserie "Mentiras Tuyas" (Alma Latina, 2000)


At the height of the Batista-era Cuban nightclub scene, percussionist Rolando Laserie broke away from his job in the rhythm section of singer Beny More's band in order to become a featured vocalist himself. This disc features his prime early material, smouldering Afro-Cuban sones from 1958-60, in which Laserie soulfully echoes More's forceful romantic style. Although these tunes were originally written as slow, sappy boleros, in Laserie's hands they become sizzling, groove-heavy dance tunes. The musicianship is stellar throughout, as Laserie drives his percussionists and horn sections into an uptempo frenzy. Like many Cuban musicians, Laserie later went on to work in the jazz arena, working with bandleaders such as Tito Puente and Bebo Valdes, but these early recordings reveal him as a dynamic traditional singer at the peak of his powers. Recommended!!
Rolando Laserie "Todo El Tiempo" (Musart, 1977)





<! B000S5CBFY - MP3? >

Rolando Laserie & Johnny Ventura "Dos Ases Al Tiro" (Combo, 1977)


Recorded at the height of the NY/Miami salsa scene, this is a pretty punchy, horn-based set, showing Laserie a little long in the tooth, but still with an intuitive grasp of phrasing and melodic ooompf that sets him apart from the pack. Not the best album from this period, but certainly not the worst.

Lecuona Cuban Boys "Lecuona Cuban Boys - Volume One" (Harlequin, 1991)


Lecuona Cuban Boys "Lecuona Cuban Boys - Volume Two" (Harlequin, 1991)


Mid-'Thirties latin dance music with a slight veneer of Euro-ballroom pop schmaltz. Mostly pretty solid playing and strong vocals. Pianist Armando Orefiche and his brother Adalberto were among the stars of this large combo, which toured Europe and Latin America during the Depression era. This disc has some of their punchier, more upbeat, dance material on it. (Harlequin also has several CDs worth of Orefiche's later "solo" work...)
Lecuona Cuban Boys "Lecuona Cuban Boys - Volume Three" (Harlequin, 1992)


More early latin dance music, with a decidedly corny, even rinkydink sound to it. Pianist Armando Orefiche and his brother Adalberto were among the stars of this large combo, which toured Europe and Latin America during the Depression era. This particualr disc didn't do much for me, but the Cuban Boys have a devout following, so it's probably worth checking out regardless of what I think...

Ernesto Lecuona & The Lecuona Cuban Boys "Volume Four: 1932-1936" (Harlequin, 1993)


A spiffy package collecting several rare sets of recording dates from the band's early years abroad. The first sessions are from 1932, when the fledgling band had set down in Madrid and became the toast of the town... The later recordings are from 1936, after the Cuban Boys had become an internationally established act... Pianist Armando Orefiche took over the band after Lecuona returned to Cuba, and plays throughout on all these tracks... I'm still not as drawn to this material as I'd like to be, but this disc is a must for anyone serious about checking this band out.
Ernesto Lecuona & The Lecuona Cuban Boys "Volume Five: 1932-1940" (Harlequin, 1994)

Ernesto Lecuona & The Lecuona Cuban Boys "Volume Six -- In Venezuela: 1940" (Harlequin, 1995)

Ernesto Lecuona & The Lecuona Cuban Boys "Volume Seven -- In South America: 1940-1944" (Harlequin, 1996)

Ernesto Lecuona & The Lecuona Cuban Boys "Volume Eight -- Carnival In Buenos Aires: 1941-1944" (Harlequin, 1997)

Ernesto Lecuona & The Lecuona Cuban Boys "Volume Nine: 1946-1949" (Harlequin, 1998)





<! B000QQV4RQ - cheapo MP3 album >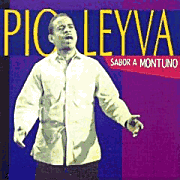 Pio Leyva "Sabor A Montuno" (Virgin-Spain, 1999)


This is a pretty super-swinging album from singer Pio Leyva. You might not have noticed him right off in the Buena Vista Social Club movie; he isn't as prominent as some of the other fellas. But dig these awesome old recordings of Leyva at the height of his powers, back in the 1950s, belting it out in front of bands assembled by the likes of Bebo Valdes and the great Venezuelan ensemble, Orquesta Billos Caracas Boys. It's all pretty hot & well worth tracking down!

Pio Leyva "Yo Baila Con Ella" (Tumbao, 1998)



Another simply stunning set of Leyva's best early work. Man, what a singer. Great musical backup, too, provided by the bands of Mariano Merceron, Nino Rivera and Joaquin Mendivel. If perhaps Perez Prado's '50s mambo recordings are just a little too kitschy for you, then check out these killer sessions, which shares a lot stylistically, but makes no concessions to the softer, goofier pop impuses that other musicians made in order to cash in on the Stateside mambo craze. This is Cuban dance music in its purest, most elevated form, great stuff from beginning to end. Highly recommended. (Note: There are several Leyva collections with this same title; I'm sure the others are also quite good.)
Pio Leiva "El Montunero De Cuba" (Tumbao, 1999)

Pio Leyva "Sonero Master" (Big World, 2002)


This minimally-packaged US reissue offers no clue as to when these vintage recordings were made, but I'm guessing sometime in the 1960s. Anyway, it's great stuff. Leyva is an amazing singer, and the musicians backing him are sizzling hot!

Pio Leyva & Los Soneros De Verdad "A Buena Vista: Barrio De La Habana" (Narada World, 2001)



Pleasant, though unchallenging, new recordings featuring Pio Leyva and a bunch of other players. A nice mix of old-timers and traditionally-oriented young'uns. A nice album... easy on the ears and thankfully free icky modern touches.
Pio Leyva "Soneros De Verdad Present..." (Pimienta/Universal Latino, 2002)



Although the fire and fury of his early years is clearly long behind him, these new recordings find Leyva with sympathetic accompaniment courtesy of some of Cuba's talented young'uns. You can hear Leyva creaking and groaning around the edges, but this is still masterful, pleasant son, with a softer edge than what normally makes its way off the island.


<! 02/11: several others on CD and MP3 >

Tania Libertad "Costa Negra" (World Village, 2002)



South American diva Tania Libertad has specialized in romantic boleros and leaned heavily into glitzy pop production; here she gets a little folksier, with acoustic arrangements bouyed by Afro-Peruvian percussion. She digs pretty deep into the style, offering music similar to her fellow Peruvian, Susana Baca. It's a little lighter and more engaging than other recent records; fans of the Latin American "new song" movement may enjoy this disc.

Joe Loco "Mambo Loco: 1951-1953" (Tumbao)


Early works by one of the best-known Cuban latin jazz-pop artists of the 1960s. A bit too breezy for my tastes, but probably quite nice for the EZ listening/loungecore/soft jazz crowd.

Belisario Lopez & Joseito Nunez "1937-40" (Tumbao)



Belisario Lopez "Prueba Mi Sazon: 1942-1948" (Tumbao)



Prime recordings made by one of the masters of the Cuban danzon, (or "French charanga," as it was also called). These breezy, flute-led instrumentals may be too prissy for some, and after you hear several in a row, may start to wear thin. Yet you can definitely hear a throughline from these old, swaying dance tunes to the more modern salsa tipica bands such as Orquesta Aragon and Orquesta Broadway... and this is where the style began.


<! cheapo MP3 best-of B0014FPLTK >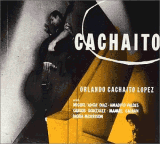 Orlando "Cachaito" Lopez "Cachaito" (Nonesuch/World Circuit, 2001)



Here's a mark of distinction: bass player "Cachaito" Lopez is the only musician to have performed on every BVSC album produced (to date) for Nonesuch Records... Think about that for a while. On his solo album, "Cachaito" explores jazzier terrain, with a series of drifting, expansive instrumentals that show a strong command of traditional Cuban descarga jam sessions, but also a youngster's willingness to explore new stuff, such as the brief forays into hip-hop which kick this album off. Very different from the other Buena Vista albums, but if you're into it, this could be a very satisfying album.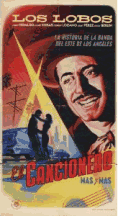 Los Lobos "El Cancionero" (Rhino, 2001)


Y Los Lobos, tambien? Sure, why not? While East LA's best Latin-American roots-rock bar band was bringing "La Bamba" back into the mainstream and helping re-define the public image of Chicano culture, they also indulged a great love (and knowledge) of hillbilly music. This 4-CD box set may be a little bit more than the average listener requires... that's why we're also lucky that so many of their albums remain easily available to this day. These guys are pretty good.
Sandra Luna "Tango Varon" (Times Square, 2004)



Modern tango vocals from Argentina, with all the redolent emotional power you'd expect from the style... Actually, Luna is somewhat restrained in her delivery, which is kind of a nice change of pace from the normal over-the-top approach so many artists take in this ultra-romantic genre. If you like the tango, this is certainly worth checking out!

La Lupe "Puro Teatro: A Lady & Her Music" (Fania, 2010)



A sweeping 2-CD overview of La Lupe, a Cuban-American fireball who was the queen of Latin soul during the 1960s, when her wild, tempestuous live shows were the stuff of legend and infamy. Plenty of what you'd consider straight salsa or Latin dance music here, as well as some swank big-band arrangements and a glimmer of girl-group pop from the pachanga era, all sung in La Lupe's explosive style. I have to confess, it took me a while to warm to her rough-edged, Eartha Kitt-ish voice, but once she gets under your skin, she's got you. There's also a bunch of cool video footage of her kicking around online -- give YouTube a shot if you're curious.
---
More Albums - "M"
---



---