<! MP3 09/20/08 > <! update 00/00/00 > <! pix > <! Frank Quintana >
---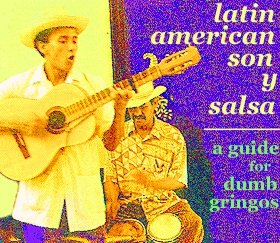 Welcome to my "guide" to some of my favorite Spanish-language music, stuff from Cuba, Puerto Rico, Latin America and beyond...
---
This page covers the letter "Q"
---
A | B | C | D | E | F | G | H | I | J | K | L | M | N | O | P | Q | R | S | T | U | V | W | X | Y | Z | Comps
---
Cuban Music Links | Musical Styles | Record Label Guide
---
Alfonsin Quintana "Vamos Pa'La Rumba" (Tumbao)


With Daniel Santos.
Ismael Quintana "La Herencia" (Fania, 2010)


Ismael Quintana "Dos Imagenes" (2003)





<! http://en.wikipedia.org/wiki/Ismael_Quintana Quintana was born in Ponce, Puerto Rico. His family moved to the Bronx sector of New York when he was only two weeks old; here he went to school and whilst he was still in high school he formed a band with his neighborhood friends. In 1961, bandleader Eddie Palmieri heard Quintana sing for an audition and invited him to join his newly organized orchestra "La Perfecta". Quintana accepted and became the lead singer of the band between 1961 and 1971. During this time he co-wrote some of Palmieri's major hit songs. With Palmieri, Quintana was awarded the 1966 Trophy for the "Most Popular Latin Singer of the Year", awarded at the famed Palladium Ballroom in New York. Quintana left Palmieri for a solo career and signed with the Vaya Records (subsidiary of Fania Records) . Between 1974 and 1983, he recorded five albums as a solo artist, scoring his first major hit with "Mi Debilidad" (My Weakness). >
---
More Albums - "R"
---



---