<! MP3 00/00/00 > <! update 00/00/00 > <! pix 00/00/00 > <! icons 02/18/11 >
---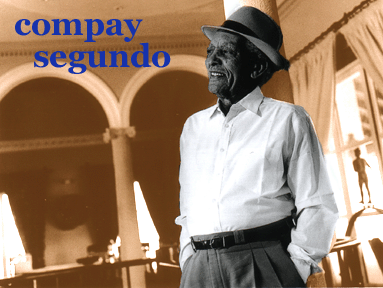 A longtime master of rural Cuban acoustic guajira music, guitarist Francisco Repilado (better known as Compay Segundo) has become known to an international audience through his work with the Buena Vista Social Club, an amorphous group devoted to the older styles of Cuban music.
However, like his fellow Social Clubbers Eliades Ochoa and Pio Leyva, Compay Segundo has had a decades long career that spans back to wa-a-a-a-ay before the recent upsurge in interest in Cuban traditional styles. In the 1920s and '30s he and his cousin, Lorenzo Hierrezuelo fell under the spell of the early masters of the son and pioneering trova singers such as Sindo Garay. Throughout the 1930s they worked in a number of smaller groups, but it was in 1942 that Repilado was asked to join the famed Conjunto Matamoros. In 1948, Hierrezuelo and Repilado formed the immensely popular Duo Los Compadres -- in which they were nick-named respectively as Compay Primo and Compay Segundo. The Duo lasted until the mid-'50s, when Compay Segundo left, and was later re-formed by Hierrezuelo as the Segundo-less Los Compadres, which he led well into the early 1960s.
In the recent flush of interest in the Buena Vista set, there has been an explosion of reissues and new recordings by Compay Segundo -- this discography mainly includes discs which are readily available in the United States, and it may be that there is some overlap between these records and other albums available in Europe or elsewhere. In any event, any album featuring this master of the style is bound to satisfy.
---
Recommended Records
---

Duo Los Compadres "Cantando En El Llano: 1949-1951" (Tumbao, 1995)



Compay Primo and Compay Segundo in some of their earliest sessions as a duo... Beautiful acoustic "country" (guajira) music with exquisite, sometimes fiery guitar work. Stylistically, these songs skip around the map of early Cuban acoustic music -- a hint of guaracha here, a slower bit of bolero there, and all with a lively, humourous delivery which makes the songs irresistible. Many of the songs are topical, either about hard times in farming, or just about the country life in general. Great stuff from the early years, and highly recommended.

Duo Los Compadres "Sentimiento Guajiro" (Tumbao, 1999)



If anything, this set of recordings, which stretches into the mid-'50s when the Duo split up, is even more fabulous than the first Tumbao collection. The sound quality is gorgeous, as are the songs themselves. Livelier, more accomplished musicianship and dynamic performances throughout... This includes a great version of the humourous classic, "Saradonga," and guitar playing that shows Repilado at his absolute peak. Great stuff!
Compay Segundo "Huellas Del Pasado" (Blue Moon, 1999)


A 2-CD set of classic material from 1950-57, including material from the Duo Los Compadres and his post-Duo work. Sweet.

Compay Segundo "Balcon De Santiago: 1956-1957" (Tumbao)


After Compay Segundo and his cousin broke up their Duo Los Compadres, Segundo started his own band, performing as a bandleader after two decades of backing various ensembles. Here are fifteen outstanding tracks from the first lineup of that group, featuring Segundo's outstanding tres playing, accompanied by trumpet, bass and the vocals of Pio Leyva and Carlos Embale. Great stuff, with fab sound quality -- highly recommended!

Compay Segundo "El Compadre Again" (Escondida, 2005)



This disc is a gem, filling in the gaps between Compay's early years as part of the Duo Los Compadres in the 1950s and his late 1990s "comeback" as part of the Buena Vista Social Club crew. These vintage recordings from the EGREM label in the 1970s and '80s show him in fine form, as nimble and compelling as any of his other work... These are wonderful recordings, capturing the inventive, playful spirit of one of Cuba's finest musical forms... Highly recommended!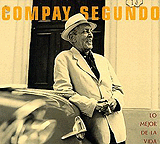 Compay Segundo "Lo Mejor De La Vida" (Nonesuch/World Circuit, 1998)



Compay Segundo's first album following the runaway success of the Buena Vista Social Club... His seductive armonico playing is certainly still up to par on these late-1990s recordings, and his repertoire is pure gold. This album is a little sleepy and formal for my tastes, but still should not disappoint those eager to hear more of these old Cuban ballads. Besides, for a 90-year-old, this guy is kicking ass... Political folkie Silvio Rodriguez contributes harmony vocals, just one of a slew of guest artists spanning several generations of cubano musicians.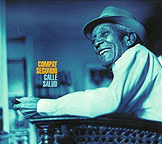 Compay Segundo "Calle Salud" (Nonesuch, 1999)



This album is also a bit slick, coming close to overproduction. It doesn't quite match the lush subtlety of the first Buena Vista album -- which one assumes is the style they're shooting for -- but it's hard to miss the sound of a master musician at work. A little sleepy, perhaps, but certainly first-rate sentimental-romantic material, and the sort of album that can grow on you with repeated listenings. Compay's sons Basilio and Salvador anchor the rhythm on percussion and bass; other guests include modern salsero Ruy Guerra.

Compay Segundo "Las Flores De La Vida"" (Nonesuch, 2001)



Another mellow, classy set of oldtime Cuban tunes. Several of these songs date back to Compay's early career, and all of them, including the classic Cuban chestnut, "Guantanamera," are part of his regular concert performances. As with his last few albums, this is a relatively staid production, but Compay and his band project an authoritative command of the material, which is all first-rate stuff. The pacing is deliberately slower and more lugubrious on these sentimental oldies, and lead vocalist Hugo Garzon provides a strong sympathetic match for Compay's willowy harmonies. Segundo's son, Basilio, mugs it up in a Louis Armstrong fashion on an English language translation of one tune, "Amor De Loca Juventud", a joke which is both charming and a bit of a distraction. As to the sleek production -- again, it's mainly it's an aesthetic difference as to whether or not you prefer his scrappier early recordings or these more high-budget projects. Fortunately, they're both still available for us to check out, and both have their advantages... So take you pick... each one is groovy!
---
Related Records
---
Los Compadres "Cosas De Mi Cuba" (Tumbao, 1999) (TCD-701)


Los Compadres "Cuba En Primavera" (Tumbao, 1999) (TCD-702)


Lorenzo Hierrezuelo and his brother Reynaldo picking up where the old Duo Los Compadres left off... It's not quite the same name, but it's certainly still great stuff.

The Buena Vista Social Club "Buena Vista Social Club" (Nonesuch/World Circuit, 1997)



And then, of course, there is the great Buena Vista record itself... a smooth, wonderous album which taps into sensual and sly sides of older Cuban music, and avoids the blaring flashiness of the newer styles. The success of this record is due in no small part to the input and guidance of Ry Cooder, who has immersed himself many times before into "foreign" music styles which interest him. But, as it turns out, this music isn't foreign to him at all: the influence of jazz-era pop was as pervasive in Cuba as anywhere else, and Cooder -- whose albums in the early 1970s brought Tin Pan Alley to the attention of the roots-music scene -- latches onto it here with masterful grace. As with his mid-70s collaboration with Hawaiian guitarist Gabby Pahinui, Cooder shows a profound understanding of the culture he's entering, while also interjecting his strengths as a melodicist and arranger, sculpting the feel of the album, and creating beautiful opportunities for these older master musicians to show off their chops. In the middle of "Puelbo Nuevo", the trumpet takes a chorus of Harold Arlen's "Stormy Weather," and elsewhere, pianist Ruben Gonzales luxuriates in the corny romanticism of his own solos. As a producer, Ry Cooder understood how to balance the schmaltzy pop elements of the son and the bolero along with the gravity and grace of the afro-cuban rhythms. If only all records could be so lovely!
---
Links
---
AfroCuba Web has a nice profile of Compay Segundo, with a discography, tour information and a few select press clippings.
Hot Salsa website has a nice profile of Compay Segundo (as well as several other artists). Unfortunately there seem to be a lot of commercial links, too, such as banner ads, etc., and internal navigational glitches (as of this writing...) Still, it's a pretty cool site... well worth checking out!
Tumbao Records is an incredible reissue label which has reissued old recordings by some of the best old guajiro artists. Many of these records are reviewed above, but the rest of the catalog is worth checking out as well.
---



Cuban Music Index
Other International Music


---