<! MP3 00/00/00 > <! update 00/00/00 > <! pix 00/00/00 > <! icons 02/18/11 >
---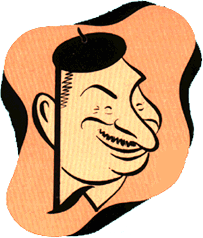 One of the most popular and well-known latin dance band leaders, Spanish-born violinist Xavier Cugat excelled as softer-toned, kitschy tango and foxtrot arrangements which catered to the tony, European ballroom dancing set. In addition to extensive touring and long residencies in various hotels and ballrooms, Cugat appeared in numerous Hollywood films, providing both Latin American "color" and humor.
Many of the most famous Cuban musicians of the 1930s, '40s and '50s worked their way through Cugat's band, including singer Miguelito Valdes, as well as North American artists such as Dinah Shore. However, it's a matter of opinion and personal taste as to how "authentic" Cugat's arrangements were - at times he could be insufferably cutesy, at others, he rollicked and rumba-ed with the best of them.
Many of Cugat's older recordings have recently been reissued on CD by the Tumbao and Harlequin labels.
---
Select Discography
---
Xavier Cugat "...And His Orchestra: 1940-1942" (Tumbao)


With Miguelito Valdes, Machito, Tito Rodriguez.
Xavier Cugat "Rumba Rumbero: 1937-1940" (Tumbao)


Catchy, flashy latin dance music, featuring vocals by Miguelito Valdes on over half the tracks. Cugat's arrangements could often be a bit lightweight and "poppy," though on this disc they are consistently solid and more in "authentic" Cuban territory.
Xavier Cugat "The Early Years: 1933-1938" (Harlequin, 1996)

Xavier Cugat "The Unheard Xavier Cugat: 1934-37 Transcription Discs and Broadcasts" (Harlequin, 2000)


Xavier Cugat "Bim Bam Bum: 1935-1940" (Harlequin, 1994)


These early recordings find Cugie midway between his ballroom schmaltz and harder, more "authentic" latin-american dance styles. There are a ton of Cugat discs in the Harlequin series; this is one of the punchier collections I've heard.
Xavier Cugat "Cuban Love Song: 1939-1940" (Harlequin, 1997)


Recordings from Cugat's "peak" years, when legendary singers such as Bobby Capo, Lena Romay and Miguelito Valdes were in his band... cool stuff!
Xavier Cugat "Congas Chihuahuas & Rhumbas: 1940-1945" (Harlequin, 1996)


Xavier Cugat "The Original Latin Dance King" (Sony Legacy, 2002)



A fab collection with a generous cross-section of Cugat's work on the Columbia label, from 1941-57, featuring hits like "Babalu" and "Bim Bam Bum," and tons of talent including singers such as Tito Rodriguez, Miguelito Valdes and Abbe Lane (fresh from her work with Tito Puente). Then, of course, there's Cugat's top-flight band, which never quite gets the credit it deserves. Yeah, sure, this stuff is kitschy and contrived, but these guys also rocked. There's some seriously hot percussion going on in the background, and even the songs, taken on their own cornball terms, are a lot of fun. This is probably one of the best-programmed Cugat collections you're ever likely to come across. Check it out!

Xavier Cugat "With Dinah Shore: 1939-1945" (Harlequin, 1994)


Cugie's patented brand of kitschy lite latin dance music -- tangos and foxtrots galore -- along with Dinah Shore's perky girl-next-door vocals. These recordings are taken from a series of early-1940s radio transcriptions, mostly performances from Cugat's long residency as bandleader at New York's Waldorf-Astoria hotel. Probably too schmaltzy for the casual listener, but for a fan of this style, this would be a find.
Xavier Cugat "Live From The Statler-Hilton & Roseland Hotels" (Harlequin, 2000)

Xavier Cugat "Cugat On Film" (Harlequin, 1999)

Xavier Cugat "Cugat's Nugats" (Harlequin, 1998)


More great, outlandishly energetic novelty material. Includes vocals by Miguelito Valdes and Tito Rodriguez, as well as Lina Romay, Dinah Shore and even a couple of tunes by Frank Sinatra (in English, of course... and back in 1942!) Most of these recordings were made during WWII, with a few coming from 1946-47. Fun stuff.
Xavier Cugat "Weekend In Havana" (Harlequin, 1999)

Xavier Cugat "Loves To Tango" (Harlequin, 1998)

Xavier Cugat "In Person: 1940-1942 Radio Broadcasts" (Harlequin, 2001)

Xavier Cugat "The War Years: 1941-1945" (Harlequin, 2001)

Xavier Cugat "1944-1945" (Circle, 1995)

Xavier Cugat "Unheard Transcriptions & Air Shots: 1942-1946" (Harlequin, 1995)

Xavier Cugat "...With Jose Luis Monero: 1946-1948" (Harlequin, 2001)

Xavier Cugat "Jack Jack Jack: 1947-1949" (Harlequin, 2000)

Xavier Cugat "South America Take It Away: 24 Latin Hits" (ASV, 1997)


I haven't heard this collection, but I imagine it's pretty darn good, considering this British label's great track record for high-quality releases.
Xavier Cugat "Mambo v.1 (1950-1952)" (Blue Moon, 1997)

Xavier Cugat "Cocktail Hour" (Allegro, 1999)

Xavier Cugat "The Greatest RCA Sides" (Collector's Choice, 2000)

---
Movies & Film
---
"Weekend At The Waldorf" (MGM, 1945)



Cugie, who I believe actually did have a long residency at the Waldorf Hotel, gets two good, long scenes in this somewhat sluggish wartime remake of Grand Hotel. One's a comedic bit towards the start, and the other is an ambitiously staged musical performance with Lina Romay and Bob Graham as vocalists. For fans of Cugat or Lana Turner, this one's worth checking out; otherwise stick with the 1930s original.
---
Links
---
If, perhaps you'd like a second opinion from somone more avid about Cugat than myself, Vinyl Safari has a cool page, complete with a biographical essay, discography and album evaluations, as part of it's groovalicious and well-thought out site.
---



Other Cuban Artists
Main Cuba Index
International Music Index



---