<! MP3 09/10/09, 05/30/13 > <! outside 00/00/00 > <! pix 05/30/13 > <! icons 12/16/10 > <! UPDATES: 09/10/09 - no updates, just pix & mp3 links 05/31/13 - pix, ASINs, new pages for Steve Martin, Mike Marshall, Benny Martin > <! Toni McRae "Banjo Flat" (Good Thyme, 1975) @ Amoeba - no ASIN 02/2013 Australian folk album, not bluegrass Mother Bay State Entertainers - old timey? LP on Riverboat Bob Mamis - fiddle, Bob Siggins - banjo, Clay Jackson - guitar LEON MORRIS SIngs International Bluegrass MICHIGAN Bluegrass Small Label LP 1969 MOONSHINE MOUNTAIN BOYS Funny Pickin' In The Bushes" (Sandcastle, 1976) (Produced by Mark Cosmedy & Mike O'Brien) - upstate NY label, several original songs - with Martin McKernan, and Danny McKeown... Nice illustrated cover... Selections are: "BLUEGRASS EXPRESS, JOHNNY B. GOODE, BOUREE IN E MINOR, SHE'S MY LOVE, IT ONLY TAKES A MINUTE, 62 CHEVY, GLENDALE TRAIN, WHEN THE BLUES WON'T LEAVE, BANJO MAN, CITY OF SUNRISE, WAXIE'S DARGLE, GARY OWEN MINSTREL BOY > <! McGee Creek Connection "The Hard Road" (BOC Records, 1988) Side 1: Sun's Gonna Shine; Please Search The Book; Please Don't Ask Me Why; Darling Do You Know Who Loves You; Babylon's Falling ~~ Side 2: The Hard Road; House Of Gold; Tennessee Border; Let Me Rest; Rider In The Rain; Goodbye Little Darlin; Who'll Sing For Me. RALPH 'JOE' MEADOWS "Rejoins Bluegrass With The Goins Brothers" (Jessup, xxxxxx) ROY MCMILLAN "Time To Think" (Rebel, xxxxxx) The Morgan Brothers "Northern Lights" (Blue Ridge, 1976) (LP) B00MS8GVNW - Oshkosh, Wisconsin bluegrass band; no one actually named Morgan in the band - mostly original material - not their first album - includes a cover of Dan Hicks' "How Can I MIss You (When You Won't Go Away)" E.C. MILLER & SUSAN TAYLOR "Bluegrass Five Strings" Mail Pouch Express "Timepiece" (xxxxxxx, xxxxx) (Produced by Dave Stevers) - PRIVATE/CUSTOM Allentown, PENNSYLVANIA - mostly covers, though with a couple of originals: "Snoopy" by banjo player Timothy Harhart "Red Licorice Rag" by fiddler/bandleader Dave Stevers >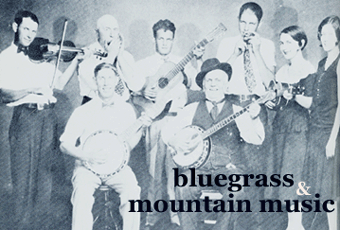 ---
Hi, there... This page is part of the Slipcue guide to various bluegrass artists, which is part of a much larger Hick Music website. This "guide" is not meant to be comprehensive or authoritative, just a quick look at a few records I've heard recently, as well as some old favorites. Comments or corrections are invited... and recommendations are always welcome!
This page covers the letter "M"
---
A | B | C | D | E | F | G | H | I | J | K | L | M / M-2 | N | O | P | Q | R | S | T | U | V | W | X, Y & Z | Comps | Other Country Styles
---
Yo-Yo Ma/Stuart Duncan/Edgar Meyer/Chris Thile "The Goat Rodeo Sessions" (Sony Masterworks, 2011)


Kate MacKenzie "Let Them Talk" (Red House, 1994)


Kate MacKenzie "Age Of Innocence" (Red House, 1996)






<! Kate MacKenzie was a favorite guest on Garrison Keillor's "A Prairie Home Companion" radio show from 1981-1999. As lead singer with her bluegrass band, Stoney Lonesome, she recorded six albums, and toured Japan, Europe and North America. As a member of The Hopeful Gospel Quartet, she recorded two live albums, including one from Carnegie Hall with Chet Atkins. >

Natalie MacMaster "Blueprint" (Rounder, 2003)



A sweeping, masterful fiddle album, ranging from tightly interlocked reels to slower, more moody aires. Bela Fleck, Jerry Douglas and others from the Rounder stable of "usual suspect" superpickers chime in on various tracks. A nice, solid set, mixing Celtic-derived Canadian with a variety of styles and moods.

Natalie MacMaster "Yours Truly" (Rounder, 2006)



Canadian fiddle whiz Natalie MacMaster is as technically dazzling as ever, although the popped-up arrangements that define this album aren't really my cup of tea... A nice mix of Celtic-based and bluegrassy/newgrassy styles, mixed with a heavy backbeat and some super-slick chord progressions... Most of the songs are McMaster originals, although she still finds time to saw through a medley of raw-sounding Strathspey reels and other traditional material that reflects her Cape Breton roots... McMaster's fans will dig this one.
LeRoy Mack "LeRoy Mack & Friends" (Rebel, 1996)



A fine set of earthy-sounding, old-fashioned heartsongs and oldies, featuring with the aura of the Country Gentlemen and Jimmie Rodgers hovering above. Mack's flawless, soulful dobro anchors this album, as do his genial old-man vocals. This former member of the Kentucky Colonels has a wonderfully relaxed, enthusiastic air about him... and man, can he pick! Great song selection, with perfect pickin' thoughout.
LeRoy Mack "Hounddog Ramble" (Sierra Briar/LeRoy Mack Music, 1996) (LP)


A slam-bang instrumental set with a real sweet side to it... Lots of great guest pickers, and inventive, playful tunes. Fun stuff! This record, like many of Mack's recent releases, can be found through his personal website, http://www.leroymack.com.
LeRoy Mack & Jerusalem Ridge "Together" (Jerusalem Ridge Records, 2001)


Teaming up with this fine, traditionally oriented Canadian truegrass band, Mack shines in an understated support role. They all seem to be having a fun time, throwing themselves cheerfully into this sweet set of melodically-oriented material. Might be hard to track down outside of the band's website, but if you find it, you'll be pleased.
LeRoy Mack "Smiles And Tears" (LeRoy Mack Music, 2003)


A cheerful, informal set, alternating between goofball comedy numbers ("A Matter Of Policy," "Praying Mantis Love Affair," "I Just Don't Look Good Naked Anymore," etc...) and those staples of old-time music, the maudlin tragedy song, with school bus crashes and daddies in jail galore. Some nice instrumental numbers, as well. The songs are a lot of fun, and the musical end, including Mack's smoky vocals, is all top-notch. Chris Hillman and Herb Pederson pitch in, and of course they are completely on the same wavelength as Mr. Mack is, when it comes to the good old stuff... Recommended!
Rose Maddox "Rose Maddox Sings Bluegrass" (Capitol, 1962/1996)


Rambunctious, irrepressible West Coast country pioneer Rose Maddox is best known as a proto-rockabilly singer, but this bluegrass outing was an interesting change of pace. Even though his name didn't show up on the credits, Bill Monroe was the leader of the band on these solid sessions, and the band (which also included Reno & Smiley along with Tommy Jackson) sizzles! Rose was never exactly an old-timey musician, but she fits right in with Monroe's style, even sounding a bit Loretta Lynn-like at times. A great mix of classic secular and gospel material, and far more vigorous than most Nashville efforts to do "bluegrass" albums with country singers. An unusual outing, but well worth tracking down.
Rose Maddox & The Vern Williams Band "This Is Rose Maddox" (Arhoolie, 1980/2007)



In the early 1980s Rose Maddox, a founding member of the West Coast country scene, an artist who in the 'Forties had pioneered the rollicking riotousness of rockabilly and helped define the bouncy, buoyant sound of California country, was still plugging away and playing local gigs up and down the state... After many years away from the studio she teamed up with the highly regarded Vern Williams bluegrass band for a couple of records that put her back on the map. This first album, a mostly-secular set packed with golden oldies such as "Dark As A Dungeon," "Ashes Of Love," "Silver Threads And Golden Needles" and "Single Girl," is a real doozy. The picking is fine but it's the authority and conviction with which Maddox sings that really makes this set hum. She is a masterful stylist, bringing each song to life so that listeners are completely drawn it. She had a great set of pipes, too -- a powerful performer in her fifth decade of country musicmaking. For some bluegrass fans -- and folks who dig her crazy-sounding old stuff -- this may be a bit low-key, but others will be entranced. Definitely worth checking out.

J. E. Mainer's Mountaineers "The Golden Age Of J. E. Mainer's Mountaineers" (Binge Disc, 2000)


If you thought ol' Bill Monroe sounded rough and rowdy back when he started the bluegrass sound way back when, then you gotta check these guys out! Mainer and his family enjoyed a healthy career revival in the 1960s and '70s as the old-timey folk scene unearthed them... Their latter day recordings were all quite nice, but this collection of material from the 1930s and '40s is flat out awesome. When they play fast, there's no one more clattersome and rambunctious, and when they play slow and sentimental, few folks are more hearfelt. For fans of squeeky, scraping fiddles and grizzled old-man vocals, this is the disc to check out.

Raul Malo/Pat Flynn/Rob Ickes/Dave Pomeroy "The Nashville Acoustic Sessions" (CMH, 2004)



A nice, relaxed set, featuring country crooner Raul Malo (of The Mavericks), along with fusiongrass studio cats Rob Ickes (best known for his work with Alison Krauss), Pat Flynn (of Newgrass Revival) and bassist Dave Pomeroy, all longtime veterans of the Nashville studio scene. Here they indulge a passion for the simpler side of the country-folk tradition. Malo's mellow vocals on the album's opener, a sweet version of "Blue Bayou," is an album highlight. It's also a pleasant surprise to hear versions of two Louvin Brothers oldies, "When I Stop Dreaming" and "Great Atomic Power," and even a lazy version of "Moon River" as well as Van Morrison's "Bright Side Of The Road." In places, they overplay their hand -- Ickes' dobro work is mixed too hot throughout much of the album, and Malo goes a little overboard on the Gram Parsons white soul weeper, "Hot Burrito #2." Overall, though, this is a warm. Welcoming album that listeners in search of a softer sound will probably enjoy... Mavericks fans, in particular, will appreciate the chance to hear Malo back in a more mellow setting.

The Marshall Family "The Legendary Marshall Family, v.1" (Rebel, 2002)



The Marshall Family "The Legendary Marshall Family, v.2" (Rebel, 2004)



Two fine sets of good, old-fashioned bluegrass gospel tunes, with bright, cheerful vocal and instrumental performances and a simple, joyous set of songs. Each of these discs collects tracks drawn from several of the Marshall Family albums of the 1970s, when the group was still a working, touring truegrass band. There are a few guest appearances -- a young Ricky Skaggs joining in some sweet a capella quartet vocals, for example -- but mostly it's the family itself, presenting this music in as simple and sincere a light as possible. It's great stuff. Later, after the family act disbanded, various members moved into the equally under-the-radar Southern Gospel scene, either as songwriters or as members of up-and-coming bands such as The Isaacs (who praise the Marshalls in the liner notes of Volume 2, and cite them as early influences). Folks of a more secular bent who still appreciate certain strains of bluegrass gospel, the kinds that have a buoyant, optimistic feel, may find these albums quite enjoyable. I liked 'em!





Mike Marshall - see artist discography





Benny Martin -- see artist discography





Jimmy Martin -- see artist discography




Mac Martin & The Dixie Travelers "Dixie Bound" (County, 1974) (LP)
(Produced by Dave Freeman)
A sizzling set of super-twangy, hardcore truegrass, with particularly hot banjo and mandolin. Nice vocal harmonies and a driving momentum. Mac Martin was a WWII vet who started his career in the early 1950s, and seems to have particularly imprinted on the uptempo style of Flatt & Scruggs. If you like your bluegrass pure and old-school, this is some really good stuff!


<! - no ASIN 01/20/15 > <! Mike Carson - fiddle Bob Artis - mandolin Frank Batista - bass Martin - banjo and guitar - liner notes detail other albums - two on Gateway in early '60s, four on Rural Rhythm 1968-71 >


Steve Martin - see artist discography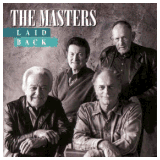 The Masters "Laid Back" (Pinecastle, 1997)



Four talented old-timers -- Eddie Adcock (on banjo), Kenny Baker (fiddle), Josh Graves (dobro) and Jesse McReynolds (mandolin) -- get together and show the young'uns how it's done...


<! Josh Graves & who else? The Masters is a bluegrass all- star band led by banjoist Eddie Adcock (Country Gentlemen, IInd Generation, Talk of the Town). He joins fiddler Kenny Baker (Bill Monroe's Bluegrass Boys), mandolin player Jesse McReynolds (Jim and Jesse & The Virginia Boys) and the "King of the Dobro", Josh Graves. >
Dwight McCall "Never Say Never Again" (Rural Rhythm, 2007)



Rock-solid "high lonesome" truegrass with a strong mix of secular and gospel material, and a surprisingly high proportion of newer, contemporary songs, including three fine originals by McCall himself. The son of former Stoney Mountain Boy Jim McCall, Dwight has recently been blazing a path as one of bluegrass music's new hot properties, singing lead and banging on the mandolin in J.D. Crowe's New South... Here, he cedes much of the mandolin work to veteran old-timer Alan Bibey, and concentrates on the vocals... McCall not only sings a fine, soulful lead, but (through the magic of multitracking) throws some warm baritone and tenor harmonies on top of his own voice... The result is surprisingly rich and organic sounding, adding a subtle one-two punch to an already strong album. Nice to see the folks at Rural Rhythm branching out into contemporary recordings... And if this disc is any indication, more great music ought to be headed our way soon!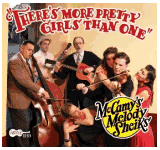 McCamy's Melody Sheiks "There's More Pretty Girls Than One" (Arhoolie, 2011)



(Produced by Ian McCamy)
Folks who like idiosyncratic, creaky old-timey melodies, squeaky violins and geezerly vocals will find a lot to cheer about in this loopy, eclectic band. Anchored by fiddler Ian McCamy -- an American expat living in France -- the Melody Sheiks also features cartoonist Robert Crumb, who is renowned in old-timey circles as an uber-collector of rare 78s, and has helped McCamy explore various styles of antique music from the dawn of the recording era. In previous collaborations such as Les Primitifs Du Futur, they've jammed on French musette, and here they plow into ragged, rootsy American mountain music with a hint of jug band blues. It's fun stuff, unruly and odd, as it ought to be, and should appeal to fans of Crumb's old compatriots, the Cheap Suit Serenaders. Give her a whirl!


<! Debby McClatchy (SEE HILLBILLY FILLIES FOR ALBUM LIST) >

The McCormick Brothers "The Very Best Of" (Varese Sarabande, 2002)


WOW. This dazzling set of high-test '50s bluegrass oldies comes from the recently-opened vaults of Wesley Rose's indie label, Hickory Records... Traditionally-minded bluegrassers should go ga-ga over a stellar collection of material by the McCormick Brothers -- top-flight, mile-a-minute, drag-racing superpickers whose 1950s recordings are as good as mountain music gets. These tunes have been out of circulation for ages, but with this one little CD, the stringband pantheon will have to open up some elbow room next to Bill, Ralph, Lester and Earl. A strong country/heartsong streak as well, which suits me just fine. Highly recommended!


<! 130 x 130 >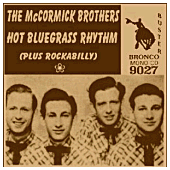 The McCormick Brothers "Hot Bluegrass Rhythm (Plus Rockabilly)" (Binge Disc/Bronco Buster)

The McCormick Brothers "Somewhere In Time" (Stonewall, 2009)


Del McCoury -- see artist discography

Ronnie & Rob McCoury "Ronnie & Rob McCoury" (Rounder, 1995)



The solo "debut" of Ronnie and Robbie, the mandolin pickin' and banjo-plunkin' progeny of truegrass elder, Del McCoury. Of course, these young'uns are long-seasoned performers, having played for years in their dad's band, but it's nice to hear the younger generation setting out on their own. Basically, this is a nice strong album, solidly rooted in tradition and full of good-natured, cheerful old-time twang. Some songs, particularly a few instrumentals, lack the drive and intensity of Del's best work, but even if these fellas sometimes sound more like the Osborne Brothers than their old man, that's still mighty fine company to keep.

Ronnie McCoury "Heartbreak Town" (Rounder, 2000)



Not straying far from the path laid down by his dad, Ronnie McCoury -- along with brother Rob, bassist Mike Bub, fiddlers Jason Carter and Stuart Duncan, guest pickers Bela Fleck, Jerry Douglas and David Grisman, as well as Papa Del -- has definitely got the real goods, and that true, blue high lonesome sound. Nice choice of material as well, including a Hoyt Axton tune, one by John Hartford's son, Jamie Hartford, and a slew of amazingly well-written originals. A relaxed, low-key album, but also a dazzler.
Ronnie McCoury "Little Mo' McCoury" (McCoury Music, 2008)






<! kid's music >

Roger McGuinn "Treasures From The Folk Den" (Appleseed, 2001)



Roger McGuinn had a twelve-string guitar, it was like nothing you'd ever heard... He still does, in fact, although these days he just as likely to be playing a six-string or a banjo, even singing a capella... This is a delightful, relaxed new album with the ex-Byrd and folk-rock pioneer sounding remarkably undiminished as he ambles through numerous traditional folk ditties, aided and abetted by an all-star cast including fellow old-timers Judy Collins, Jean Ritchie, Tommy Makem, Josh White and Pete Seeger, as well as super-talented UK newcomer Eliza Carthy. A lot of the songs are fairly obscure (recalling that charming '60s penchant for folkloric prowess as competitive display...) and the McGuinn versions are all pretty nice. This old feller sure knows how to tell a tale! Worth checking out!
John McEuen - see artist discography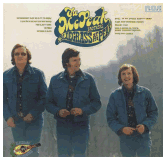 The McPeak Brothers "Bluegrass At Its Peak" (RCA, 1974) (LP)


A nice solid bluegrass set, following very much in the style set by the Osborne Brothers -- close, low harmonies and mighty fine picking. A good, down-to-earth album and well worth searching for. It kicks off with a contemporary-themed, "with it" tune, Bobby Abshire's "Somebody Socked It To Mine," but quickly turns to a more traditional bent, with songs from the Carter Family, a cover of "Rocky Top," and one nice original, "Humble Man," written by Larry McPeak.
The McPeak Brothers "The McPeak Brothers" (County, 1977) (LP)

The McPeak Brothers "Bend In The River" (County, 1978) (LP)

The McPeak Brothers "Makin' Tracks" (County, 1983) (LP)

The McPeak Brothers "Classic Bluegrass" (Rebel, 1992)

The McPeak Brothers "Pathway To Heaven" (Copper Creek, 1996)


The McPeak Brothers "The Bottom Line" (Copper Creek, 1998)


The McPeak Brothers "Yesteryears: The Best Of The McPeak Brothers" (Rebel, 2011)



A sweet set of folk-tinged "progressive bluegrass," with a strong, clear influence from the sound of the Country Gentlemen; lots of familiar chord progressions and vocal arrangements. Nice stuff culled from three albums this Virginian trio recorded for Rebel and County Records between 1977-83, including some nice session work from the up-and-coming dobro whiz, Jerry Douglas... If you like the style, this is a great introduction to this well-regarded but little-remembered family band.
Larry McPeak "There Is Always A Calm" (Fat Dog, 2001)


(Produced by Larry McPeak & Tim White)
A nice, understated bluegrass gospel album featuring Larry McPeak, formerly a teen prodigy in the McPeak brothers band. His old-man vocals and bedrock religious message may be a bit off-putting to the more modern, secular-oriented bluegrass fan, yet this is a richly textured and rewarding album... The band includes Scott Freeman on mandolin, Tim White on banjo, fiddler Billy Hawks, and guitarist Mack Puckett, as well as Mike McPeak on a tune or two, and special guests Janette Carter and Tom T. Hall on the album's closing track, "We Still Have Forever To Go." Sweet stuff - definitely worth checking out!
Curtis McPeake "The View From McPeake" (Swift River Music, 2000)


(Produced by Andy May)
A swell set of bluegrass instrumentals, featuring lead banjo by veteran picker Curtis McPeake, known for his '60s session work with the likes of George Jones, Melba Montgomery, Wilma Lee & Stoney Cooper, Bill Monroe and for his years as a member of Danny Davis's Nashville Brass. Joining him are fiddler Aubrey Haynie, David Harvey on mandolin, Dennis Crouch on bass and Charlie Cushman guitar. No big surprises, but plenty of fine work from McPeake on the 5-string banjo... A nice showcase for his work!
Jesse McReynolds "Me And My Fiddle" (Gusto, 1968)

Jesse McReynolds & Bobby Osborne "Masters Of The Mandolin" (Pinecastle, 2001)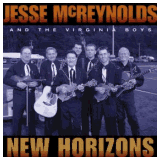 Jesse McReynolds "New Horizons" (Pinecastle, 2004)



As the title implies, this disc is a reaffirmation of new life and artistic effort for bluegrass elder Jesse McReynolds, whose brother and longtime musical partner Jim McReynolds passed away in December, 2002... With backup by the likes of Weldon Myrick, Bobby Hicks and Charles Whitstein (who adds some mighty fine harmonies!), McReynolds has produced a fine, surprisingly fresh new album, including a particularly nice version of "Faded Love," and another old weeper called "Take Me Back In Your Heart." John Prine joins in on a fine version of his coal-mining elegy, "Paradise," which takes on a new resonance in the hands of an Appalachian native like McReynolds. The album starts out with several songs that include warm harmonies and ensemble work; later on Jesse sings more stuff solo, and the music slows down quite a bit... But overall, this is a pretty cool release, coming from an old-timer who's still got a lot of soul to spread around. Worth checking out.
Jesse McReynolds "Bending The Rules" (OMS, 2004)



Jesse McReynolds & Charles Whitstein "A Tribute To Brother Duets" (Pinecastle, 2005)



Highly recommended. An elegant, emotionally resonant tribute to the classic "brother harmony" sound that stretched from Depression-era troubadours like the Monroe Brothers and the Blue Sky Boys on up through classic 'Fifties artists such as the Louvin Brothers and Jim & Jesse (the fabulous duo of whom Jesse McReynolds was a member) and even rock-pop singers like the Everly Brothers and folk-country acts like the Wilburns... Charles Whitstein is a great revivalist of the "brother act" style, and while he started out as a young'un who was eventually taken under the wings of some of the elders, by now he's fairly long in the tooth himself, and he matches McReynolds beat for beat with the deep, world-wise old-man mournfulness that makes this album so great. Many of these songs were originally played at a much faster clip, but old-timers like McReynolds and Whitstein are in no hurry to get anywhere, and their laid-back, low-intensity approach is in some ways similar to the later recordings of Louis Armstrong: master musicians whose power now lies in their calmness, rather than in the slam-bang showmanship of their youth. This really is quite a nice album; if you like old-fashioned blugrass and sentimental stringband music, you should check this out... You won't regret it!
Jesse McReynolds "Dixie Road" (Lamon, 2007)



Jesse McReynolds "Songs Of The Grateful Dead" (Woodstock, 2010)



One of the last living lions of the golden age of bluegrass, Jesse McReynolds was half of the brother duo of Jim & Jesse, and one of the finest and most distinctive mandolinists of the 1950s... Here, he brings his bluegrass-folkie roots full circle, paying homage to the Grateful Dead, a hippie band led by guitarist Jerry Garcia, who is said to have been a big Jim & Jesse fan himself, back in his jug-band days. Backing McReynolds are some old hippies -- friends of Jerry -- and the vibe is pretty loose; there may be a bit of a stylistic mismatch, but it's an interesting effort from an old-timer like McReynolds... And, boy, look at how much have the Dead worked their way into the roots music mainstream! What a trip, man.


<! and he has just completed a tribute to Jerry Garcia & Robert Hunter (of the Grateful Dead) released October 5, 2010, on Woodstock Records. It features Jerry's friends David Nelson and Sandy Rothman, along with Stu Allen, of the present Jerry Garcia Acoustic Band. The album is titled: "Jesse McReynolds & Friends Tribute to Jerry Garcia and Robert Hunter ~ Songs of the Grateful Dead." >

---
Bluegrass Albums - Letter "M"
---