<! MP3 09/12/09 > <! outside 00/00/00 > <! pix 00/00/00 > <! icons 12/16/10 > <! UPDATES: 09/22/13 - Ross Nickerson adds, like to NGDB page > <! Nashville Mandolin Ensemble >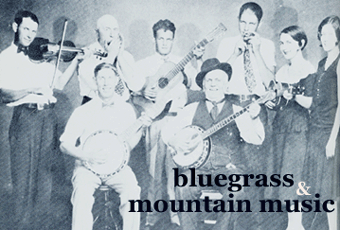 ---
Hi, there... This page is part of the Slipcue guide to various bluegrass artists, which is part of a much larger Hick Music website. This "guide" is not meant to be comprehensive or authoritative, just a quick look at a few records I've heard recently, as well as some old favorites. Comments or corrections are invited... and recommendations are always welcome!
This page covers the letter "N"
---
A | B | C | D | E | F | G | H | I | J | K | L | M | N | O | P | Q | R | S | T | U | V | W | X, Y & Z | Comps | Other Country Styles |
---
Nashville Bluegrass Band "My Native Home" (Rounder, 1985)



The Nashville Bluegrass Band "Idle Time" (Rounder, 1986)



I saw these fellows perform at the height of their fame, playing to a packed house in San Francisco's Great American Music Hall, and the thing that really struck me about them was how condescending they seemed towards the audience... Like, they were so great and professional, and we mere folk fans could never really grasp their true glory. I'm probably wrong, and they are really all swell guys, but that was the vibe I got, that they were all snooty and standoffish... and it has always left a bad taste in my mouth. I tell you this, so that you can take my snarky NBGB reviews with a grain of salt. To be sure, this is an accomplished band, and banjoist/leader Alan O'Bryant is certainly one of the venerable figures of the newgrass scene. They hit some fine harmonies, pick out some sweet tunes, and never hit a bum note, as far as I can tell. But they also seem a bit effete and too-perfect, like the band would never, ever just cut loose and have a blast. Along those lines, this is a nice, light-sounding album, recorded in 1985-86 with plenty of good material and production assist by Bela Fleck... but it kinda lacks ooomph, if you ask me. I'm fairly sure, though, that practically any other bluegrass fan in the world will enjoy this album just fine.

Nashville Bluegrass Band "To Be His Child" (Rounder, 1987)



This sprightly gospel album is perhaps an outstanding showcase for this band's talent, particularly the group vocals that have a hint of Southern Gospel to them. The picking's more lively, too, and the album feels more focused. A nice one, particularly for the religiously inclined... Recommended!
Nashville Bluegrass Band & Peter Rowan "New Moon Rising" (Sugar Hill, 1988)



Nashville Bluegrass Band "The Boys Are Back In Town" (Sugar Hill, 1990)



(Produced by Jerry Douglas)
NBGB's first album following a disasterous 1988 auto accident that led two band members to leave the band, leading to their replacement by bassist Gene Libbea and the esteemed Roland White on mandolin. This is a nice, smooth album, nothing to ruffle any feathers but plenty of pretty-sounding songs. Not earth-shaking, but good, straightforward material.

Nashville Bluegrass Band "Home Of The Blues" (Rounder, 1991)



A fine, smooth-sounding set, initially a bit less traditionally oriented than earlier albums, but the old-fashioned truegrass sound asserts itself after the first few songs. The promisingly titled "The New Democracy" turns out to be an instrumental; gospel's Fairfield Four join the band for the closing track, "Roll, Jordan, Roll," which makes a pretty nice mix of vocal styles. Another good'un.
Nashville Bluegrass Band "Waitin' For The Hard Times To Go" (Sugar Hill, 1993)






<! Nashville Bluegrass Band "Still Unplugged" (Sugar Hill, 1995) (??) >
Nashville Bluegrass Band "Unleashed" (Sugar Hill, 1995)


Nashville Bluegrass Band "American Beauty" (Sugar Hill, 1998)



A nice set, done in a variety of styles... There's some Monroe-vian high lonesome singing, some softer, folky progressive-poetics ("Slow Learner") and lots of smooth, Skaggs-ish traditional 'grass. The album opens with a nice cover of a Gillian Welch song "Red Clay Halo," showing that the boys are hip to what's happening outside of Music City. Another solid album from this stalwart ensemble.
Nashville Bluegrass Band "Twenty Year Blues" (Sugar Hill, 2004)


Nashville Bluegrass Band "Best Of The Sugar Hill Years" (Sugar Hill, 2007)

Nashville Bluegrass Band "Vocal Harmony Workshop -- Singing Bluegrass And Gospel Songs" (Homespun, 2006) (DVD)





<! Nashville Bluegrass Band "My Native Home" (Rounder, 1985) B0000002H2 B0010V7B8C Nashville Bluegrass Band "Idletime" (Rounder, 1986) Nashville Bluegrass Band "The Nashville Bluegrass Band" (Rounder, 1987) Nashville Bluegrass Band "To Be His Child" (Rounder, 1987) B0000002I7 B0011NKCFS gospel album Nashville Bluegrass Band & Peter Rowan "New Moon Rising" (Sugar Hill, 1988) B000000F06 B001F3Q4HO Nashville Bluegrass Band "The Boys Are Back In Town" (Sugar Hill, 1990) B000000F15 B001F3J674 Nashville Bluegrass Band "Home Of The Blues" (Sugar Hill, 1991) B000000F1V B001F3TCQ4 Nashville Bluegrass Band "Waitin' For The Hard Times To Go" (Sugar Hill, 1993) B000000F2Q B001GD8R50 Nashville Bluegrass Band "Still Unplugged" (Sugar Hill, 1995) Nashville Bluegrass Band "Unleashed" (Sugar Hill, 1995) B000000F4I B000TDBLG0 Nashville Bluegrass Band "American Beauty" (Sugar Hill, 1998) B000007TMQ B001F5W750 Nashville Bluegrass Band "Twenty Year Blues" (Sugar Hill, 2004) B0002J4YL0 B001EWA1ES Nashville Bluegrass Band "Best Of The Sugar Hill Years" (Sugar Hill, 2007) B000Q9OD3A Nashville Bluegrass Band "Vocal Harmony Workshop -- Singing Bluegrass And Gospel Songs" (Homespun, 2006) (DVD) B000E1OIE4 >

Nashville Mandolin Trio "American Portraits" (SoundArt, 1999)



Butch Baldassari and a coupla other fellas -- Gene Ford and John Hedgecoth -- play mellow, sometimes goopy, instrumentals... And not always just on the mandolin! For folks looking for something soft and acoustic to space out on, this has some nice moments, and draws on some unusual sources. Too gooey for me, though.
Nashville West "Nashville West" (Sierra, 1976)


Guitar hero Clarence White led this electrified country twang band -- a lot of cover tunes, a few instrumentals, and a lot of flashy pickin'...

Tara Nevins "Mule To Ride" (Sugar Hill, 1999)



Can't say as I've been much of a fan of fiddler Tara Nevin's Dead-ish stoner-billy band, Donna The Buffalo, but this solo album is rock solid from beginning to end. It's heavy on traditional bluegrass for the first half, and then she starts sneaking in some great country tunes, most of which she wrote herself. Guest include Ralph Stanley (of course), Mike Seeger, Don Rigsby, and some soulful vocals by Jim Miller, her bandmate from Donna The Buffalo. Nice record! Recommended.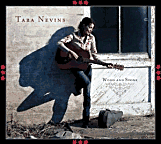 Tara Nevins "Wood And Stone" (Sugar Hill, 2011)



(Produced by Larry Campbell)
Not very bluegrassy, but still pretty cool. An exceptionally bouncy, really fun Americana set featuring singer Tara Nevins of the jam-band, Donna The Buffalo. These songs are more focussed and solidly twangy than the more loose-limbed music of the Buffalo band... and man, are they catchy! The album opens strong with the rollicking title track, "Wood And Stone," and gets more intricate and mysterious as it goes along... But consistently, this disc is a real earbender, the kind of record that stays in rotation at my place for a long time. Recommended!
The New Coon Creek Girls "So I'll Ride" (Turquoise)





<! These contemporary bluegrassers take their name from an important 1940s, all-female, hillbilly group, and have done much to preserve that tradition of sisterly harmony and accomplished playing. This album features the band's early, lesser known line up of Jesse McReynolds, tenor lead Wanda Barnett, Annie Kaser, Carmella Ramsey, and songwriter Vicki Simmons. Along with the title cut, the best songs here, "Timberline," "Picture of You," "Tallahassee," and "In My Mind," demonstrate why this band would become one of the '90s most important and popular bluegrass acts. > <! have unedited GIF >

The New Coon Creek Girls "Playing Our Respect" (Turquoise) (LP)

The New Coon Creek Girls "Pictures" (Turquoise) (LP)

The New Coon Creek Girls "The L&N Don't Stop Here Anymore" (Pinecastle, 1994)


The New Coon Creek Girls "Ain't Love A Good Thing" (Pinecastle, 1995)



(Produced by Sonny Osborne)
One of their most solid albums, with singer Dale Ann Bradley taking the lead vocals... Nice picking, and a very firm sense of the sound they wanted -- a pleasant, cohesive, modern melodic bluegrass set. Recommended!
The New Coon Creek Girls "Everything You Do" (Pinecastle)



(Produced by Sonny Osborne)
A sweet all-gospel album, gets a little gooey in places, but mostly it's pretty solid. The repertoire includes several distinctive songs as well as standards... If you enjoyed Dolly Parton's classic country gospel recordings, this album has a very similar feel.
The New Coon Creek Girls "In Concert At Renfro Valley" (Pinecastle)

The New Coon Creek Girls "Our Point Of View" (Pinecastle, 1998)



(Produced by Sonny Osborne)
Dale Ann Bradley is the lead vocalist here, although Ramona Church Taylor sings lead on one of her own original compositions, "Heaven's The Way To Go," one of several gospel songs that are standouts on this album. Actually, most of the secular songs are a bit syrupy for me, hinting at the Alison Krauss-ization of Bradley's sound as a solo artist. It's all okay, reasonably traditional sounding but a little slick overall. Worth checking out... and as ever, the all-gal vocal harmonies are mighty, mighty sweet.


<! The New Deal String Band was formed in 1966 by Tom Paley and Joe Locker, two banjo-and-guitar playing ex New Yorkers living in London. The band was active for many years with various fiddle players and then went into hibernation until the 1990Õs when TomÕs son Ben took up the fiddlerÕs slot. Tom, who has been playing guitar and banjo since the 1940Õs, was a founder member of the New Lost City Ramblers. Both Tom and Joe have graced the UK scene with their authentic Old Timey music for many years. >
New Deal String Band "Blue Grass" (London-Sire, 1970) (LP)


This was apparently a different crew than Tom Paley's '60s band of the same name... These guys, who hailed from North Carolina, are credited as the "first" hippie-longhair bluegrass band -- which I seriously doubt, but I suppose it's all about how you define things. Anyway, they made a big impression on the early 1970s festival scene, reportedly inspiring Sam Bush to create a style called newgrass that fused mountain music with countercultural sensibilities, while folks in the old guard, like Bill Monroe, are said to have hated them. I have to say, Monroe may have had it right on this one. Although I can see what they were aiming for, the musical end of this particular album doesn't do much for me: there's plenty of energetic, enthusuastic playing, but it's undisciplined and a little scattershot, and I really don't care for lead singer Leroy Savage's vocals. There's also a vague sense of them not really taking the music seriously, or at least being a little too loosey-goosey with it... This is borne out by the half-praise/half-mockery of the liner notes which proclaim that "underneath their long haired, unwashed exteriors there beats the hearts of six redneck farmers." (Admittedly, they might not have had much to do with the writing of the liners, but the comments do underscore an undercurrent of condescension that creeps into the recordings...) Historically, though, this is noteworthy for several grassed-up covers of classic rock songs, including the Rolling Stones' "No Expectations," a Dylan song, and the country-ish "Don't Pass Me By," by the Beatles, which was kind of novel at the time.


<! Since no one has mentioned them, I'll cite the New Deal String Band from North Carolina: originally Leroy Savage (vocals), Gene Knight (banjo), Frank Greathouse (mandolin), Al McCanless (fiddle), Buck Peacock (guitar), and Bob "Quail" White (bass). They were the first bluegrass act with really long hair (well, the first male bluegrass act with really long hair) and they totally tore up audiences at the Union Grove Fiddlers Convention and Carlton Haney's early festivals. Butch Robins' book "What I Know 'Bout What I Know" describes them as "the first (and possibly only) true hippie bluegrass band." In 1970, they produced the album "Blue Grass" for Sire (the Rolling Stones' label). The album included the first bluegrass versions of the Beatles' "Don't Pass Me By," Dylan's "One More Night," and the Stones' "No Expectations," together with familiar bluegrass standards. For the record, Bill Monroe didn't like them (but what did he know? I did). >

New Grass Revival "New Grass Revival" (Starday, 1972)

New Grass Revival "Fly Through The Country" (Flying Fish, 1975)


A cornerstone album in the '70s newgrass scene... Sam Bush, John Cowan, Curtis Burch and Courtney Johnson had a pretty clear idea of the direction they wanted to take the shaggybilly sound in, mixing songs by John Hartford, Jackson Browne and Jimmy Webb in with a slew of originals cowritten with their pal Steven F. Brines. Their versions of Cy Coben's "Good Woman's Love" and "Fly Trhough The Country" still stand as standards of the era. Still, the tilt towards progressive elements (country & folk influences, story songs, etc.) do deflect from the 'grassy virtuosity that lurks underneath the surface; the album feels a bit dated, and less engaging than some records of similar vintage. Still, it's nice to hear the experimentalism of the time... Worth checking out for the magical moments and for the historical significance.
New Grass Revival "When The Storm Is Over" (Flying Fish, 1977)


Musically, and productionwise, one of their strongest albums. Great song selection -- more John Hartford, some Townes Van Zandt and post-Gram Parsons Burrito Brothers material (nice version of "Four Days Of Rain...") Speaking of the legndary cosmic cowboy, Sam Bush and John Cowan really hit their stride here as singers, particularly on the tunes where they're outright copping their sound from the late, great Gram. He didn't have a great voice, either, but he found a way to make the most of it, and the NGR boys did well to emulate him. This disc is a good'un...!!
New Grass Revival "Too Late To Turn Back Now" (Flying Fish, 1977)


New Grass Revival "Barren Country" (Flying Fish, 1979)

New Grass Revival "Commonwealth" (Flying Fish, 1981)


(Bela Fleck &) The New Grass Revival "Deviation" (Rounder, 1984)



Fleck jams with a few of his old pals -- Sam Bush, John Cowan, Mark O'Connor, Jerry Douglas and others -- and gives them a chance to get loose, funky, and jazzy. This disc starts off with a little more sizzle than many of the Flecktone albums, then settles into a more demure, geriatric groove. A lot of this stuff just never seems to go anywhere, really. Snoozy, but with a few tracks that are kind of intriguing.
New Grass Revival "On The Boulevard" (Sugar Hill, 1984)


New Grass Revival "Live" (Sugar Hill, 1984)






<! At the Toulouse Bluegrass Festival... >

New Grass Revival "New Grass Revival" (1986)

New Grass Revival "Hold On To A Dream" (Capitol, 1987)


Poppy crossover songs, from a late edition of this once-seminal '70s band, this time around featuring Sam Bush, John Cowan, Bela Fleck, and singer Pat Flynn, who contributes most of the original material on here. The disc starts out fairly traditional, but gets more "pop" as it goes along. Not great, but fans of Fleck's fusionist work might wanna track this disc down.
New Grass Revival "Friday Night In America" (1989)

New Grass Revival "...With Leon Russell -- Live" (Studio T, 2007)

New Grass Revival "The Best Of" (Capitol Nashville, 1994)






<! New Grass Revival "New Grass Revival" (Starday, 1972) New Grass Revival "Fly Through the Country" (1975) New Grass Revival "When the Storm Is Over" (1977) New Grass Revival "Too Late to Turn Back Now" (1977) B00106GDZY (MP3) live album New Grass Revival "Barren County" (1979) New Grass Revival "Commonwealth" (1981) New Grass Revival "On The Boulevard" (1984) New Grass Revival "Live In Tolouse" (1984) New Grass Revival "New Grass Revival" (1986) New Grass Revival "Hold To A Dream" (1987) New Grass Revival "Friday Night In America" (1989) >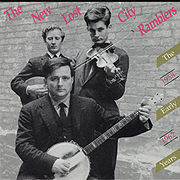 New Lost City Ramblers "The Early Years: 1958-1962" (Smithsonian-Folkways, 1991)



Possibly the best old-timey revivalists of the '50s/'60s folk scene, the NLCR were comprised of Tracy Schwartz, John Cohen and Mike Seeger (the brother of Pete and Peggy Seeger, and himself the son of folklorist parents.) All three band members were avid collectors of old folk tunes -- they dug up old 78s in the public libraries, collected them while on the road, and traveled widely throughout the Appalachians and the South, recording rural folks who still remembered the old songs. All of this is well and fine, but what really makes the Ramblers special was that they themselves rocked! Both volumes of NLCR recordings are full of inspired, entertaining music. HIGHLY recommended!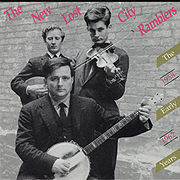 New Lost City Ramblers "Out Standing In Their Field: 1963-1973" (Smithsonian-Folkways, 1991)



Mark Newton "Living A Dream" (Rebel, 1998)



A nice, rootsy truegrass album by a former member of the Virginia Squires. Newton sticks to a twangy, high lonesome sound on this fine, upbeat album. He's got an all-star cast behind him, with Tony Rice playing guitar throughout, along with Jerry douglas on dobro, Rickie and Ronnie Simpkin playing fiddle and bass, respectively, and luminaries such as Bill Emerson, Alan O'Bryant, Ralph Stanley and Paul Williams pitching in on various tracks. Nice stuff!

Mark Newton/Various Artists "Follow Me Back To The Fold" (Rebel, 2000)



Bluegrasser Mark Newton has been carving out a reputation as a champion of straightforward, country-tinged bluegrass singing -- the melodic mid-'70s style that derived from Jimmy Martin and Larry Sparks, then eventually -- sadly -- gave way to the overly ornate, saccharine, "adult-oriented" pop-fusion of Alison Krauss and her ilk. This new album is a picturebook sampler of all that's best in bluegrass balladry; and, as a tribute to women in bluegrass, includes stellar contributions from some of the best wimmin singers and pickers in the business today. Lynn Morris, Claire Lynch, Rhonda Vincent and a slew of other gals all chip in, and the results are lovely. With no-nonsense arrangements that emphasize the melody and sidestep the pseudo-countrypolitan ornateness which plagues bluegrass today, this record is a delight from start to finish. Highly recommended!

Mark Newton "Charlie Lawson's Still" (Rebel, 2001)



Pleasant, melodic modern bluegrass which sticks to a pretty traditional vibe. Reminds me a lot of Ricky Skaggs's pre-Nashville days, when he was still on Sugar Hill, with the emphasis on pretty picking and friendly vocals, and sweet harmonies. The songs are all pretty involving, tunes of broken hearts and backwoods whiskey. Nice stuff!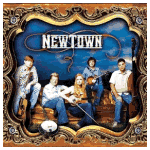 NewTown "NewTown" (Self-Released, 2011)


(Produced by Brent Truitt)
A strong, independently-released modern bluegrass set, very much in the style of Alison Krauss & Union Station, with singer-fiddler Kati Penn-Williams in center stage, with a very Krauss-ian feel overall, with maybe a bit of Sarah Jarosz in there as well, and subtle, sympathetic accompaniment from the band. If that sounds good to you, check these folks out -- they do it very well. 'Couple of nice gospel tunes, too, especially the traditionally-oriented "The Stone Was Rolled Away."
The Nickel Creek Band "Little Cowpoke" (Choo Choo Records, 1993)


The prepubescent origins of the pop-bluegrass phenomenon, Nickel Creek, featuring siblings Sean and Sara Watkins, along with mandolin whiz Chris Thile and his dad Scott Thile, singing cheerful versions of old "singing cowboy" standards from the songbooks of Rex Allen, Gene Autry, Patsy Montana, Roy Rogers and others. The record is both charming and historically fascinating, giving us a chance to hear these child prodigies galloping through cute versions of songs that were markedly different than their future repertoire of introspective, poetical pop songs. It's charming, too, because their voices were still developing, and their tone and harmonies were off -- awwww, they sound like little kids! -- in that adorable talent show way that child performers often embody. The technical end of the instrumental performances is of a much higher calibre, though: man, these kids sure could pick! And it works as entertainment: my kid loved this record, and it gave her interest in cowboy songs (which started with Marty Robbins) a new lease on life. For contrast, you could also pick up Chris Thile's solo debut, Leading Off, which was released around the same time, which concentrates on his bona fides as a bluegrass instrumentalist.
Nickel Creek "Here To There" (1997)

Nickel Creek "Nickel Creek" (Sugar Hill, 2000)



The birth of a grass-fusion powerhouse. Mandolin prodigy Chris Thile teams up with San Diego siblings Sara and Sean Watkins for a slick set of hotshot instrumentals and super-sappy, overly poetic ballads, drippy but mellow material which stakes out their turf as part of the "adult alternative" pop scene. Thile's father, Scott Thile hovers over the proceedings, playing bass as the band's sole adult member; the band's main patron, Alison Krauss helped produce the album, adding her smooth pop sensibilities to the mix. Some of the picking is pretty flashy, but the whole album strikes me as too calculated and drab.
Nickel Creek "This Side" (Sugar Hill, 2002)


Russ Nickerson "Blazing the West" (Pinecastle, 2003)

Ross Nickerson "Let's Kick Some Ass: Bluegrass Banjo" (Bones Records, 2009)



(Produced by Scott Vestal)
A fun, zippy set of banjo-led instrumentals, with Ross Nickerson -- author of The Banjo Encyclopedia: Bluegrass Banjo from A to Z -- swapping sweet licks with Rob Ickes on dobro, Shawn Lane on fiddle and mandolin and Tim Stafford playing guitar and singing on a tune or two. I guess I have the original version of the record: now he sells it under the name Let's Kick It, possibly making it more acceptable to the parents of the kids who come to his various banjo camps. Either way, it's a really sweet record. Recommended!
Nitty Gritty Dirt Band - see artist discography

Michelle Nixon & Drive "It's My Turn" (Pinecastle, 2003)



Her turn, indeed. Hope it comes again soon. This is a fine, unpretentious truegrass album, with a few nice cover tunes, a couple of good gospel tunes, and some mighty fine vocals by Virginia native Michelle Nixon. She also shares the mic with bass player Jim Green, who, while he doesn't consistently match her vibrancy on his own solo numbers, still has a pleasantly sincere delivery, and sounds great when they sing harmony. Nice album -- recommended!

Michelle Nixon & Drive "What More Should I Say?" (Pinecastle, 2005)



Aw, shucks... you don't have to say anything... just keep singing and pickin' and making such great records. Another winner from Ms. Nixon and her crew... Rock-solid, straightahead, melodically driven, irresistible bluegrass, with good pickin' and great singing. As the record asks, what more can I say? Michelle Nixon's got it, with a capital "I," capital "T." Along with the high level of musicianship and enthusiasm, this disc also boasts excellent song selection, with several sharp original tunes (two each written by Nixon and guitarist Patrick Robertson), a couple of old songs previously revived by Emmylou Harris ("Roses In The Snow" and "Blue Kentucky Girl"), Merle Haggard's "Ramblin' Fever," and the one that really got my attention, a cover of the old Melba Montgomery duet, "We Must Have Been Out Of Our Minds," sung here with no less a talent than "Whispering" Bill Anderson. All in all, these guys are a real class act!
Michelle Nixon & Drive "By Request" (Pinecastle, 2005)






<! Northern Lights - included Alison Brown 1980-82 Northern Lights "Northern Lights" (Revonah, 1976) Northern Lights "Before The Fire Comes Down" (Revonah, 1983) with Alison Brown Northern Lights "On The Edge" (Revonah, 1987) Northern Lights "Take You To The Sky" (Flying Fish, 1990) Northern Lights "Can't Buy Your Way" (Flying Fish, 1992) Northern Lights "Wrong Highway Blues" (Flying Fish, 1994) Northern Lights "Living In The City" (Red House, 1996) Northern Lights "Three August Nights" (Prime CD, 2000) Northern Lights "Another Sleepless Night" (Prime CD, 2001) Northern Lights "New Moon" (Fifty Fifty Music Music, 2005) Northern Lights "One Day" (Fifty Fifty Music Music, 2008) >

No Speed Limit "Sweet Virginia" (Arhoolie, 2006)



Nice new bluegrass -- not fiery or flashy, but heartfelt and down-to-earth. Although they seem unseasoned as performers, this band shines when they play their original material, particularly the songs written by banjoist Steve Barr and guitarist Josh Pickett. These fellers have put together an impressive set of new compositions, tunes we're likely to hear in the bluegrass canon for many years to come. Songs such as "Hometown," "Born A Rambler" and "Bluegrass Lullaby" are pretty impressive, and the group's enthusiasm for their own tunes comes through loud and clear -- there's certainly more spark on these songs than on the standards and public domain tunes that make up the balance of the album... Anyway, these folks are worth checking out, and worth keeping an eye on... Teenaged lead singer Amber Collins, a newcomer to the bluegrass fold, has a bluesy twang that could get her on the radar next to other truegrass gals such as Alecia Nugent... These folks have a ways to go to get to the top of the 'grass heap, but this is still a pretty noteworthy debut... Nice cover of Julie Miller's "Quecreek Mine," too!
Nothin' Fancy "Once Upon A Road" (Pinecastle, 2002)


Nothin' Fancy "Reflections" (Pinecastle, 2004)



Nothin' Fancy "Album #7" (Pinecastle, 2006)



Although his voice is a bit rough, singer-mandolinist Mike Andes gives it all he's got and sings with conviction. He also writes some nice original material, adding tunes like "How Can I Lose" and "I Can't Say Hello" to the bluegrass canon, where they stand toe to toe with some of the classics that the band covers, such as "Walk Through This World With Me" and "I Wish You Knew." Nothin' Fancy live up to their name; they're an earnest, hard-working band with good taste in material and a knack for making their shortcomings sound like strengths... Indeed, if you've grown a little weary of all the too-perfect picking and fabulous harmony singing that abounds in bluegrass today, a square peg or two might be welcome from time to time. Definitely worth checking out.
Nothin' Fancy "Lord Bless This House" (Pinecastle, 2009)



Nu-Blu "The Blu-Disc" (Pinecastle, 2011)



(Produced by Nu-Blu & Ethan Burkhardt)
A sweet set of independent bluegrass, with strong echoes of Alison Krauss & Union Station, both in singer Carolyn Routh's vocal style and in the switching off between male and female leads. Several interesting songs, including "Other Woman's Blues" (an answer to Dolly Parton's immortal classic, "Jolene," sung from Jolene's point of view) and Donna Ulisse's sombre "Guitar Case," a song about a man leaving his wife, where you think he'll reconsider and come back, but doesn't. There are also several spiritual songs, with clear gospel messages, but no explicit Christian references, and a socially-conscious song about homelessness ("That's Who I'm Supposed To Be") that shows an active, searching heart. Generally appealing, though occasionally a little rough around the edges, by an unknown band with some assistance from dobroist Rob Ickes. If you like off-the-radar, up-and-coming bluegrass bands, you might wanna check these folks out.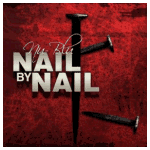 Nu-Blu "Nail By Nail" (Pinecastle, 2012)



(Produced by Nu-Blu)
An all-gospel offering from this talented band of bluegrass newcomers... Seven songs of modern vintage by composers such as Becky Buller, Tim Stafford and Donna Ulisse. There are some uptempo harmony-driven numbers, but more that are closer to the "contemporary Christian" field -- slower, serious ballads like Tim Wheeler's "You See Jesus" and Marc Rossi's "The Abyss," and the album's closer, "The Hammer," written by lead singer Carolyn Routh. I go more for the perky, rootsy stuff -- Stafford's "Where'd You Get That Water" and Buller's "Martha And Mary" are highlights here -- but I imagine there are many CCM and Southern Gospel fans who might like this album a lot.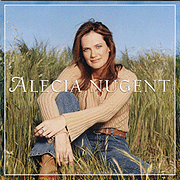 Alecia Nugent "Alecia Nugent" (Rounder, 2004)



(Produced by Carl Jackson)
Carl Jackson produced this fine album by talented newcomer Alecia Nugent, who is pretty much the only bluegrass artist I can think of offhand who doesn't play an instrument on her album (!) but just lets her voice do the talking for her. And hey, when you've got Larry Cordle, Carl Jackson, Ronny McCoury and Ben Isaacs backing you up, then "just" singing seems a whole lot easier! The album kicks off with a sweet, hot fiddle riff from Aubrey Haynie, establishing some solid truegrass cred, and while Nugent moves between 'grassy numbers and country-ish heartsongs, she does so with a sense of absolute calm and authenticity... This is a for-real, rural country singer, a roots singer on par with Patty Loveless or Lee Ann Womack, and while you can imagine her easily cracking into the Nashville network, it's pretty darn nice hearing her go the traditional route for now. There are a ton of fine, fine performances on here, with songs by Cordle and Jackson, and several well-chosen oldies. One highlight is Cordle's "You Don't Have To Go Home," a gentle gospel tune featuring a gorgeous three-way harmony between Nugent and guest vocalists Sonya Isaacs and Rhonda Vincent, who have both skirted along the boundaries of the bluegrass and commercial country worlds. With a debut like this, Alecia Nugent is definitely a talent to keep an eye on... Highly recommended!

Alecia Nugent "A Little Girl... A Big Four Lane" (Rounder, 2006)



(Produced by Carl Jackson)
Ever think to yourself, "gosh, bluegrass music's going nowhere"? Well, don't worry too much -- not with talented young'uns like this coming along! On her second album, bluegrass vocalist Alecia Nugent commits herself more fully to a modernist, crossover approach, but unlike Alison Krauss (who she's inevitably compared to), Nugent crosses over towards country, rather than adult pop. You could easily see her making the leap into the Nashville mainstream, but for now, let's enjoy the contributions she's making to the bluegrass world. There's a bit less bounce and twang this time around, and most of the songs don't have choruses or hooks that really leap out at you, but this is an album that'll grown on you and has multiple layers of texture and tone to offer attentive listeners. Plus, she's got one heckuva nice voice. Add producer/banjo plunker Carl Jackson into the mix, and a stable of ususal-suspect superpickers (notably, Rob Ickes and Jim Van Cleve...) and guest vocals from Rebecca Lynn Howard, Doyle Lawson, Bradley Walker and Alison Krauss herself, and you've got one heckuva nice record. Keep you eye on this gal, and your ears on this album... they're both gonna be around for a long, long while.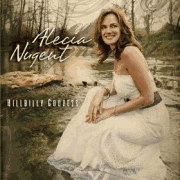 Alecia Nugent "Hillbilly Goddess" (Rounder, 2009)



(Produced by Carl Jackson)
A powerful performer, Alecia Nugent has perfected her blend of traditional bluegrass and Top Forty country... This album tilts further towards the poppier end of the spectrum, with a bunch of well-crafted, high-concept ballads, that are just the sort of stuff that Nashville loves. Gushy romantic weepers like "Don't Tell Me (To Stop Loving You)" and "Dyin' To Hold Her Again" are pretty powerful, as are the more overtly chick-oriented self-discovery songs, "The Last Greyhound" and "Just Another Alice." Honestly, I don't know why Nugent isn't a huge Top Forty star by now; she's certainly got the formula down right... But I guess if you're a Top 40 fan who also likes to have an insider edge, you could consider Nugent a hidden secret, an artist whose albums you could give to your friends and have them go, "holy cow!" and wonder why they hadn't heard of her before. There's stuff for more twang-oriented listeners to enjoy, too, including "The Nugent Family Band," a sweet, nostalgic look back at Alecia's days on the traditional bluegrass circuit. There's also the album's gleeful title track, a celebration of low-rent, blue collar life that's sort of like an extended remix of George & Tammy's "We're Not The Jet Set," as well as "The Writing's On The Wall," a stellar hard-country duet with Bradley Walker. It should also be mentioned that the album's producer, Carl Jackson, sings harmony throughout, adding an extra layer of sweetness and authenticity... Whether you're a country fan or a bluegrasser, this disc has a lot to offer. Recommended!
---
Bluegrass Albums - Letter "O"
---