<! MP3 09/12/09 - need to expand O'Connor, Osborne Brothers > <! update 00/00/00 > <! outside 00/00/00 > <! pix 00/00/00 > <! icons 12/16/10 > <! The Outdoor Plumbing Company "The Outdoor Plumbing Company" (xxxxx, xxxxx) - no usual suspects! :-) Outdoor Plumbing Company "Moonshine Mountain" (Rebel, 1978) Ohio Valley Rounders "Clear Liquor And Coal Black Nights" (Roust-A-Bout Records, 1987) - mostly standards, though they also had a song called "Dubuque," and it looks like they cover Paul Siebel's "Louise" Mike O'Roark & The Free Born Men "Pickin' With Feelin'" (King Bluegrass, 1975) (LP) Mike O'Roark & The Free Born Men "Somewhere In Between" (King Bluegrass, 1976) (LP) B0060JROUE - awesome album art of full-color hippie band facing a sepia-toned old-timey band Mike O'Roark & The Free Born Men "Go My Way" (King Bluegrass, 1977) (LP) >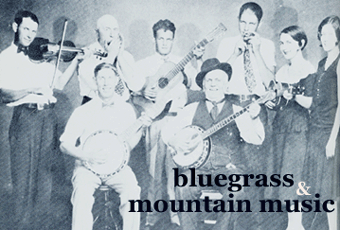 ---
Hi, there... This page is part of the Slipcue guide to various bluegrass artists, which is part of a much larger Hick Music website. This "guide" is not meant to be comprehensive or authoritative, just a quick look at a few records I've heard recently, as well as some old favorites. Comments or corrections are invited... and recommendations are always welcome!
This page covers the letter "O"
---
A | B | C | D | E | F | G | H | I | J | K | L | M | N | O | P | Q | R | S | T | U | V | W | X, Y & Z | Comps | Other Country Styles
---
Tim O'Brien & Mollie O'Brien -- see artist discography
Mark O'Connor -- see artist discography
The Ohio Valley Rounders "Clear Liquor And Coal Black Nights" (Roust-A-Bout, 1987)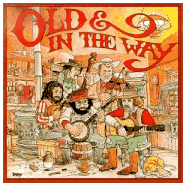 Old And In The Way "Old And In The Way" (Round, 1975)


An iconic album for early '70s bluegrass fans, and a big bridge from the world of acidhead hippies into the traditional folk scene. The gathering of David Grisman, Peter Rowan, old-time fiddle whiz Vassar Clements and the Grateful Dead's teddybear avatar, Jerry Garcia is news in and of itself -- the Greg Irons cover art (of later editions) was just icing on the cake, giving this disc ultimate counterculture status. The band itself wasn't together that long, and was a pretty informal gig to begin with. They were, as the saying goes, ragged but right -- a little haphazard when compared to the classic recordings of the bluegrass elders, but full of the right attitude. In some ways, it's actually kinda nice how loosey-goosey Old & In The Way were -- their relaxed, easygoing approach was a folk scene equivalent of the DIY punk explosion in rock. Doubtless many hundreds of fledgling pickers were encouraged to pick up an instrument after hearing this disc. Fun stuff, with nice versions of a couple of Rowan's best tunes, "Midnight Moonlight," and "Panama Red..."
Old And In The Way "That High Lonesone Sound" (Acoustic Disc, 1996)



Old And In The Way "Breakdown" (Acoustic Disc, 1997)



It's nice, isn't it, that David Grisman is such a magpie... Poking around in his closets he came up with the material for these two excellent archival collections, which give a perfect, bird's eye view of Old & In The Way live and in action, during their all-too-brief prime. It's a shame the band wasn't able to stay together longer, just to see how much they would have tightened (or changed) their sound... But since Rowan and Grisman both went on to do some of the best work of their careers immediately after this, I guess we can't really be all that bummed. There's certainly little to complain about here... Again, the band is ragged but right; they may have been a little sloppy, but the music is still exciting. Recommended!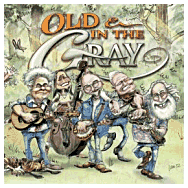 Old & In The Gray "Old & In The Gray" (Acoustic Disc, 2002)



A swell get-together of some of Grisman's grizzled, goofy bluegrass buddies. The lineup includes David Grisman, Peter Rowan, Vassar Clements and Herb Pedersen, along with young'un Bryn Bright. who plays a mighty fine bass. The vibe here is playful and relaxed, running through some old favorites and crowd pleasers... highlights include the album opener, "Good Old Boys" and the spine-tingling story-song, "The Flood," which details a river rising and a community rallying to meet the crisis. If you enjoyed Grisman's Retrograss album from a few years earlier, then you oughtta love this one, too!

Old School Freight Train "Run" (Acoustic Disc, 2005)



This Virginia-based band are new, youthful proteges of newgrass demigod David Grisman (this album is out on his label, he guests on one track here, and recently toured with them as his backing band...) Grisman's blessing is well-deserved: OSFT blend tangy, twangy virtuousity with a fresh-sounding modernity. Their eclectic approach, blending bluegrass with light, breezy pop and jam-band jazziness, is roughly in the same camp as artists such as Nickel Creek or Bela Fleck, but where I generally find those guys to sound cloying and contrived, there's something sweetly charming and sincere about these guys... They write catchy, mellow, subtle tunes and they aren't phoning it in, either. The "funky" acoustic cover of Stevie Wonder's "Superstitious" is the album's one false, predictable note... Other than that, this is a surprisingly seductive album -- the melody to "Drama Queen," for example, is likely to echo in your head for quite some time after you first hear it. This disc drifts a bit into newgrass cliches, but it's one of the strongest records of its kind to come out in recent years, and if you like the style, you won't want to miss this one...

Open Road Bluegrass Band "Open Road" (Self-released, 2000)
Really nice old-school melodic bluegrass, with fine picking and nice vocals. This Colorado outfit covers a lot of name-brand old-timers, including Charlie Moore, the Carter Family and the Stanley Brothers. If you like the sound of where that list is headed, then you oughta check these folks out! There's not an off song or sour note on the whole album... They play this stuff really sweet, the way I like it, and sound like their hearts are really in it. Check 'em out!

Open Road "Cold Wind" (Rounder, 2002)



Open Road "...In The Life" (Rounder, 2004)



These Colorado clophoppers have a great, gritty old-time feel, heavy on the fiddles and the high, raspy harmonies, with a healthy, welcome mix of old-fashioned country and fast, twangy truegrass... Another nice record that helps position them as one of the most promising truegrass bands of the new decade... Recommended!
Open Road "Lucky Drive" (Rounder, 2005)


The Osborne Brothers -- see artist discography
Bobby Osborne & Jesse McReynolds "Masters Of The Mandolin" (Pinecastle, 2001)



Bobby Osborne & The Rocky Top X-Press "Bluegrass Melodies" (Rounder, 2007)


(Produced by Glen Duncan & Bobby Osborne)
The Osborne Brothers plowed new fields back in the 1950s and '60s, helping create "progressive" bluegrass when they pepped up their sound and made it more accessible to pop audiences, even going so far as to include drums and amplification when it suited their needs. Nowadays, Bobby Osborne, the mandolin pickin' sibling, is one of the truegrass elders, sticking to a pretty straightforward, traditional sound... Fiddler Glen Duncan accompanies him on the entire album, as does Bobby Osborne, Jr., on guitar. This isn't really the kind of bluegrass album where you comment on blistering licks or sizzling, hot-shot solos -- everybody's just keeping pace with Bobby, and he's concentrating on the songs, not on blowing anyone off the stage... For an old-timer who's 75 years young, though, he's still an incredibly solid performer... It's not surprising that this album doesn't have much of the fireworks or dynamics of his classic recordings, but once you settle into the more restrained vibe, it's a very fine disc. Osborne's voice has a pretty full tonal range, and he holds his own the harmony numbers, particularly on Vince Gill's "Go Rest High On That Mountain," a marvelous gospel duet with Rhonda Vincent, which closes the album. Another gospel tune, an Osborne original called "Are You Afraid To Speak Our Savior's Name?" is also an album highlight -- like Ralph Stanley and many others before them, the religious tunes bring out a depth of feeling that's a delight to hear. All in all, fans shouldn't be disappointed, nor anyone else who's into hearing good, old songs sung with feeling and heart.
Dean Osborne & Eastbound "I've Got A Mansion Waiting For Me" (1989)

Dean Osborne & Eastbound "When Time Is Gone" (1993)

Dean Osborne & Eastbound "Roads Of Faith" (2000)


An all-gospel album, featuring several originals written by members of the Eastbound band...
Dean Osborne "Kentucky Son" (Pinecastle, 2000)



An outstanding album by Sonny Osborne's lad, who both sings and plunks the banjo... He has a classic bluegrass tenor, backed by a fine sense of timing and an ability to deeply connect with the material... Bobby Osborne and bandmates Terry Smith and Terry Eldredge provide a solid musical backing, while picker Richard Bennett turns in a nice, low-key and very elegant performance on lead and rhythm guitar. This is a really nice record!


<! Based in Lexington, Kentucky, Dean Osborne and Eastbound was formed in 1986 as a Bluegrass/Gospel band evolving over the past fourteen years to playing a full schedule of churches, festivals and conventions north, east and south. While performing primarily gospel, they also include instrumentals and Bluegrass at secular appearances. The albums they have recorded are "I`ve Got A Mansion Waiting For Me" (1989), and "When Time Is Gone" (1993) "Roads Of Faith (2000). Dean Osborne and Eastbound has been the feature act on many shows while opening other shows for such legends as The Osborne Brothers, Ralph Stanley, J.D. Crowe, Carl Story, Alison Krauss, Doyle Lawson, The Lewis Family, The Great Bill Monroe and Country acts such as Lee Ann Womack with numerous appearances on radio and TV. With three released albums, Dean Osborne and Eastbound has continued to widen their circle into a top up-and coming band! >


Peter Ostroushko -- see artist discography




Overland Express "First Stage Out" (Webco, 1984) (LP)





<! Side 1: Going Back To Stay; Last Call; Handsome Molly; My Darlin's Gone; The Chase; Ashes Of Love. Side 2: First Stage Out; Just One Look; Louise; When Payday Rolls Around; River Mighty River; No Hiding Place. >

---
Bluegrass Albums - Letter "P"
---