<! MP3 08/05/09 > <! update 08/05/09 - probably more Iron Horse; other "I artists?? > <! outside 00/00/00 > <! pix 00/00/00 > <! icons 12/16/10 >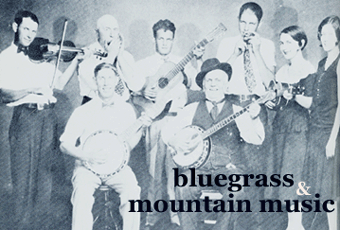 ---
Hi, there... This page is part of the Slipcue guide to various bluegrass artists, which is part of a much larger Hick Music website. This "guide" is not meant to be comprehensive or authoritative, just a quick look at a few records I've heard recently, as well as some old favorites. Comments or corrections are invited... and recommendations are always welcome!
This page covers the letter "I"
---
A | B | C | D | E | F | G | H | I | J | K | L | M | N | O | P | Q | R | S | T | U | V | W | X, Y & Z | Comps | Other Country Styles
---

Rob Ickes "Hard Times" (Rounder, 1997)



A solo album from the dobro player in Alison Krauss's renowned Union Station band, and a charter member of Blue Highway... Although there are some vocal tunes, it's mostly an instrumental showcase, tilting towards the newgrass/fusion end of things. On straightforward pickin' tunes, like "Down In The Hole" or "Ashland Breakdown," Ickes (rhymes with "likes") sounds relatively rootsy, elsewhere he polishes the smooth fuse-grass sound to the hilt. Some of the goofier, more jazz-oriented experiments fare less well; an acoustic newgrass cover of the Meters' Nawlins funk oldie, "Look A Py Py" sounds like a great idea, but somehow Ickes & his crew manage to lose track of the backbeat and melodic hook... But mostly this is a pretty good album. Fans will certainly not be disappointed.

Rob Ickes "Slide City" (Rounder, 1999)



Yeesh. Softcore acousti-grass noodlejazz, ala Bela Fleck (though maybe a little less glitzy and over-the-top cheesy than the Flecktones...) Includes covers of Blind Faith's "Can't Find My Way Home," Mongo Santamaria's "Watermelon Man," etc. Some vocal tunes, mostly instrumentals... As acoustic muzak albums go, this is pretty good.. But it definitely is not my cup of tea...
Rob Ickes "What It Is" (Rounder, 2002)



Rob Ickes & Blue Highway "Big Time" (Rounder, 2004)



Dobroist Rob Ickes, perhaps best known for his work with Alison Krauss and Union Station, has become this decade's Jerry Douglas, a ubiquitous bluegrass player whose technique is flawless and at times soul-penetratingly pure. On his recent solo albums, he's tilted towards the jazzy fusions of the new-acoustic newgrass scene; here he reins in the crossover impulses and plays things fairly straight, with the traditionalist band Blue Highway backing him up. The opening numbers are the most traditional sounding, and they sound mighty fine; then the newgrassy instrumental numbers start to dominate and these are kind of hit or miss... Naturally, there's no faulting the technical end of the performances; these guys are all top-flight pickers, but there is a certain predictability to the set... Still, several tunes, particularly the slower ones, like "Ireland, Love Of My Heart," which closes the album, have an ethereal elegance to them, and Ickes proves himself a very soulful player. The fast stuff is fun, the slow stuff is sweet; it's the music in the middle that might need a little boost.
Rob Ickes/Andy Leftwich/Dave Pomeroy "Three Ring Circle" (Earwave, 2006)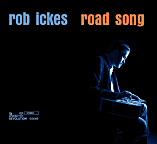 Rob Ickes "Road Song" (ResoRevolution, 2009)



Some more introspective offerings from this newgrass dobro whiz, including several explorations of jazz standards such as Duke Ellington's "Caravan," with Ickes playing in tandem with pianist Michael Alvey, who just happens to be his daughter's elementary school music teacher!) The coffeehouse Americana chanteuse Robinella also sings on several songs, which should be a treat for her fans.
The Infamous Stringdusters "Fork In The Road" (Sugar Hill, 2007)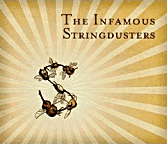 The Infamous Stringdusters "The Infamous Stringdusters" (Sugar Hill, 2008)



(Produced by Tim O'Brien)
An outstanding contemporary bluegrass album, full of youthful vigor, great musicianship and an obvious love of and mastery of the genre. The Stringdusters recall the mix of vitality, immediacy and modernity to the style that was heard in the 1970s as a younger generation of pickers first took up the torch from the founding fathers. They also share some of the same foibles and slight shortcomings of the original progressive bluegrass/newgrass scene -- you can feel them straining a bit, which personally I enjoy, as it shows there are real live human beings behind the wheel, not just perfect-to-a-T superpickers and studio professionals making another super-perfect album. I particularly enjoy the vocals -- both bassist Travis Book and fiddler Jeremy Garrett have an appealing presence: you can feel their personal warmth and hear them as individuals, not just another crew of anonymous bluegrass hotshots. Nice stuff -- stretches from traditional breakdowns to more modern folk-pop-tinged tunes, all of it quite nice. Recommended!
The Infamous Stringdusters "Things That Fly" (Sugar Hill, 2010)



Opening with a sleek, modern-style bluegrass tune very much in the style of Ricky Skaggs, this album quickly shifts into more folk-tinged, contemplative material, more reminiscent of Buddy Miller or Alison Krauss. The 'grass keeps pushing through, including bright, poppy newgrass instrumentals such as "Magic #9," or the album's closer, "The Deputy," which sounds like an outtake from a late '70s Jerry Douglas album... Most, the album gets pretty flowery arrangements, sliding into pop-folk material of the Nickel Creek variety. The twangiest tune on here is the humorous novelty number, "17 Cents" -- everything else is a bit too fancy and sophisticated for me, including their cover of U2's "In God's Country..." Still, for the style this is quite good, and fans will dig it.
The Infamous Stringdusters "We'll Do It Live" (High Country Recordings, 2011)


(Produced by Michael Allenby, Drew Becker & The Infamous Stringdusters)
This high-powered superpicker bluegrass band has a slightly new lineup -- new guitarist and mandolin player -- and has started their own new label to release this live album documenting a recent tour. It's bound to be twangy and fun!


<! The Infamous Stringdusters are a bluegrass band. The band emerged in 2007 with the acclaimed album Fork in the Road on Sugar Hill Records. The band's current line-up features Andy Hall (Dobro), Andy Falco (guitar), Chris Pandolfi (banjo), Jeremy Garrett (fiddle), and Travis Book (upright bass).[1] Falco is the newest member, filling the role vacated by guitarist Chris Eldridge (son of Ben Eldridge and later a touring partner with Chris Thile). Jesse Cobb (mandolin) announced his departure Oct 5, 2011; Dominick Leslie was announced as the mandolin player for the tour that followed. >

The Infamous Stringdusters "Silver Sky" (Sci Fidelity, 2013)



(Produced by Billy Hume)

Iron Horse "Fade To Bluegrass: The Bluegrass Tribute To Metallica" (CMH, 2003)



Following a recent spate of goofy, low-impact "bluegrass" cover albums -- tributes to AC/DC, Led Zep, etc. -- a listener can be forgiven for not having high hopes for an album like this. The good news is... it ain't bad! Admittedly, it's not very "bluegrass"; the sombre songs are accompanied with simple banjo rolls, but that's about it. Yet as an alternative vehicle for these venerable old '80s metal tunes, this is a pretty effective album. Iron Horse keeps the pace slow and performs the songs fairly straight, or at least straight-faced, so there's little of the tedious nudge-nudge, wink-wink cutesiness that mars other similar albums. Silly songs, to be sure, what with all the bleak, dark, apocalyptic mythologizing... but for those of us who would never have the patience to listen to this stuff in its original form, this is a nice, relatively low-impact way to check out the genre without having to suffer through the loud electric geetars. Not great, but not an utter embarassment, either.
Iron Horse "Black & Bluegrass: A Tribute to Ozzy Osbourn & Black Sabbath" (CMH, 2004)


Iron Horse "Whole Lotta Bluegrass: A Vocal Bluegrass Tribute To Led Zeppelin" (CMH, 2005)



Gimmicky, much...?


<! Iron Mountain String Band "Walkin' In The Parlor: Old Time Music Of The Southern Mountains" (Folkways, 1975) (LP) B004K481X0 (Produced by Phil Yeend) - #FA-2477 The band includes Brooke Moyer (guitar), Eric Davidson (banjo) and Caleb Finch (fiddle) - originally from New York, living in Pasadena, CA when they made this album (thie second? first was in 1973) - one of their uncles ----- Ward was in a SC band called the -------- Bogtrotters, who made some recordings in the '60s - several other albums, all available on CD & MP3 as well >

Sonya Isaacs "Sonya Isaacs" (Hollywood, 2000)



The mostly-secular solo debut of singer/mandolinist Sonya Isaacs, one of the featured soloists in the bluegrassy Southern Gospel family band, The Isaacs. This disc covers a wide variety of styles and tones, ranging from rich, satisfying modern trad-country to poppier stuff and a bit of gospel as well. The ever-impressive Dolly Parton guests on one tune, though Isaacs has plenty of oomph on her own... Pity she never followed this up with another solo set... she has a really strong, charismatic presence. (By the way, there are tons of records by the family band, as well, in addition to the "best-of" collection listed below...)

Sonya Isaacs & The Isaacs "Sonya" (Horizon, 2006)



This retrospective highlights songs on which Sonya Isaacs sang lead in the family band -- a wealth of religious tunes with sweet, slick production buoyed by a strong traditionalist core. If you like her solo work, this would certainly be worth checking out too.
---
Bluegrass Albums - Letter "J"
---