<! MP3 09/04/09, 12/20/11 > <! outside 00/00/00 > <! pix 00/00/00 > <! icons 12/15/10 > <! UPDATES: 09/04/09 - need expansion from Josh Graves on... 09/28/13 - link to new Richard Greene page > <! Jim Greer & The Mac-O-Chee Valley Folks "Log Cabin Songs" (Rural Rhythm, 1963) Jim Greer & The Mac-O-Chee Valley Folks "Old Time Country Music, v.1" (Rural Rhythm, xxxxxxx) Jim Greer & The Mac-O-Chee Valley Folks "Old Time Country Music, v.2" (Rural Rhythm, xxxxxxx) ...Two more albums by Jim Greer and the Mac-O-Chee Valley Folks, recorded for Rural Rhythm Records in the mid-1960s. The Group featured Jim Greer on Banjo and Vocals, joined by his sister Valeda Wentz on Guitar and Vocals, Brother-in-law John Wentz on Dobro, Bob McPherson on Mandolin, and Vocals, and Dalton Burroughs on Bass. I have long considered this group one of the most outstanding of the lesser-known Bluegrass groups that showed up on a number of independent labels in the 1960s. At the time this group recorded their albums for Rural Rhythm, they were featured performers on the Wheeling Jamboree. Hope y'all enjoy it! Earl Garner & The Bluegrass Mountaineers "Texas Bluegrass" (Stoneway, 19--?) DOUG GREEN: Liza Jane & Sally Anne" (Old Homestead, 1982) - with the Buck White family and Vic Jordan - mix of country and grass? HARLEY GABBARD "The Tall Timber Man" (Vetco, xxxxxx) LP The Goose Island Ramblers "The Goose Island Ramblers: From Blue Grass To Russian Gypsy " (Cuca, 196--?) (LP) B00BSXC8P8 - Sauk City WISCONSIN HILLBILLY blue grass >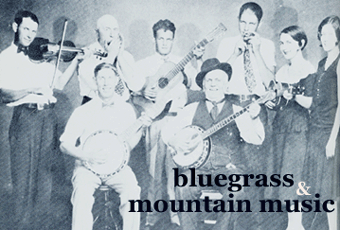 ---
Hi, there... This page is part of the Slipcue guide to various bluegrass artists, which is part of a much larger Hick Music website. This "guide" is not meant to be comprehensive or authoritative, just a quick look at a few records I've heard recently, as well as some old favorites. Comments or corrections are invited... and recommendations are always welcome!
This page covers the letter "G"
---
A | B | C | D | E | F | G | H | I | J | K | L | M | N | O | P | Q | R | S | T | U | V | W | X, Y & Z | Comps | Other Country Styles
---
Beppe Gambetta/Various Artists "Dialogs" (1989)


Beppe Gambetta & Tony Trischka "Alone & Together" (Brambus, 1992)


Beppe Gambetta "Good News From Home" (Green Linnet, 1995)


Beppe Gambetta & Carlo Aonzo "Serenata" (Acoustic Music, 1997)






<! Italian classical music >

Beppe Gambetta & Dan Crary "Synergia" (Thunderation, 2000)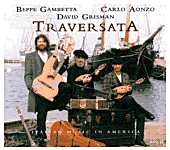 Beppe Gambetta/David Grisman/Carlo Aonzo "Traversata: Italian Music In America" (Acoustic Disc, 2001)



One of those great little records that only newgrass maestro David Grisman could or would put out -- lavish, luscious modern renditions of instrumental gems written by Italian immigrants after the turn of the 20th Century. Many songs feature Beppe Gambetta on the harp-guitar, a gigantic, grandly baroque instrument favored by Italian performers of the era; Carlo Aonzo helps out on second mandolin. Grisman, who has been delving into this little-known wellspring of mandolin music, also is in fine form. The album includes excellent liner notes about composers whose names might otherwise be lost to us today. (My big surprise: jazz guitar whiz Eddie Lang was actually an Italian-American, born Salvatore Massaro, at the turn of the century in Philly... Live and learn!)

Beppe Gambetta "Blu Di Genova" (Gadfly, 2003)



Italian flatpicker Beppe Gambetta whirls out a nice set of acoustic guitar instrumentals and pleasantly Gambetta-ized bluegrass oldies and adapted Genovan folk tunes. He starts off playing solo acoustic, then picks up several high-powered pals, including former member of the Byrds, Gene Parsons, and newgrass guitarist Dan Crary. Crary and Gambetta share a special wavelength, as heard on the dynamic duet, "Shenandoah Valley Breakdown." He drifts pretty decisively away from the bluegrass sound on most of this album, but the Italian material is also pretty interesting, and his melding of the two styles should get guitar fans all hot and bothered. Nice stuff... worth checking out!
Beppe Gambetta & The Men Of Steel "Live" (Thunderation, 2003)



With Dan Crary, Tony McManus and Don Ross...
Beppe Gambetta "Slade Stomp" (Toomuch, 2007)


Beppe Gambetta/Various Artists "Rendez-Vous" (Gadfly, 2008)






<! Beppe Gambetta "Four Way Mirror - Men of Steel" (2006) >
Jeremy Garrett "I Am A Stranger" (Sugar Hill, 2009)



(Produced by Jeremy Garrett)
A solo album from the fiddler and singer of the Infamous Stringdusters... A nice, mellow mix of subdued, melodic truegrass and plaintive honky-tonk heartsongs, hearkening back to the sweeter, slower stuff by folks such as Jean Shepard and Webb Pierce. The best modern comparison might be to Ricky Skaggs, showing the same heartfelt appreciation for the sentimental side of old-fashioned twang. Garrett might not be the most powerful vocalist, but he's a mighty fine fiddler and clearly an accomplished student of hillbilly roots music. Nice stuff -- definitely worth checking out!
Jimmy Gaudreau -- see artist discography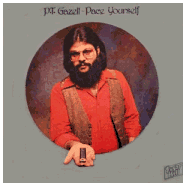 P. T. Gazell "Pace Yourself" (Sugar Hill, 1978) (LP)



Another odd one: Johnny Paycheck's harmonica player Phil Gazell fronts a studio band that includes Jerry Douglas playing dobro and Ricky Skaggs on mandolin, in a mostly-bluegrass set, with some dips into sentimental Antbellum-style material, a few Irish jigs, and a little bluesy swing. Originally from Oconomowoc, Wisconsin, Gazell moved to Lexington, Kentucky in the late '70s, where he cut this album with the cream of the crop of new-generation newgrass musicians. He mostly blows the harp but also sings on a tune or two: the CD/MP3 reissue includes some twangier bonus tracks with an Asleep At The Wheel feel to them. Not bad! And is sure is interesting to hear the harmonica in a bluegrass context...


<! LP ASIN is B00BZBA1FC >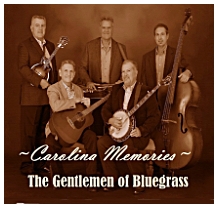 The Gentlemen Of Bluegrass "Carolina Memories" (Pinecastle, 2014)



(Produced by Lorraine Jordan)
Nice, straightforward traditionalist bluegrass with echoes of the Stanley Brothers and the Country Gentlemen... This band's founding members, Danny Stanley and Tom Langdon, were formerly in a band called Carolina Sonshine, and also worked as the backing band for singer Lorraine Jordan (who is also married to guitarist Langdon...) If you like pure, old-fashioned, sentimental mountain music with sweet vocal harmonies, these guys have got the goods. The picking's not too flashy, but that's fine by me: I like it when they really pay attention to the lyrics and the feeling behind them. Recommended!


<! lead singer Danny Stanley - is he related to the Stanley Brothers?? formerly in the band Carolina Sonshine - banjoist Tom Langdon also from Carolina Sonshine; married to Lorraine Jordan >

The Gibson Brothers "Another Night Of Waiting" (Hay Holler, 1998)


The Gibson Brothers "Spread Your Wings" (Bluewater, 2000)


The Gibson Brothers "Bona Fide" (Sugar Hill, 2002)



The Gibson Brothers, Eric and Leigh -- who are not to be confused with the soul group of the same name -- have forged a distinctive sound that builds on the singer-songwriter inclinations of the '70s progressive 'grass scene, fitting as comfortably into the "Americana" label as into the truegrass category. Their vocals are pretty rough -- no classic harmonies or smooth solos here -- but the songwriting is high-calibre and their delivery is compelling, and the musicianship that buoys them is fairly top-notch, even if it's not particularly chopsy. When I first heard this disc, I was a little nonplussed, but revisiting it a few months later, I kinda got into it and am now of the opinion that this is one of the most original 'grass-oriented bands around.
The Gibson Brothers "Long Way Back Home" (Sugar Hill, 2004)



One of the most refreshingly original and pleasant-sounding new albums in the Americana and bluegrass fields... The Gibsons place solid 'grassy picking inside a warm, good-natured country-folk fusion, refining the efforts made by progressive newgrassers in the 1970s, hitting the magical stride that folks like Earl Scruggs and New Grass Revival were looking for all those years. In addition to a tone of finely-crafted originals, they also have several well-chosen covers, such as a version of The Band's "Ophelia" and "Satan's Jeweled Crown," from the Louvin Brothers catalogue. Bluegrass purists in search of hot picking and drag-race instrumental pyrotechnics won't like this album, but for folks who are interested in hearing new, well-written material and who are open to singer-songwriter influences, this album will be a long-lived favorite. Highly recommended!
The Gibson Brothers "Red Letter Day" (Sugarhill, 2006)



Another great record by this innovative, latter-day brother duo. Interestingly, while their previous album shone as a canny pop-bluegrass-country fusion, here the Gibsons have retraced their steps and dug back into the earthier side of the bluegrass tradition, with a raspier, more rugged sound that readily brings Del McCoury to mind. And that's just fine by me. But even while they're going old-school there's plenty of room for original material, as well as some funky covers of country oldies and rock/R&B numbers such as "Lonesome Number One," the Rolling Stones' "It's All Over Now," and "I Got A Woman," from the Ray Charles catalog. All in all, a pretty fine record... Worth checking out!
The Gibson Brothers "Iron And Diamonds" (Sugar Hill, 2008)



(Produced by the Gibson Brothers & Mike Barber)
True-blue torchbearers of the country-tinged folk-grass tradition of hippie-era bands such as New Grass Revival and the Seldom Scene, the Gibson Brothers -- Eric and Leigh -- have recorded one solid album after another, and Iron And Diamonds may be their best to date. Stepping back a bit from the pop-tinged material of the last few years, here they deliver a pure acoustic set, one that zeros in one their greatest strengths: their deep roots in the style, their knack for crafting simple, pure melodies, and their spotless brother-act vocal harmonies. Everything on this album flows smoothly-- each song is a gem, and the transitions from track to track are seamless. This is one of those records that winds up in the CD player for week after week -- you keep thinking you'll take it out and move on to something new, but somehow it keeps popping up, sounding better each time it spins around. <! (Release date: April 8, 2008) >
The Gibson Brothers "Ring The Bell" (Compass, 2009)



(Produced by The Gibson Brothers)
Over the last few years, the Gibson Brothers have made remarkable, multi-layered explorations into the folk-tinged field once called "progressive bluegrass..." Here, they return full-force into the high-lonesome traditional truegrass camp, with a beautiful, compelling set of secular and gospel tunes, and plenty of sweet, hot picking. Highlights include the uptempo "Jericho" and the joyous title track, "Ring The Bell," which each have an irresistible singalong chorus. The sentimental songs are nice, as well, in particular "Farm Of Yesterday," which philosophically reflects on America's disappearing rural heritage. If you like Del McCoury or old stuff by Jimmy Martin, you might want to check this out as well. Lots of great solos and solid musicianship all around.
Download picks:

Ring The Bell


Jericho


Farm Of Yesterday
The Gibson Brothers "They Called It Music" (Compass, 2013) <! 2012? >


The Gillis Brothers "Ice Cold Stone" (Hay Holler, 1992)


The Gillis Brothers "Down By The River" (Hay Holler, 1992)

The Gillis Brothers "Sunshine In The Snow" (Hay Holler, 1993)






<! all-gospel album >
The Gillis Brothers "Heart And Soul" (Rebel, 1995)



Nice stuff! These fellas mix the old-school, plaintive vocals with a crisp, low-key instrumental attack -- understated, but irresistible. This is a really fine set, well worth checking out. Some sweet, simple harmonies, too, and a nice mix of heart songs and gospel tunes. Recommended.
The Gillis Brothers "The Hay Holler Years" (Hay Holler, 2005)






<! Gene Goforth "Emminence Breakdown" B0000002P6 B0010V36QS >

The Good Deale Bluegrass Band "Another Great Deale" (Founder, 2003)


Featuring dobroist Mike Auldridge and a bunch of his pals...

The Good Old Boys "Pistol Packin' Mama" (United Artists/Round Records, 1976)


(Produced by Jerry Garcia)
Longhaired hippie bluegrass at its finest... The presence of the Dreadful Grate's Jerry Garcia as the album's producer ensured a wide listenership among certain segments of the rock scene, and (at least up here in Northern California) fairly wide distribution of this 'Seventies classic... Good thing, too: this record's pretty damn satisfying. Pure, twangy, all-acoustic truegrass that stretches into country material such as Joe Maphis' "Dim Lights, Thick Smoke," Johnnie And Jack's "Ashes Of Love" and Al Dexter's "Pistol Packin' Mama," alongside bluegrass standards such as "Toy Heart" and new stuff like "Glendale Train." The picking is solid from start to finish -- mandolinist Frank Wakefield was well-liked by many on the bluegrass scene, but recorded only sparingly -- his duet with banjoist Don Reno, on "Banjo Signal," is a real scorcher, and the rest of the album, with some sweet licks on the fiddle from Chubby Wise, sizzles as well. Recommended!


<! 144 x 144 >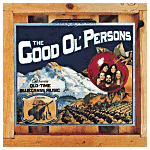 The Good Ol' Persons "The Good Old Persons" (Bay Records, 1977)


A landmark early album from the SF Bay Area bluegrass scene, featuring future solo artists Kathy Kallick (on bass) and Laurie Lewis on fiddle and mandolin... A fun mix of bluegrass and old-timey music, along with a touch of jazzy swing.


<! This is a re-issue of the original LP which came out in 1977. The group consisted of Kathy Kallick (bass, vocals), Barbara Mendelsohn (banjo, hammered dulcimer, vocals), Laurie Lewis (fiddle, mandolin, vocal), Paul Shelasky (mandolin, fiddle, vocal) and Dorothy Baxter (guitar) with several guests and other instruments. An eclectic mix of bluegrass, old-timey and jazz. >

The Good Ol' Persons "I Can't Stand To Ramble" (Kaleidoscope, 1983) (LP)

The Good Ol' Persons "Anywhere The Wind Blows" (Kaleidoscope)

The Good Ol' Persons "Part Of A Story" (Flat Rock Records)

The Good Ol' Persons "Good 'N' Live" (Sugar Hill, 1995)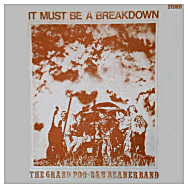 The Grand Poo-Bah Beaner Band "It Must Be A Breakdown" (Rising Star Records, 1976) (LP)
(Produced by Chuck Chapman) <! of Chapman Studios >
Basically a decent "progressive" bluegrass band from the Kansas City area, with Byrds-y harmonies and a repertoire that spanned from traditional material to more rock-pop oriented stuff such as covers of Dylan's "I Shall Be Released," "Friend Of The Devil" by the Dead, and Gordon Lightfoot's "Early Morning Rain." The vocals aren't great, but the picking was fine, particularly Jan Carlson's banjo, and some sweet mandolin riffs on their version of "Somewhere Over The Rainbow," which is an album highlight. On their version of "Cold Sailor," they give Kansas a little shout-out, which is cute. No original material on here, as far as I can tell, but some nice picking.
Bill Grant -- see artist discography
Grant Street String Band "Grant Street String Band" (Flat Rock Records)

The Grascals "The Grascals" (Rounder, 2005)



The Grascals "Long List Of Heartaches" (Rounder, 2006)



(Produced by The Grascals)
A swell, high-lonesome set with a lively little bounce, worthy of Del McCoury, the Osborn Brothers or Jimmy Martin... This is perhaps the band's most traditional-sounding album and, for my money, their most satisfying overall. Includes a track with bluegrass-friendly op 40 star Dierks Bently and a recitation by the venerable George Jones. Good stuff... definitely recommended!

The Grascals "Keep On Walkin' " (Rounder, 2008)



One of the top bluegrass bands of recent years, the Grascals sound mighty old-school and twangy on a lot of these tunes, especially songs like the album's opener, "Feeling Blue," and the gospel-tinged "Sad Wind Sighs," both of which feature hot picking and plenty of nasal vocals and sweet high harmony. There are also a few tunes, like "Choices" and "Keep On Walkin'," that have the feel of modern high-concept Nashville ballads -- give 'em to one of those hat-act fellas, and you might hear them on commercial radio sometime soon. Mostly, though, this is a slam-bang banjo'n'mandolin twangfest, with plenty of fast pickin' to keep fans of the old stuff happy as clams. Recommended!

The Grascals "The Famous Lefty Flynn's" (Rounder, 2010)



(Produced by The Grascals)
Digging deeper into the wellspring of traditionally-oriented "high lonesome"-style truegrass, the Grascals now sound quite a bit like Del McCoury and his crew, with some of the most plangent, keening lead vocals around. Nice repertoire; a lot of well-chosen cover tunes, including several with a country-ish bent such as "Last Train To Clarksville," Steve Earle's "My Old Friend The Blues," and some tunes from the Osborne Brothers catalog, as well as a couple of good gospel tunes. The picking matches the singing -- a bit brisk and piercing, and full of energy and intensity; new to the band are fiddler Jeremy Abshire and banjo queen Kristin Scott Benson. Altogether, another nice one from this compact, dynamic modern band.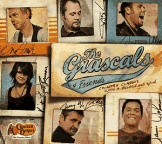 The Grascals/Various Artists "Country Classics With A Bluegrass Spin" (Crackerbarrel, 2010)


(Produced by The Grascals)
Giving some country oldies a bluegrass twist, Terry Eldredge and The Grascals invite in a whole slew of high-powered pals to pitch in on the vocals... Modern top country Nashvillers such as Dierks Bentley, Joe Nichols and Brad Paisley form one end of the spectrum, while old-timers like Charlie Daniels, Tom T. Hall and Dolly Parton bring in a historical perspective, for instance when the Oak Ridge Boys reprise their hit version of Rodney Crowell's "Leaving Louisiana In The Broad Daylight." Dolly sings on several songs, including the all-star singalong that closes the album, "I Am Strong," and an earlier version at the album's start. There're songs from Buck Owens, Johnny Cash, Hank Jr. and others... This may come online sometime in the future, but for now it's available through the Cracker Barrel restaurant chain... for folks who want a little twang along with their chicken-fried steak.


<! 13 country music songs on it that you have probably heard before, but most likely not like this. The Grascals bring their own bluegrass style to the tunes and bring the different tracks to life with eight of their friends, including Brad Paisley, Dierks Bentley, Charlie Daniels and Dolly Parton. >

The Grascals "Dance 'Til Your Stockings Are Hot and Ravelin' " (Bluegrascal Records, 2011)



This 7-song EP is pitched as an homage to the music of Mayberry, but considering how much public domain material is on here, perhaps it would be more accurate to call it a tribute to the Darling Boys (as The Dillards were called, when they appeared on The Andy Griffith Show in the early 1960s...) Whichever way you look at it, it's a nice chance to hear Terry Eldredge and his crew let their hair down and play some traditional standards, such as "Stay All Night" and "Dooley." Bummer they couldn't include "The Fishing Hole" as well... but ya can't have everything!
The Grasshoppers "The Grasshoppers" (Doobie Shea, 2000)


A nice solid, bouncily melodic bluegrass set, with heavy country leanings. Lead singer Honi Glenn has a nice light snarl that places her in the general vicinity of Claire Lynch and Rhonda Vincent... The backing band, including several of her family members, is rock solid, too, with Dan Tyminski dropping in and out of several tracks. Nice stuff!

Grasstowne "The Road Headin' Home" (Pinecastle, 2007)



A great country-tinged progressive bluegrass set, with a ton of talent in an all-star lineup: mandolinist Alan Bibey, guit-picker Steve Gulley and resophonist Phil Leadbetter team up with fiddler Jason Davis and bassist Lee Sawyer rounding out the band... That makes for some mighty fine picking, and even finer harmony vocals, especially when you also bring guests like Dale Ann Bradley and Stuart Duncan into the mix as well. The song selection is uniformly killer: this is the kind of sleek, soulful, rootsy sound that I really dig, and the fact that so much of it is original material makes it even better. Gulley contributes three songs, and co-writes a fourth, the haunting "That's Not What Ships Are For," which I'd say is a highlight of the album. Throughout, one is reminded of the heyday of 1970s newgrass, with eclectic folk-country influences laced in with excellent musicianship. This disc is definitely worth checking out!
Grasstowne "The Other Side Of Towne" (Pinecastle, 2009)



Grasstowne "Kickin' Up Dust" (Rural Rhythm, 2011)



(Produced by Alan Bibey, Steve Gulley & Wes Easter)
A really sweet, multi-textured truegrass set from Alan Bibey, Steve Gulley and their cohorts... Flawless picking and gorgeous harmony vocals underscore one great song after another. A strong mix of country and 'grass, with hints of the Jimmy Martin crossover style, as well as several top-notch gospel tunes. Bibey and Gulley's tenures in bands such as Quicksilver and IIIrd Tyme Out hold them in good stead, particularly on the religious numbers. Some swell instrumentals and solos, as well... An extraordinarily well-rounded modern bluegrass record, with a firm traditional foundation and a fresh, youthful vibe from the band. Highly recommended!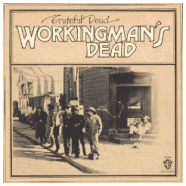 Grateful Dead "Workingman's Dead" (Warner, 1970)



Well sure, maybe this isn't a proper "bluegrass" album, but what with Jerry Garcia's later involvement in Old & In The Way, and the overall backwoods vibe of this album, it's certainly a major link from the hippie rock scene into the world of country and folk. Plus, it's one of the Dead's best (and most accessible) albums, recorded when they were at their poppy peak. A classic album, with a big old Appalachian streak running right through it. Totally worth checking out.


<! 130x 130 >
Josh Graves & Kenny Baker "The Puritan Sessions" (Rebel, 1989)



A lovely reissue of two albums originally recorded for the Puritan record label, Something Different, from 1972, and 1973's Bucktime, pairing fiddler Kenny Baker up with dobro guru Josh Graves. These sessions are notable not only for the fluid, sympathetic interplay between two mellow-minded old-timers, but also for the chance to hear Baker playing guitar -- which he had to stop doing after an accident in 1977 that damaged the nerves in his left hand. And lemme tell you: it sure sounds sweet! A great mix of songs and rather adventurous instrumentals... well worth tracking this disc down!


<! NME: Josh Graves & Kenny Baker "Something Different" (Puritan, 1972) Josh Graves & Kenny Baker "Bucktime" (Puritan, 1973) Josh Graves "Alone At Last" (Epic, 1974) B002E6THCA (LP) Josh Graves "Uncle Josh & His Dobro" (Cottontown () Josh Graves "Just Joshing" (Cottontown, 1975) Josh Graves "Sweet Sunny South" (CMH, 1976) Josh Graves & Bobby Graves "Bobby Smith & Josh Graves" (Vetco, 1976) Josh Graves "Same Old Blues" (CMH, 1978) B000YHAIA6 (LP) Josh Graves "Smokin' Bluegrass" (CMH, 1978) Josh Graves "Sing Away The Pain" (CMH, 1979) Josh Graves "Playing It Simple" (Vetco, 1980) Josh Graves "King Of The Dobro" (CMH, 1982) same as below? Josh Graves "Living Legends" (Old Homestead, 1984) Josh Graves "Flying South" (Ridge Runner, 1986) Josh Graves "Bluegrass Instrumentals" (Montana, 1988) Josh Graves "Dad The Dobro Man" (CMH, 1988) Josh Graves "The Real Josh" (Amber, 1988) Josh Graves "Josh Graves" (Rebel, 1998) B00000BIAQ B001CD9WDU Josh Graves "Sultan Of Slide" (OMS, 2000) B00004TDO3 B000QZT9G0 Josh Graves "Memories Of Foggy Mountain" (OMS, 2002) B00006462U B000QZRKJ8 Josh Graves "World Famous Dobro" (Starday, 2002) B000065C5U Josh Graves "King Of The Dobro" (CMH, 1996) B0000010TN B001B3NZCA - best-of - different from 1982 album? Josh Graves & Kenny Baker "Live in Port Huron Michigan" (?) B000M14RU6 Josh Graves & Friends "We're Gonna Have A Ball!" (Cowboy Carl Records, 1979) B001PZ5Y6O (LP) w/ E.P. Tullock, Curtis McPeake, Ed Hyde, Chubby Wise, Brother Oswald Josh Graves "Same Old Blues" (CMH) Josh Graves & Kenny Baker "Church In The Wildwood" (Legend, 1995) B0002I2Q70 - cheapie reissue? The Masters "Laid Back" (Pinecastle, 1997) B000001UAU B000R01FCK Graves & who else? >
Greater Chicago Bluegrass Band "Greater Chicago Bluegrass Band" (Fargo Productions, 1975) (LP)


A zippy, ultra-traditional and dutifully high-lonesome Northern truegrass band, these folks helped anchor the Windy City's bluegrass scene, along with bands such as the Special Consensus. This is a pretty good record with solid picking throughout... Most of the songs are covers, though banjo player Roger Hood contributes four(!) originals: the instrumentals "B&D Breadbown" and "Midnight Getaway," an original gospel song, "Thank The Lord (I'm On My Way)," a prison ballad called "Cold Gray Walls" and "New Hampshire: For Mose," which was written for his wife, singer Mose Foy Hood. Really, the only thing on this album that sometimes grates on me is her voice, which tonally has a Hazel Dickens feel to it, but somehow lacks the same grit and gravitas as Hazel, and often has a trilling quality that's distracting. Overall, though, a nice sharp record from a long-lost DIY '70s 'grass band.
Greater Chicago Bluegrass Band "Established 1973" (Fargo Records, 1980) (LP)


(Produced by Greg Trafialo & Bill Landow)
It looks like the band's mandolin player and lead singer Chuck Kling is the guy that kept this band together for so many years: he's the only person left from the lineup of their self-titled 1975 album. Roger Hood is replaced on banjo by Jeff Krause, although Hood is credited with arranging a couple of the songs and contributes his own original "Flood Of '72," while producer Greg Trafialo also wrote one of the record's original numbers... Although I'm not entirely sure, I think fiddler Roger Bellow is probably the same guy who played guitar with Kenny Baker several years earlier, and who recorded several albums of his own in the '70s and '80s. (...anyone know for sure?) At any rate, this is pretty swell record, with a softer, more flexible feel than the band's older album, with wider tonality in both the vocals and the picking. Sweet and soulful...it's a keeper!
The Greenbriar Boys - see artist discography

The Greencards "Weather And Water" (Dualtone, 2005)



This scrappy, eclectic band seems tailormade to horn in on a bit of Alison Krauss's territory, offering a similarly mellow, accessible mixture of Americana-folk and bluegrass picking... But instead of Krauss's increasing tilt towards mainstream pop, the Greencards have a noteworthy streak of Celtic trad, with a bounce and a lilt that keeps things lively. Their musicmaking still seems too effortful -- you always feel them working their way from Point-A to Point-B to Point-C, and they seldom hint at those magic leaps to X ,Y, Z and beyond that make the best musicians so special. But despite the workmanlike feel to their work, they are clearly a band that's on the way up and that will find a loyal audience whose energy and enthusiasm match that of the band. Worth checking out, particularly if you are a fan of Alison Krauss, Bela Fleck, and the slicker side of the contemporary bluegrass scene.

The Greencards "Viridian" (Dualtone, 2007)



A lovely, pretty-sounding set with contemporary folk overtones, ala Be Good Tanyas, along with some satisfying, straight-ahead bluegrass, and a bit of Celtic coloring thrown in for good measure. Bassist Carol Young has the strongest presence, adding fine vocals to some of the more less bluegrass-y tunes, although the guys kick in on vocals as well, and all the bandmembers contribute strong original material. You can draw comparisons to other contemporary style-stretchers: some of the gruffer male vocals evoke Dan Tyminski's work with Union Station, and there's a little bit of Nickel Creek in the folk-pop elements as well, although much to their credit, the Greencards are far less stagey and self-important than those chartmakers, and less anchored to the "adult pop" market. There's still a sense of spontaneity and joyful fun here that will be instantly appealing, and the group's diversity and mastery of styles makes this feel like a nice freeform folk radio show. This is a band that a lot of fans are going to latch onto over the next few years.
The Greencards "Fascination" (Sugar Hill, 2009)



I am probably not the right person to ask about this record. When I first heard it, I was inclined to say something favorable, about how they were being creative, and expanding the boundaries of their genre, etc. etc. But when I came back to it, I just had to admit it was impossibly pretentious and musically forced. Distinctive and attention-getting, yes, but also quite forced. It's just too lofty and overdone, really, too self-consciously poetic and artful, and too naked a bid to stake out turf on the same "adult-alt" folk-pop terrain as Alison Krauss and Nickel Creek. Admittedly, I suppose if you are a fan of that genre, this would be welcome -- I found it cluttered and loud; it made me uneasy listening to it. Towards the end, I had an epiphany, as on one song the male-female harmonies kicked in and I realized that, on that track, they sounded a bit like Fleetwood Mac, and I realized that they probably meant to. The trouble is, they moved straight past Rumours right into the Stevie Nicks solo years... Just not my cup of tea, I guess.
Greencards "Sweetheart Of The Sun" (Darling Street, 2013)


Richard Greene -- see artist discography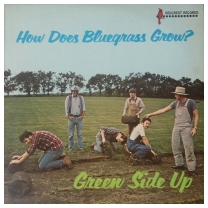 Green Side Up "How Does Bluegrass Grow?" (Redcrest Records, 1975) (LP)
(Produced and arranged by Green Side Up & John Waldon)
A solid set of straight-ahead, uptempo bluegrass from a Kansas City sextet working in the mode of the Stanley Brothers and the Osborne Brothers. It's a nice record. Their repertoire included classics from Bill Monroe, the Stanleys and Lester Flatt, as well as a country oldie by Jimmie Skinner and newer tunes by Byron Berline, the Dillards, and a nice cover of John Denver's "It's Good To Be Back Home Again." Banjoist Howard Rash and fiddler Larry Ellis are standouts; Ellis in particular digs into some of the more rugged fiddle styles of the Ozarks and Appalachia... and presumably bass player Keith George and lead guitar Rick George were brothers? These guys look like they were all in their twenties when they cut this album -- anyone know if they recorded other records, or played in other bands?


<! 1975 release date per: http://www.ibiblio.org/hillwilliam/BGdiscography/?v=fullrecord&albumid=2849 >


David Grisman -- see artist discography




Steve Gulley "Sounds Like Home" (Lonesome Day Records, 2007)



Super-sweet, melodic bluegrass from a former member of Doyle Lawson's Quicksilver, and former lead singer of Mountain Heart... SInger-guitarist Steve Gulley plays it pure and clear, with several new, original numbers and a bunch of classics from the canon... Some of his old buddies chime in here as well, including the fellas from Mountain Heart, Lawson, and Dale Ann Bradley, who adds some gorgeous harmony and duet vocals on a couple of tunes. This disc is solid from start to finish -- mostly traditional, mostly secular, though with some well-chosen gospel material, and fine pickin' throughout. If you want any proof of the strength of the independent bluegrass scene, look no further. Records like this give lots of hope for the future... Come to think of it... the present sounds mighty nice as well!
Steve Gulley & Tim Stafford "Dogwood Winter" (Rural Rhythm, 2010)


---
Bluegrass Albums - Letter "H"
---