<! MP3 09/19/09 > <! update 09/19/09 - did not look for other artists > <! outside 00/00/00 > <! pix 00/00/00 > <! icons 12/16/10 > <! Yankee Ingenuity "Heatin' Up The Hall" Yoder Family "Live" (xxxxxxxxxx) B00410HZ6C http://www.theyoderfamily.org/family.htm - same(?) Zion Mountain Folk Grass Roots Music Vinyl LP 1978 LS-5745 Bluegrass SEALED RARE >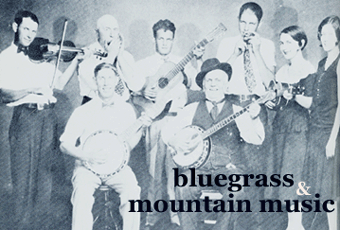 ---
Hi, there... This page is part of the Slipcue guide to various bluegrass artists, which is part of a much larger Hick Music website. This "guide" is not meant to be comprehensive or authoritative, just a quick look at a few records I've heard recently, as well as some old favorites. Comments or corrections are invited... and recommendations are always welcome!
This page covers the letters "X," "Y" and "Z"
---
A | B | C | D | E | F | G | H | I | J | K | L | M | N | O | P | Q | R | S | T | U | V | W | X, Y & Z | Comps | Other Country Styles
---
Howard Yearwood "Saddleback" (Ridge Runner, 1979) (LP)

Howard Yearwood "Whistlestop" (First Inversion Records, 1983) (LP)


(Produced by Howard Yearwood)
An extraordinary all-instrumental set featuring Southern California guitarist Howard Yearwood working primarily in a bluegrass mode, but with glimmers of cosmic rock and country twang. The backing musicians include (among others) fiddler Byron Berline, Bill Knopf on banjo and guitar, Tom Sauber on banjo, pedal steel by Greg Leisz and even some dulcimer from John McCutcheon... Yearwood shows the influence of several hot pickers, notably Leo Kottke, Tony Rice, and even a nod towards Albert Lee on more rock-flavored numbers like "Under The Double Eagle" and "Whistlestop." There's a curiously restrained cover of Mason Williams' "Classical Gas," and a slew of lovely tunes, all played with soulfulness and delight... If you enjoy clear, concise, heartfelt picking, this is a nice disc to check out!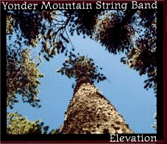 Yonder Mountain String Band "Elevation" (Yonder Mountain, 2001)



A likeable, loose-limbed band that merges the old "progressive " newgrass style with a more modern jam-band ethos... These frenetic fellas from Boulder, Colorado have plenty of pluck, and they pick up the banner of progressive bluegrass from pretty much from where it lay in the early 1970s. They also offer up a fine batch of original new tunes; the trouble is on the performing end -- their vocals are a little shaky, and their picking has a few gaps as well. Then again, if you like music that has a few "flaws" that reveal the artist's humanity (as opposed to the hermetically produced pop of today...) then maybe this band is for you. They certainly aren't self-indulgent, and are putting their all into their work... And, as I mentioned above, they write some really swell songs. Sally Van Meter produced the album, and pitches in on a tune or two -- other guests include Darol Anger and Tim O'Brien, who are as fine a pair of ringers as any band could want. I'm not sure where this album lies in their recording history, but from the relative roughness, I'm willing to bet it includes some of their earliest recordings.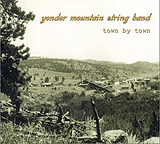 Yonder Mountain String Band "Town By Town" (Frog Pad, 2001)



A much more solid album... Some of the rough spots are still in the mix, but in general their delivery is smoother and, as on other albums, the songwriting is of an impressively high calibre. If you want to check this band out, this is the album I would start with.

Yonder Mountain String Band "Mountain Tracks, v.1" (Frog Pad, 2001)



These live albums are perhaps the strongest representation of the YMSB's appeal -- they're energetic, good-natured, and the crowd seems to love them. Still a little sloppy, musically, and in a concert setting a bit more overtly inclined towards jam-band hippie-isms. But for the most part they seem pretty focused and lively. Might also be just a whiff of Gordon Lightfoot in there as well, but I'm not a thousand percent sure...
Yonder Mountain String Band "Mountain Tracks, v.2" (Frog Pad, 2001)


Yonder Mountain String Band & Benny Galloway "Old Hands" (Frog Pad, 2003)



The lads from the jam-bandish YMSB act as the backup band for songwriter Benny Galloway (whose day job is as a cattleman). Some songs are fairly straightforward bluegrass, others are of a more folkie bent, and the vocals are generally a bit thin. But it's interesting stuff, certainly an authentic, original voice. Sally Van Meter produced the album, and several new bluegrass heavyweights pitch in, including Darol Anger, Dirk Powell and Jerry Douglas. It's the usual suspects, in a somewhat unusual project.

Yonder Mountain String Band "Mountain Tracks, v.3" (Sci Fidelity, 2004)



A swell 2-CD set, with these gangly jamgrassers cutting loose and getting funky on a nice mix of original tunes and groovy covers... Newgrass elder Darol Anger joins them on fiddle, and fits in just right... The first disc kicks off with twin covers of Willie Nelson's "Bloody Mary Morning" and John Hartford's "Coo-Coo's Nest..." And with reference points like this, how could they fail to win us over? Yep, you can count me in the true believer's column when it comes to these guys: they bring a lot of passion and playfulness back into the bluegrass scene, and a ragged eclecticism that's largely been lacking ever since the late 'Seventies or so... To put it succinctly, this is a nice, fun album and shows their undeniable strength as a talented band with a strong but not undogmatic connection to the music's past. They may go a little overboard on a tune or two, but the times when they nail the right vibe far outweigh the iffy moments. Recommended!

Yonder Mountain String Band "Yonder Mountain String Band" (Vanguard, 2006)



YMSB are primarily known as a live act, a hippiedelic bluegrass jam band whose influences are as Phishy as they are Monroe-vian, and who love to wow the crowds at festivals and stage shows. Accordingly, their last few records have concentrated on documenting their live act, making this studio set a nice change of page. In fact, it's more than that: it's a really good record, one of the decade's most creative alt-twang albums. The Yonders make the most of the studio setting; rather than pretend they're just doing a regular old bluegrass set, they delve into the multitrack magic available to them through the production booth, creating an expansive sound that has an assured, confident feel. One gets the sense that this is exactly the record they meant to make, and there's none of the desperation to have a hit or be clever and cutting edge or to follow current trends that drags down so much of the contemporary pop scene. As a result, they sound truly innovative as well as like folks who know how to have fun while still keeping it twangy, funky and free. The songs are more tightly crafted than on their sprawling live sets, but the canny, eclectic mix of loose-limbed newgrass and light, playful indie/rock brings to mind the best work in the 1970s by acoustic pop pioneers such as the Dillards and Newgrass Revival, with just a teeny-tiny hint of Dead-ishness in the mix. I've seen others make comparisons to the folks from Nickel Creek, which I think is more a reflection of how few 'grassy alternatives there are in modern adult pop, and not so much about how similar the bands are. Unlike Nickel Creek, YMSB don't sink into cotton-candy, ooey-goo soft-pop pandering, nor do they get overly noodly, New Age-y, or self-important. This disc is multi-textured and a consistently engaging mix of styles... If you count yourself among the grassfans who wish Chris Thile & Co. would play with a little more grit or intelligence, then this disc might be for you. I liked it.
Yonder Mountain String Band "Mountain Tracks, v.4" (Frog Pad, 2006)


Yonder Mountain String Band "Mountain Tracks, v.5" (Frog Pad, 2008)


Yonder Mountain String Band "The Show" (Frog Pad, 2009)


Adrienne Young "Plow To The End Of The Row" (Addie Belle, 2003)



One of the most striking and original "Americana" albums to come down the pike in a while! Aptly described as "a fresh bunch of old rhymes and new tunes," this is a fascinating mix of styles -- branching off from old-timey bluegrass into more expansive folkish material (ala the Be Good Tanyas), Young has a stylistic and vocal range that's quite nice. At times she sounds Rosanne Cash-ish, at others a persona emerges that is very much her own. Also, this album has an impressive batch of original material, particularly songs like "Plow To The End Of The Row," and the album's tweaky opener, "I Cannot Justify." Towards the album's end, she shifts twoards more rock-oriented material, which is less alluring, but on the whole this is quite innovative and well worth checking out. Highly recommended. (For more information, check out Young's website at www.adrienneyoung.com)
Adrienne Young & Little Sadie "The Art Of Virtue" (Addie Belle, 2005)



Consider yourself put on notice: Adrienne Young is a contender for the throne. Which throne? You name it. The opening track, "Art Of Virtue," has a sleek, velvetlike feel and a vocal performance of such warmth and self-assurance that makes it clear that Young could easily slide into the upper tiers of the pop-bluegrass scene, if she were so inclined... (Alison Krauss might wanna check and make sure her 401Ks are all in order...) But the rest of the album has plenty of rasp and twang to it, keeping Young & Co. well within the bounds of the indie/old-timey camp as well. The pickin' is solid but not overly flashy and the band encompasses an admirable variety of musical styles and tones. Plus, basing some of the material on a pamphlet by founding father Ben Franklin (and including an abridged facsimile of the pamphlet in the booklet inside the album...) Well, how much more "Americana" can you get?? I'm not sure if this album has as much freshness or immediacy as Young's debut, but it's still pretty damn good... It's certainly one of the best newgrass/alt-Americana albums you're going to come across this season... Recommended!
Adrienne Young "Room To Grow" (Addie Belle, 2007)



On her third solo record, Americana darling Adrienne Young edges away from her bluegrassy roots and goes more high-concept (and a bit closer to mainstream country...) The album opens with the in-your-face pop lavishness of "All For Good," which harkens more to Mary Chapin Carpenter or Sarah McLachlan than to Delia Bell and Alison Krauss... Young follows this adult-alt outburst with a Celtic track, giving twangfans pause: has she gone down a different path? Well, the answer is "yes," but in a good way... I didn't like the start of this album, but Young definitely hits a groove halfway through, and fans of contemporary triple-A singer-songwriter material (including the current Nashville pop crossovers) may fine a new heroine here. Young is a solid singer and musician, she sings with conviction and feeling, and she has found able collaborators in guitarist Will Kimbrough, as well as Nashville stalwart Mark D. Sanders. It's not totally my cup of tea, but I'm still on Young's bandwagon... Definitely worth checking out.
---
Bluegrass & Old-Timey Collections
---