<! MP3 09/24/09, 10/20/11 > <! outside 00/00/00 > <! pix 00/00/00 > <! icons 12/15/10 > <! UPDATES: 09/24/09 - a few adds, nothing rigorous 09/22/13 - combed through for instrument pages > <! HERMAN SMITH'S LIVE TALL TREES BLUEGRASS FESTIVAL" (King Bluegrass, 1976) (LP) - Modoc, Indiana - 2-LP set >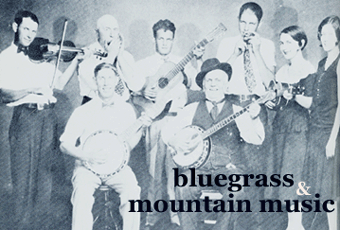 ---
Hi, there... This page is part of the Slipcue guide to various bluegrass artists, and is part of a much larger Hick Music website. This "guide" is not meant to be comprehensive or authoritative, just a quick look at a few records I've heard recently, as wella s some old favorites. Comments or corrections are invited... and recommendations are always welcome!
This page covers Bluegrass and old-timey compilation albums.
---
A | B | C | D | E | F | G | H | I | J | K | L | M | N | O | P | Q | R | S | T | U | V | W | X, Y & Z | Comps-1 / 2 | Other Country Styles | Hick Music Index
---
Various Artists "20 BEST OF BLUEGRASS" (Arc Music, 2004)


A nice glimpse American bluegrass music, via a European world music label. It's a nice cross-label sampler, drawing primarily on material from the Rounder, CMH and Shell Point labels, and a few stray tracks from more independent sources. Although moderninsts such as Bela Fleck lead off the set, this tilts generously towards the traditional, and sounds mighty fine. Artists include Tony Rice, Mac Wiseman, Larry Cordle, James King, The Stonemans, Lester Flatt, The Bluegrass Cardinals, and others. Not an earthshaking set of songs, but certainly worth checking out if you're new to the style.
Various Artists "THE ALL-NIGHT GANG" (Rebel, 1991)


Sweet, traditionally-oriented recordings by several loose-knit, Nashville-based truegrass outfits, including the Bluegrass Idles, the Cluster Pluckers, Roland White's New Kentucky Colonels, and the Sidemen, four sorta-bands that would meet and play informally at J.T. Gray's Station Inn. A nice, mellow, low-key set of songs.

Various Artists "ALL-STAR BLUEGRASS CELEBRATION" (Sugar Hill, 2004)


This big-name Ryman Auditorium guest-fest, presided over by Ricky Skaggs (naturally), follows a pretty predictable trajectory, with folks such as Vince Gill, Alison Krauss, Patty Loveless, Del McCoury, Dr. Ralph Stanley and Earl Scruggs, all working their way through the classics -- "Pretty Polly," "Shady Grove," etc. Less traditionally oriented artists are also on hand, such as Nickel Creek, Bruce Hornsby(??) and Travis Tritt... The album's okay; the video version, which was broadcast on public TV, is probably more engaging.

Various Artists "THE APPALACHIANS" (Dualtone, 2005)


The exemplary companion album to a PBS television series, this features a wide range of Appalachian folk music, from stark, spooky "shape note" gospel singing to plunky old-time tunes and greased lightning bluegrass, with story songs and spirituals, murder ballads and laments for lost love -- all the styles and sentiments that make American mountain music so weird and wonderful and emotionally resonant. Many of the major players are on here: Jimmie Rodgers and the Carter Family (and June Carter Cash, keeping the tradition alive); bluegrassers like Mac Wiseman, David Grisman and the Osborne Brothers; old-school folkies like Jean Ritchie and Depression-era balladeers such as the Blue Sky Boys and Blind Alfred Reed, and even a few young'uns like Jeff Black and Jason Ringenberg to round things out... It's a nice set that spans the 20th Century and gives a well-rounded view of the rich musical heritage of a region that helped shape American popular culture. Recommended!

Various Artists "THE BEST OF BLUEGRASS: 20th CENTURY MASTERS MILLENNIUM COLLECTION" (Universal/Hip-O, 2002)


A cursory glance at the huge back catalog of fab bluegrass owned by the Universal corporation (which includes MCA-Decca, among other labels). As with many MCA-Universal reissues, this disc is a bit stingy (only 12 tracks), but it's full of good music, and could serve as an adequate introduction to the genre, with musicians ranging from old-schoolers Bill Monroe, Flatt & Scruggs and the Stanley Brothers to young 'uns like Ricky Skaggs and Vince Gill. Also nice to see the Osbourn Brothers and the Stoneman family getting their propers. Good for anyone curious about this music, but it would also be swell if Universal would dig a little deeper in order to satisfy folks who are already fans.

Various Artists "BIG MON: THE SONGS OF BILL MONROE" (Skaggs Family, 2000)


I guess old habits die hard... Ricky Skaggs came up through the bluegrass/newgrass ranks in the 1970s, and as the decade ended he shifted his career trajectory towards straight-out Nashville Top 40. Ricky did pretty well, but came back into the acoustic fold a few years back. Right around the time bluegrass originator Bill Monroe passed away, Skaggs was tagged by many as a potential heir to the throne in years to come. That's what makes this glossy tribute to Monroe so disappointing: that Skaggs organized it himself, and brought in such schlocky Nashville cats to help out. OK, sure, the traditionalist tributes have already been done (such as Sugar Hill's 1996 TRUE LIFE BLUES...) and why begrudge Travis Tritt, Steve Wariner or the Dixie Chicks their right to pay homage to an old-timer? The only trouble is that mostly this sounds all wrong... It's too slick, too self-conscious a mix of modern and "traditional", and too flat and unemotional. It's simply not worthy of the passion and intensity that Monroe injected into pretty much every record he ever made. To its credit, this album is nowhere near as awful as the Jimmie Rodgers tribute that came out a few years ago, but it's still not that engaging. I'm sure lots of people will go ga-ga over this record... just don't count me in their number.

Various Artists "THE BRISTOL SESSIONS" (Country Music Foundation, 1987)


Welcome to the motherlode. In 1927, Victor Records A&R representative Ralph Peer set up a recording studio in a rural Tennessee hotel, and brought to the world the first recordings of the Carter Family, as well as future superstar, blues yodeller Jimmie Rodgers. Other dimly remembered old-timey artists were also recorded, such as gospel singers Alfred G. Karnes and Ernest Phipps, Ernest Stoneman, and various stringbands, as well as a slew of local performers who never enjoyed the commercial success of the more luminous stars mentioned above. This 2-disc set is completely fabulous -- if you like old-timey hill music, this is the motherlode, an absolutely essential collection.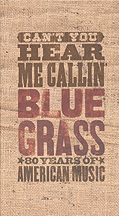 Various Artists "THE BEST OF CAN'T YOU HEAR ME CALLIN': BLUEGRASS - 80 YEARS OF AMERICAN MUSIC" (Columbia Legacy, 2004)



If the 4-CD set seemed too cursory, then this single-disc set might be even less satisfying for the hardcore fan. Still, it's great music. Too much new stuff (about half the disc is post-1960s) but again, there's not much to complain about with Ricky Skaggs or the Dixie Chicks, other than that in this instance they're crowding out Jim & Jesse, Carl Story and some of the rarer old stuff that is included in the big box set. Whatever; it's still fun music.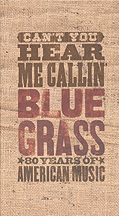 Various Artists "CAN'T YOU HEAR ME CALLIN': BLUEGRASS - 80 YEARS OF AMERICAN MUSIC" (Columbia Legacy, 2004)



An impressive 4-CD collection that spans eight decades and draws heavily on the Sony vaults, including material from their Columbia/CBS/Epic/Monument/Sony Classical back catalog, as well as a generous helping of tracks from other labels, such as Acoustic Disc, ARC, Bluebird, Capitol, Decca, Dot, E-Squared, OKeh, RCA, King, Mercury, MGM, Monument, Rounder, Sugar Hill, Vocalion and Warner Brothers... Obviously, this is not the "ultimate" bluegrass collection, but that elusive item is probably something best left to individual collectors to assemble in the privacy of their own homes... But for a major-label overview, this is pretty darn cool. Many of the major players and foundational artists are included: The Carter Family, Bill Monroe, Flatt & Scruggs, The Stanley Brothers, Jim & Jesse, Carl Story, The Osborne Brothers... And flanking this pantheon on either side are early pre-grass stringband artists such as Roy Acuff, Molly O'Day, Charlie Poole and Gid Tanner, or young'uns who have carried on or modernized the tradition -- The Byrds, The Dixie Chicks, Alison Krauss, Mark O'Connor, et al. The list of omissions and second-guessing about which tracks to have included is, of course, near-endless. I'll leave it to the purists and crabby at heart to rip Sony a new one for their criminal actions, but from where I sit, particularly knowing how hard it is to assemble reissue material in the first place, and how small the audience really is, I'd say: job well done. It's twangy as all hell and diehard fans or newcomers alike should find this a valuable and compelling collection. (Too bad they couldn't get any Blue Sky Boys songs, though!)

Various Artists "CHRISTMAS IN THE MOUNTAINS: BLUEGRASS SONGS FOR THE SEASON" (Rebel, 2003)



A rough-hewn, soulful set of bluegrass yuletide, with tracks dating back to Rebel's early '60s origins. The Country Gentlemen, Larry Sparks, Dr. Ralph Stanley and others add their holiday cheer... High marks go to Paul Williams and his Victory Trio, who are (naturally) quite well suited to the genre. Highly recommended! (By the way - if you like country Christmas records, I review a whole bunch of them on my hillbilly holiday page... )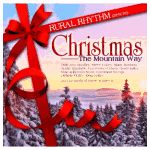 Various Artists "CHRISTMAS THE MOUNTAIN WAY" (Rural Rhythm, 2012)



(Produced by Steve Gulley)
(DVD produced by Sammy Passamano)
Bluegrass stalwart Steve Gulley, along with his musical pals and extended family, all celebrate the season with a heartfelt set of hardcore Christmas songs, some with gruff, old-man vocals, some with kiddie choruses and many with rock-solid musicianship. Guests include Audie Blaylock, Dale Anne Bradley and Marty Raybon, as well as the children in the Cumberland River Academy chorus, singing "Go Tell It On The Mountain." Truegrass spirit filled with heart and soul, and holiday cheer to spare!
Various Artists "CLASSIC BLUEGRASS FROM SMITHSONIAN FOLKWAYS" (Smithsonian Folkways, 2002)



An excellent label sampler, drawn from five decades of bluegrass and hill music recordings, including venerable legends such as Bill Monroe, Doc Watson, Hazel & Alice, and the New Lost City Ramblers, as well as pickers of humbler repute, such as Harley Allen, Hugh Moore and Smiley Hobbs. Folkways got into bluegrass just as it was fading as a commercial force in the late 1950s; the label provided an important venue for the bubbling up within the '60s folk scene, with special emphasis on the folkloric, backwoods aspect. This disc combines old-timey folkloric recordings, festival appearances (fun to hear the Stanley Brothers wow the crowd with their corny, old-fashioned showmanship...) and more recent recordings from the '70s and '80s. A very listenable and lively collection, and a good signpost to point you towards some of the best stuff in the Folkways catalog.
Various Artists "CLASSIC BLUEGRASS FROM SMITHSONIAN FOLKWAYS, v.2" (Smithsonian Folkways, 2005)


Various Artists "CLASSIC MOUNTAIN SONGS FROM SMITHSONIAN FOLKWAYS" (Smithsonian Folkways, 2002)


Various Artists "CLASSIC OLD-TIME FIDDLE MUSIC FROM SMITHSONIAN FOLKWAYS" (Smithsonian Folkways, 2007)


Various Artists "CLASSIC OLD-TIME MUSIC FROM SMITHSONIAN FOLKWAYS" (Smithsonian Folkways, 2003)


Various Artists "CLASSIC SOUTHERN GOSPEL FROM SMITHSONIAN FOLKWAYS" (Smithsonian Folkways, 2005)



Various Artists "CLAWHAMMER BANJO, v.1" (County, 2004)



Various Artists "CLAWHAMMER BANJO, v.2" (County, 2004)



Various Artists "CLAWHAMMER BANJO, v.3" (County, 2004)



Yahoo!! These are some of the most welcomed reissue records in all of bluegrass-land, extended versions of the original three-volume series of vinyl LPs from the 1960s and '70s, that feature some of the sweetest, simplest examples of the downpicking, or clawhammer, style of banjo playing... These tracks were all gathered by folklorist Charlie Faurot, who recorded informal sessions by Tommy Jarrell, George Stoneman, Wade Ward, and many other, less well-known clawhammer pickers. Most of the tracks, but not all, are instrumentals, and while you might think that three albums worth of the same style of music on the same instrument might wear thin after a while, I actually found these to be some of the most enjoyable records I've listened to recently. You can just kick back and let the music flow, washing you in waves of a bygone time... As the liner notes point out, since these records were originally issued, all of the artists featured on them have passed away, and with them went the direct connection to the older, backwoods world they came from. Sure, there are folks today who can play in the same style and who know all the old songs, but somehow there's nothing that quite matches the feel of music made by people who really grew up in rural communities without electricity or many of the other amenities of modern life, folks who have felt the sweet side of hard times, players from another time and another world altogether. Anyway, these discs all sound special to me, and I think you'll like 'em, too... And for present-day students of clawhammer banjo, you couldn't ask for a better guide to the style... Highly recommended!

Various Artists "CLOSE TO HOME: OLD TIME MUSIC FROM MIKE SEEGER'S COLLECTION" (Smithsonian Folkways, 1998)



Wonderful raspy rural music recorded between 1952-'67 by Pete's little brother. Includes later recordings from legends such as fiddler Eck Robertson, banjo-pickin' ne'er-do-well, Dock Boggs, and Sara and Maybelle Carter, as well as dozens of jes-plain-folks recorded off the cuff by the eager kid from New York City. Some of the recordings are fragmentary, and all were recorded under the simplest of conditions, with just one microphone, out on a porch or in someone's kitchen. But it's precisely this informal, non- professional nature of these recordings which give them their appeal. Also, check out the wonderful CDs of Seeger's own band, the New Lost City Ramblers (listed above).

Various Artists "DADDIES SING GOOD NIGHT: A FATHER'S COLLECTION OF SLEEPYTIME SONGS" (Sugar Hill, 1994)


Gee -- could ya imagine having Leon Redbone or the fellers from Seldom Scene play your bedtime lullabies? It'd be almost as cool as having Jim Henson as your babysitter! Also on here are Chris Hillman, Doc Watson, Jesse Winchester, Michael Doucet and Tim & Mollie O'Brien.This is a sweet, soft set of soothing acoustic tunes, some traditional, others written by the artists... A nice little album to count sheep by!

Various Artists "DARK AS A DUNGEON: SONGS OF THE MINES" (Rebel, 2010)



A great collection of bluegrass tunes about coal mining and the miner's life... The tragic timeliness of this album's release -- coinciding with the deadly April, 2010 Massey Energy mine explosion in West Virginia -- doesn't diminish the beauty of the music or the power of the songs. The album opens with Bill Harrell's plaintive version of "Green Rolling Hills," a lovely, nostalgic song that may be familiar to old Emmylou Harris fans. There are several songs about cave-ins and explosions, environmental damage, and one particularly harrowing song by the Wildwood Valley Boys, "Black Lung Fever," about the misery of black lung disease. True, it sounds like a big bummer, but the grit and determination of the miners is honored as well: the coal companies might be hard and heartless, but the workers and their families are equally tough-- it's an ancient struggle. The music is solid and soulful, underscoring the deep connections between bluegrass music and the coal mining communities, and I'm sure this collection will resonate with modern listeners in some surprising ways. Recommended!

Various Artists "DOCFEST: A TRIBUTE TO DOC WATSON" (Flatpicking Guitar Magazine, 2003)



A nice, folk-tinged tribute to Doc Watson's elegant flatpicking style. A wealth of talented pickers appear on here, including Wyatt Rice, David Grier, Rushad Eggleston, Joe Carr & Alan Munde, Jim Hurst & Missy Raines, and a slew of other musicians. Some of the performances add interesting twists on familiar old tunes, and a nice, appropriately gentle vibe suffuses the entire album. Organized by the folks at Flatpicking Guitar Magazine, a bimonthly mag, dedicated to the fine country style pioneered by the greatÉ Doc Watson among them!
Various Artists "DOWN FROM THE MOUNTAIN" (Mercury/Lost Highway, 2001)


A live concert follow-up to the enormously successful O Brother, Where Art Thou soundtrack, with all the same artists -- Emmylou, Alison Krauss, Chris Thomas King, et al -- sawing away on stage. Gillian Welch steals the show with a couple of tunes off her current album, and the late John Hartford plays one tune and is properly lauded in the liner notes. Holly Hunter -- who was the one major flaw in the original Coen Brothers film -- acts as emcee. Nice, lowkey acoustic material -- not as arresting as the first album, but nothing to complain about, either.
Various Artists "DRIVE-TIME BLUEGRASS" (Rebel, 2009)



I'm not all that big on "themed" collections that go through a label's back catalog and pick out songs that share a similar topic... But I gotta admit that this "drive time" set -- which is about traveling in general, and not just cars and trucks -- is pretty fun. Heck, with artists such as Red Allen, Blue Highway, Bill Emerson, Del McCoury, Larry Sparks, Mac Wiseman and the venerable Ralph Stanley to pick from, it's kinda hard to go wrong. Ramblin', rovin' and leavin' galore, and lots of swell, high-class picking and pure, high-lonesome vocals, just as you'd expect from the folks at Rebel!

Various Artists "FEEL LIKE MY TIME AIN'T LONG" (Rebel, 2006)



A capella gospel singing is a bluegrass specialty, and in some ways one of the most difficult styles to master in the genre. This fifteen-song set, judiciously culled from the Rebel Records vaults, features some of the finest examples you're ever likely to hear... There are a couple of tracks by Ralph Stanley, as well as Paul Williams and other truegrass luminaries such as The Virginia Squires, Larry Sparks and The Country Gentlemen, as well as newer supergroups such as Blue Highway and IIIrd Tyme Out, who throw on a nice harmony or two. For me, the sweetest moment on here come from the least well-known singers, particularly the Marshall Family and the Forbes Family, who specialize in gospel material, and whose soulfulness and devotion leap out at you from start to finish on each of their songs. If you like the style, this is an excellent album either to use as a springboard to explore other music by any of these artists, or just to listen to by itself... It'll hold up well to repeat plays. Recommended!
---
More bluegrass reviews... More Collections... | The Letter "A"
---