<! MP3 08/30/09, 08/19/12 > <! outside 00/00/00 > <! pix 08/19/12 > <! icons 12/15/10 > <! updates: 09/22/09 - added Bill Emerson (still incomplete, unsure of dates) > <! Bob Ensign & The Stump Jumpers "Pickin', Grinnin', 'N' Singin" (Rural Rhythm, 1967) Bob Ensign & The Stump Jumpers "Mountain Guitar Pickin' " (Rural Rhythm, 1972) EASY PICKIN' "The Winning Combination" (Xerox, xxxxx) - bluegrass vinyl LP >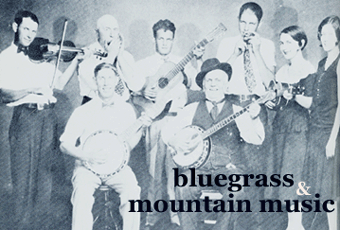 ---
Hi, there... This page is part of the Slipcue guide to various bluegrass artists, which is part of a much larger Hick Music website. This "guide" is not meant to be comprehensive or authoritative, just a quick look at a few records I've heard recently, as well as some old favorites. Comments or corrections are invited... and recommendations are always welcome!
This page covers the letter "E"
---
A | B | C | D | E | F | G | H | I | J | K | L | M | N | O | P | Q | R | S | T | U | V | W | X, Y & Z | Comps | Other Country Styles
---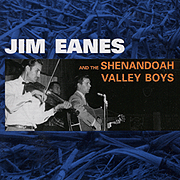 Jim Eanes "...And The Shenandoah Valley Boys" (Bear Family, 1999)


Here's a nice surprise -- a tasty reissue of rare, early '50s country material recorded by bluegrass picker Jim Eanes, who had just left the Flatt & Scruggs band to seek fame and fortune on his own. These are atypical recordings -- a few banjo-based instrumentals speckle the craggy honkytonk that dominates these old Decca sessions. Eanes was clearly emulating Hank Williams (and later, Hank Snow) in his vocals, with a hefty does of Ernest Tubb-style musical arrangements in the mix. Among the pickers present here are a Chet Atkins, Autry Inman, and a young Bobby Hicks on fiddle... nice company, indeed! An interesting cross between hard country and bluegrass, which helps fill in some of the blanks in the husky, blues-laced style that made Eanes's later bluegrass recordings sound so unique. There are plenty of great heart songs and weepers on here, as well as a novelty tune or two, and a trio of Cold War-era patriotic songs round off the album... Nice stuff, well worth picking up!
Jim Eanes "...With Red Smiley And The Bluegrass Cut Ups" (Rural Rhythm, 1968) (LP)





<! PERSONNEL: Jim Eanes: Guitar, Lead Vocals Red Smiley: Guitar, Tenor Vocals Gene Burrows: Guitar, Mandolin Peggy Peterson: Dobro Billy Edwards: Banjo John Palmer: Bass Tater Tate: Fiddle. >

Jim Eanes "Classic Bluegrass" (Rebel, 1992)


Sweet, understated performances by a competent, assured oldtimer. These tracks, mostly recorded in the late 1970s, have a lovely informality to them. Relaxed, slow-paced, these lilting heart songs pretty much forego the drag-racing instrumental machismo of modern bluegrass, in favor of heartfelt, lingering sentiment braced by melodic simplicity and calm clarity of purpose. The CD reissue also includes about a half dozen newer tracks, recorded in 1987 and '89 with much the same band, anchored by Eanes and lead guitarist Ray Cline... The earlier sessions also include Hershel Sizemore and Rickie Simpkins, and a host of lesser-known pickers. This disc won't catch your stereo on fire, but it's still mighty sweet.

Jim Eanes "Webco Recordings" (Pinecastle, 1997)






<! 130 x 130 >

Jim Eanes "Your Old Standby: Complete Starday Recordings" (Starday, 1998)


A 2-CD set...
Jim Eanes & Bobby Atkins "Heart Of The South" (Starday, 1991)

Jim Eanes "In His Arms" (Rebel, 2004)






<! JIM EANES 08/12: also a bunch of albums on LP Jim Eanes "Your Old Standby" (1967) >

The Easter Brothers "They're Holding Up The Ladder" (Rebel, 2004)



Soulful and sweet. A great, gorgeous all-gospel bluegrass set, drawn from two albums the Easter Brothers cut for Rebel Records in the early '80s, I Feel Like Traveling Home, from 1980, and 1981's Almost Home. It's beautiful stuff, richly melodic and drenched in the classic 1950s style of Jim & Jesse, with plenty of sweet picking and high mandolin work to guide the songs. This is the sort of gospel bluegrass in which infectious musicality propels each song -- even folks who aren't into the whole Jesus thing should find themselves as drawn in by this disc as anybody else... It's just so darn yummy!
The Easter Brothers "By Request: Their Greatest Hits" (Daywind, 2000)


The Easter Brothers "Heart And Soul" (Daywind, 2000)



Sure, these guys were old farts by the time this record was recorded, but they sure did know how to harmonize and sing with plenty of soul. A nice, twangy bluegrass surprise from this well-known Southern Gospel label.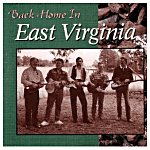 East Virginia "Back Home In East Virginia" (Copper Creek, 1999)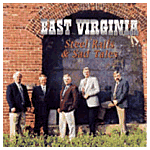 East Virginia "Steel Rails & Sad Tales" (Major Recordings, 2000)
Top-flight, heartfelt, old-fashioned truegrass, with great, grizzled old-timer vocals. The production style is pretty bright, so the instrumental work really leaps out at you. Also, a nice tilt towards heart songs, including a cover of Clyde Moody's "You Caused It By Telling Lies" and the old George Jones chestnut, "Just A Girl I Used To Know," admirably rendered as an acoustic ballad, and several nice original songs written by various band members. Good stuff on a real indie label!


<! East Virginia "New Sounds, New Seasons" (Rounder? 1979?) > <! East Virginia "Pathways Of Tradition" (Rounder? 1990?) >
Ray Edwards "Pickin' Bluegrass And Singin' Country" (JRE Records, 197--?) (LP)
(Produced by Ray Edwards & Chuck Haines)
A bluegrass picker from North Carolina, multi-instrumentalist Ray Edwards started out in a group called the High Country Boys, and went on to form his own band, Southbound, and to win several regional and national awards in the early '70s. From Winston-Salem he made his way to Nashville, where he worked as a sideman for Jeannie C. Riley, and most notably for Tom T. Hall, who hired Edwards to work in his tour band, The Storytellers, as well as a regular gig on Hall's weekly "Pop Goes The Country" program. This album was recorded at Hall's Toy Box studios in Nashville with a whole slew of folks playing on various tracks -- in addition to country session players such as Ray Edenton, Buddy Emmons and Dale Sellars, there are a bunch of bluegrassers, most notably Blaine Sprouse, who plays fiddle on several tracks. Edwards himself plays banjo, mandolin, pedal steel, dobro, bass and guitar -- one imagines there were a lot of long nights and multi-tracking involved. About half the tracks are actually instrumentals, but not everything here is bluegrass, per se, and on the straight-up country tunes, Edwards proves to be a durable, robust '70s-style countrypolitan crooner, sounding quite a bit like John Conlee on a tune or two. Four songs are credited to his boss, Tom T. Hall, including the album highlight, "I Flew Over Our House Last Night." Four tracks are credited to Ray Edwards, all instrumentals, and another Tom T. crony, Gary Edwards (of Mercury Records) slips in a tune called "Just To Hard To Find." The bluegrass stuff is okay; the country songs are pretty groovy.


<! - #NR-11944 - no ASIN 08/16/18 - no date, but liners mention championship awards in 1974; cover photo looks 1976-ish >

Ray Edwards "Portrait Of A Bluegrass Songwriter " (Rural Rhythm Records, 2012)






<! 1. Hard Rock Mountain Prison ( Til I Die)(Russell Moore & IIIrd Tyme Out) 2. When The Love We Have Is Gone(The Darrell Webb Band) 3. Blue Ridge Mountain Snow(Nu-Blu) 4. Heartbreak Hall Of Fame(Monroeville) 5. I ll Be Over You(Carolina Road) 6. Windy Ridge(Ray Edwards & Hard Rock Mountain) 7. My Name Is Jimmy Martin (Do You Remember Me?)(Ray Edwards & Hard Rock Mountain) 8. Blue Ridge Blue(Jeanette Williams) 9. Old Steamboats And Trains (Grasstowne) 10. Gettin Me Some Gone (Special Consensus) 11. Where My Darlin Waits For Me(Ray Edwards, Hard Rock Mountain Prison & Don Rigsby) 12. Will I Stand On The Rock Of Ages(Keith Pyrtle & Ray Edwards) >

Elephant Revival "Elephant Revival" (Itz Evolving, 2008)



Elephant Revival "Break In The Clouds" (Nettwerk/Ruff Shod, 2010)



(Produced by David Tiller)
A moody, mystical, playful mix of bluegrassy acoustic folk with classical touches, ideal for fans of Sarah Jarosz, Uncle Earl or Mumford & Sons. The performances are uniformly mellow and reserved, with a gentle blend of banjo, mandolin, washboard, cello and violin, one of those pleasantfully undefinable freak-folk records that are reshaping the folk/Americana/indiepop landscape... I particularly enjoyed the title track, a buoyant tune suggesting old-school, washed-in-the-blood revivalist gospel, but the more modern-sounding songs are pretty sweet too. Definitely worth a spin, particularly if you're looking for something that breaks out of the standard-issue model of hot-pickin' bluegrass, and are open to a groovy-cosmic hippie vibe.
Elephant Revival "It's Alive" (EP) (2012)


Tony Ellis "Dixie Banner" (Flying Fish, 1987)



Guitar/banjoist Tony Ellis strays from the orthodoxies (and instrumentation) of classic bluegrass, in favor of a wider range of Southern culture... Traces of Dixieland and riverboat music snake through this album, with folks like Mike Craver (of the Red Clay Ramblers) pitching in, and cello and tuba joining the twangy chorus... It's probably too mellow for most 'grass fans, but it's an interesting approach, with a new twist on some old sounds.
Tony Ellis "Sounds Like Bluegrass To Me!" (Copper Creek, 1999)



Me, too! Dudley Connell and others pitch in on this relaxed, understated set, with plenty of plain, sentimental, old-fashioned vocal numbers and a gentle sawing fiddle and slow, plunky banjo. These fellas were in no hurry to get anywhere fast, just sittin' around having a fun time playing the goodle stuff. The way we like it.
Bill Emerson "Home Of The Red Fox" (Rebel, 1990)



(Produced by Bill Emerson)
A sweet, all-instrumental bluegrass album from banjo player Bill Emerson, with plenty of top talent backing him up: the band includes fiddler Jim Buchanan, Jerry Douglas playing dobro, Jimmy Gaudreau on mandolin, bassist Mark Schatz and Tony Rice on guitar. Nice stuff!


<! - Wayne Busbice, engineer, recorded at Webco Studio, Gaithersburg, Maryland - Tony Rice, Jimmy Gaudreau, Jerry Douglas, Jim Buchanan (violin) and Mark Schatz (bass) >
Bill Emerson & Cliff Waldron "The Best Of Emerson & Waldron" (Rebel, 1997)



A retrospective of the East Coast duo of Emerson & Waldron which features, among other gems, their original grassed-up version of "Fox On The Run," a song that became a standard in the bluegrass canon. Fun stuff!


<! "...grassed-up version of Manfred Mann's "Fox On The Run," a song that became a standard in the bluegrass canon. " >

Bill Emerson & Pete Goble "Webco Classics Volume One: The Best Of Emerson & Goble" (Pinecastle, 1996)

Bill Emerson "Gold Plated Banjo" (Rebel, 1989)






<! Tony Rice on guitar, Jimmy Gaudreau and Larry Stephenson on mandolin, Rickie Simpkins on fiddle, Mark Schatz on bass and open back banjo, and Ronnie Simpkins on bass. >
Bill Emerson "Home Of The Red Fox" (Rebel, 1990)



(Produced by Bill Emerson)
A swell all-instrumental set, with some particularly sweet banjo work from Mr. Emerson... the opening track is a real doozy! Also on board are fiddler Jim Buchanan, Jerry Douglas playing dobro, Jimmy Gaudreau on mandolin, bassist Mark Schatz and Tony Rice on guitar. Nice stuff.
Bill Emerson/Various Artists "Bill Emerson Reunion" (Webco, 1991)


Bill Emerson "Banjo Man" (Webco, 1996) <! date? >






<! Personnel includes Mark Newton, Tony Rice, Pat White, Emory Lester, Jimmy Gaudreau, Rickie Simpkins, Bob Goff, Wyatt Rice, Pete Goble, Ronnie Simpkins, Joe Meadows, Bryan Smith, Jeff Tuttle, and Larry Stephenson. >

Bill Emerson "...And The Sweet Dixie Band" (Rebel, 2007)






<! Featuring: Paul Williams, Scott Linton, Con Burch, Pete Goble, Brad Corbin, Randy Waller, Darren Beachley, Mark Newton, Wayne Taylor Frank Solivan, Andy Ball and Gary Ferguson. > <! Bill Emerson & Mark Newton "A Foot In The Past, A Foot In The Future" Bill Emerson "Appaloosa" (Webco) Personnel on this album includes Wyatt Rice, Rickie Simpkin, Jimmy Gaudreau and Mike Auldridge. Bill Emerson "Bluegrass Banjo" (Design) Supposedly his earliest recordings Bill Emerson "Banjo Pickin' & Hot Fiddlin' " (Coronet) >
Bill Emerson & Sweet Dixie "The Touch Of Time" (Rural Rhythm, 2012)



(Produced by Bill Emerson)
A nice, straightforward truegrass set, with sentimental oldies and tints of progressive 'grass folkie songwriting... Nice, low-key instrumental work, particularly from mandolinist Wayne Latham, who also sings lead on several songs. Emerson's banjo work is as fine as ever. Good song selection; closes with a particularly nice gospel number, "Last Night I Was There."
Drew Emmitt "Long Road" (Compass, 2008)



(Produced by Garry West & Drew Emmitt)
An interesting branching-out from the traditional confines of blue- and truegrass, and a logical extension of the directions Emmitt was headed in his last couple of records (and his work with Leftover Salmon, as well...) Plenty of newgrass elders are there to back him up, including folks John Cowan, Tim O'Brien and Alison Brown, as well as some "usual suspect" pickers, along with Emmitt's own band... Goofy cover tunes ("Long Way Home") coexist alongside louder, half-electric jam band rock and loping bluegrass-funk. For those in the jam band orbit, this will be a fun album, sort of in the the poppier end of the field, though with a few longer, looser tracks. And the boy sure can play the mandolin!
Tim Eriksen "Tim Eriksen" (Appleseed, 2001)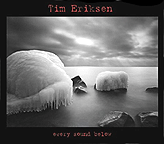 Tim Eriksen "Every Sound Below" (Appleseed, 2004)



Folklorist/singer/multi-instrumentalist Tim Eriksen may have come into the public eye by taking part in a really crappy movie (Cold Mountain) but don't hold that against him. This is a really fine, really soulful, thoughtful set of stark, sideways old-timey tunes, stretching the boundaries of Americana past its early 20th Century roots, back into the Civil War and Antebellum eras. Eriksen knows his stuff has a real feel for the material, taking old murder ballads and spirituals like "Omie Wise," "Two Sisters," "Friendship" and "John Colby's Hymn" and giving them his own personal touch. On a couple of tunes he flirts with modernization and anachronisms, for example, blending Tuvan-style throat singing in with the already-nasal Appalachian style (admittedly gimmicky, but it really works) and occasionally entering spacier terrain that might be familiar to fans of old Robbie Basho or Tom Rush albums. Nice record -- worth checking out!
Tim Eriksen "FestivaLink Presents Tim Eriksen And Shape Note Singers At Newport Folk: 8/6/06" (FestivaLink, 2006)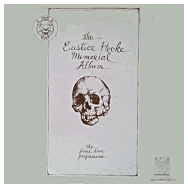 The Eustice Hocke Memorial Album "The Final Live Performance" (Dire Wolf, 1972)


(Produced by George Hanson & Ralph Wittcoff)
A fine live set of straight-ahead bluegrass and old-timey music from a Minneapolis, MN area group with a sharp, concise sound in an electrifying live set at an old venue called the New Riverside Cafe. The repertoire is almost entirely bluegrass classics, songs like "Little Maggie," "Bill Cheatum" and "Footprints In The Snow," although they also give an excellent rendition of Hank Williams' "Lost Highway" and dip lightly into pop with a funky rural cover of "Proud Mary," but that's about it for nontraditional material. There are no composer credits, but I think there is one original tune on here, a fun instrumental called "This And That There" -- although it's possible that this came from somewhere else too (anyone know for sure?) Only two musicians are listed on the jacket, Ron Colby (who played some really hot banjo) and Craig Ruble playing fiddle, guitar and mandolin, though clearly there are other pickers backing them up, including an unidentified vocalist who hits the Jimmy Martin-style high-lonesome sound on several tracks. Also worth noting is the Grateful Dead-ish iconography in the album art: the Dire Wolf label logo and a big old, Dead-ish skull on the cover. Musically, though, this is pure mountain music. Eustice Hocke? Made up, as far as I can tell: they dedicate the album to him, claiming that he died pouring a glass of milk, and promise to use the proceeds from the album to build a Eustice Hocke cultural center in his nonexistent hometown of Dwildy, Iowa. Hey, they can make as many in-jokes as they want to, as long as they play all sweet like that. Whoever these guys were, they were good.
Bill Evans "Native And Fine" (Rounder, 1995)


Bill Evans "...Plays Banjo" (Mighty Fine, 2001)



An SF Bay Area banjo picker who's now part of the esteemed Dry Branch Fire Squad, Evans plunks up a storm on this fine, fluid set. These instrumentals cover a lot of ground; I like the straightforward breakdowns, but the noodly, jazz-tinged bits are pretty creative, and at least he's sticking to traditional acoustic instruments... The album closes with a vocal number, an acoustic swing-tinged version of "Heavy Traffic Ahead"; all in all, a pretty solid album; nothing really revelatory, but pretty nice to listen to.
Dave Evans "Bad Moon Rising" (Rebel, 2000)



This fella has an unusual approach to the bluegrass sound, with a simple, declarative vocal style that owes something, I suppose, to Doc Watson -- not quite the streamlined propulsion of mainstream bluegrass, nor the raspier-than-thou hijinks of the old-timey crowd, but something a little more bluesy and country-leaning, yet undeniably in the bluegrass section of the bleachers. This is without doubt one of his best albums, both in terms of his own vocal performance, and the pickers he's got surrounding him. Great song selection, too. Highly recommended.
Dave Evans "Hang Out A Light For Me" (Rebel, 2001)



Another masterful set of story songs and ballads, this time of a gospel bent. Nice stuff, with plenty of sweet picking... Recommended!
Dave Evans "Just Look At Me Now" (Rebel, 2003)



Singer-songwriter-banjo plunker Dave Evans has an uneven, slightly lurching quality to his work, hardly the zippin'-along kinda bluegrass you might expect on a Rebel album. There's a bluesy country tinge to this album, almost even a trace of the old singing cowboys... A nice mix of original and traditional material, although with a fairly ragged, highly individual delivery.
Dave Evans "High Waters" (Rebel, 2003)



This disc is pretty similar to its companion, Just Look At Me Now, with an untamed edge that might through strict-minded bluegrass fans off the mark. Still, there's some pretty accomplished songwriting, and Evan's heart is clearly in his work.
Dave Evans "Pretty Green Hills" (Rebel, 2006)



Good, old, rock-solid, high lonesome truegrass, played with liveliness and zest. Evans plunks a mean banjo, Bobby Hicks adds some sweet fiddle and the rest of the band ain't slouches either. There are a couple of great original tunes amid the traditionally-oriented material, as well as a pair of Tom T. Hall songs, too (the record was recorded at Hall's studio in Nashville...) If you like your bluegrass twangy, impassioned and pure, you might wanna check this one out.
Gerald Evans & Joe Mullins "Just Five Strings And A Fiddle" (Rebel, 1995)

Gerald Evans & Paradise "Headin' Home" (Lavenir Records)

Gerald Evans & Paradise "Gettin' It Done" (Legend, 2001)
Clattersome, energetic, and pleasantly ragged around the edges, fiddler Gerald Evans and his hillbilly bluegrassers take things back to the days of Mac Wiseman's tinny, tenor-heavy style (which I like a lot), singing with great gusto and sincerity, and letting their rough side drag. About half the songs are gospel oriented, but -- as is often the case -- this is some of the most soulful material on the album; for the more secular-minded among us come gems such as a grassified version of the honkytonk classic, "Fourteen Carat Mind," "The Blue Collar Blues," and a prison song or two. Nice stuff! (For more info, check out the band's website, at www.geraldevansandparadise.com. )
Ever Call Ready "Ever Call Ready" (Marantha Music, 1985)


A country-rock supergroup jamming on some old bluegrass tunes and singing some gospel songs... The ensemble includes hippie-era old-timers Chris Hillman, Bernie Leadon and Al Perkins, along with fiddler David Mansfield and bassist Jerry Scheff. They are clearly getting a kick out of singing the old songs, but a lot of it sounds tongue-in-cheek, such as their cover of the fundamentalist novelty anthem, "Don't Let Them Take The Bible Out Of Our School Rooms"; other songs seem more soulful and sincere. Fun stuff -- some of it quite sweet.


<! you might also want to check out the 1983 Hillman/Perkins album, "Down Home Praise," which has a similar feel. DIFFERENT ALBUM, OR ORIGINAL EDITION? >

---
Bluegrass Albums - Letter "F"
---