<! MP3 12/26/08, 01/04/11 > <! update 12/26/08, 01/04/11 > <! outside 00/00/00 > <! links 00/00/00 > <! pix 00/00/00 > <! icons 01/04/11 >

---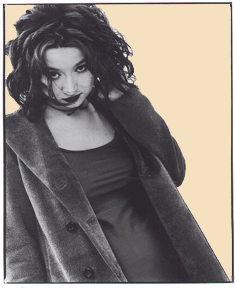 Eliza Carthy is the daughter of two of Great Britain's greatest folk traditionalists, guitarist Martin Carthy, and singer Norma Waterson, as well as a contemporary folk phenomenon in her own right... She carries the torch for the famed Waterson family, but also glides easily into poppier terrain. A versatile multi-instrumentalist and a stunning performer with a gorgeous voice and a winsome sense of humor, Carthy promises to be one of the greatest trad-folkies of the coming decades.
---
Discography
---
Eliza Carthy & Nancy Kerr "Eliza Carthy & Nancy Kerr" (Mrs. Casey Records, 1993)

Eliza Carthy & Nancy Kerr "Shape Of Scrape" (Mrs. Casey Records, 1995)


Eliza Carthy & Nancy Kerr "On Reflection" (Gadfly, 1995)


A nice distillation of their two albums on the independent folk label, Mrs. Casey Records, along with a few previously unreleased tracks of later vintage (including a couple recorded with Davy Graham!) Primarily, this is an instrumental album, although both women sing on a handful of tracks. The emphasis, however, is on their fiddling and accordion work, which is quite remarkable, particularly on the second album, Shape Of Scrape, where they get more experimental with traditional themes, toying with slurred notes and droning tones. The twin fiddle work is especially nice. Fans will definitely want to track down either this compilation, or the two original albums on Mrs. Casey (which is linked to above).

Waterson:Carthy "Waterson:Carthy" (Topic, 1994)



Martin Carthy and Norma Waterson share the limelight with their daughter, Eliza Carthy, who has a fab voice and plays some sweet fiddle. A gentle, pretty set of old-time folk ballads, lovely and listenable -- definitely worth checking out!
Waterson:Carthy "Common Tongue" (Topic, 1996)


Eliza Carthy "Heat, Light & Sound" (Topic, 1996)



Eliza Carthy & The Kings Of Calicutt "Eliza Carthy & The Kings Of Calicutt" (Topic, 1997)



Traditional songs, produced, at times, with an uneasy mix of traditional and rock approaches. When this group really gets going, it's clearly a capable crew, and their enthusiasm and youthful energy is readily apparent... Yet in general I find the electric bass to be a mistake, especially in an intimate, small ensemble: it just sounds too much like a remnant from a local band playing at a pub, with a mish-mosh of instruments to perform with. Perhaps in theory that's a good thing -- after all, isn't this folk music supposed to reflect how real people make music? But I simply don't like the way it sounds, particularly when juxtaposed with such capable trad playing... it's not awful, but it is distracting. Carthy's fiddle plays streaking duets with the band's melodeon; her voice is large and sounds mature beyong her years. Fiddler John McCusker, of Scotland's Battlefield Band, produced the album and ably saws away on a couple of tunes. This album is a little creaky around the edges, but in a nice, purposeful way.

Eliza Carthy "Red Rice" (Topic, 1998)


A 2-CD set which focuses separately on her trad and folk-pop leanings. In retrospect, the pop touches on the Red disc are a bit clumsy -- jazzy blues riffs juxtaposed with fiddle reels and accordion rolls, in a slightly stilted style typical of other trad-pop crossovers. That's only part of the story, though... there's a fair amount of stylistic variation, and select tracks stand out as quite lovely. Plus her voice is gorgeous, inviting further comparison to Sandy Denny, et al. The straight folk CD, Rice, is a stunner -- great from beginning to end, which kind of balances out the foibles and searching nature of the "pop" disc... Recently reissued as separate CDs (see below).
Eliza Carthy "Red" (Topic, 2001)



The single-CD version(s) of the Red Rice double disc set reviewed above... This is the pop crossover album.
Eliza Carthy "Rice" (Topic, 2001)



The single-CD version(s) of the Red Rice double disc set reviewed above... This is the trad folk album.

Eliza Carthy "Angels And Cigarettes" (Warner Brothers, 2001)



Wow. Very nice stuff. This is the payoff for the Red Rice album -- a sleek, glossy pop effort with deep folkie underpinnings. The most obvious comparisons are to Beth Orton and the late Kirsty MacColl. A few tracks drift into questionable territory, but for the most part this is a very lovely and listenable album. Carthy's voice is gorgeous and expressive, and her echo-laden fiddling creates the perfect space for her to croon about in. The songwriting is also quite strong -- confessional but not overwrought, nor as blunt and self-aggrandizing as the current crop of Alanis/PJ Harvey knockoffs. In one of the album's most striking tunes, "The Company of Men," she ruefully wonders aloud why so many guys are so very boring and so distant from the women they seek to capture. Crooning, "I've given blow jobs on couches/To men who didn't want me anymore/Why they didn't tell me before/I have never been sure...", Carthy speaks for legions of gals who've wasted years on one loser or another. And her music -- sleek as it may be -- is as simultaneously down-to-earth and heavenly as the album title implies. Highly recommended.
Blue Murder "No One Stands Alone" (Topic, 2002)


Eliza Carthy "Angelicana" (Topic, 2002)


Waterson:Carthy "A Dark Light" (Topic, 2002)


Waterson:Carthy "Fishes And Fine Yellow Sand" (Topic, 2004)


Eliza Carthy "Rough Music" (Topic, 2005)


Waterson:Carthy "Holy Heathens And The Old Green Man" (Topic, 2006)


Eliza Carthy "Dreams Of Breathing Underwater" (Topic, 2008)



The Imagined Village "The Imagined Village" (Real World, 2008)



An interesting multi-culti collaboration featuring Martin Carthy, his daughter Eliza, punk-folk troubadour Billy Bragg, Sheila Chandra and others... A mix between craggy traditional English song and modern, trip-hoppy pop. Some of it is quite nice!
Eliza Carthy & Norma Waterson "Gift" (Topic, 2010)


---
Best-Ofs
---
Eliza Carthy & Nancy Kerr "On Reflection" (Gadfly, 2002)


This American reissue includes material drawn from Eliza's first couple of albums, originally released on the Mrs. Casey record label. (See above.)
Eliza Carthy "The Definitive Collection" (Highpoint, 2004)

---
Links
---
---



Main Celt/Brit Index
International Music Index



---