<! MP3 12/22/08, 01/04/11 > <! update 12/22/08 > <! outside 00/00/00 > <! links 00/00/00 > <! pix 01/04/11- some adds > <! icons 01/04/11 >

---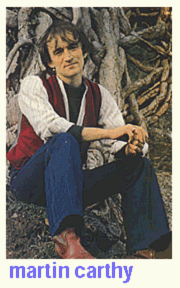 Guitarist Martin Carthy has been a longtime fixture on the UK trad scene. An uncompromised (but innovative) tradtitionalist, Carthy is best known for his long partnership with Fairport Convention fiddler Dave Swarbrick, although he was also briefly an early member of Steeleye Span, has married into the Watersons, and provided backup on political songwriter Leon Rosselson's best albums. Carthy's guitar work, like his vocals, are careful and deliberate, conveying a sense of gravity, and reverence for the music.
---
Discography
---

Martin Carthy "Martin Carthy" (Fontana, 1965)



On his first album, the young Martin Carthy shows some of the same callow declarativenes of the American folkies; he hasn't quite moved into an Eric Anderson smoothness; perhaps he's closer to Tom Paxton on the suave-o-meter. A very serious, but very talented, young man. True to form, the material is all traditional (except for one Ewan MacColl song), and it's the same stark style he would continue to hone and perfect over the decades, only here it may be a little more accessible since he hasn't gotten the craggy old-man vibe down pat. Dave Swarbrick plays violin on several tunes, but hasn't picked up equal billing with Carthy on the album cover.
Martin Carthy & Dave Swarbrick "Second Album" (Fontana, 1966)


Martin Carthy "The Bonny Black Hare" (Philips, 1967) (LP)





<! This LP is the first of many Martin Carthy compilations to come. It consists of six tracks from Byker Hill on the first and six tracks from But Two Came By on the second side 01 - The Fowler (3.15) 02 - Brigg Fair (1.32) 03 - The Barley Straw (2.32) 04 - Byker Hill (2.54) 05 - John Barleycorn (3.13) 06 - The Bonny Black Hare (2.00) 07 - Ship in Distress (2.28) 08 - Jack Orion (4.03) 09 - White Hare (2.47) 10 - Lord of the Dance (2.40) 11 - Poor Murdered Woman (2.48) 12 - Streets of Forbes (3.20) >

Martin Carthy & Dave Swarbrick "Byker Hill" (Fontana, 1967)


Martin Carthy & Dave Swarbrick "No Songs" (EP) (Fontana, 1967)


Martin Carthy & Dave Swarbrick "But Two Came By" (Fontana, 1968/Topic, 1977)



A beguiling, oddball collection of olde English ballads and story songs. Carthy still hasn't worked up to the full gravity of his later style, but there's little to complain about here... it's great stuff. The one incongruous note is the modern pessimism and modern arrangements to the album's final track, an early Leon Rosselson tune called "Brass Band."

Martin Carthy & Dave Swarbrick "Prince Heathen" (Fontana, 1969)



In fine form, Carthy and Swarbrick glide through a stark set of olde ballads, including several fine a capella numbers sung by Carthy. Many of the stories are well known within the folklore set, but the melodies are unusual, hewing to the craggier, more off-kilter end of the Brit-folk spectrum. Regardless, this is an album that fans will love... Well worth searching for!

Martin Carthy "Landfall" (Philips, 1971/Topic, 1977)



A typically sublime album, recorded around the time Carthy was performing with Steeleye Span. This is packed with stripped-down, stark traditional material, all of which is great. Only a couple of tracks fall short, such as his cover of David Ackles' "His Name Was Andrew," a somewhat forced, Leon Rosselson-ish denounciation of religious hypocrisy, a slightly jarring intrusion of contemporary political folk material into an otherwise superior set of old-fashioned songs. This is a goodie... well worth checking out!

Martin Carthy "Shearwater" (Pegasus, 1972)


(Produced by Terry Brown)
Once again, Carthy delves deep into the wellspring of English traditional song... Although the music itself sounds a bit rugged and rough -- chunky guitar riffs, some rushed, urgent rhythms -- the songs themselves are stunners. With the archaic language, blunted melodies and craggy delivery, you may have to listen quite closely to understand these lyrics, but once you get on the right wavelength, you'll be thrilled. This album includes Carthy's authoritative version of "The Fair Flower Of Serving Men," once of the goriest (and most action-packed) of the Child Ballads... Other songs follow suit, giving a glimpse at the peculiar world of ancient British folklore, where odd, erratic folksongs once served as tabloids and TV for a pre-industrial nation. Great stuff!
Martin Carthy "Sweet Wivelsfield" (Decca/Deram, 1974)


Martin Carthy "Crown Of Horn" (Topic, 1976)


Martin Carthy "Kershaw Sessions" (Strange Roots, 1978)

Martin Carthy "Because It's There" (Topic, 1979)


Martin Carthy "Out Of The Cut" (Topic, 1982)



(Produced by Jerry Boys & Martin Carthy)

Martin Carthy "Right Of Passage" (Topic, 1988)


Martin Carthy & Dave Swarbrick "Life And Limb" (Green Linnet, 1991)



A predictably wonderful collection of songs... Especially remarkable since all but one of the tracks were recorded live, adding an informal feel, and also showing just how talented and well-matched these two were.
Martin Carthy & Dave Swarbrick "Skin And Bone" (Green Linnet, 1992)



Their second reunion outing, this time recorded in the studio, is a smoother affair (not that Life and Limb was particularly rough...) Oh, and it's quite lovely. Recommended!
Martin Carthy "Wood Wilson Carthy" (RUF, 1998)


With Chris Wood and Roger Wilson
Martin Carthy "Signs Of Life" (Topic, 1998)



Martin Carthy "Waiting For Angels" (Topic, 2004)



An odd, experimental album, featuring a droning, older Carthy singing traditional ballads amid brooding, modernist arrangements. It's nice that he's trying something new, but it may be hard to listen to... I found it quite a chore. Interesting song selection, though -- a lot of songs I'd never heard of... and even a version of "The Harry Lime Theme," from the film, The Third Man. Carthy's daughter Eliza co-produced the album and plays on several tracks; Oliver Knight produced some tracks as well. On the whole, I'd say this is an iffy effort, but for listerners willing to delve into the dreary mix, I imagine it would ultimately prove quite rewarding.
Martin Carthy/Various Artists "Martins 4" (Topic, 2004)


Martin Carthy & Dave Swarbrick "Straws In The Wind" (Topic, 2006)


Martin Carthy & Dave Swarbrick "Both Ears And The Tail" (Topic, 2007)



An archival tape of a live show from 1966...
The Imagined Village "The Imagined Village" (Real World, 2008)



An interesting multi-culti collaboration featuring Martin Carthy, his daughter Eliza, punk-folk troubadour Billy Bragg, Sheila Chandra and others... A mix between craggy traditional English song and modern, trip-hoppy pop. Some of it is quite nice!
Martin Carthy & Eliza Carthy "The Moral Of The Elephant" (Topic, 2014)


---
Best Ofs
---

Martin Carthy & Dave Swarbrick "Selections" (Pegasus, 1971)


An excellent best-of, drawn from their hard-to-find early albums of the late 1960s. Dynamite stuff.

Martin Carthy "The Collection" (Green Linnet, 1993)


An absolutely superb single-disc summary of his career. Doesn't include material from his early years with Dave Swarbrick back in the 1960s, but what is on here is all first-rate. The only sour note is the first track -- a poorly arranged version of Leon Rosselson's "Palaces Of Gold," with a cheesy (and highly uncharacteristic) synthesizer. Otherwise, this is the bomb. If you haven't heard Martin Carthy before, but are curious, this is the record to start with.
Martin Carthy "Rigs Of The Times" (Music Club, 1993)

Martin Carthy "The Collection" (Topic, 1999)


A single-CD set concentrating on Carthy's earliest work. Lovely stuff, of course!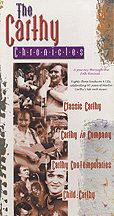 Martin Carthy "The Carthy Chronicles" (Free Reed, 2001)


A 4-CD collection of Carthy's work, spanning from the '60s to the present day -- the motherlode for Martin Carthy true believers! This box set is divided thematically: "Classic Carthy," a disc of "hits," "Carthy In Company," featuring rare, previously unreleased collaborations with various cohorts, including John Kirkpartick, The Albion Band, Steeleye Span, The Watersons, etc.; a third CD titled "Carthy Contemporaries," with Carthy providing interpretations of his favorite contemporary songwriters, and a fourth disc, "Child: Carthy," that focusses exclusively on the British folk treasure trove known as the Child Ballads. It's a real folkie tour de force, complete with a lavish, highly informative booklet, a flowchart showing the various stages of Carthy's career, and tons of rarities from folk concerts, TV shows and the like. Eighty-three tracks total... plenty of high-class listening for anyone who's ready!
---
Related Records
---

Steeleye Span "Please To See The King" (United Artists/Chrysalis, 1971)



(...with Martin Carthy)

Steeleye Span "Ten Man Mop" (Pegasus/Chrysalis, 1971)


A fairly stark record, with guitarist Martin Carthy on board, to add a bit of his hyper-traditionalist sensibility to the mix. The album starts off with a Carthy-Prior duet, "Gower Wassail," that is so sublime it makes you wish they'd done a whole album together... very interesting mix of two very distinctive voices. Several other songs on here are a bit too raspy... there's even a bit of that clunky electric guitar that would later become so prominent in their sound. On the whole, though, an admirable album, worth checking out, particularly if you are of a traditionalist sensibility.

Steeleye Span "Storm Force Ten" (Chrysalis, 1977)


Martin Carthy briefly returned to the Steeleye fold for this fine, and meticulously crafted album. I'm not sure I understand why so many Steeleye fans have howled about how this is some sort of disco-tinged nightmare. Sure, there's a disasterous version of Brecht's "The Black Freighter," but that seems to be the extent of the band's crimes on this disc. The production is a bit glossy, but it's certainly not that big a departure from their other work. I actually think this includes some of Maddy Prior's best vocal work, and it's fascinating to hear the ever-craggy Carthy successfully applying himself to a rock-flavored idiom. An overlooked and much-maligned album, certainly worth checking out.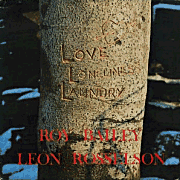 Leon Rosselson & Roy Bailey "Love, Loneliness And Laundry" (Fuse, 1977) (LP)


Bailey and Rosselson's masterpiece. A sardonic meditation on modern alienation, this audio equivlent of a Mike Leigh film features the classic atheist anthem, "Stand Up For Judas," and several other gems. From start to finish, this is a high-calibre album, in no small part due to excellent guitar work by longtime collaborator Martin Carthy, who adds a sprightly bounce to big bummer songs such as "Let Your Hair Hang Down" and "Don't Get Married Girls." Other favorite tunes include the a capella version of Blake's poem, "The Garden of Love" and "Invisible Married Breakfast Blues," a genuinely chilling look at a relationship gone flat. Highly recommended!

Steeleye Span "Live At Last!" (Chrysalis, 1978)


The band's first live album, recorded with Martin Carthy still briefly in the lineup... He adds a lot of rawness and vigor, and a Carthy-Prior duet on "Hunting The Wren" makes you wish they'd done a whole album together, back in the good old days. This set opens with a somewhat stilted, stagey air, and is by and large rather heavy on the clompy Morris dance melodies... But as the album gathers steam, the charm of the material takes hold and you may find yourself humming a tune or two after the album over. Worth checking out. although I confess it didn't completely grab me.

Brass Monkey "The Complete Brass Monkey" (Topic, 1993)



This ensemble may be a bit of an acquired taste -- the instrumentation is very unusual -- three piece brass, along with squeezebox, percussion and guitar -- but that's what made them so notable in the first place. Carthy and longtime collaborator John Kirkpatrick put this band together, and this disc collects most (but not all) of their material.
Martin Carthy/Various Artists "The Four Martins" (P3 Music, 2004)


A concert video with Martin Carthy, Martin Taylor, Martin Simpson, and Juan Martin... The "Four Martins!"
The Imagined Village "The Imagined Village" (Real World, 2008)



An interesting multi-culti collaboration featuring Martin Carthy, his daughter Eliza, punk-folk troubadour Billy Bragg, Sheila Chandra and others... A mix between craggy traditional English song and modern, trip-hoppy pop. Some of it is quite nice!
---
Links
---
The Official Waterson:Carthy Homepage will keep you up to date on their comings and goings, tour dates and links to friends and family alike, as well as the larger Folk Icons website.
Topic Records still somewhat sparse website is this is the place to go if you're interested in hardcore traditional UK folk music. They have a bunch of Martin Carthy and Watersons material in print, as well as many other great artists.
Special thanks to Garry Gillard, whose outstanding Watersons/Martin Carthy website filled in gaps and provided clarification for this list. Gilliard's complete discography, which also includes Martin Carthy's work on other artists albums, has recently been handed over to a new webmaster, and can be found at this address: http://www.informatik.uni-hamburg.de/~zierke/watersons An awesome site -- well worth checking out!
---



Main Celt/Brit Index
International Music Index



---