<! MP3 01/02/09, 01/09/11 > <! update 01/02/09 > <! outside 00/00/00 > <! links 00/00/00 > <! pix 00/00/00 > <! icons 01/09/11 >

---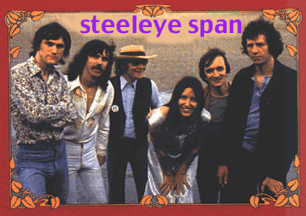 One of the preeminent British folk-rock bands, Steeleye Span stood in the triumvirate along with Pentangle and Fairport Convention. The band has passed through several phases, and just as many lineups of personnel, alternating between traditionalist and prog-fusion elements. Many of their best efforts have been anchored by the keening tones of Maddy Prior, whose striking, uniquely English voice is half-angel, half wailing fish monger. Of the great folk-rock bands, Steeleye Span's experimentation with rock music was the most dramatic, yielding far better (as well as more dismal) results than most.
---
Discography
---

Maddy Prior & Tim Hart "Folk Songs Of Old England, v. 1" (B&C/Mooncrest, 1968)


Hart and Prior started their professional career as a folk-club duet in 1966. On this, their first recording, their banjo-guitar-vocals sound is a bit plain, and nowhere near the grand melodic resonance of their later work with Steeleye Span. The songs, however, are thoroughly enchanting, and it's nice to hear Prior's voice at its most youthful... Also, the understated delivery is charming and effective. Definitely a few notches above similar folkie-purists of the time, and you can tell Maddy Prior is just waiting to bust loose...

Maddy Prior & Tim Hart "Folk Songs Of Old England, v.2" (B&C/Mooncrest, 1971)


Of a piece with the first volume, although with perhaps a touch more maturity. Another great collection of odd olde English ballads, and a nice glimpse of greater things to come. Recommended!

Maddy Prior & Tim Hart "Summer Solstice" (B&C/Mooncrest, 1968)



Quite lovely. This was the first Hart-Prior "solo" album made after the formation of Steeleye Span, and it makes good use of both the available talent and their increased skill as studio producers. There are several glorious songs on here, including the playful, bawdy "Three Drunken Maidens" and "Bring Us In Good Ale." Prior's vocals on "I Live Not Where I Love" are every bit as haunting as the song itself, and the rest of this album is quite fine as well. One of her best.

Steeleye Span "Hark! The Village Wait" (RCA, 1970)



A beautiful, vibrant album with spectacular vocals by both Maddy Prior and Gay Woods, whose voices are so well suited to harmonize that it's often difficult to tell which one is singing when. The mix of traditional folk and rolling, soft-edged rock is particularly alluring, one of the more skillful efforts in the field. An altogether lovely record -- very easy on the ears, but also creative and challenging. Recommended!

Steeleye Span "Please To See The King" (United Artists/Chrysalis, 1971)



(...with Martin Carthy)

Steeleye Span "Ten Man Mop" (Pegasus/Chrysalis, 1971)



A fairly stark record, with guitarist Martin Carthy on board, to add a bit of his hyper-traditionalist sensibility to the mix. The album starts off with a Carthy-Prior duet, "Gower Wassail," that is so sublime it makes you wish they'd done a whole album together... very interesting mix of two very distinctive voices. Several other songs on here are a bit too raspy... there's even a bit of that clunky electric guitar that would later become so prominent in their sound. On the whole, though, an admirable album, worth checking out, particularly if you are of a traditionalist sensibility.

Steeleye Span "Below The Salt" (Chrysalis, 1972)



Steeleye Span "Parcel Of Rogues" (Chrysalis, 1973)



This is my favorite Steeleye album, and quite possibly the best folk-prog album of its time. Electric bass, guitar and amplified violin are used quite effectively in a crypto-traditionalist context, and Maddy Prior was never in finer form. Features their outstanding version of the "title" track, "Rogues In a Nation," as well as the charmingly suggestive "Hares On The Mountain," the stirring, march-like "Cam Ye O'er Frae France," and the stunning "Weaver and the Factory Maid," where Prior keens away on multitracked self-harmony. Highly recommended.

Steeleye Span "Now We Are Six" (Chrysalis, 1974)



In truth, this album is the epitome of the elves-and-druids prog-folk that folks made fun of back in the day... Bouncy hard-rock electric bass lines crisscross with sprightly mandolins and a full drum set and electric guitars. It's not subtle musicmaking, nor was it intended to be... Instead, it's a call to playtime, a resolutely silly recess from the dire and hard-edged heavy rock of the times. Whether one saw this as a breath of fresh air or a poofy distraction depended, I suppose, on temprament or a high tolerance for dorky behavior. For my money, the formula was still working... Although the band wasn't quite able to regain the heights of Parcel of Rogues, Maddy Prior's voice is heavenly, and the songs all hold together, despite the goofy overtones. Definitely worth checking out.
Steeleye Span "Commoner's Crown" (Chrysalis, 1975)



Recorded at the same time as Parcel of Rogues, but here the rock instrumentation is a bit too aggro, and the overall feel is a little annoying. It's worth checking out, but sort of as an object lesson on the dangers of Stonehengian folk-rock...

Steeleye Span "All Around My Hat" (Chrysalis, 1975)



More songs about empires and elves. This is a consistently rock-flavored outing, although this time rather than the bombast of prog, they opt for the thumping backbeat of good old English pub rock. Throughout, Maddy Prior's voice is a blessing. Okay, to be honest, this album is a bit irritating, but I kinda like it.

Steeleye Span "Rocket Cottage" (Chrysalis, 1976)


Steeleye Span "Storm Force Ten" (Chrysalis, 1977)


Martin Carthy briefly returned to the fold for this fine, and meticulously crafted album, bringing with him the much-beloved squeezebox king John Kirkpatrick. I'm not sure I understand why some Steeleye fans have howled about how this is some sort of disco-tinged nightmare. Sure, there's a disasterous version of Brecht's "The Black Freighter," but that seems to be the extent of the band's crimes on this disc. The production is a bit glossy, but it's certainly not that big a departure from their other work. I actually think this has some of Maddy Prior's best vocal work to date, and it's fascinating to hear the ever-craggy Carthy successfully applying himself to a rock-flavored idiom. An overlooked and much-maligned album, certainly worth checking out.

Steeleye Span "Live At Last!" (Chrysalis, 1978)


The band's first live album, recorded with Martin Carthy still briefly in the lineup... He adds a lot of rawness and vigor, and a gorgeous Carthy-Prior duet on "Hunting The Wren" makes you wish they'd done a whole album together, back in the good old days. This set opens with a somewhat stilted, stagey air, and is by and large rather heavy on the clompy Morris dance melodies, with an extra dose of pep and folkie authenticity from accordionist John Kirkpatrick.... As the album gathers steam, the charm of the material takes hold and you may find yourself humming a tune or two after the album over. Worth checking out, although I confess it didn't completely grab me.
Steeleye Span "Sails Of Silver" (Chrysalis, 1980)


They're sort of spinning their wheels on this one, a folk-prog warhorse that's gone on to one race too many... This is a rock-oriented album desperately in search of an anthemic hit, and while the nexus of Tim Hart and Maddy Prior anchor this to the band's roots, the folk edge is too blunted by the rock'n'roll clompiness and the overly professional tone of their musicmaking... It's just not a terribly spontaneous or magical album, though it also isn't an embarassment or a flop. This is okay for what it is but, really, it's the fading echo of this group's heyday, and they were wise to call it a day after this, disbanding for the next half dozen years. This is worth checking out, but just don't expect too much.

Steeleye Span "Back In Line" (Flutterby/Shanachie, 1986)



A reunited "original" (?) lineup, which means another nice chance to hear Maddy Prior's wonderful vocals. Still, the arrangements for most of this album -- with only a couple of exceptions -- are pretty dreadful. Garish, overwrought rock-pop intrudes throughout, with hamfisted drumming and hackneyed, popping bass lines, and numerous other irritating fillagrees. Even the subtle moments are a bit too goopy -- half elfen, half New Age-y. Prior's performance on "Isabel" is beautiful, but the rest of this album is negligible.

Steeleye Span "Tempted And Tried" (Shanachie, 1989)


Steeleye Span "Tonight's The Night -- Live" (Shanachie, 1991)


Steeleye Span "In Concert" (Park, 1994)


Steeleye Span "Time" (Park/Shanachie, 1996)



Not bad! Of course, those inclined to make fun of clompy, aging folk-prog acts will feel free to do so here, but for fans, this Maddy Prior-led edition of the band will deliver the goods. Gay Woods also is on board, and again, it would be great if the two of them samg together more often. Generally speaking, the arrangements on this album are dynamic and bold, yet relatively restrained and straightforward. SUre, they tend to go overboard on the anthemic choruses, but at least this isn't drenched in cheesy synthesizers, etc. Good song selection, too.

Steeleye Span "Horkstow Grange" (Park, 1998)



With Maddy Prior on hiatus, this is another Gay Woods-led edition of the band. Her vocals are pretty good, although the male-led tunes, particularly "Lord Randall" and "Australia," have soft-rock arrangements that prove fairly disasterous. On the mainly-a capella title track, we are given some insight into the band's name... Steeleye Span being, it would seem, a some tragic, quasi-historic character in song. Overall, this seems a rather creaky effort, but it has its graceful moments.

Steeleye Span "Bedlam Born" (Park, 2001)



An independently-released album, typical of many of their releases throughout the years: the "hard-rockin' " stuff is a bit leaden, and they are at their best when they aim for subtlety and grace. This particular incarnation features Dave Mattacks anchoring the band, and Gay Woods taking the female vocal lead.
Steeleye Span "Gone To Australia: On Tour: 1975-1984" (Raven, 2001)


The timespan sounds promising, but there is, in fact, only one song on here from 1975. The bulk of the album is made up of concert material from a much later vintage -- 1984 to be precise. I haven't actually heard this album, but I thought the tip might be appreciated.
---
Best-Ofs
---

Steeleye Span "Portfolio" (Shanachie, 1989)


Steeleye Span "The Best Of Steeleye Span" (EMI, 1992)


Steeleye Span "A Rare Collection: 1972-1996" (Raven, 1999)


Once again, this Aussie collector's label hits paydirt, with a fab collection of rarities and one-offs from Maddy Prior and the gang. It's a fair representation of the Steeleye style: several stunningly gorgeous songs, along with a brace of wild, bouncy rock-folk tunes, some catchy, some clumsy. The goofy sentiments of a track such as 1975's "Elf Call" may not wear well past the post-cynical '90s, and there are also a couple of Enja-esque synthpop numbers which are indeed quite hideous... But then again, there are magnificent aires such as a live version of "I Live Not Where I Love," which make this a must-have for anyone who has ever loved this band... or were just curious...

Steeleye Span "The Hills Of Greenmore: An Anthology" (Recall, 1998)


A copious 31-track best of that includes almost all the material off of Hark, the Village Wait, Please To See the King and Ten Man Mop, plus some extra goodies from the vaults. Sounds pretty good to me!
Steeleye Span "Early Years" (Connoisseur, 2001)

---
Related Records
---

Gay & Terry Woods "In Concert" (BBC/Strange Fruit, 1995)


An unusual (and kind of sweet) set by the short-lived Irish folk-rock Woods Band ensemble. Terry Woods was a veteran of the likewise short-lived Sweeney's Men and a founding member of Steeleye Span; later on in the 1980s, he went on to become a member of the raucous punk-folk outfit, the Pogues. Here, though, he and his then-wife, Gay Woods, were exploring a new style in Irish pop, one markedly different than the prevalent hard rock and trad folk of the times. This CD collects two separate performances -- a 1976 concert in London and a 1978 BBC session with DJ John Peel, the much-revered guru of the British underground scene. Each performance showcases soulful melodic rock with a strong debt to the languid electricifaction of Thompson-ian editions of Fairport Convention (and indeed, Dave Mattacks and Dave Pegg played with them on their London gig). There is a slightly hippie-ish, elves-in-the-woods vibe, but this is clearly more rock than folk; what's most amazing is how much the upbeat '78 sessions seem to anticipate the jangly twee of '80s and '90s navelgazing indiepop... An interesting footnote to both the trad and the rock worlds.

The Woods Band "The Woods Band" (Edsel, 2001)


Terry and Gay Woods set off on their own right after Steeleye's Hark! The Village Wait album, and founded their own band, which released this lone album in 1971. It's okay-but-unremarkable, a familiar mix of stark traditional material and clunky rock-related stuff. They went on to record a few other, more traditional, albums as a duo. Later, Terry Woods picked up a gig as a founding member of the punky Pogues, and Gay Woods has dipped back into the Steeleye sphere from time to time (see above). This disc is an interesting footnote of an album, but it didn't really hold my attention.
---
Links
---
Here's a king-size German fan site... appropriately scary and complete. (Keep in mind that the discography above is selective -- for more information, try one of these sites as well...)
Michael Newbery's completely nutty fan site is everything you would want from a UK folk-rock obsessive, with timelines, charts, song lyrics and a history of the folk-rock scene which is pleasantly filled with the author's character and asides.
Park Records, which I believe is Maddy Prior's own label, put out the last few Steeleye Span albums, as well as several excellent (and highly underrated) solo albums by Prior and her band...
---



Main Celt/Brit Index
International Music Index



---