<! SA - SH > <! MP3 01/10/09, 01/07/11 > <! outside 00/00/00 > <! pix 00/00/00 > <! icons 01/07/11 > <! UPDATES: 01/10/09 01/07/11 - added St. John albums > <! Scullion - proggy? Scullion "Scullion" (Mulligan, 1978) B00JH6B2UU - s/t album included a version of "Stretched On Your Grave" Scullion "Balance And Control" (WEA, 1980) (LP) B0019KQXIS - "John Martyn, Philip King, Sonny Condell and Greg Boland" > <! Jimmy Shand - old-school Dave Sands "One Sweet Reason" (Folk Heritage, 1976) - no ASIN The Songwainers "The Songwainers" (Argo, 1971) - no ASIN Spud "A Silk Purse" (Polydor, 1974) (Produced by Donal Lunny) Spud "The Happy Handful" (Polydor, 1975) B000MXOV6E (Produced by Simon Nicol) - second album Spud "Smoking On The Bog" (Release Records/Sonet Records, 1977) (Produced by Tony Cox) http://www.irishrock.org/irodb/bands/spud.html Garry Shannon & Orfhlaith Ni Bhriain "Lose The Head" (Brick Missing, 1989) B002WC0QJO - with Sharon Shannon, Mary Shannon, Majella Shannon - what are the relationships? SINDELFINGEN " 'Odgipig" (Anazitisi, 1973) B000QNJY4E B00MWCQFYO - UK Folk Prog - one of the rarest private pressings ever came from UK. Sindelfingen's "Odgipig" is a fine example of highest quality, british progressive rock. With a slight folk influence and an artistic approach of symphonic rock and classic music, "Odgipig" has 3 long & complex tracks as well as 3 shorter ones, all characterized by multi-time signatures and rhythm changes. The "classic" line-up of guitar-bass-drums is augmented by a fourth member who handles the glockenspiel and the oscillators (you will not find mellotrons or keyboards here). The album was recorded at Medway Organs Studio and pressed at the legendary Deroy. Sindelfingen the band (Richard Manktelow: vocals, guitars - Mark Letley: vocals, bass, guitars, recorders - Roger Woods: glockenspiel, oscillators - Roger Thorn: drums) collectively produced the album in 1973. Originals are extremely rare (R5 category) and cost a small fortune. This reissue is strictly limited to 400 black & 100 coloured copies. It shares the original cover and labels artwork and original lyric inserts (x2). Extra triptych-insert with band bio. Fully authorized and licenced. With the, much appreciated, help of founding member Richard Manktelow. 180gr vinyl as usual. PVC protective outersleeve. COLOURED VINYL Label: Anazitisi Records Cat. ARLP 70-39F >
---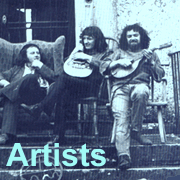 Trad & Folk
Artists and Albums
Hello! This page is part of an opinionated overview of Celtic and British folk music, with record reviews by me, Joe Sixpack... This is not meant to be taken as a "definitive" resource, but rather as a record of some of the music which has caught my interest. I am always looking for more good music to explore, so your comments and suggestions are welcome.
This is the first page covering the letter "S"
---
A | B | C | D | E | F | G | H | I | J | K | L | M | N | O | P | Q | R | S / S-2 / S-3 | T | U | V | W | X, Y & Z | Comps | Celtic Music Labels & Links | World Music Index
---
Bridget St. John "Ask Me No Questions" (Dandelion, 1969)



(Produced by John Peel)



<! John Martyn on guitar >

Bridget St. John "Songs For The Gentle Man" (Dandelion, 1971)



(Produced by Ron Geesin)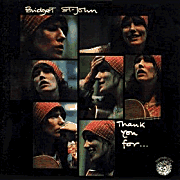 Bridget St. John "Thank You For..." (Dandelion, 1972)



If Nico, the much vaunted vocalist for the Velvet Underground, had been a flower-power hippie instead of a proto-goth fashion plate, she and Bridget St. John would have gotten into one hell of a trademark infringement lawsuit... St. John was not, it must be said, a classically "pretty" singer. Rather, she was sort of a folkie precursor to the whole DIY ethos, where it doesn't matter as much how you sound as what you feel. She sang hollowly, difficultly, with halting and painfully earnest phrasing, and also at times with great beauty. Her style is not for everyone: if you want your "girl" singers to sound tidy and perfect, this might not be for you. On the other hand, if you are intrigued by the thought of a gal who kind of sounded like Tim Buckley, this could be a real eye opener. In a sense, St. John picked up where Anne Briggs left off, albeit with fuller arrangements and less vocal oompf.
Bridget St. John "Jumblequeen" (Chrysalis, 1974)

Bridget St. John "Take The 5ifth" (Road Goes On Forever, 1996)





<! Bridget St. John "My Palace" (Arpeggio, 2001) B000063J6Q apparently not the same person...>

Bridget St. John "A Pocketful Of Starlight: The Best Of Bridget St. John" (Cherry Red, 2010)

Bridget St. John "BBC Radio: 1968-1976" (Hux, 2010)


A 2-CD set...
Tommy Sands "Down By Bendy's Lane: Irish Songs And Stories For Children" (Green Linnet, 1987)


Tommy Sands "Beyond The Shadows" (Green Linnet, 1990)

Tommy Sands "Singing Of The Times" (Green Linnet, 1985)

Tommy Sands "The Heart's A Wonder" (Green Linnet, 1995)


Tommy Sands & Vedran Smailovic "Sarajevo To Belfast" (Appleseed, 1999)



Tommy Sands "To Shorten The Winter: An Irish Christmas With Tommy Sands" (Green Linnet, 2001)



A Celtic Christmas album from this singer-songwriter icon of Northern Ireland... A little too soft and cloying for me, particularly with the children's chorus that kicks off the very first song (and woefully reappears on subsequent tracks). Not my style o' Celtic folk... though it is worth noting that most of these songs are Sands originals, so those of you looking for new holiday tunes to add to the canon, this may be a rich source of material.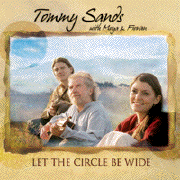 Tommy Sands "Let The Circle Be Wide" (Appleseed, 2009)



(Produced by Tom Newman & Colum Sands)
A dense, lovely, and complicated record, with one of Ireland's best respected folk songwriters mulling over and celebrating the recent resolution of the centuries-old conflict between the English and the Irish, and the end to the "Troubles" of the last few years, in which seemingly endless sectarian violence tore the island apart. The album is lovely because of its musicianship -- in addition to a host of talented trad players, such as guitarist Arty McGlynn, Sands is also joined by members of his family, including his son and daughter, who contribute a nice family-harmony feel to the vocals, as do other members of the Sands Family band. The record is complicated, even vexing at times, because of the politics involved -- Sands' joy at the end of violence is radiant and sweet, but there is also a trail of lingering pot-shots and little I-told-you-so moments. The bloodshed between Catholics and Protestants may be at an end, but there seems to be an inevitable temptation to get the last word in, even while breathing a sigh of relief. Also, to outsiders the history and baggage of these moments can be hard to penetrate or accurately assess; although the album feels significant, it may also seem puzzling and hard to crack. This denseness also applies to Sands' wider appeal for peace and justice outside of Ireland. His September 11th-related song, "Time For Asking Why," begins with a strong, gut-level emotional response to the horrors of the day -- familiar to us all -- but quickly moves into a probing left-wing critique of the social and geopolitical inequalities that may have led to the attacks to begin with. This line of reasoning might play well abroad, but many Americans, even liberal folkies, will have a hard time with the emphatic connect-the-dots message -- indeed, this is a very political album, and like many political folk records, can feel a bit forced from time to time. But it also sounds beautiful, and has a soulful feel that will draw listeners to it for years to come -- Sands has put his passion on the line -- both spiritual and social -- and that's really about all we can ask of any artist. Definitely worth checking out, though it may take a while to fully sink in.


<! BOOK: "The Songman: A Journey In Irish Music" (Paperback) by Tommy Sands 1843510634 >
The Sangsters "Begin" (Greentrax, 1995)



The Sangsters "Sharp And Sweet" (Greentrax, 2000)



A nice, no-frills set with four-part harmonies and simple, sweet playing by this understated, middle-aged Scottish quartet. I think they are strongest on the a capella tunes, or those where the group sings together, but all in all, this is a fine album. Includes well-known oldies such as "Parcel O' Rogues" and "Barabara Allen," as well as tunes that are much farther off the beaten track. Not mind-blowing or overly magical, but unpretentious and authentic; certainly worth a spin.

Maggie Sansone "Music In The Great Hall" (Maggie's Music, 1992)



Generally speaking, I'm not overly fond of either the hammered dulcimer or the Celtic harp as lead instruments, and this set of all-instrumental tunes has plenty of both. Far too sugary for me; the soft kind of music that plays in touristy, Celtic-themed card stores and gift shops... Not to be snarky or anything, but I'll pass.


<! a BUNCH of other albums by Sansone 01/09 >

Vivian Quinn Sayles "California Celtic" (Delish, 2000)


An interesting mix of Celtic and chamber music, from an understated Northern California ensemble. Pianist/composer Sayles leads the sextet, in which violin and cello figure quite prominently, and she wrote all the tunes as well, sometimes nudging them into lightly jazzy terrain... It can sound a bit prim, but mostly it's pretty engaging. Worth checking out if you're looking for something new and off-the-radar.
Vivian Quinn Sayles "Live: The Music Of Vivian Quinn Sayles" (Delish, 2000)





<! with The Michael Smolens Sextet -- or is this BY Smolens? >
Scotch Measure "Scotch Measure" (Topic, 1985) (LP)





<! Jim Barnes - guitars, cittern, vocals; Sylvia Barnes - vocals, dulcimer, guitar; Andy Lavery - keyboards, vocals. >


Peggy Seeger - see artist profile




Susana Seivane "Susana Seivane" (Green Linnet, 2000)



An outstanding set of Spanish-Celtic instrumentals from the Northern province of Gallicia... The ensemble is led by piper Susana Seivane, who plays the local bagpipes, known as the gaita, and while there are several tunes where the musical backdrop is a bit cloying, her performances are dazzling and heartfelt throughout, particularly on the faster numbers. If you like the band Milladoiro, you should really check this gal out.

Sharon Shannon "Sharon Shannon" (Compass, 1991)



Galway legend Sharon Shannon's groundbreaking 1991 solo album... one of the best-selling Celtic trad albums ever! As a relative newcomer on the Celtic trad scene, this sweet-toned accordionist/fiddler was in the midst of gigging with Christy Moore and the Waterboys when she took some time off to record this swell set of instrumental tunes, along with more dazzling guest stars than you could imagine... The material ranges from traditional reels and such, to bouncy (not-too-poppy) crossover material, and one or two nice surprises of non-Celtic origin. If you like instrumental albums, this one is pretty hard to beat.

Sharon Shannon "Out The Gap" (Solid/Compass, 1994/2005)



(Produced by Denis Bovell)
The pride of Ireland's Country Clare, accordionist Sharon Shannon started her professional career in the late 1980s in the renowned rock-folk band, The Waterboys. She soon set out on a solo career and wowed crossover-friendly world music fans with albums such as this one, recorded with reggae producer Denis Bovell. This is her second solo album, a sprightly, cheerful, yet ultimately lightweight and unchallenging set of Celtic-fusion instrumentals, basically trad-based, but with flourishes of reggae, pop and classical styles woven into the sound. Shannon is a superior musician, with dazzling technique on both button and bow, but this is music that was made to sit in the background, and doesn't really move me. No onerous synths or outlandishly "pop" arrangements, and a welcome softening of the standard severity of the trad style, but still a bit cotton-candy-ish and bland. ( The 2005 reissue includes a dub reggae remix of one song, "The Mighty Sparrow.")

Sharon Shannon "Each Little Thing" (Green Linnet/Compass, 1997/2005)



Donal Lunny, Winifred Horan and Kirsty Maccoll are among the talented folks who pitch in on this lively, bouncy outing. It's a skillful album with plenty of nice playing and a strong melodic thrust... Yet, there's also a crossover-y modernization at work, which may either enhance or detract from the music, depending on your personal tastes. I suppose I fall a little onto the crusty, crabby old-timer side of the divide, although this is one of the best albums of its kind that I've heard. Shannon's deft, sprightly playing is still a treat, though there are a few milky, meandering moments -- flowery key changes and the like -- which sort of ruin it for me. It's one of those things where you have to shrug and say, "well, I guess the music has to evolve, and there are some folks out there for whom this is the only way it's listenable..." But there still seems to be something a little bit off about it. Works as background music for me, but if I stop to think about what I'm hearing, it kind of gets on my nerves. (The 2005 reissue includes a remix of one song, "Bag Of Cats.")

Sharon Shannon "The Diamond Mountain Sessions" (Compass, 2001)



A nice album, with Shannon hosting an all-star guest-fest including Jackson Browne, Steve Earle, Galician bagpiper Carlos Nunez, John Prine and even a surprisingly sweet track with the fellers from the Hothouse Flowers. Some of the instrumental work is a bit dodgy, with lamentable, predictable modernizations... But the vocals tracks, particularly Earle's take on "The Galway Girl" and several of the Nunez-Shannon collaborations, are pretty cool. A vigorous, substantive outing, worth checking out.

Sharon Shannon & The Woodchoppers "Live In Galway" (Daisy, 2001)


A fine live set, played in front of a hometown crowd in Ireland's coolest city. The best part is that, having been separated from the studio, Shannon and her cohorts are thrown back on their musicianship at its simplest and most elegant, ie., they have to just play acoustic and let go of all the fancy-pants stuff that makes some of her records a bit sketchy-sounding at times. This is really quite nice, and shows her in the best light, at least from a tradder's perspective.
Sharon Shannon "Libertango" (Compass, 2003)


Sharon Shannon "Tunes" (Compass, 2005)


Sharon Shannon "Live At Dolan's" (Daisy, 2007)





<! 2-disc, CD and DVD set >
Sharon Shannon "Renegade" (Daisy, 2007)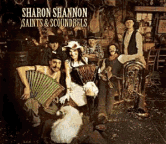 Sharon Shannon "Saints And Scoundrels" (Compass, 2010)



(Produced by Sharon Shannon, Keith McDonnell & John Dunford)
If you put this record on for your average Celtic music fan (assuming there is such a thing) and didn't tell them anything about it, I doubt many listeners would guess that this was an album by Irish accordion wizard Sharon Shannon. A robust, lively mixture of styles, with lusty jug-band blues and rollicking roots-Americana -- along with a healthy dose of Celtic craic -- this album is a radical departure from most of Shannon's earlier work. Sure, the adventurous, acclaimed Ms. Shannon has never shied away from blending genres or stylistic experimentation, but this energetic, joyful set dips deep into the wellsprings of American country and blues, and really brings out a new side to her work. Guest artists include a group called The Cartoon Thieves, as well as Shane McGowan (of the Pogues) and Mike Scott and the Waterboys, who Shannon toured with for many years. It's quite a nice album, with a boisterousness and sense of fun that's completely infectious... Definitely worth checking out!

Sharon Shannon "Spellbound: The Best Of Sharon Shannon" (Green Linnet, 1999)



A nice retrospective of her work from 1991-99, including some new tunes... You can hear Shannon's work move from straightforward trad to sleeker pop fusions, but all the while she retains a high level of musicianship. This is as fine an introduction to her work as you could hope for...

Sharon Shannon "The Sharon Shannon Collection: 1990-2005" (Compass, 2005)



Irish accordionist Sharon Shannon is one of the great modernizers in contemporary Celtic music... This 2-CD set greatly expands on her previous best-of collections, adding a second disc's worth of collaborations with pop, folk and country stars, including Jackson Browne, Steve Earle, Donal Lunny, Sinead O'Connor, John Prine and the late Kirsty MacColl. A lot of these performances have been featured on earlier albums, but here they are gathered on a separate disc; the first CD has a wide selection of Shannon's innovative solo work, including five new tunes. Shannon tilts back and forth between traditional-sounding folk and boundary-pushing Celtic-fusion... She may make more conservative folk fans grumpy, but listeners looking for innovation have rallied around her for years. Regardless of where you stand on her aesthetic choices, it's hard to fault her technical expertise -- Shannon is one of the most dazzling players in Celtic music today.
Sharon Shannon "Galway Girl: The Best Of Sharon Shannon" (Daisy, 2008)



A nice overview of this dynamic Irish accordion player, covering her early work along with her more recent, experimental pop-folk fusions.

Shantalla "Shantalla" (Green Linnet, 2000)



The debut album by a band that drew many rapturous comparisons to the Bothy Band... At first I scoffed: I think those early Bothy albums set a pretty high standard, and they had an intensity to them that the opening tracks on here seemed to lack... then things started to heat up midway through the disc, and the Shantalla folks started to cut loose a bit. Judge for yourself: depending on your temperament, these tightly synchronized performances may be either a pure delight or "more of the same" as far as Celtic trad material goes. It's mostly instrumental, with a few vocal tunes featuring singer Helen Flaherty, and while it is slickly produced, it isn't all washed out and fusion-y -- at least they play things straight, and stick to all-acoustic arrangements.

Eilidh Shaw "Heepirumbo" (Greentrax, 1997)



A nice set of lowkey fiddle tunes from this talented member of The Poozies (and several other Scottish bands). Shaw has a cool way of producing a little whispering hiss with her bow... and a nice understated sensibility that I find quite appealing. Recommended, particularly for fans of, oh say, Martin Hayes or Liz Carroll.




Don Sheperd "Adnams Ale" (Sweet Folk 'N' Country, 1978)



<! - no ASIN(?) >
Shooglenifty "Venus in Tweeds" (Greentrax, 1995)


Shooglenifty "A Whisky Kiss" (Greentrax, 1996)


Shooglenifty "Live At Selwyn Hall" (Womad, 1996)


Shooglenifty "Solar Shears" (Compass, 2001)



Super-modernist pop-fusion/techno/world beat Celtic material, but also pretty playful and fun, once you're willing to get on their wavelength. These Scottish fellas play breakdowns and reels with drum machines and synth-sounding sonic washes buoying the fiddle's rasp, and endow their songs titles like "Bjork's Chauffeur" and "The Hijab" (one of several tunes that have a sort of an Arabic tinge...) True traditionalists will loathe such experiments, but for anyone looking for creative approaches to defining a modern, new Celtic sound, this is certainly worth checking out. Similar in approach to Germany's Dissidenten (though perhaps a bit smoother in execution)... imaginative and consistently engaging.

Shooglenifty "The Arms Dealer's Daughter" (Compass, 2003)



Another album that follows pretty much in the same direction as their earlier work, although this one strikes me as a bit on the breezy, too-pop, Muzak-y, side of things. Sort of like a Celtic Bela Fleck album... Put tactfully, I don't think I'm really the target audience for this one.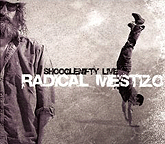 Shooglenifty "Radical Mestizo" (Compass, 2005)



The second live album by this Celtic/world fusion ensemble. The acoustic parts are nice (mandolin, etc.) and there's an interesting strain of Balkan/Arabic melody running through much of the album. The more clunky rock/funk aspects don't do much for me, though. This album doesn't break new ground as far as the band is concerned, but it is a nice showcase for their musical chops and stylistic breadth; it's also nice to hear they play outside of the studio, where they are less tempted to go overboard with the fancy rock-funk crossover gimmicks.
Shooglenifty "Troots" (Compass, 2007)


Shoormal "Migrant" (Greentrax, 2003)


Too-smooth, folk-pop material, with not that much trad in it. Shetlanders, but not so's you could really tell. From a tradder's perspective, this is pretty skippable.
Shoormal "Turning Tide" (Greentrax, 2006)


---
Celtic/Brit Folk Albums -- More Letter "S"
---



Main Celtic/Brit Index
Main World Music Index


---