<! MP3 01/29/09, 01/05/11 > <! outside 00/00/00 > <! pix 00/00/00 - need new GIFs for Faulkner-Keane > <! icons 01/05/11 > <! UPDATES: 01/29/09 09/27/12 - added Archie Fisher and Cilla Fisher pages > <! Bill Fay - spacy folkie, in a Leonard Cohenesque way Flairck - Variations On A Lady (Polydor, 1978) - German release from 1978. Flairck are a Dutch group formed in 1978 playing folk, jazz and classical music. Fiddlers Bid : Naked and Bare CD (2005) The Fureys & Bob Stewart "Tomorrow We Part" (Broadside, 1979) FROGMORTON "At Last" (Philips, 1976) - UK PROG PSYCH FOLK ROCK !! EX Fleece "Music Of The Hounds" (Storm Records) - English folk music released on the Blackpool label Storm Records. subtitled "...A Day In The Fields With The Airedale Beagles" > <! Fivepenny Piece "King Cotton" (EMI, 1975) (LP) B0058UW334 Fivepenny Piece "Wish You Was Here" (EMI, 1975) - English acoustic folk and country band - from Lancashire - MANY albums - not sure how trad they were... > <! Four Folk "Four Folk" (Reality Records, 1966) - rare English release on the Reality label, The Four Folk were folk singers based in Salford, UK. 12 tracks including: Hard Case; Come All You Fair And Tender Ladies; The Tin Gee-Gee; Evening Of Roses; Santianna; Dirty Old Town; The Dodger; The Cruel War; Carrion Crow; The Gipsy Rover; The White Buck Of Epping; The Leaving Of Liverpool. > <! Findask - Scottish band Finbar Furey "Traditional Irish Pipe Music" (Transatlantic, 1969) > <! Folkal Point - from Bristol, circa 1970, and Tia Blake and Her Group, circa 1971, which produced beautiful but hardly circulated albums. > <! The Four Star Trio "The Square Triangle" (Craft) B000QDGREE Excellent Cork based band specialising in their local music as well as writing their own comic songs. > <! The Flanagan Brothers "The Tunes We Like To Play On Paddy's Day" (Viva Voce) Joe, Louis and Mike took New York by storm in the 1920s with their unique brand of showmanship and sparkling playing. 78rpm recordings with none repeated from the old Topic album. > <! Flibbertigibbet was formed in South Africa by two former members of Mellow Candle: vocalist Allison Williams (nŽe O'Donnell) and guitar and mandolin player David Williams. Their origainal album "Whistling Jigs to the Moon" was an extremely rare South African-only release for many years until its eventual CD release on Kissing Spell and subsequently Si-Wan Records. Originally released in 1978, this recording never garnered much interest outside of Johannesburg's folk community as local music was largely ignored in that country. Their style was very similar to Mandy Morton and the early drummerless Steeleye Span period. Despite being based in Johannesburg, most of their repertoire originated from Ireland and the U.K. As the Williams' interest and proficiency in Celtic music increased, their songwriting reflected that growth as "The Black Cap," "Episodes," and the title track indicate. Otherwise they arranged traditional folk songs in a quasi modern folk style that predominantly incorporated bouzouki, mandolin, fiddle, and bodhran but occasionally included synthesizer, piano, and electric guitar. ~ Dave Sleger, All Music Guide > <! Flowers and Frolics "Bees On Horseback" (Free Reed) B0018CVRFQ > <! Chris Foster "All Things In Common" (Topic, 1979) B00006AMVR this is the second Chris' album, in the same vein of the previous one, still Nic Jonesque even in absence of the man itself, a very good record indeed > <! Fiddler's Dram "To See The Play" (Dingle's, 1978) The debut album by British folk music group Fiddler's Dram, released in 1978. The band would later meatamorphose into The Oyster Ceilidh Band, and then, later, Oysterband. The title of the album derives from a line in the song "The Flash Lad". Musicians: Cathy Lesurf - vocals, bodhran Alan Prosser - vocals, guitar, bass, bones Chris Taylor - bouzouki, harmonica, mandolin, tenor banjo Ian Telfer - fiddle, viola Will Ward - bassoon, crumhorn Fiddler's Dram "Fiddler's Dram" (RCA/Dingle's, 1980) The second and final album by British folk music group Fiddler's Dram > <! (Various Artists) An Fhidil "Straith II" (Gael Linn, 1980) Lineup: Kevin Burke Seamus Creagh Sean Keane Paddy Glackin >
---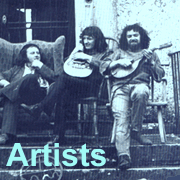 Trad & Folk
Artists and Albums
Hello! This page is part of an opinionated overview of Celtic and British folk music, with record reviews by me, Joe Sixpack... This is not meant to be taken as a "definitive" resource, but rather as a record of some of the music which has caught my interest. I am always looking for more good music to explore, so your comments and suggestions are welcome.
This is the first page covering the letter "F"
---
A | B | C | D | E | F | G | H | I | J | K | L | M | N | O | P | Q | R | S | T | U | V | W | X, Y & Z | Comps | Celtic Music Labels & Links | World Music Index
---
John Fahey - see artist profile
Fairport Convention - see artist profile
Orla Fallon "The Water Is Wide" (Manhattan Records, 2006)



Pretty New Age-y and aqueous.... Her name is also spelled Orlagh Fallon...


<! sang on one of the Duggans albums... >

John Faulkner & Dolores Keane "Broken Hearted I'll Wander" (Green Linnet, 1979)



As a young'un in the late 1970s, singer Dolores Keane was just a bit on the squeaky side; as she attained old-timers staus in the '90s, she took on a slightly leaden gravity. But in between, at the peak of her powers, she could not be beaten. These collaborations with multi-instrumentalist John Faulkner are like glittering, precious gems among the firmament of a trad scene that was heading towards overly-elaborate, crossover production. Keane's voice is so gorgeous, and Faulkner's accompaniment so tasteful and compelling, that this album is simply irresistible.


<! 01/11: really 108x108 >
John Faulkner & Dolores Keane "Farewell To Eirinn" (1980)





<! with Eamonn Curran >

John Faulkner & Dolores Keane "Sail Og Rua" (Green Linnet, 1984)



Another gorgeous set from Faulkner and Keane... This album, with its tenatative addition of one (single) electronic instrument has a slightly less mystical tone, but both albums are highly, highly recommended.


<! 01/11: really 108x108 >

John Faulkner "Kind Providence" (Green Linnet, 1986)



A stalwart of the British/Celtic revival scene since the1960s, Faulkner worked with Ewan MacColl on several albums, and is probably best known for his glorious collaborations with singer Dolores Keane. On this gorgeous and subtle solo album, he indulges his passion for the quiet; both his calming voice and complexly melodic bouzouki playing capture what I find best in the trad ballad tradition. Highly recommended.

John Faulkner "Fanaithe (Nomads)" (Green Linnet, 1986)


A fascinating album about the Scottish diaspora, looking at highlanders at home and in the New World. Although the theme seems reminiscent of Ewan MacColl's old concept albums, there's a doleful emotional tone that holds things together, and several songs are quite lovely. Not as grand an album as his work with Dolores Keane, but quite nice.

Ffynnon "Celtic Music From Wales" (Green Linnet, 2002)



A fine album by this three-piece Welsh folk group... For a trio, they make a large, lush, expansive sound, not the least of which comes from the sweet singing of Lynne Denman and Stacey Blythe, whose vocals firmly fall into the "pretty Celtic female voices" category, ala early Enya and the like, but with a fair amount of traditionalist grit. This is pretty-sounding stuff, with most of the songs from older, traditional sources, and a few songs that are more modern. Amazing how all those extra Welsh consonants and vowels just melt away when the language is spoke out loud, or -- in this case -- sung in a lovely voice.
Ffynnon "Adar Gwylltion" (Taith, 2006)


Fiddler's Bid "Hamntaing" (Greentrax, 1999)


Fiddler's Bid "Da Farder Ben Da Welcomer" (Greentrax, 2001)



Mmmm... nope!! Sorry, there's just something too vaguely crossover-y here for it to work for me. It's mostly pretty traddish, I suppose, but there's a slight modern twist to the production that I find offputting... Besides, I gotta work to enjoy the instrumental stuff to begin with, so a set of jigs and reels that's been given a glossy studio feel is no plus for me. (Available through the Greentrax label.)
Fiddler's Bid "Naked & Bare" (Greentrax, 2005)


Cady Finlayson & Sean McCabe "Take Two" (McCabe's Music, 2000)



Cady Finlayson "Shines Like Silver" (Violin Caddy, 2002)



A fine, spooky set of fiddle-based instrumentals, with Ms. Finlayson (of the McCabes and Gaelforce bands) leading a compact ensemble... Some tunes are squeaky and raw, others are soulful, haunting and ethereal. It's all quite nice. (Check out www.violincaddy.com for more information.)
Cady Finlayson "Harp And Shamrock" (Violin Caddy, 2004)


Cady Finlayson "Irish Coffee" (Self-Released, 2007)




<! Cady Finlayson "Music For Irish Dance Exercise" B000NHG7X4 >


Archie Fisher - see artist profile





Cilla Fisher - see artist profile




Ray Fisher "Bonny Birdie" (Trailer, 1972) (LP)





<! This is more or less the 1971 Steeleye Span line-up with Ray Fisher replacing Maddy Prior. Musicians: Ray Fisher, Colin Ross, Alistair Anderson, Liz & Stefan Sobell, Tim Hart, Peter Knight, Ashley Hutchings, Bobby Campbell, Martin Carthy >

Ray Fisher "Willie's Lady" (Folk-Legacy, 1982)



(Produced by Sandy Paton & Mike Rivers)


Ray Fisher "Traditional Songs Of Scotland" (Saydisc, 1991)



As one of the early members of the Scottish folk revival, Archie Fisher's sister Ray must be given her due... Still, that being said, this later album is a bit dry. Fisher's voice in middle-age is not quite as fluid or evocative as it was in the '60s, reducing her to a more Spartan, craggy presentation, similar to Gordeanna McCullough's or Jean Ritchie's approach to traditional material. Great song material, including "Wark O' The Weavers," which is a grand old song, and accompaniment by no less than John Kirkpatrick and Martin Carthy, but it still didn't really grab me. But a devoted fan of Scottish song may find this disc to be a cultural treasure trove.


<! Martin Carthy; Guitar Ray Fisher; Guitar, Arranger, Vocals John Kirkpatrick; Anglo Concertina, Button Accordion, Melodeon Colin Ross; Fiddle, Scottish Small Pipes Produced by Gef Lucena & David Wilkins > <! FLOOK >
Ged Foley & Kevin Burke "In Tandem" (Self-Released, 2005)



Duets between fiddler Kevin Burke and guitarist Ged Foley, who have worked together for over a decade in the bands Celtic Fiddle Festival and Patrick Street... Lovely stuff!
Forest "Forest/Full Circle" (Beat Goes On/EMI, 1994)


Widely credited as a formative influence on the proto-metal band Spinal Tap's explorations into elves-in-the-woods folk-prog goofiness, this Birmingham-based trio made music that was every bit as whimsical and undisciplined as anything coming out of the hippie scene in the USA. Their trad-based, free-form romps sound a bit like their contemporaries, such as the Incredible String Band or the Dransfields, but hardly as focused or as compelling. Still, it should be pointed out that these fellows were well ahead of the game -- bands like Steeleye Span and Lindsfarne had hardly been formed when Forest's first album came out on Harvest Records, back in 1969... Who knows where they would have wound up had they had a longer run? Unfortunately, the BGO reissue doesn't include much information about the band in its CD booklet; the reproduction of John Peel's spacy original liner notes are fun in an indulgent, nostalgic kinda way, but something more informative might have been nice, too. The second album, Full Circle, shows a marked improvement in their musicianship, and greater variety than the debut disc. Worth checking out, particularly for fans of the proggier, druggier end of the Brit-folk genre.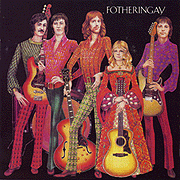 Fotheringay "Fotheringay" (Island, 1970)


After her departure from Fairport Convention, singer Sandy Denny fronted this short-lived ensemble, along with her husband, Trevor Lucas, another medieval-retro RenFair folkie who'd been in the orbit of Fairport and other key folk-rock acts. Fotheringay hewed closely to the trad-oriented "Matty Groves" side of the repertoire, and largely forsook the blues-boogie rock side of the equation. That meant that this album was, from a trad-folk perspective, a more organic sounding, less kitchen-sinky effort. It's also impossibly pretentious and painfully self-important, but hey -- that goes with the territory. This is one of the stronger albums of the genre, a touchstone for those who can bear the loftiness of it all... and certainly required listening for anyone who's checking out Sandy Denny's legacy.
Fotheringay "Fotheringay 2" (Fledg'ling, 2008)



The Four Ramblers "Legendary Irish Quartet" (BACM, 2007)


An unusual entry in the British Archive of Country Music's illustrious hillbilly history series... The Four Ramblers were an Irish vocal quartet who appeared on a regular "western" themed radio show sponsored by the BBC. They modeled their sound on the smooth harmony singing of groups such as the Mills Brothers and the Sons Of The Pioneers, but although they sang a cowboy tune or two, they primarily sang Irish folk tunes, sometimes giving them a singing cowboy-ish musical twist. It's fun stuff, not as operatic or genteel as other Celtic-themed artists of the same era (the late 1940s-early '50s), and a pleasant blending of styles. It ain't Planxty or The Bothy Band, but it's still pretty nice.


<! Mountains Of Mourne (1)/ Buffalo Jail/ Dear Old Donegal/ Christmas In Killarney/ Hannigan's Hooley/ Cockles & Mussels/ Great Grandad/ Phil The Fluter's Ball/ Shepherd On The Glenside/ Teddy O'Neil/ Eileen Oge The Pride Of Petravor/ Hello Patsy Fagan Dacent Irish Boy/ If Everyday Could Be Christmas Day/ Tipperary Samba/ I'll Take You Home Again Kathleen/ The Pride Of Tipperary/ Mother Machree/ A Cottage In Old Donegal/ A Little Bit Of Heaven/ Mick McGilligan's Ball/ Auld Hoose/ The Garden Where The Pratees Grow/ Five Hundred Cattle Gone Astray/ Mountains Of Mourne (2) >
Julie Fowlis "Mar A Tha Mo Chridhe" (Spit & Polish, 2006)


Julie Fowlis "Cuilidh" (Spit & Polish, 2007)


A sweet Celtic set, with gorgeous songs from the Hebrides Islands in Western Scotland... Fowlis has a fine voice, perhaps not as earthy as some Hebridean traditionalists, but direct and full of feeling, sounding particularly lovely when singing in Gaelic. She works through a variety of styles -- fiddles tunes, a capella ballads, bouncy, bouzoukied folk -- backed by an all-star cast of modern Celtic music's young guard, luminaries such as John McCusker (of Battlefield Band and Kate Rusby fame), John Doyle (of Solas), Chris Thile (of the American newgrass band, Nickel Creek) and stray members of Altan, Capercaillie and Danu. It all gels together quite nicely -- fans of traditional music will definitely want to check this out!

Julie Fowlis "Uam" (Shoeshine, 2009)



Another triumphant Celtic folk album from this young, up-and-coming singer... This is a stripped-down, nearly a capella outing, with subtle accompaniment to Fowlis' richly striking vocals. Although Fowlis has a deeply traditional inclination, there is also a modern feel to the production -- of its time, but not a cheesy pop fusion. Guest vocalists include Eddi Reader and Mary Smith -- a nice new voice on the Celtic trad scene!
Jackson C. Frank "Blues Run The Game" (Mooncrest, 1996)



Interesting historical recordings by Jackson C. Frank, an American folkie who pitched tent in the early '60s British scene, influencing and writing songs for the likes of Sandy Denny and others. His song "Blues Run The Game" was a widely-performed standard during the late '60s, in the years following the release of his lone album, in 1965. This disc reissues that record, as well as some demo material from a decade later... It's not the greatest material ever, but still pretty good -- earnest 'Sixties folkie stuff with a heavy blues base, and plenty of leftie politics, much along the lines of early Dylan or Barry McGuire. Not immortal, but worth checking out.
Jackson C. Frank "Blues Run The Game" (Sanctuary, 2002)



A more or less straight reissue of Frank's lone solo album, apparently co-produced by Paul Simon during an early sojourn to England. Doesn't include all the same material as the CD listed above, but it's still enough to give you a pretty good idea of what this fellow was about...
Alasdair Fraser & Jody Stecher "The Driven Bow" (Culburnie, 1989)



A Celtic-oriented folk collaboration with Scottish-American fiddler Alasdair Fraser and American bluegrass/old-timey artist Jody Stecher...
Alasdair Fraser & Natalie Haas "Highlander's Farewell" (Culburnie, 2010)



A new Celtic-crossover set from the duo of Scottish fiddler Alasdair Fraser and cellist Natalie Haas... Includes guest performances by the Irish instrumental duo of Martin Hayes & Dennis Cahill, as well as Haas's sister, Brittany who is the fiddler for the band Crooked Still...


<! Phil Fromont - French violinist, played with Pierre Bensusan, also (apparently) married to(?) singer Emmanuelle Parrenin, recorded albums with her and in various bands >
The Full English "The Full English" (Topic, 2013)






<! The Full English includes singer and fiddle player Seth Lakeman, who has successfully steered English folk into the musical mainstream with his high-energy performances and a series of best-selling albums, and one of the world's finest and most admired guitarists, Martin Simpson. Nancy Kerr is another fiddler/singer with a deep commitment to the English traditional repertoire, celebrated for her boundary-smashing partnerships with Eliza Carthy and James Fagan. Sam Sweeney (fiddle) and Rob Harbron (concertina) are formidable instrumentalists who feature in Fay's backing band The Hurricane Party as well as in Jon Boden's Remnant Kings. Nailing all this multi-instrumentality down is Ben Nicholls, double bassist of choice for artists as diverse as the Seth Lakeman Band, Martin Carthy and Jimmy Somerville. >
Finbar & Eddie Furay "The Collection" (Castle, 2002)



Nice 2-CD collection of early work by this Irish brother duet, who later formed the nucleus of the Fureys family band, along with Davey Arthur. This set draws from two albums originally on the Transatlantic label, their self-titled debut from 1968, and 1969's The Lonesome Boatman, as well as some material from an album of solo piping music by Finbar Furey. The music is a bit stark, heavy on the uillean pipes, and a bit light on the vocals (though when Eddie Finbar sings, it's quite nice). An excellent example of the emerging Irish folk revival of the 1960s. Didn't entirely wow me, but it's still recommended.
The Furays & Davey Arthur "The Green Fields Of France" (Banshee, 1979)


An adequate, though often overly flowery, overly wordy folk/trad outing, with a few socio-political songs and plenty of flawless instrumental work. Didn't really grab me, but it's a fine album nonetheless.
---
More Celtic/Brit Folk Albums -- Letter "G"
---



Main Celtic/Brit Index
Main World Music Index


---