<! MP3 01/25/09, 01/05/11, 08/17/12 > <! outside 00/00/00 > <! pix 00/00/00 > <! icons 01/05/11 > <! updates: 01/25/09 - need to work on the Dransfield and The Dubliners entries, Jackie Daly 01/05/11 - need to work on the Dransfield and The Dubliners entries, Jackie Daly > <! Dab Hand "High Rock And Low Glen" (1985?) (LP) B001UR2S20 (with Gordon Tyrrall) > <! Jackie Daly & Seamus Creagh "Jackie Daly & Seamus Creagh" (Gael Linn, 1977) Johnny Doughty "Round Rye Bay For More: Traditional Songs From The Sussex Coast" (Topic, 1977) DEVILISH MERRY The Ghost of His Former Self" (Wildebeest, xxxxx) Meg Davis "Captain Jack And The Mermaid" (Philo-Fretless, 1979) (Produced by Meg Davis & Jim Krause > <! Eamon de Buitlear & Ceoltoiri Laighean - The Star of Munster (Gael Linn, 1975) - traditional Irish folk music and songs from accordionist Eamon De Buitlear and the group Ceoltoiri Laighean. Musicians include: Sean O Liathain, Diarmuid O Suilleabhain - vocals; Paddy Glackin, John Kelly, James Kelly - fiddle; Peter Phelan - Uillean pipes; Mary Bergin, Michael O Halmhain - flute, whistle; Aileen McCrann - harp; Paddy O'Brien - accordion; Eamon De Buitlear - bodhran, accordion. > <! Nigel Denver "Moving On" (Decca, 1965) (LP) B009T565BK - Folk singer and guitarist Nigel Denver with accompaniment by Martin Carthy on guitar. 14 tracks including: The Jute Mill Song; MacPherson's Lament; The Three Flowers; The Moving On Song; Such a Parcel of Rogues in a Nation; The Bonnie Hoose o' Airlie; Derek Bentley and others. > <! Nigel Denver "Rebellion!" (Decca, 1967) (LP) B009T563U8 Folk singer Nigel Denver with his third Decca LP release. Accompaniment is by Martin Carthy, Dave Swarbrick and Felix Doran. Jacket with laminated front, stereo issue. Musicians include: Nigel Denver - vocals; Martin Carthy - guitar; Dave Swarbrick - fiddle; Felix Doran - Irish pipes. 12 tracks including: Wae's Me For Prince Chairlie; Johnnie Cope; I'm A Freeborn Man; The Wee, Wee German Lairdie; Kishmul's Galley; Bold Robert Emmet; The Jolly Beggar; The Verdant Braes Of Screen; The Work Of The Weavers; Fiddach Side; Bruce Richard Reynolds; Father Murphy > <! John Doherty "The Floating Bow" (Claddagh) B000024P00 The Donegal fiddle master recorded when he was in his prime, with little duplication from other available recordings.......... made from field recordings collected by Alun Evans between 1968-1974... Doherty is THE go-to fellow for Donegal-style fiddling--and a leading influence on people like MairŽad N' Mhaonaigh (of "Altan") > <! Doonan Family Band > <! Jock Duncan "Tae The Green Woods Gaen" (Sleepytown) B00005O15C Jock Duncan "Ye Shine Whar Ye Stan" (Springthyme) B000024OMO One of the finest singers to come out of the North East of Scotland singing here with a wide range of accompaniment. > <! Packie Dolan "The Forgotten Fiddle Player Of The 1920s" (Viva Voce) A variety of dance band tunes plus four songs from this Longford player recorded in New York. no ASIN, heard on Ballinasloe collection > <! Nick Dow "A Branch Of May" (Old House, 1980) Nick Dow "A Poor Man's Gift" (Old House, 1983) (Produced by Molly Dow) > <! Bob Davenport & The Rakes "The Red Haired Lad" (Fellside, 1997) B000007Y9Q B000QZW854 (Produced by Mike Harding) Bob Davenport "Postcards Home" (Topic, 1981) > <! Nigel Denver "Rebellion!" (Decca, 1967) Songs of rebellion(!) from the Scottish singer in glorious mono. Featured musicians are Martin Carthy (guitar), Dave Swarbrick (fiddle, mandolin) and Felix Doran (pipes) Nigel Denver "Wearing Of The Green" (Ace Of Clubs, 1967) (LP) B004ER3PO8 > <! John Doonan "Flute For The Feis" (Leader, 1972) > <! Judy Dyble After an absence of about three decades from the recording scene, Judy Dyble -- who sang folk-rock with the original Fairport Convention, the embryonic King Crimson, and Trader Horne in the late '60s and early '70s -- resurfaced with the 2004 solo album Enchanted Garden. It's not quite what those who know her name would expect, even though in some respects it's very consistent with the gentle British folk-rock with which she made her name. Her stately vocals remain intact, and the material -- which she co-wrote with several of the musicians who accompany her on the album -- is melodically haunting, folky, and lyrically colored by images of dignified nostalgia and contemplation of nature. It's the production that will take some folk-rock fans by surprise, as it's quite immersed in electronic effects and programming, adding synthetic echoes to her vocals and phasing swirls, throbbing beats, and various cascading blipping into the arrangements. Actually, most of the accompaniment is played on conventional electric and acoustic instruments, with another figure who first emerged in the late-'60s British rock scene, Simon House (once of High Tide, Hawkwind, and Third Ear Band), contributing violin and some songwriting assistance. But Marc Swordfish's percussion, keyboards, and programming are the most prominent features, other than Dyble's singing. It results in something like a hybrid of British folk and new age-tinged trance music, and while that's guaranteed not to please some folk-rock fans, it actually comes off fairly well. Unlike many such efforts by veterans to get in tune with contemporary trends, Dyble and her associates sound at ease with the territory, making it more interesting than many such projects. ~ Richie Unterberger, All Music Guide > <! Dr. Strangely Strange - ISB-ish? >
---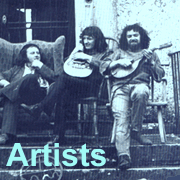 Trad & Folk
Artists and Albums
Hello! This page is part of an opinionated overview of Celtic and British folk music, with record reviews by me, Joe Sixpack... This is not meant to be taken as a "definitive" resource, but rather as a record of some of the music which has caught my interest. I am always looking for more good music to explore, so your comments and suggestions are welcome.
This is the first page covering the letter "D"
---
A | B | C | D | E | F | G | H | I | J | K | L | M | N | O | P | Q | R | S | T | U | V | W | X, Y & Z | Comps | Celtic Music Labels & Links | World Music Index
---
Jackie Daly "Music From Sliabh Luachra" (Green Linnet, 1977)


Jackie Daly & Seamus Creagh "Jackie Daly & Seamus Creagh" (Gael Linn, 1977)


Jackie Daly & Kevin Burke "Eavesdropper" (Mulligan's Music, 1981)


Jackie Daly/Manus McGuire/Seamus McGuire "Buttons & Bows" (Green Linnet, 1984)


Jackie Daly "Domhnach Is Dalach/Many's A Wild Night" (Gael Linn, 1995)






<! (with Maire O'Keeffe, Paul de Grae & Garry O Briain) > <! Buttons & Bows * Buttons & Bows. 1984 * The First Month of Summer. 1987 * Grace Notes. 1991 > <! also with Arcady, De Dannan, Patrick Street... Buttons & Bows seems to be a "band" after the first album >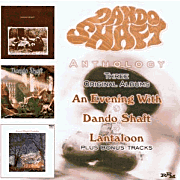 Dando Shaft "Anthology: Three Original Albums" (RPM, 2002)



An extraordinary 2-CD reissue of three early-'70s folk-fusion albums by this little-known but quite accomplished English group out of Coventry. This collects all the material from the LPs An Evening With Dando Shaft (1970), Dando Shaft (1971), and Lantaloon, from 1972, along with a few added outtakes and rarities. The musical calibre and adventurousness on all three albums was quite high: at a time when many of their hippie contemporaries were groping in the dark (both literally and figuratively...) the members of Dando Shaft were quite solid in their musical abilities and conceptual/compositional structure. Their original material was marked by jazzy, dancing mandolin work, hearty trad-folk vocals and a touch of loping Balkan melodies, the group sounded quite accomplished and assured, and yet loose and limber enough to be kinda fun as well... and still as fresh sounding today as it was back then! Fans of contemporary acts such as The Incredible String Band, Pentangle and Planxty owe it to themselves to check this one out.
Dando Shaft "Dando Shaft/Lantaloon" (Beat Goes On, 2002)

Dando Shaft "An Evening With Dando Shaft" (MCA/Youngblood, 1970)


Dando Shaft "Dando Shaft" (RCA/Neon, 1971)

Dando Shaft "Lantaloon" (RCA, 1972)

Dando Shaft "Reaping The Harvest... Plus" (1970)





<! related projects - Whippersnapper, Polly Bolton solo >

Dando Shaft "Kingdom" (1977)




<! Tim Murray Records ? >

Danu "Think Before You Think" (Shanachie, 2000)



Gorgeous! This young Irish band has all the right touches and makes all the right moves. The instrumentals are powerful yet pliable, with none of the brittleness and severity that can so often make traditional jigs and reels seem so torturous. Better still, this set is wonderfully heavy on vocal numbers, with husky-toned vocalist Ciaran O' Gealbhain matching the rich, soulful depths of some of Ireland and England's best traditional singers. Although it's an early release, this album might actually be the best of all the Danu discs... and they're all pretty good!

Danu "All Things Considered" (Shanachie, 2002)



Solidly traditional material, tailormade for those who long for the glory days of Planxty or the Clancy Brothers. Indeed, Liam Clancy seems to have been an early patron of the group, and this album was recorded at his studio in Waterford. Singer Ciaran O' Gealbhain certainly has the goods -- despite his youth, he has that lovely, old-man throatiness that makes Andy Irvine and the Clancys so lovely to listen to. The band also has a light, melodic touch. Great record with a nice mix of songs and tuneful instrumentals... If these young fellows represent the future of Irish trad, then I'm quite happy for the future!

Danu "The Road Less Traveled" (Shanachie, 2003)



Although there are several nice songs on here, including some notable contemporary compositions, the overwhelming tilt of this album is towards instrumental material... those darn jigs and reels! There's no denying that the band is masterful in its delivery, but the attack is too driving and aggressive for me, personally. This would be amazing to see live, but -- old geezer that I am -- I'd prefer something more lulling to listen to at home.
Danu "Up In The Air" (Shanachie, 2004)


Danu "One Night Stand" (DVD) (Shanachie, 2005)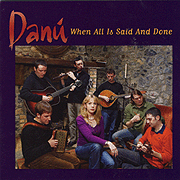 Danu "When All Is Said And Done" (Shanachie, 2006)



Another set of superior Irish trad from this talented new band. This band just keeps moving from triumph to triumph... Guitarist Donal Clancy (son of Liam) provides elegant fretwork which helps soften their instrumental work, while female singer Muireann Nic Amhlaoibh returns for her second full record with the group; she is growing into a fine, confident songer with the sort of resonance and gravitas as Dolores Keane and Mary Black, but little of the stuffiness those older grand dames have developed. The song selections are tilting towards more modern material -- including a contemporary folk song by Paul Brady -- but the feel is still traditional, and entirely satisfying. Danu are also still one of the only trad bands whose instrumental work I find consistently pleasing. There is a rounded, soft quality to their performances that takes some of the edge off their jigs and reels... Great stuff; highly recommended!


<! also see: Muireann Nic Amhlaoibh solo album > <! Decameron's first L.P. "Say Hello To The Band" five blokes from Cheltenham Gloucester > <! Decameron "Mammoth Special" > <! Decameron "xxxxxxxxxxxxx" > <! Decameron "xxxxxxxxxxxxx" > <! Decameron "Parabola Road: The Decameron Anthology" (Castle, 2005) B0009CTVMW B000S57TU6 2-CD set >

Decameron "Third Light/Tomorrow's Pantomime" (Transatlantic, 1975/1976)


This disc lingered in the cheapo section of the Celtic Folk bin at my local Record Hut for many a month, so finally I gave in and decided to check it out... (particularly as the other Transatlantic/Castle twofer discs I'd picked up have been rather rewarding....) Anyway, although there are "folk" elements at play, this is very much a rock-pop album, albeit in a very mellow, largely acoustic kinda way. Sort of Cat Stevens-y, or Moody Blues-ish, if you get my general drift. Not bad, but don't go in expecting either mad jigs and reels nor lofty, painful prog. Just mellow stuff, with somewhat overly-serious songwriting and a nice beat.


<! Dolores Keane in original lineup, on first album; Maura O'Connell, Mary Black on others * De Danann (1975) * Selected Jigs Reels and Songs (1977) (LP) B002V51F5G * The Mist Covered Mountain (1980) * Star-Spangled Molly (1981) (see The De Dannan Collection) * Best of De Dannan (1981) * Song For Ireland (1983) * The Irish RM (1984) * Anthem (1985) * Ballroom (1987) * A Jacket of Batteries (1988) * Half Set in Harlem (1991) * Hibernian Rhapsody (1995) * How the West Was Won (1999) * Welcome to the Hotel Connemara (2000) Ceolas has this list: 1996 Hibernian Rhapsody PED 9601 1991 Best of De Danann Shanachie 79047 1991 Half Set in Harlem Green Linnet 1113/Bee's Knees/Celtic Music 1988 Song for Ireland Sugar Hill 1130(1983?) 1985 Anthem Dara 013/WEA 1983 Jacket of Batteries Green Linnet 3053/Harmac HM48 1980 The Mist Covered Mountain Gael Linn 087 Shanachie 79005 1980 Banks of the Nile Decca 5318 1978 The Star-Spangled Molly Shanachie 79018 (1981?) 1978 Selected Jigs Reels & Songs Decca/Shanachie (1988) 1976 De Danann Polydor/Decca 5287 (1977?) 1981 No Home Is Real Shanachie 79018 1987 Ballroom Green Linnet 3040 WEA Single: 1980 Hey Jude/The Teetotaler/St. Annes Reels Gael-Linn CESN 002 >

De Danann "De Danann" (Polydor, 1975) (LP)

De Danann "Selected Jigs Reels And Songs" (Shanachie, 1977) (LP)





<! DŽ Danann brought in Johnny Moynihan for the second album Selected Jigs Reels and Songs, which featured a bodhr‡n solo by McDonagh (this album has never been released on CD, reportedly because the master tapes were lost) >

De Danann "The Mist Covered Mountain" (Shanachie, 1981)



De Danann "The Star-Spangled Molly" (Shanachie, 1981)



Galway's De Danann epitomized the sort of Celtic bands whose albums are dominated by instrumental tunes, with a few stray songs slipping in between the cracks... This album, which celebrates the 1920s heyday of the Irish-American musical boom, features vocals by husky-toned newcomer Maura O'Connell (her debut, I believe...) who belts out several tunes, accompanied by fiddler Frankie Gavin, accordionist Jackie Daly, and their clattersome cohorts. This album also prominently features the banjo, a distinctively American touch, in keeping with the feel of the original recordings. Too many jigs and reels for me, but fans of the style won't be disappointed by the musicianship.

De Danann "A Jacket Of Batteries" (Harmac, 1983/Green Linnet, 1991)


A nice disc, originally recorded in 1983. Although a couple of the non-vocal numbers drift into a softer, slightly goopy range, for the most part this is a pretty solid set, with inventive instrumentals and excellent vocals by Elanor Shanley, who recalls the otherworldly splendor of Maddy Prior and likeminded Brit-Celt singers. The one false note on here is the political tune, "Mandela," which is fine in a heartfelt, folkie kinda way, but does pull you out of the otherwise groovy trad vibe.




De Danann "The Irish RM" (1984)



<! 01/11: only on cassette on AM >
<! WITH MARY BLACK SONGS: the wen's nest , let it be , johnston's hornpipe , connie from cnstantinople , johnny i hardly knew ye , ril an spideal , anthem for ireland , jimmy byrnes and kinkies , diglake fields , duo in g , paddy lamentation >

De Danann "Ballroom" (Green Linnet, 1987)


De Danann "Song For Ireland" (Tara, 1988)


The title track is a rather drab rendition of Dick Gaughan's immortal nostagic dirge, with stuffy and dramatically flat vocals courtesy of Mary Black. I'm afraid, though, that this was the version that was a hit in Ireland and the UK, and is the one people think of when you mention the song. Pity -- it's a bit like a dreary Judy Collins outtake, and screams out for the quiet, soulful intensity of Gaughan's original recording. Black nearly makes it up, though, on her fine reading of Stephen Foster's "Hard Times," which appears on the flip side of the album, along with an okay version of "I Live Not Where I Love." Maura O'Connell vocalizes on another tune, but other than that, this album is mostly made up of lightly delivered, somewhat perfunctory instrumentals... It's okay, but it doesn't really spark my imagination.


<! 1983? >

De Danann "1/2 Set In Harlem" (Green Linnet, 1991)


Another nice set, this time with something of an overarching theme: what was the other music that Irish immigrants might have heard in the New World? Jewish klezmer and African-American gospel are woven into De Dannan's typically rich musical fabric... Sometimes the fusion sounds forced, but mostly this is another nice album, and you have to admire the sentiments, and the fact that they didn't go totally overboard on some wild "world beat" mishmosh... You can halfway imagine this sort of crosscultural jamming actually having taken place somewhere at some groovy New York block party back at the turn of the 20th Century... and if it did, you can bet a good time was had by all!

De Dannan "Hibernian Rhapsody" (Shanachie, 1996)



Frankie Gavin is the leading force on this album... Many of the bouncy pipe-and-fiddle duets are quite catchy, although -- sadly -- it must be said that the new singer, Tommy Flemming, was kind of a dud. He has one of those tremulous, fey, sensitive-folkie voices that just puts me on edge. As a result the songs -- normally my favorite part of a trad album -- are kind of grueling here. The good news is, it helps me appreciate the instrumentals that much more... Standard-issue musical virtuosity, but still not one of their better albums.
De Danann "How The West Was Won" (1999)


De Danann "Welcome To The Hotel Connemara" (2000)





<! Celtic covers of classic rock standards: 1. River Deep Mountain High 2. Parisienne Walkways 3. Sally Gardens-Lay Down Sally 4. Love Hurts 5. You've Lost That Loving Feeling 6. Rocks Of Bawn-Take It To The Limit 7. When A Man Loves A Woman 8. Hey Jude 9. Suspicious Minds 10. Gasoline Alley 11. Whiter Shade Of Pale 12. It's Over 13. Elanor Rigby-Fr. Mckenzie's Jig 14. Only The Lonely 15. Bohemian Rhapsody >

De Danann "WonderWaltz" (Celtic Airs, 2010)

De Danann "The Best Of De Danann" (Shanachie, 1981)

De Danann "The De Danann Collection" (BCI, 2005)

Sandy Denny - see artist profile
Brian Dewhurst "Bits And Pieces Of Brian Dewhurst" (Folk Heritage, 1974) (LP)





<! formerly in the band The Wayfarers (?) >

Brian Dewhurst & Tom Tiddler's Ground "The Hunter And The Hunted" (Folk Heritage, 1975) (LP)

Brian Dewhurst "Follow That With Your Sea Lions" (Fellside, 1977) (LP)





<! Barbara Dickson - worked with Archie Fisher in the late 1960s... switched to pop in the mid-1970s Barbara Dickson & Archie Fisher "The Fate O' Charlie" (1969) Barbara Dickson & Archie Fisher "Thro' The Recent Years" (1970) Barbara Dickson "Do Right Woman" (1970) Barbara Dickson "From The Beggar's Mantle" (1972) - with Nic Jones and Archie Fisher >

Cara Dillon "Cara Dillon" (Rough Trade, 2002)



Youth, and an airy, elfin voice seem to be the main attractions with this poppily-inclined Irish waif, who was previously in the bands Oige and Equation. She may have cut a wide swath through the folk scene when this album came out, but I gotta say it doesn't do much for me... It's kind of cloying, and the production is far too ornate and "Triple-A" for me, even if the songs come from the deep trad wellsprings... Not quite my cup of tea.
Cara Dillon "Sweet Liberty" (Rough Trade, 2003)


Cara Dillon "After The Morning" (Compass, 2006)


Cara Dillon "The Redcastle Sessions" (DVD) (2008)

Cara Dillon "Hill Of Thieves" (Charcoal, 2009)


John Doyle "Evening Comes Early" (Shanachie, 2001)



Solo album by the guitarist from the band Solas...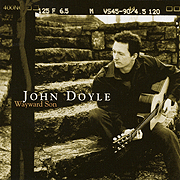 John Doyle "Wayward Son" (Compass, 2005)



WOW. I mean, DOUBLE WOW. Now, I was never a huge fan of the Irish-American supergroup, Solas, but I was totally floored by this jaunty, jovial, trad-oriented acoustic album by their guitarist John Doyle... Accompanied by the ubiquitous bassist Danny Thompson, Doyle has asserted himself as a worthy heir to the trad-folk line of Nic Jones, Martin Simpson, and others who infused hypertraditionalist repertoires with soulfulness, good humor and rich melodic depth. He even covers a Nic Jones tune, and gets the diving, plunking guitar style down to a "T." His impassioned version of the Australian robber ballad, "Jack Dolan" (aka"The Wild Colonial Boy") may be considered a definitive version for years to come. Doyle's fetwork is both lightning fast and soulfully fluid; with guest artists that include Liz Carroll, John McCusker, Kate Rusby and Linda Thompson, this album is brimming to overfull with talent and class. I was loathe to let this one leave my stereo, but eventually I had to... the CD was starting to wear down! This is really good... highly recommended!

John Doyle & Liz Carroll "In Play" (Compass, 2005)



A fantabulous two-person Celtic trad jam session featuring Chicago-based fiddler Liz Carroll (of Cherish The Ladies) and guitarist John Doyle (late of the band Solas). Carroll generally takes the lead, but Doyle's subtle, constantly shifting accompaniment is a tour-de-force in and of itself, contrasting the old-country sawing with a deft, pop-and-jazz inflected acoustic commentary. These are two top-flight Irish-American trad virtuosi, each performing at their absolute peak. I'm not generally that into all-instrumental trad albums, but this one's a doozy. Definitely worth checking out!


<! John Doyle "Acoustic Collage" (Blackdog, 2007) B00104K16I B001AHXKK4-MP3 same guy? >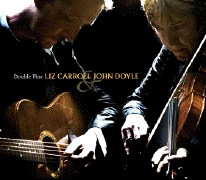 John Doyle & Liz Carroll "Double Play" (Compass, 2009)



(Produced by Liz Carroll & John Doyle)
Another stunning set of duets from these Irish-American folk-trad superstars. The uptempo opening medley, "The Chandelier/Anne Lacey's," will blow your mind: the nimble, restlessly inventive guitar picking and fiddling are astonishing in their speed and innovation, as well as the fervent, musicianly joy which radiates out for listeners to hear. Carroll and Doyle aren't mere technicians, they are collaborators and celebrants, riding a wave of excitement and newness that few artists get the chance to achieve. This record is easily one of the best Celtic-trad releases of the decade, and sets the bar for any artists that follow in its wake. Most of the tracks are instrumentals, although Doyle sings several songs, which is also a delight. Sorry if I seem to be gushing, but -- wow! -- this record really pays off when you give it close attention. Give it a spin.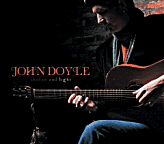 John Doyle "Shadow And Light" (Compass, 2011)



(Produced by John Doyle)
Although he's been on the trad scene for many years, John Doyle keeps evolving and taking on new voices... Here, he has the stern, earnest passion of Andy Irvine on historically-oriented songs such as "Liberty's Sweet Shore," "Clear The Way" and "Bound For Botany Bay," stories about the Irish emigration to America and Australia; elsewhere he shows some of the odd, slightly askew neo-folk poetics of Barry Dransfield, and as this album came to a close, I heard on songs like "Bitter Brew" a strong similarity to the late Bert Jansch, a prim combination of economical guitar work and a distinctly clipped vocal style. This album bears the stamp of Doyle's Irish-American heritage, recorded in Nashville with backing by several top-tier bluegrassers (Stuart Duncan on fiddle, Todd Phillips on Bass, with cameos by Alison Brown and Tim O'Brien) and perhaps more importantly an entire album's worth of original compositions, with Doyle showing his mastery of traditional song. A little more dour and a little less jaunty than his other recent records, but certainly an album with resonance and heft... Recommended!

Sean Doyle "The Light And The Half-Light" (Compass, 2004)



(Produced by John Doyle)
Fiddler Liz Carroll and Appalachian old-timey revivalist Dirk Powell join guitarist-producer John Doyle and his father Sean Doyle in this understated set of Irish trad songs. The elder Mr. Doyle has a clear, rich vocal style reminiscent of the old Clancy Brothers sound. The approach is pretty down-to-earth, with soft guitar and low-key vocals the primary touchpoints on all the songs. There's a hint of the sometimes-sugary crossover elements that arise in Doyle the younger's work with Solas, but it's mainly held in check, and this is a pretty straightforward trad album. Some of these songs are well of the beaten track, as well, so for those of a more folkloric bent, this is a real treat.
Nick Drake - see artist profile

Robin & Barry Dransfield "Up To Now" (Free Reed, 1997)


Despite the lamentably garish cover art, this 2-CD set is a real find for the devoted English folk fan, covering the lengthy careers -- as a pair and as solo acts -- of this talented, innovative sibling duo. Yorkshire-born, the Dransfields came up through the local folk club scene of the mid-1960s, but didn't record under their own names until 1970, which is where this sweeping anthology begins. The Dransfield brothers easily fall under that cherished Brit-folk category, "perhaps not for everyone..." But once you get in on their wavelength, their music continuously reveals new depth and textures, drawing you hypnotically into their web. Paralleling the experimentalism of the Incredible String Band, the Dransfields brought an oddly askew, modern, rock-informed touch to their work, very much colored by the psychedelic-poetic conventions of the era. The material varies over time, some of it strictly traditional, though mostly it's original music penned by one or another of the brothers. What's compelling throughout is the instrumental work -- inventive, labyrinthine fiddle and guitar playing that exudes an in-the-moment intensity in practically every note. Likewise, their keening, Northern English vocals show the same absorption in their art: none of this sounds by-the-numbers or blandly professional, and for fans who look for artistic passion in their music, this is a goldmine. I kept expecting the eventual abrupt turn towards horrid, synth-laden pop crossovers, but it never rears its ugly head on this well-selected, intelligently programmed anthology. Although practically all the original albums are hopelessly out of print, this double disc set is generously packed with compelling tunes. Highly recommended.

Barry Dransfield "Barry Dransfield" (Polydor, 1972)


(Produced by Bill Leader)
The first solo album by English singer-fiddler Barry Dransfield, a cult favorite and beloved figure in the British trad-folk revival, best known for his work with his brother Robin, and for his participation in the "Morris On" album and other Albion Band-related records. A great mix of traditional themes and kooky, poetical psychedelic flights of fancy. It's all quite nice!
Dransfield "The Fiddler's Dream" (Transatlantic, 1976)


Having gone separate ways at the start of the 1970s, Robin and Barry reunited in '76 for this somewhat-thumpy folk-rock outing, a "loose" concept album that is divided into four parts, and a lost gem from the folk-prog scene. Their trademark soulful, keening vocals echo throughout, and though the album initially has a plodding feel, it gains strength and resonance as it goes along. At first I was a little put off by the slow, deliberate pace, but several songs at the end won me over, and on repeated listenings, I really got into it. A bit elves-in-the-forest, to be sure, but also a nice slice of lost '70s folk culture. Worth checking out.


<! Barry D. discography: * - Rout Of The Blues (1970) (with Robin Dransfield) * - Lord Of All I Behold (1971) (with Robin Dransfield) * - Morris On (1972) (with Ashley Hutchings, Richard Thompson, John Kirkpatrick et al) * - Barry Dransfield (Polydor, 1972) B00008R10F * - The Fiddler's Dream (1976) as a member of the band "Dransfield" * - Popular To Contrary Belief (1977) (with Robin Dransfield) B0018OAOPS * - Bowin' And Scrapin' (1984) * - Be Your Own Man (1994) * - Wings of a Sphinx (1996) B000007YI6 (or "of THE..."? ) * - Unruly (2005) - have GIF Robin Dransfield "A Lighter Touch" B001608BXG Robin Dransfield "Tidewave" (Topic, 1980) - with Barry Dransfield are Nick Greenwod, Lea Nicholson, Chris Copping >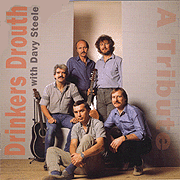 Drinker's Drouth "A Tribute" (Greentrax, 2001)



A tribute, that is, to the late Davy Steele, who was part of Drinker's Drouth during its last five years as a viable band... This disc compiles material from two of their albums, When The Kye Comes Home, from 1982, and 1984's Bound To Go, all of which is excellent material... The band had sort of a folkie, Rovers-y feel to it, but the musicianship and the warm harmony vocals, in particular, are a delight. Recommended! (Available through the Greentrax label.)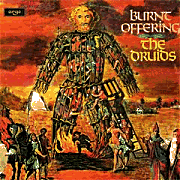 The Druids "Burnt Offering" (Argo, 1970) (LP)


An absolutely stunning acoustic-based traditional British/Celtic folk, with solid musicianship and beautiful group and harmony vocals. The band features vocalist Keith Kendrick anchoring a group chorus that achieves some truly distinctive, arresting harmonies, keening sounds in unusual combinations heard (as far as I know) only in the English countryside. Counterbalancing Kendick is the quintet's female lead, Judi Longden, who has one of those piercing, plaintive voices like Maddy Prior's -- indeed, this album reminds me quite a bit of Steeleye Span's best, most traditionally-oriented work of the early 1970s, except that the Druids album is much, much better, at least from a traditionalist's standpoint. There are no forays into rock or jazz, no clumsy attempts at crossover-y relevance, just a rock-solid set of delightful traditional songs, lively and lusty and delivered with great intelligence and charm, and Longden's stunning voice is better and more consistently framed than Prior's. The repertoire is of the same caliber as the performers, a beguiling parade of bawdy singalongs and unusual ballads... Highlights include the eerie "The Prickly Bush," sung from the standpoint of a man on the gallows, imploring the members of his family to save him, and the sailing song, "Our Captain Called All Hands." Of the many bawdy songs, some, like "The Cuckoo's Nest," are in code while others, such as "The Butcher And The Parson," are shockingly blunt. The most modern song is the wicked and witty "Salvation Army Band," which tells the tale of a lad led astray by a religious revival. All in all, this is one doozy of a disc and still sadly, sorely in need of reissue. Highly recommended!


<! The Druids "Burnt Offering" (Argo, 1970) The Druids were a superb acoustic folk quintet who started a little too late to achieve major popularity, amid the presence of outfits like Steeleye Span and Fairport Convention. Formed as a trio in 1969 by ex-pop musician John Adams (vocals, mandolin, bass), and folk singers Keith Hendrick (vocals, guitar, banjo) and Mick Hennessy (vocals, bass), the group played its first gig at the Manchester Sports Guild in November of that year. A few months later, itinerant fiddler Dave Broughton joined them, and in 1970, while appearing in a documentary film about English folk musicians, they met fifth member Judi Longden, who added her voice to the proceedings. With their reliance on acoustic instruments, the Druids were far more tradition-based than either Fairport Convention or Steeleye Span. Their repertory consisted of traditional English, Scottish, Welsh, and Irish songs arranged for four voices, and their music had a pleasingly archaic feel, not resembling folk-rock at all. If anything, they sounded more like the kind of outfit that A.L. Lloyd or Ralph Vaughan Williams (editors of the definitive collection of English folk songs) would have approved of, without a trace of uncalled for elegance or pretentiousness. The group broke up in the early 1970s, and Adams later turned up as a member of the group Muckram Wakes and the New Victory Band. They left behind a small but pleasing recorded legacy, contemporary with the best years of Fairport Convention and Steeleye Span but radically conservative in its approach to the music. ~ Bruce Eder, All Music Guide >

The Dubliners "Revolution" (Tribune, 1970)


(Produced by Phil Coulter)
Longhaired and shaggy, these Irish folkies delved into leftie politics wholeheartedly, touching on civil rights (with Ewan MacColl's "Alabama '58"), coal mining, militarism, mental disabilities (Martin Coulter's painfully earnest "Scorn Not His Simplicity") and the usual dose of anti-English nationalism and whatnot. Definitely a product of its times, but not bad, really.


<! 01/09: a BUNCH of albums... too many to get into right now.... http://en.wikipedia.org/wiki/The_Dubliners * 1964 The Dubliners * 1964 The Dubliners with Luke Kelly (Live) * 1965 In Concert (Live) * 1966 Finnegan Wakes (Live) * 1967 A Drop of the Hard Stuff (a.k.a. Seven Drunken Nights) * 1967 More of the Hard Stuff * 1968 Drinkin' and Courtin' (a.k.a. I Know My Love) * 1968 At It Again (a.k.a. Seven Deadly Sins) * 1969 Live at the Royal Albert Hall (Live) * 1969 At Home with The Dubliners * 1970 Revolution * 1972 Hometown (Live) * 1972 Double Dubliners (a.k.a. Alive And Well) * 1973 Plain and Simple * 1974 Live (Live) * 1975 Now * 1976 A Parcel of Rogues * 1977 Live at Montreux (Live) * 1977 15 Years On * 1979 Together Again * 1983 21 Years On (Live) * 1983 Prodigal Sons * 1985 Live In CarrŽ (Live) * 1987 25 Years Celebration * 1988 Dubliner's Dublin * 1992 30 Years A-Greying * 1996 Further Along * 1997 Alive Alive-O (Live) * 2002 40 Years (features old and new songs) * 2002 Live From The Gaiety (Live) * 2006 Live At Vicar Street (Live) * 2009 A Time to Remember (Live) >

The Duggans "Trad" (Clo Iar-Chonnachta, 1993)


Galway's Duggan family passes through a fine set of instrumental numbers -- reels, jigs and the like. Again, I'm not that big a fan of all-instrumental albums, but these folks play the music with a simple, unpretentious air, and it certainly sounds nice.


<! same as Noel and Padraig Duggan of Clannad fame? >

The Duggans "Rubicon" (MDM, 2005)





<! This Album is the First Recording Twin Brothers Noel and Padraig have Made Outside of Clannad. 1. Baidin Fhedhlimidh 2. Memories 3. Bird 4. Fanna Na Cnoic 5. Away 6. Ta Mo Chleamhneas A Dheanadh 7. Noinin / The Mucky Duck 8. Rubicon 9. Hughie 10. Oro Se Do Bheatha Abhaile 11. Lurabog 12. Silent Spring 13. Saighdiuir Treighthe 14. Lisa 15. Blue Stack Mountains >

---
More Celtic/Brit Folk Albums -- Letter "E"
---



Main Celtic/Brit Index
Main World Music Index


---