<! ALPHA: Mac > <! MP3 02/06/09, 01/05/11 > <! update 02/06/09 > <! outside 02/06/09 > <! pix 00/00/00 > <! icons 01/04/11 > <! Kenneth McKellar - old-school Scottish folk performer > <! Jimmy MacBeath Midnight Well "Midnight Well" (Mulligan Music, xxxxx) - rare irish Folk LP Mulligan Music NM Blues Kevin Mitchell "Free & Easy: Irish Traditional Songs Ballads" (Topic, 1977) B00BBNIS6S - MP3 Iain MacGillivray "Rolling Home" (Fellside, 1986) (LP) B00KJ0AWCW - Scottish singer from Inverness > <! Peter Moloney "A Load Of Moloney: How To Talk Scouse Proper" (Big Ben Records, xxxxxx) (LP) B005HMLLN6 - Liverpool slang demonstrated in a comedic manner. Based (apparently) on a book called "A Plea For Mersey" > <! Mac Murrough "Merry And Fine" (Polydor, 1973) Mac Murrough "Mac Murrough" (Polydor, 1974) B000MXOV5K - second? album ACID FOLK? Mac Murrough "Merry And Fine" (Polydor, 1978) B000MXOV64 - third album (Shades Of) Mac Murrough "Carrig River" (Kissing Spell, 2007) B000MXOV5U - is this their first album? > <! Beryl Marriott - fiddler, influential in 1960s, Dave Swarbrick paid her homage: B00BKBIPIC > <! Magna Carta "Songs From Wasties Orchard" (Karma, 1971) B001NJY5O4 B0081N62X2 Magna Carta "Lord Of The Ages" B000MEYHRG B004YFA9SU proggy - several other albums - > <! Jimmy MacCarthy "The Dreamer" (Sony-Columbia, 1994) B000026KZO wrote "Ride On" recorded by Christy Moore > <! Hector MacAndrew "Legend Of The Scots Fiddle" (Greentrax) B001RH5FQY B003B7MFY8 The late, great Hector MacAndrew was born in 1903 and died in 1980. These recordings, made some 60 years ago in HectorÕs home, were never meant for public release, but his playing is brilliant and of an old Scottish style seldom heard nowadays. Hector's first recording was a 78rpm for Parlophone, and he later went on to record a number of other albums. Unfortunately most of the music of Hector MacAndrew has been unavailable for many years so this album is long overdue. Hector MacAndrew was possibly the greatest exponent of the Scots fiddle tradition of his generation a he is still the benchmark by which all Scots fiddlers should be measured. It is impossible to meet a notable Scottish fiddler who doesnÕt hold Hector in the highest regard and in many cases his interpretation of some of our Scots fiddle classics are regarded as being the final word on the matter. Hector MacAndrew "Scottish Violin Music, v.1" (Waverley, xxxxxx) (LP) B000NHVTSM Hector MacAndrew "Scottish Violin Music, v.2" (Waverley, xxxxxx) - no ASIN - Hector MacAndrew "Scottish Violin Music, v.3" (Waverley, xxxxxx) (LP) B00ODJOY2Y > <! Tommy McCarthy "Round Top Wagon" (xxxxxxxxxxxxx, 2008) - no ASIN In 2008 Irish traveller singer Thomas McCarthy discovered a singing session at Cecil Sharp House, not realising that there was an interest in his type of Sean Nos singing in London where he now lives. The word soon spread about this amazing young singer who has a style not unlike Joe Heaney and songs that no one had heard before. On this his first CD he sings mainly songs which have been handed down through his family as well some of his own newly composed songs, all ably assisted by the CDs producer Ron Kavana. Tommy McCarthy is a truly remarkable singer who sings in a way which is rarely heard today. > <! Mary MacNamara "The Blackberry Blossom" (Claddagh) B00004Z54W Her first CD was probably one of our best ever selling Irish albums. This includes another wide selection of tunes on anglo concertina in her distinctive laid back East Clare style. Mary MacNamara "Traditional Music From East Clare" (Claddagh) B000001LQW Superb old fashioned anglo concertina music from Tulla: the home of the famous Ceili Band. With P.J. & Martin Hayes >
---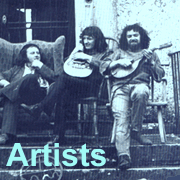 Trad & Folk
Artists and Albums
Hello! This page is part of an opinionated overview of Celtic and British folk music, with record reviews by me, Joe Sixpack... This is not meant to be taken as a "definitive" resource, but rather as a record of some of the music which has caught my interest. I am always looking for more good music to explore, so your comments and suggestions are welcome.
This is the first page covering the letter "M"
---
A | B | C | D | E | F | G | H | I | J | K | L | M-1 / 2 / 3 / 4 | N | O | P | Q | R | S | T | U | V | W | X, Y & Z | Comps | Celtic Music Labels & Links | World Music Index
---
Ewan Maccoll - see artist profile
Kirsty Maccoll - see artist profile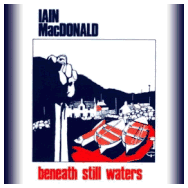 Iain MacDonald "Beneath Still Waters" (Greentrax, 1986)


(Produced by Dick Gaughan)
Scottish folk star Dick Gaughan produced and plays on this politically-oriented contemporary folk album, showcasing singer-songwriter Iain MacDonald. Songs include "Santiago Stadium," "Ask Questions Later," "Do You Think It's Right?" and a cover of "Free Nelson Mandela," to round things out.

Father Sydney MacEwan "The Road To The Isles" (ASV, 1999)



Glasgow's Sydney McEwan followed both the call of the Church and the roar of the crowd, pursuing a professional singing career even as he maintained his priestly status. These recordings, dating from 1935-47, were actually some of the only popular recordings of Gaelic song during the inter- and postwar eras, and although they do have some of the prissy artsong affectations that English tastes imposed on those otherwise unruly Celtic ballads, it must be said that MacEwan had a lovely tenor, and an ease about his singing that transcended the stilted mannerisms picked up from his idol, John McCormack. Not modern in the post folk-boom sense (and not strictly folkloric either, there are several modern tunes on here as well...), but still rather nice. If you want to delve a little further back into the island sound, then this disc might be worth tracking down.
Mairi MacInnes "Causeway" (Lismor, 1989)





<! Tracks: 1.clachan uaine.2.mendocino.3.puirt a beul.4.an eala bhan.5.elidh.6.cuachag nan craobh.7.morag's na horo gheallaidh.8.mairead og.9.soraidh le eilean a'cheo.10.indiana.11.tuireadh mhic criomain.12.mo chridh trom's duilich leam.13.everlasting gun >

Mairi MacInnes "This Feeling Inside" (Greentrax, 1995)



Mairi MacInnes "Orosay" (Greentrax, 2001)



I'm always in favor of folks singing in Gaelic, though I can't say I'm that thrilled with her voice, or with the album's arrangements. I guess there is an unusualness factor here -- the music sounds vaguely more "adult contemporary" and less trad, so the pairing of the "foreign" language and "modern" music is a little new. But again, itÕs how it sounds that matters, and I found that this disc set my hackles on end more often than not. I'll pass.
Mairi MacInnes "Tickettyboo" (Greentrax, 2005)



Children's music...


<! label? >

Mairi MacInnes "Dilyn Y Fflam" (Sain, 2007)






<! date and label? > <! other albums? "Land Of Light" mentioned online >

Talitha MacKenzie "Solas" (Shanachie, 1994)



What a horrible album by this veteran of the Mouth Music band... It's an absolutely horrendous Celtic-pop crossover album, melding mouth music with various brands of ultra-tacky musical arrangements: super-generic house music, tinkly keyboard pop, "funky" lite jazz, swirly New Age synths, embarassingly bad spoken interludes and samples, Latin riffs, etc. It's really just awful. Really, really, really awful. And did I mention it was tacky? Brrrrrrrrrr... it sends shudders down my spine.
Talitha MacKenzie "Spiorad" (Shanachie, 1996)


Talitha MacKenzie "Indian Summer" (Sonas, 2008)





<! release date? >


Dougie MacLean - see artist profile




Donald MacLellan "The Dusky Meadow" (Rounder, 2003)



A raspy, enduringly authentic set of old-world tunes given a New World lilt, performed by Cape Breton fiddler Donald MacLellan, with accompaniment by pianist Doug MacPhee. The first time I listened to this, I was a little taken aback by MacLellan's more tremulous moments -- there's a palpable sense that this 85-year old fiddler is a little past his prime. The flip side, though, is that you can also tell that he remains a strong stylist and a master of his art; there may be some shaky moments, but this is a fine testament to an artist with deep traditional roots and a complete command of his repertoire. The more you listen to it, the more this will grow on you.
Kevin MacLeod "Springwell" (Greentrax, 1999)






<! w/ Alec Finn, Frankie Gavin

Kevin MacLeod & Alec Finn "Polbain To Oranmore" (Greentrax, 2003)



Alec Finn (of De Dannan) and Kevin MacLeod of the group the Occasionals trade off on various stringed instruments -- bouzouki, mandolin, guitar -- for a fairly understated instrumental set. Didn't knock me out, but it's nice enough and features plenty of very accomplished picking.
Kevin MacLeod "Dorney Rock" (Greentrax, 2006)


Buddy MacMaster "Judique On The Floor" (1993)

Buddy MacMaster "The Judique Flyer" (Stephen MacDonald, 2000)



Buddy MacMaster "Cape Breton Tradition" (Rounder, 2003)



A craggy-yet-catchy set of old Scottish fiddle tunes from the island of Cape Breton, Nova Scotia, where an old style of traditional playing has been augmented with various local embellishments and stylistic flourishes. Nearly eighty years old when these sessions were recorded, MacMaster is an acknowledged master of the style, and his bowing is still lively and deft... He's accompanied here by his daughter, Mary Elizabeth MacMaster MacInnis, whose straightforward piano playing keeps pace with his somewhat dazzling violin work. This might not be for everyone -- like many similar albums, this all-instrumental set is largely "for fiddle lovers only," but if you count yourself in that number, then you'll definitley want to check this album out... (The highly-regarded Mr. MacMaster is also, by the way, uncle to the well-known fiddle whiz, Natalie MacMaster, who counts him as one of her primary influences... )
Natalie MacMaster "Four On The Floor" (Astro Custom, 1989)

Natalie MacMaster "Road To The Isle" (Astro Custom, 1991)

Natalie MacMaster "Fit As A Fiddle" (Rounder, 1993)


Natalie MacMaster "No Boundaries" (Rounder, 1996)


Natalie MacMaster "In My Hands" (Rounder, 1999)


Natalie McMaster "My Roots Are Showing" (Rounder, 2000)


Natalie MacMaster "Live" (Rounder, 2001)


Natalie MacMaster "Blueprint" (Rounder, 2003)


Natalie MacMaster & Buddy MacMaster "Traditional Music From Cape Breton Island" (Rounder, 2005)


Natalie MacMaster "Yours Truly" (Rounder, 2006)



Canadian fiddle whiz Natalie McMaster is as technically dazzling as ever, although the popped-up arrangements that define this album aren't really my cup of tea... A nice mix of Celtic-based and bluegrassy/newgrassy styles, mixed with a heavy backbeat and some super-slick chord progressions... Most of the songs are McMaster originals, although she still finds time to saw through a medley of raw-sounding Strathspey reels and other traditional material that reflects her Cape Breton roots... McMaster's fans will dig this one.
Natalie MacMaster "A Compilation" (Rounder, 1996)


Natalie MacMaster "The Collection" (Rounder, 2007)





<! "Foreign Media" label? >
Finlay MacNeill "Fonn Is Furan: A Tune And A Welcome" (Temple, 1982)



Super-authentic a capella ballads and a bit of piping from the Scottish Highlands. Nice, old-fashioned, rugged material for those who are into the old, old stuff.
Catherine Ann MacPhee "Canan Nan Gaidheal (The Language Of The Gael)" (Greentrax, 1994)


Catherine Ann MacPhee "Sings Mairi Mhor" (Greentrax, 1994)


Catherine Ann MacPhee "Chi Mi'n Geamhradh (I See Winter)" (Greentrax, 1994)



Catherine Ann MacPhee "Suil Air Ais: Looking Back" (Greentrax, 2004)



A fine vocal set by Scottish trad singer Catherine Ann MacPhee, whose approach is a bit on the formal side, but who still has a lovely voice. The opening tracks feature the Celtic harp, an airy-sounding instrument which is generally anathema to me, but different sounds take over later on the album... With a drifting guitar behind her, MacPhee is particularly appealing, and while she doesn't quite have the fluidity or magical feel of many of my favorite trad singers, she's still quite nice and undeniably authentic. Worth checking out.

Mac-Talla "Mairidh Gaol Is Ceol : The Gaelic Song Tradition Of Scotland" (Temple, 1994)



A Scots supergroup of sorts, Mac-Talla's members include vocalist Christine Primrose and harpist Alison Kinnaird. The band specializes in sweet vocal tunes; perhaps a bit sugary overall, but thankfully free of the synthesizers and electronic claptrap that has swamped Celtic music in recent years. Produced by Scottish folk super-guru Robin Morton, of Battlefield Band fame.
---
Celtic/Brit Folk Albums -- More Letter "M"
---



Main Celtic/Brit Index
Main World Music Index


---