<! MP3 02/11/09, 01/05/11 > <! outside 00/00/00 > <! pix 00/00/00 > <! icons 01/05/11 > <! UPDATES: 02/11/09 - Sean Keane(s) need work 01/05/11 - added more Kornog 12/23/14 - added K's with ASIN info - decided to skip Sean Kene #2 - research Keane Family > <! The Kipper Family - see below > <! The Kilfenora Ceili Band "Live In Lishdoonvarna" (Dolphin, 2002) B00006RSNL Clare has bred some great ceili bands. Here is one of the most famous, recorded with an enthusiastic crowd of local dancers who encourage the band to great heights. - MANY other records- >
---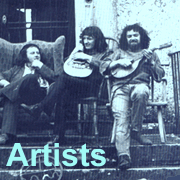 Trad & Folk
Artists and Albums
Hello! This page is part of an opinionated overview of Celtic and British folk music, with record reviews by me, Joe Sixpack... This is not meant to be taken as a "definitive" resource, but rather as a record of some of the music which has caught my interest. I'm always looking for more good music to explore, so your comments and suggestions are welcome.
This is the first page covering the letter "K"
---
A | B | C | D | E | F | G | H | I | J | K | L | M | N | O | P | Q | R | S | T | U | V | W | X, Y & Z | Comps | Celtic Music Labels & Links | World Music Index
---

Mike Katz "A Month Of Sundays (Temple, 2004)



Solo work from Mike Katz, piper with the Battlefield Band...

Dolores Keane "There Was A Maid" (Claddagh, 1978)


She looks so stern on the album's cover, yet the music is so lovely! Emerging in the late 1970s from her native Galway, Keane swiftly established herself as one of Ireland's best interpreters of traditional song, with a lovely voice that retains a hint of historical menace. These early recordings, with sympathetic but somewhat minimal backup instrumental accompaniment, aren't quite as incandescent as the Broken Hearted I'll Wander and Sail Og Rua albums reviewed below... Still, it's pretty lovely stuff. The CD liner notes don't list the artists in the Reel Union band; John Faulkner wrote the liner notes, but I'm not sure if he also played on the album. At any rate, this is certainly worth picking up, particularly if you are already one of her fans.

Dolores Keane & John Faulkner "Broken Hearted I'll Wander" (Green Linnet, 1979)



As a young'un in the late 1970s, singer Dolores Keane was just a bit on the squeaky side; as she attained old-timers staus in the '90s, she took on a slightly leaden gravity. But in between, at the peak of her powers, she could not be beaten. These collaborations with multi-instrumentalist John Faulkner are like glittering, precious gems among the firmament of a trad scene that was heading towards overly-elaborate, crossover production. Keane's voice is so gorgeous, and Faulkner's accompaniment so tasteful and compelling, that this album is simply irresistible.
Dolores Keane & John Faulkner "Farewell To Eirinn" (1980)


Dolores Keane & John Faulkner "Sail Og Rua" (Green Linnet, 1984)



Another gorgeous set from Faulkner and Keane... This album, with its tenatative addition of one (single) electronic instrument has a slightly less mystical tone, but both albums are highly, highly recommended.
Dolores Keane "Dolores Keane" (Alula, 1988)


Dolores Keane "Lion In A Cage" (Alula, 1989)


Dolores Keane "Solid Ground" (Alula, 1993)


Dolores Keane & Rita Eriksen "Tideland" (Kirkelig Kulturverksted, 1996)



Dolores Keane "Night Owl" (Alula, 1998)



Keane and Faulkner are back, with another stately set, that overall feels a bit listless and stuffy, but still has an elegance and gravity to it reminiscent of their early albums. This isn't her best work, but it's still pretty solid; June Tabor fans might like this one.
Dolores Keane "May Morning Dew" (Am Cheoil, 2004)

Dolores Keane "The Best Of Dolores Keane" (Shanachie, 1997)

Dolores Keane "Where Have All The Flowers Gone: The Very Best Of Dolores Keane" (Dara, 2003)





<! http://en.wikipedia.org/wiki/Dolores_Keane Discography * There Was A Maid (1978) * Dolores Keane (1988) * Lion in a Cage (1989) * Solid Ground (1993) * Night Owl (1998) [edit] De Dannan * Dé Dannan (1975) * Anthem (1985) * Ballroom (1988) [edit] Dolores Keane and John Faulkner * Broken Hearted I'll Wander (1979) * Farewell To Eirinn (1980) * Sail Og Rua (1983) [edit] Rita Eriksen and Dolores Keane * Tideland (1996) [edit] Compilations * Best of (1997) * Where Have all the Flowers Gone: The Very Best of Dolores Keane (2003) >
The Keane Family "Muintir Chathain" (Gael Linn, 1985) (LP)


Yup! That's Dolores and her kin... Singing some real-deal Gaelic folk music!
Sarah & Rita Keane "Once I Loved" (Claddagh, 1969)


Traditional Irish and English songs from sisters Sarah and Rita Keane, of Galway, the aunts of singers Dolores Keane (above) and Sean Keane, who branched out into more contemporary folk-pop. The Keanes have also recorded together, as a family group.
Sean Keane "Gusty's Frolics" (Claddagh, 1975)


The first solo album by Dublin-born fiddler Sean Keane, best known as a member of the Chieftains... Not to be confused with the singer, Sean Keane, a member of Galway's fabled Keane family whose career turned more towards contemporary folk music...


<! He was a member of Ceoltóirí Chualann in the 1960s, before joining The Chieftains in 1968. >

Sean Keane & Matt Molloy "Contentment Is Wealth" (Green Linnet, 1985)


Sean Keane "Jig It In Style" (Claddagh, 1990)

Sean Keane, Matt Molloy & Liam O' Flynn "The Fire Aflame" (Claddagh, 1993)





<! Sean Keane - brother of Dolores Keane -- different guy from the Chieftains member Seán Keane (b 1961) is an Irish singer. http://en.wikipedia.org/wiki/Se%C3%A1n_Keane_%28singer%29 Seán Keane was born near Tuam in County Galway into a musical family. He took a first prize in the Connaught Fleadh for singing in English. Together with Frances Black and others he was a founder member of the group Arcady. He was voted Performer of the Year by readers of Irish Music Magazine in 97/98 and 98/99, and called "the greatest Irish musical find of the `90's" (London Independent), and "the fastest rising star of the Irish music scene"(Irish Times). His musical voice is unique and his songs encompass a mixture of traditional Irish folk music, pop, blues, and country. His sister Dolores Keane is also an acclaimed singer. Seán Keane has released seven solo albums and collaborated on five others. His solo albums include: Sean Keane "All Heart No Roses" (Shanachie, 1994) B000008H8R Sean Keane "Turn A Phrase" (Kell/Grapevine, 1996) B00PO50XKS Sean Keane "No Stranger" (Grapevine, 1998) B0014CZUHG Sean Keane "The Man That I Am" (2000) - no ASIN - Sean Keane "Seansongs" (Circin Rua, 2002) B00005YXMX Sean Keane "Portrait - The Best Of Sean Keane" (Circin Rua, 2003) B0001Z2RVO B000QQPTXQ Sean Keane "You Got Gold" (Circin Rua, 2006) B0047DOO9Y >

Paddy Keenan & Tommy O'Sullivan "The Long, Grazing Acre" (Compass, 2003)



A very lovely, very fine, mostly-trad album, with mild dips into contemporary folk songwriting and a warm, modern production style. Irish piper Paddy Keenan has a long and illustrious career in the tradlands -- well known for his work with the Bothy Band and numerous other projects -- and here he teams up with newcomer Tommy O'Sullivan, whose chunky guitar work adds both muscle and suppleness to the mix. What's perhaps most striking about this album is the textural depth to the production, the duo embraces what is best about new studio technology while making no concessions to bland "crossover" concepts. This music is captivating, inspiring and pure... recommended!

Alan & John Kelly "Fourmilehouse" (Compass, 2002)



One of those pleasant few albums that are able to get me past my persistent disinclination towards Celtic instrumental music. The Kelly brothers, Irish natives who have played about in various bands, have a deft, swinging lightness to their playing, and are obviously simpatico in that way that sometimes only siblings can be. The emphasis here is on melody and lilt, and I'm sure that other folks like myself, who often find jigs and reels to be repetitive and maddening, will find themselves drawn in by this highly listenable trad set.


<! Stan Kelly - nothing listed outside of a couple of tracks on an old 1961 Folkways compilation B000UXW47O >
Kempion "Kempion" (Broadside, 1977) (LP)





<! LP release from Scottish and north of England musicians. 'Most of the music is of Celtic Irish and Scottish origin, though some of the songs are English.' Musicians include: David Oxley - fiddle, bouzouki and mandolin; Mark Wallis - guitar, bouzouki, mandolin and tenor banjo; Duncan Hudson - tin whistle and the flute; Morris McPhillips - vocals, bodhran, Appalachian dulcimer. >


Keith Kendrick - see artist profile



Kentigern "Kentigern" (Topic, 1978) (LP) <! 1979? >


This Scottish group grew out of the band Tinkler Maidgie, joined by former Battlefield Band-er John Gahagan and fiddler Jimmy McGuire... Kentigern stayed together through 1982, but only released this one album...


<! John Gahagan (whistle) (past member of The Battlefield Band) Jimmy McGuire (fiddle, banjo) (The Victoria Bar owner) combined with the four members of Tinkler Maidgie - Sandy Stanage (cittern, guitar, banjo) (who had also been in Molendinar), http://www.folkmusic.net/sandystanage/stansa_biog.htm Ian MacDonald (pipes) Jim Barnes (cittern, guitar, vocals) Sylvia Barnes (vocals, dulcimer, guitar, bodhran) (Dougie Pincock (pipes, whistle) later replaced Ian MacDonald.) > <! Sandra Kerr -- cohort of Leon Rosselson -- a few MP3 albums on Amazon 01/08, including one with John Faulkner >
The Kerries "The Kerries" (Major Minor Records, 1967) (LP)


A short-lived trad band that featured singer Gibb Todd, who also recorded some solo stuff a few years later...


<! - Kerry Todd (guitar, backing vocals); Lenny McIlhone (guitar, vocals); Gill Thurlow (vocals, penny whistle); Ralph Overton (guitar, vocals); Gibb Todd (vocals, banjo, tin whistle, mandolin) >

Kila "Tog E Go Bog E" (Green Linnet, 1999)



This band was hailed as the super-duper, super-fab super-future of Celtic music, but frankly, I find these "Afro-Celt" world beat crossover tunes to be a bit irritating... It's long on drive and momentum, short on melodic arc, and singer Ronan O'Snodaigh's raggamuffin/dancehall reggae-inflected vocal style (plus the actual tone of his voice) are also a bit grating. I just find the whole project too self-consciously clever and tedious, and even with Afro-Brazilian-tinged tunes like the title track (which means "take it easy" in Gaelic), I still feel like this is music I've heard elsewhere, even if they weren't singing in this particular language. Anyway, this didn't work for me. The folks who like Kila, though, seem to go totally koo-koo for them, so what do I know?? Feel free to explore it, but don't come running back to me saying that I didn't warn you.

Kila "Lemonade & Buns" (Green Linnet, 2000)



I'll concede that this disc is more relaxed and listenable than the last (where they really seemed to be trying too hard...) But it's also kind of cloying and fake-hippie goopy, as well... Inventive and groundbreaking, perhaps, but still not my cup of tea.

Kila "Luna Park" (Kila Records, 2003)



This album is arguably their most accomplished, or at least their smoothest, and -- thank goodness! -- Ronan O'Snodaigh has toned down his ragamuffin-reggae-by-way-of-Bulgaria vocals, at least on some of the tunes. Still, I find their approach to be pretty tiresome: innovation is fine, but I also like to enjoy what I'm listening to. This is just too dense, cluttered and tacky for me.


<! http://en.wikipedia.org/wiki/K%C3%ADla > <! Albums as Kíla Kila "Groovin' " (1991) Kila "Handel's Fantasy" (1993) Kila "Mind The Gap" (1995) Kila "Tog E Go Bog E" (1997) Kila "Lemonade & Buns" (2000) Kila "Live In Vicar Street" (2000) Kila "Monkey" (2002) Kila "Luna Park" (2003) Kila "Live in Dublin" (2004) Kila "Best Off & Live In Dublin Double Album" Japan only (2005) Kila "Another Beat" (2006) remixed Kíla tracks by Japanese artists - Japan only Kila "Kíla & Oki" (2006) Kila "Gamblers' Ballet" (2007) >

Pat Kilbride "Rock & More Roses" (Temple, 1995)






<! 1989? according to Amazon ~ CD gathers two albums? ) >

Pat Kilbride "Undocumented Dancing" (Green Linnet, 1992)


Pat Kilbride "Loose Cannon" (Green Linnet, 1995)



Pat Kilbride "Nightingale Lane" (Temple, 2002)



A beautiful album of traditionally-oriented modern folk songs, mostly written by veteran Celtic musician Pat Kilbride, an on-again/off-again member of Scotland's trad supergroup, the Battlefield Band. This is a sweet album, with plenty of first-rate cittern and guitar work. The only (very mild) missteps are covers of a couple of Gerry Rafferty and Nanci Griffith tunes, contemprary folk tunes that stand out a bit too much from the other, more trad sounding tunes. On the whole, though, there's nothing to complain about here... It's a very nice, very listenable record. Lovely!
Louis Killen - see artist profile
Paddy Killoran "Back In Town" (Shanachie, 1977) (LP)


Archival recordings of Irish fiddler Paddy Killoran, who hailed from Ballymote, County Sligo. This is pretty old-school, foundational stuff...
William Kimber "The Art Of William Kimber" (Topic, 1974) (LP)





<! celebrated Oxfordshire born concertina player William Kimber >

David Kincaid "The Irish Volunteer" (Rykodisc, 1998)

David Kincaid "The Irish-American's Song" (Haunted Field Music, 1998)


Andrew King "The Bitter Harvest" (World Serpent, 1999)

Andrew King "The Amfortas Wound" (World Serpent, 2004)






<! - spooky vocals >

Philip King & Peter Browne "Rince Greagach" (Gael Linn, 1981) (LP)





<! Singer Philip King teaming up with piper Peter Browne. Musicians include: Philip King - vocals, harmonica; Peter Browne - uilleann pipes, flute, tin whistle; Gerry O'Beirne - guitars, Turkish sazz; Sonny Condell - percussion; Greg Boland - guitar; Andrew Boland - piano; Liam O Muirthile - lyrics. >

King's Galliard "Morning Dew" (Irish Folk, 1976)
A Dutch band from the 1970s that specialized in Celtic music, King's Galliard released several albums and held its own at various music festivals... I'm not sure, but this might be their first album...


<! - several albums, but no ASIN for this one >

King's Galliard "Rocky Road To Dublin" (Delta, 1991)





<! King's Galliard "De Boerenplof" (Pan, ????) (LP) B004ER1NEM Dutch-language album? > <! The Kipper Family http://www.informatik.uni-hamburg.de/~zierke/kipper/ The Kipper Family "The Ever Decreasing Circle" (Dambuster, 1985) (LP) B004EQYDCC On this LP release they perform songs and rhymes from the fictional Trunch area of Norfolk. First pressing with A1 and B1 in run out grooves. 10 tracks. With the New Trunch Coronation Band The Kipper Family/Various Artists "Crab Wars: Introduced By The Kipper Family" (Dambuster, xxxxxx) B000001BFZ - with Martin Carthy, Peter Bellamy, John Kirkpatrick, Fairport, Ashley Hutchings, et al The Kipper Family "Fresh Yesterday" (Dambuster, xxxxxxx) B000001BG0 The Kipper Family "In The Family" (Dambuster, xxxxxxx) B000001BG1 The Kipper Family are Chris Sugden and Dick Nudds. >

Kirkmount "The Robin: Traditional Music Of Nova Scotia And Cape Breton" (Dorian, 1997)


Fairly sugary fiddle-harp'n'cello classical-Celtic instrumentals from the sibling trio of Alex, Sam and Simeon Bigney, who at the time were riding high having won a talent contest on the Prairie Home Companion radio show. Didn't really wow me, but it's pretty enough, I suppose.

Kirkmount "Mittens For Christmas" (Dorian, 2001)


More substantive, more classically inclined, and somewhat milkier than their previous album... Again, it didn't do much for me, but for those enamored of, say, the Mark O'Connor/Edgar Meyer/Yo-Yo Ma folk-classical crossovers, an album might be a real delight.
John Kirkpatrick - see artist profile
Kornog "Kornog" (1983)


Kornog "Premiere: Music From Brittany" (Green Linnet, 1983)



A live album from one of the finest bands of the French Breton trad revival... This brisk, bold album captures them in fine fettle on a lively American tour...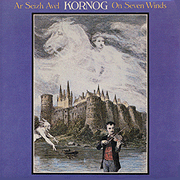 Kornog "Ar Seizh Avel (On Seven Winds)" (Green Linnet, 1985)



Simply gorgeous. Kornog were one of the leading bands in the Celtic revival in France... Sure, several of the members are actually from Scotland, but who's keeping track? At any rate, this album completely defies the tradition of piercing shrillness in Celtic music, introducing a melodic grace to it's instrumental tracks while retaining a traditionalist edge. It also has several of the most gorgeous vocal performances I've ever heard in the genre, such as "Helen of Kirkconnell" and "The Shuttle Rins". If you've ever tried to get into Celtic music before, but felt trapped between shrill bagpipes and wimpy New Age arrangements or "River Dance" kitsch, then allow me to recommend this beautiful album to you as a more appropriate starting place. One of my all-time favorites.

Kornog "Korong" (Green Linnet, 2000)



After more than a ten year lapse, this outstanding French (Breton) Celtic band is back, with an album that picks up exactly where the last one left off. I'm not normally that into Celtic instrumentals -- jigs, reels and airs -- but Kornog has always displayed a liveliness and melodic grace that set the band at the pinnacles of the Celtic music scene, with an interplay of fiddle and flute that is particularly dynamic and appealling. Perhaps the most distinctive aspect of the Kornog's sound, though, is the beautiful voice of Scottish native, Jamie McMenemy. McMenemy has lost none of the rich sonorousness which marked their early albums, or the dreamy, evocative breathiness that makes him one of the most captivating singers in the folk-trad scene today. Simply gorgeous. This is an album that's been a long time coming, and is highly recommended.


<! http://en.wikipedia.org/wiki/John_Kirkpatrick_(musician) > <! Kornog is a Breton folk music band formed in the 1980s. They are notable in that they have been perhaps the only Breton band to have had a serious touring presence in the United States, so for many in North America, Kornog defines Breton music. The word 'kornog' means "west" in the Breton language. Unique to Breton groups, the band's approach is intended for listening and not specifically for the traditional "Fest Noz" dance circuit, and contains the Scots dialect ballads of bouzouki and mandolin player Jamie McMenemy. The group was active from 1982 to 1987, then reunited again in 1999 and in 2000 released a new CD, "Korong". The group still plays together occasionally, and some of the members play together regularly in duo formats (2010 has seen the first tour of duo Siberil-McMenemy), although for the most part they have been superseded by the offshoot group PennoĚ Skoulm. Most of the members of Kornog are in the band PennoĚ Skoulm. Like Kornog, PennoĚ Skoulm has likewise existed in two separate iterations, first active from 1982 to 1990, releasing their first recording in 1985, and then regrouping in 2008 and releasing their newest recording 'TrinkaĖ' in 2009. PennoĚ Skoulm remains active as a performing group, occasionally joined by Irish musician Andy Irvine. Kornog's final performance (to date) was in 2006. >


---
More Celtic/Brit Folk Albums -- Letter "L"
---



Main Celtic/Brit Index
Main World Music Index


---