<! MP3 01/03/11 > <! update 00/00/00 > <! outside 00/00/00 > <! pix 00/00/00 > <! icons 01/03/11 >
---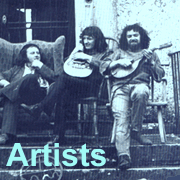 Trad & Folk
Artists and Albums
Hello! This page is part of an opinionated overview of Celtic and British folk music, with record reviews by me, Joe Sixpack... This is not meant to be taken as a "definitive" resource, but rather as a record of some of the music which has caught my interest. I am always looking for more good music to explore, so your comments and suggestions are welcome.
This page covers the letter "U"
---
A | B | C | D | E | F | G | H | I | J | K | L | M | N | O | P | Q | R | S | T | U | V | W | X, Y & Z | Comps | Celtic Music Labels & Links | World Music Index
---

Umps And Dumps "The Moon's In A Fit" (Topic, 1980)



Yet another John Kirkpatrick and Sue Harris project, along with melodeon player Tufty Swift, banjoist Alan Harris and multi-instrumentalist Derek Pearce... Another fun, goofy, playful country dance-type record!


<! John Kirkpatrick; concertina, button accordian two-row melodeon, triangle, vocals. Sue Harris; dulcimer, hammered dulcimer, vocals Tufty Swift; one-row melodeon, two-row melodeon, mouth-organ, fiddle, vocals Derek Pearce; tenor banjo, percussion, bass drum, drum kit, tuba, steel guitar one-row melodeon, vocals Alan Harris; string bass, bass, banjo, vocals >

Rachel Unthank & The Winterset "Cruel Sister" (Rabble Rouser, 2006)


Rachel Unthank & The Winterset "The Bairns" (Real World, 2008)


The Unthanks "Here's The Tender Coming" (EMI, 2009)






<! 2009 album from the Geordie Folk inventors formerly known as Rachel Unthank & The Winterset. Here's The Tender Coming builds on the incomparable sound that has earned them admirers from the ranks of Radiohead, Portishead, Robert Wyatt, Ben Folds, Nic Jones, Ewan McGregor and Nick Hornby. Released in 2007, The Bairns became one of the most successful Folk albums of the last 10 years, culminating in the richly deserved Mercury nomination a year later. This new album and line-up adds strings, horns and most arrestingly of all, drums and percussion for a much more developed, layered sound this time around. This is an album of depth and joy and the critics are already lining up to praise it. The support for this group amongst a hugely influential and hugely diverse number of artists, critics, journalists, and celebrities is immense and this album will once again garner incredible support from these fans. >

---
More Celtic/Brit Folk Albums -- Letter "V"
---



Main Celtic/Brit Index
Main World Music Index


---