<! MP3 01/05/11 > <! outside 00/00/00 > <! pix 00/00/00 > <! icons 01/05/11 > <! UPDATES: 00/00/00 - need Trevor Lucas? 12/24/14 - updated ASINs, added non-reviewed listings > <! Tim Laycock/Various Artists "The Year Clock" (Forest Tracks, xxxxxx) - This acclaimed double CD contains over two hours of archive and new recordings of Dorset dialect speakers reading the wonderful country poetry of William Barnes. Includes new settings by Tim and features accompaniments from New scorpion Band members. Tracks include Linden Lea, Wheat, The Geate a-vallen to, John Bloom in Lon'on, and The Leane. As featured on Desert Island Discs! NB These recordings include material previously released on Lydlinch Bells and Blackmwore by the Stour, which are both now deleted. Tim Laycock "Harvest Hwome" (xxxxxxxx, xxxxxx) - A sampler of the songs and music of Tim Laycock, including tracks from the Hambledon hopstep Band and the New Scorpion Band, and several newly recorded tracks including Linden Lea, Courting Round Dorset and The Bells of St Mary's. Tim Laycock "xxxxxxxxxxxxx" (xxxxxxxx, xxxxxx) Tim Laycock "xxxxxxxxxxxxx" (xxxxxxxx, xxxxxx) Tim Laycock "Giant At Cerne" (Dingle's, xxxxxx) (LP) B00J8JRA0M Tim Laycock "Sea Strands: Folk Songs And Tunes From Dorset" (Wild Goose, 2010) B003WLUMZC http://www.timlaycock.co.uk/ Lochan "Lochan" (Celtic Music, 1983) (LP) B00B4KFRSK - includes singer Gibb Todd, of the '60s band The Kerries Loudest Whisper "Children Of Lir" (xxxxxx, 1974) B000JJ3RC0 B004RIQQT0 Loudest Whisper "Magic Carpet" (xxxxxx, xxxxxx) B001KKQ8QY xxxxxxxxxxxxx Loudest Whisper "Hard Times" (xxxxxx, xxxxxx) xxxxxxxxxxxxx B004RIQLK4 Loudest Whisper "Blue... Is The Colour Of Time" (xxxxxx, xxxxxx) B00J379KNO B00JJIGCEC Loudest Whisper "2" (xxxxxx, 1973) B0000645GM Loudest Whisper "Our World" (xxxxxx, xxxxxx) B0029RQ8SU B002CEB97U Loudest Whisper "Loudest Whisper" (xxxxx, xxxxx) MP3- B005T390EK 1981(??) Loudest Whisper "Maiden Of Sorrow" (xxxxxx, 1975) B0000645GR Irish folk rockers best known for their 'Children of Lir' concept album. This live recording from 1975 continues in a similar vein and is a stage of another folk tale set to music complete with choirs etc. complex muisc for lovers of a rootsy electric folk rock sound with male and female vocals. Similar to Fairport, The Trees, Steeleye Span, Mellow Candle etc. (Freak Emporium) originally released in 1974 comes complete with six bonus tracks including demos, non album singles and more. The Loudest Whisper originated in rural Fermoy, Cork in the early '60s. and this album has gone on to become one of the rarest records ever issued in Ireland. The Children of Lir was a musical score, based around the mystical legend of the Irish King Lir, and his children who are condemned to live as swans. The History: The Loudest Whisper story begins in rural Fermoy, Co. Cork, in the early 60s, when a group of teenagers encountered the music of the Beatles, and decided to form a beat group, the Wizards. The band's initial line-up comprised Brian O'Reilly and Michael Clancey on guitars, John Aherne on bass and Jimmy Cotter on drums, with all four members sharing vocals. Bob Lillie & The Kelvin Band "Bob Lillie And The Kelvin Band" (Thistle, xxxxx) (LP) B00EDGCQ5Y - a six piece Scottish country dance band. Rare 1960s or early 1970s LP, released on the Glasgow based Thistle Records label. Mono LP release of Scottish country dance music LP played on accordion, piano, fiddle, bass and drums - on Glasgow based Thistle Records label Bob Lillie & The Kelvin Band "Sounds Of The Kelvin " (Beracah Music, 2011) B00CLC1XLA - MP3 The Laggan "I Am The Common Man" (Klub Records, 1978) B00008A7W8 - stirring Scottish folk songs with a socialist message, released in conjunction with the 1978 STUC (Scottish Trades Union Congress). Comes with 4 page lyric sheet. Musicians include: Arthur Johnstone - vocals; John McDermott - banjo, harmonica; Tony Paton - guitar, mandolin, harmonica, vocals; Billy Paton - fiddle, banjo, mandolin, guitar, bouzouki, vocals. 12 tracks including: The Work O' The Weavers; Railwayman; The Old Man's Song; The Band Played Waltzing Matilda; I Am The Common Man; A Man's a Man; Men O' The North; Rosa Luxembourg; Joe Hill; Jarama And Bandiera Rosa. The Lothian Airs "Our Blend" (Radio Edinburgh Records, 1981) (LP) B00ABZF2XY - Scottish folk music played on two accordions by Iain A. Horsburgh and Carol Farquhar. Scottish marches, reels, hornpipes, jigs etc. >
---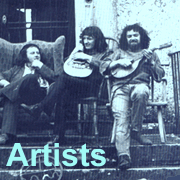 Trad & Folk
Artists and Albums
Hello! This page is part of an opinionated overview of Celtic and British folk music, with record reviews by me, Joe Sixpack... This is not meant to be taken as a "definitive" resource, but rather as a record of some of the music which has caught my interest. I am always looking for more good music to explore, so your comments and suggestions are welcome.
This is the first page covering the letter "L"
---
A | B | C | D | E | F | G | H | I | J | K | L | M | N | O | P | Q | R | S | T | U | V | W | X, Y & Z | Comps | Celtic Music Labels & Links | World Music Index
---

Robin Laing "The Water Of Life" (Greentrax, 2003)



This set of pepped-up trad tunes (with modern instruments added atop the old lyrics) is a little slick for my tastes, though the further into the album I got, the more accessible it became... An interesting, unusual modernization of the old Scottish folk sound, with arrangements that sound at times like late-'60s Dylan records, on other tracks a bit like Dougie Maclean.. By the way, all the songs are sung in honor of whiskey... Whiskey, dear whiskey. Not only that, but this is Laing's second album on the same theme... I bet he's fun to drink with.

Grey Larsen & Paddy League "Dark Of The Moon" (Sleepy Creek Music, 2003)


American-born Grey Larsen has written the book on Irish piping and tin whistle playing... literally. This fine all-instrumental album is a companion to Larsen's new instructional/historical tome, Essential Guide To Irish Flute And Tin Whistle, which may be one of the definitive works on the subject. By itself, however, the album is quite lovely and impressive, a beautiful set of flute and tin whistle tunes, with a grace and melodic depth to match other recent masterpieces such as Joannie Madden's solo work... A lovely and very listenable set... Highly recommended!

Grey Larsen & Cindy Kallet "Cross The Water" (Sleepy Creek, 2007)



A lovely Celtic-folk album from American fiddler/flautist Grey Larsen and Cindy Kallet, an endearing folksinger whose earnest, simple style has made her a favorite of mine since the late 1980s... Larsen provides the perfect musical backdrop throughout, at times in support of Kallet's sweet songs, as well as on several beautiful instrumental numbers. Likewise, Kallet bends herself into the contours of Celtic and British folk, and she has one of those voices that fits the style well -- she can sing with honey and lemon in her voice, or go low and get a little rumbling growl that adds to the air of authenticity and antiquity. The duo is in perfect synch, each adding to and building from the other's strengths; in addition to fine vocals, Kallet plays some gentle, Renbourne-esque guitar and pumps the harmonium on a tune or two. Kallet provides a half-dozen of her own original songs, which tend to draw on the contemporary folk tradition, earnest-hopeful optimism with a trace of spiritualism and a dash of politics in the mix. I'm drawn to this music for the trad elements, but the message of optimism is welcome as well. A fine record -- definitely worth checking out! (Available through their website: www.greylarsen.com )
Lazik "Far Fetched" (Self-released, 2011)


A pan-European acoustic folk band based in Cork, Ireland, with a strong interest in Balkan traditional music. Members come from Belgium, France, Germany Ireland, and the Netherlands but band together in the tight, twisting grooves of Eastern European folk music.
Life And Times "Strawplait And Bonelace" (Fellside, 1985) (LP)





<! English folk songs depicting Bedfordshire's history, customs and legends >


Lindisfarne - see artist profile




Lintie "Celtic And Contemporary Vocal Harmonies" (Self-Released, 2000)
A fine set of a capella vocals sung by this unassuming California-based duet. Kim Hughes and Crista Burch are both devotees of Scottish traditional song, and they've picked a fine selsection here, as well as a few more modern folk songs, such as Eric Bogle's widely recorded pacifist anthem, "The Band Played Waltzing Matilda," and Adam McNaughton's "Farewell To The Gold," previously heard on Nic Jones's Penguin Eggs album; nice version of "The Widow And The Devil," too! Nice voices and a real feel for the material... if you like Christine Primrose, June Tabor, Shirley Collins or Niamh Parsons, this album is certainly recommended!
The Love Hall Tryst "Songs Of Misfortune" (Appleseed, 2005)



An intriguing a capella collaboration between English pop-folk troubadour John Wesley Harding and alt-country chanteuses Kelly Hogan and Nora O'Connor (with Brian Lohmann rounding out the quartet, in the bass register), singing adaptations of old English traditional tunes that were featured -- get this -- in a novel written by Harding, under his given name, Wesley Stace. The results are pretty good, although not as arresting Harding's earlier tribute to folkie Nic Jones, Trad. Arr. Jones. (Note: if you like these kinds of old-world vocal songs, you might also want to check out albums by groups such as Shirley Collins, Young Tradition, The Watersons, and my particular favorites, the little-known Magpie Lane and the duo of Keith Kendrick & Lynne Heraud. All lovely stuff -- and this is a good jumping-off point to discover more!)


<! In a beguiling bit of cross-promotion, this motley madrigal quartet of ringers performs a largely a cappella selection of songs mentioned in Misfortune, the debut novel by Wesley Stace (better known in musical circles as John Wesley Harding). Supporting Harding's reedy tenor in the Love Hall Tryst are the bass voice of Brian Lohmann and the soaring duo of Kelly Hogan and Nora O'Connor, who adapt their interpretive styles to suit the musical source. Most of the material is traditional British folk balladry as adapted by Harding, though a lovely reading of Leonard Cohen's "Joan of Arc" is a highlight. The results fall somewhere between unplugged, unaccompanied Fairport Convention and the Elizabethan era's Mamas and the Papas. Confirming that the modern era has no monopoly on murder songs, the bloodlust and body count on Songs of Misfortune rival that on any gangsta rap CD. --Don McLeese Product Description Why are British expatriate singer-songwriter John Wesley Harding, U.S. country/jazz/folk solo artists Kelly Hogan and Nora O'Connor and actor-vocalist Brian Lohmann singing traditional British folk songs in a converted bank? In 1987, Wesley Stace, soon known as John Wesley Harding (a.k.a "Wes"), thought up the opening lines for a song about a foundling baby boy raised as a girl. Six years later the song was completed as "Miss Fortune" and frequently performed by Harding before and after its release on his 1998 CD, "Awake." But, says Harding, "When you sing a song for years onstage…you think about the song. The one thing I thought about that song is that I never ended it. What about that character?" Wes answered his own question by writing a huge 19th Century historical novel, "Misfortune," published under his original name in 2005 to acclaim in USA Today, Entertainment Weekly, and other publications. The book is studded with traditional British folk songs adapted by Harding, and some camouflaged original compositions. These songs "demanded to be sung in a very specific way," says Wes, so he convened The Love Hall Tryst, a mostly a cappella quartet comprising himself, friend and occasional collaborator Hogan, her favorite singing partner, O'Connor, and bass singer Lohmann. They used the Troy, NY, Savings Bank, a cavernous recording hall with incredible natural reverb. >
Trevor Lucas "Overlander" (Reality, 1966)
Cheerful Australian folk tunes, focussing on tramping about, shearing sheep and sailing away to live in a new, young land. Guitarist Lucas, perhaps best known for his work inside and outside the Fairport Convention alongside his wife, the late Sandy Denny, frequently dipped into his native Aussie folklore, as on this fine, understated album. Perhaps also of interest would be the similarly-slanted work of Antipodean poet Martyn Wyndham-Read. This album, recorded well before his folk-rock heyday with bands such as Eclection and Fotheringay, is certainly not for everyone, but might prove good for hoisting a pint or two, for those in the right frame of mind! (For more about Lucas, check out this fan site.)

Lunasa "Lunasa" (Compass, 1997)



An all-instrumental album featuring some of the new up-and-comers in Ireland's trad scene, including members of Sharon Shannon's band, and the Waterboys. Lunasa shed most of the severity of old-style jigs-and-reels, mixing in a sly melodic bounce without sacrificing their traditional cred. No synthesizers or sampling here, just a creative new approach to the classic Celtic style. This is their debut album (reissued in 2002 with some extra material), with live performances that reveal them as canny modernists, smoothing out the tinny blare of the jigs-and-reel sound, while avoiding the saccharine tendencies of many Celtic fusion bands. If, like myself, you're normally not that big on Celtic instrumentals, this might be an album you'd want to check out.
Lunasa "Otherworld" (Green Linnet, 1999)



Another nice instrumental album, this time with perhaps a bit more production gloss and a troublesome electric bass riff here and there... But overall, pretty nice!

Lunasa "The Merry Sisters Of Fate" (Green Linnet, 2001)



Another lovely all-instrumental album by these winsome Irish virtuosi. The piping, in particular, has a fluidity and expessiveness that's nice to hear... Notable for its propulsive (and deceptive) simplicity and catchy melodies... Recommended!

Lunasa "Redwood" (Green Linnet, 2003)



Yet another fine set of lighthearted Irish instrumentals by this skilled ensemble. Jigs and reels shorn of the stylistic severity that most Celtic players have held as a mark of authenticity, yet also thankfully free of goopy modern production. No synthesizers or misplaced electric instruments, just solid musicianship and a very listenable selection.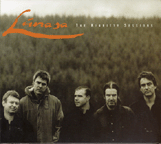 Lunasa "The Kinnitty Sessions" (Compass, 2004)



A wickedly dazzling live performance, recorded without overdubs or interruption in the halls of Kinnitty Castle, County Offally, Ireland. Not only does the old place have great acoustics -- these fellas have got major chops. Another great album.
Lunasa "La Nua" (Lunasa, 2010)

---
More Celtic/Brit Folk Albums -- Letter "M"
---



Main Celtic/Brit Index
Main World Music Index


---