<! MP3 01/31/09 > <! outside 00/00/00 > <! pix 00/00/00 > <! icons 01/05/11 > <! updates: 01/31/09 - finalize Eileen Ivers, Incredible String Band > <! Erik Ilott "Shipshape And Bristol Fashion Sea Songs" (Folks'Le Records, 1973) (LP) B00DVN2ZTW Privately pressed gatefold LP and 25-page booklet from Bristol based Shantyman Erik Ilott > <! The Irish Breakdown "Songs And Tunes From An Irish Folk Group" (xxxx, 197--?) - DC-area trad group, incldues several pro-IRA songs - Tommy Maken wrote the liner notes - Brian Coughlan(g), Neil Foley (fiddle, tin whistle), Brendan Sheridan (banjo, manodlin), Brad Hayford (bass) The Irish Breakdown "The Light of Other Days" (Wren Records, 1980) - third album The Irish Tradition "The Corner House" (Green Linnet, xxxxx) - with Mick Moloney, Brendan Mulville, et al > <! Iona "Iona" (1978) 01. The Sunny Banks, The Glass Of Beer (Reels) 02. The Flower Of Magherally 03. My Darling Asleep, The Regent, The Fair Haired Boy (Jigs) 04. Of All The Fish 05. Charlie Lennon's #1, Charlie Lennon's #2, The Beech Tree (Reels) 06. Finagle's Dream (Song), The Piper In The Meadows Straying (Set Dance) 07. The Jolly Joker, Out With The Boys (Jigs) 08. Geordie 09. To Limerick We Go (Slip Jig), The Barnacle Redowa 10. The Gravel Walks, The Aughdarra (Reels) 11. The Snow It Melts The Soonest, The Road To Lisdoonvarna, The Killavil Fancy 12. Here's A Health (Song), Mickey Sweeney's (Slip Jig) .................. I believe to see irish, wales and Far Oer sounds but i could wrong. Impossible to find info on the band. I see on book Tapestry of Delights and Marquee British Encyclopedia but nothing. Apparently there's another band called Iona from 1978 formed by Michael Storey and James Lascelles, produced by John Portor. But from only sure font on the net i understood this band is called Cuckoo and album title is "Iona". This one is on Silverscales K0013913. I report this from avoid anyone to fall in confusion. > <! Hamish Imlach "Before... And After" (Transatlantic, 1967) Hamish Imlach "Cod Liver Oil and Orange Juice: Anthology" (Transatlantic) "Sonny's Dream" (Lismor LIFL 7006, 1985) Hamish Imlach & Iain MacKintosh "Live In Hamburg" (MusiKiste 26-6-356, 1986) Hamish Imlach "Portrait" (MusiKiste, 1989) > <! IROLT was a legendary Dutch folk group that started in 1975. They performed in their own (Frisian) language, and were also popular on English folk festivals. The group disbanded in 1987. >
---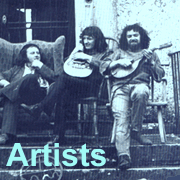 Trad & Folk
Artists and Albums
Hello! This page is part of an opinionated overview of Celtic and British folk music, with record reviews by me, Joe Sixpack... This is not meant to be taken as a "definitive" resource, but rather as a record of some of the music which has caught my interest. I am always looking for more good music to explore, so your comments and suggestions are welcome.
This is the first page covering the letter "I"
---
A | B | C | D | E | F | G | H | I | J | K | L | M | N | O | P | Q | R | S | T | U | V | W | X, Y & Z | Comps | Celtic Music Labels & Links | World Music Index
---

The Imagined Village "The Imagined Village" (Real World, 2008)



An interesting multi-culti collaboration featuring Martin Carthy, his daughter Eliza, punk-folk troubadour Billy Bragg, Sheila Chandra and others... A mix between craggy traditional English song and modern, trip-hoppy pop. Some of it is quite nice!

The Irish Rovers "The Very Best Of The Irish Rovers" (MCA, 1999)



This Irish-by-way-of-Canada quartet flew the banner of Irish music during the tail-end of the American '60s folk boom, hitting the bigtime with their hit novelty song, "The Unicorn," a Shel Silverstein tune that taps into the confluence of folkie-folk and children's music. Most of their other recordings had a novelty component, although there's a wide variety of subject matter and even of musical styles... This modest disc does a fine job encapsulating their 1966-71 stint on the Decca label, ranging from drinking tunes like "Liverpool Lou" to lite country rock like Gordon Lightfoot's "Did She Mention My Name," as well as a generous slathering of kiddie-folk, like Lucy (sister of Carly) Simon's arrangement of "Winken, Blinken' And Nod." There actually a few real surprises on here, particularly when they go outon a limb with the politically themed "The Orange And The Green," which is a rollicking lampoon of Ireland's deadly sectarian Protestant/Catholic violence. The Rovers were cutesy and twee, but also entertaining and effective, maybe not a trad-lover's true delight (then again, this was all pre-Planxty, so how "trad" could you really be?) but of the Mighty Wind -style folk groups, these fellows stand near the top of the pile.
The Irish Tradition "The Corner House" (Green Linnet, 1978)






<! Andy O'Brien's voice perfectly captures the feel of the lyrics, telling stories of love and hardship. Billy McComiskey is a master of the button accordion, also known for his more recent work with the group Trian. And Brendan Mulvihill is one of the best traditional Irish fiddlers. >

The Irish Tradition "The Times We've Had" (Green Linnet, 1985)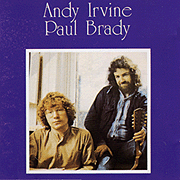 Andy Irvine & Paul Brady "Andy Irvine - Paul Brady" (Mulligan's Music, 1976)



An delightful, beautiful album, merging the talents of two of Ireland's best folk singers, each at the pinnacle of their power as traditionally-oriented performers. Both Brady and Irvine later turned to more pop-tinged material, here though, it's pure, glorious acoustic trad, played with an understated grace that you just can't help but love. In addition to the simple, elegant musicianship, each singer has a lovely voice, fragile yet authoritative in their own way. The classic track on here is the wry "Arthur McBride," a sarcastic19th-Century ballad gleefully celebrating the Irish resistance to British military recruitment, a tale of head-bashing and swordsmanship sung in as pretty and cheerful a fashion as imaginable... All the other songs on here are equally fine; this is the trad revival at its absolute best.


<! Arthur MP3 - B001AHAIDG >
Andy Irvine "Rainy Sundays... Windy Dreams" (Tara, 1980)


Irvine dips into contemporary folk, though keeping a traddish edge... Side One (of the original LP) has a traditional slant, but Side Two slides into jazz-inflected folk, and doesn't hold up particularly well. Irvine's vocal phrasings hit some clunky rhythmic twists, and his bouzouki playing, which can be so lovely and expressive in a Celtic context, seems awkward and tacked-on in the new style. He also dips his toes into Balkan music (a longtime fascination), including an English-language vocal tune with Lucienne Purcell singing the lead. Definitely worth checking out, although it has some rough patches. (The CD reissue substitutes one song, "Christmas Eve," with a new track, "Bonny Woodhall." Dunno why.)

Andy Irvine & Dick Gaughan "Parallel Lines" (Folk Freak/Green Linnet/Appleseed, 1982)



(Produced by Dick Gaughan & Andy Irvine)
A collaboration with Irish trad giant, Andy Irvine, of Planxty, and Scotland's ever-gruff, ever amazing Dick Gaughan. Much has been made of the historic crossover between the Irish and Scottish music camps signified by this album, though, in truth, it's a bit hard to see what the fuss is about. At this point Irvine's music is a bit soft, and while this album is perfectly fine, it's not the most engaging thing either of these two have done. Still, it's some mighty fine picking.
Andy Irvine "Rude Awakening" (Green Linnet, 1991)

Andy Irvine & Davy Spillane "East Wind" (Tara, 1992)

Andy Irvine "Rain On The Roof " (Green Linnet, 1996)





<! 1. Prince Among Men 2. Baneasa's Green Glade / Daichevo Horo 3. Rain on the Roof / The Blue Mountains of New South Wales 4. My Heart's Tonight in Ireland 5. Forgotten Hero 6. Pamela's Ruchenitsa / Gruncharsko Horo / Baker's Dozen 7. He Fades Away 8. Come With Me Over the Mountain / A Smile in the Dark 9. The Monument (Lest We Forget) 10. Take No Prisoners / Old Brunswick 11. Never Tire of the Road >

Andy Irvine "Way Out Yonder" (Appleseed, 2001)



A very serious, though not entirely dour, set of story-songs, many of a political bent. This is an album that requires a fair amount of active listening -- if you want to find out hat happens to the girl beset by brigands, or the labor organizers persecuted by the Powers That Be, then you're gonna have to sit through a dozen or so verses on some of these songs (which average about six minutes in length...) It's musically quite rich, with the gruff-voiced Irvine playing a bazillion instruments himself, and collaborator Rens Van Der Zalm playing about a bazillion more. Irvine's Balkan fixation comes up on a tune or two, but mostly this is a pretty straightforward Celtic-based set. Worth checking out.

Eileen Ivers "So Far: The Eileen Ivers Collection - 1979-1995" (Green Linnet, 1997)


A nice selection of tunes from Irish-American fiddle whiz Eileen Ivers' long and illustrious career, ranging from her humble start as a teenage whiz kid in the late 1970s (when she trained with Limerick-born fiddler Martin Mulvihill) up through her work with Cherish The Ladies and (groan) the Riverdance stage band. The early stuff is pretty nice, though the further into her career you go, the more crossover-y and dubious her sound becomes. Nice portrait of an artist's career growth, though!

Eileen Ivers "...And Immigrant Soul" (Koch/Musical Bridge, 2003)


Omigod... this is just so awful and so dreadfully tacky! A goopy world-beat, Celtic dork-folk blechfest. Ivers is fine fiddler, but the whole project is just so completely cringeworthy, from the gallumpfingly unsubtle rhythmic attack to the heinously yucky Bill Withers/Richie Havens wannabee vocals. (And don't get me wrong, I love Bill Withers... it's just that this dude, Tommy McDonnell, is a pretty poor substitute...) This is a terrible, terrible album. I protest!!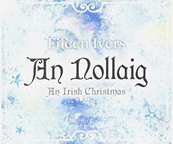 Eileen Ivers "An Nollaig: An Irish Christmas" (Compass, 2007)



A solid, if slick, holiday offering from this Celtic trad-fusion star. A veteran of Cherish The Ladies and the Riverdance troupe, Irish-American fiddler Eileen Ivers has been pushing the envelope for years now, but still has her roots intact... This album has plenty of chestnuts and standards -- "Hark The Herald Angels Sing," "Do You Hear What I Hear?," Vince Guaraldi's "Christmas Time Is Here," etc. -- and several tunes closer to the British/Celtic sensibilities, notably "The Wexford Carol" and the pagan-tinged "Holly Tree" (known to many trad fans through the early work of the Waterson family...) Christmas music tends, in general, to be a bit florid, and this disc is no exception, but for those who don't mind ornately-produced holiday fare, but are looking for a new twist or a slightly different flavor, this Irish-based excursion could be a real treat.


<! Eileen Ivers & John Whelan "Fresh Takes" (1993/1986?) B000005CN7 B000S9BABG * Eileen Ivers - Traditional Irish Music (Green Linnet, 1994) B000005CP5 B000S556AG * Wild Blue (Green Linnet, 1996) B000005CPZ B000S55692 * So Far (1979 - 1995) (1995) * Crossing the Bridge (Sony, 1999) B00000I0VX * Eileen Ivers and Immigrant Soul (2003) >


---
More Celtic/Brit Folk Albums -- Letter "J"
---



Main Celtic/Brit Index
Main World Music Index


---