<! MP3 01/10/09, 01/07/11 > <! outside 01/10/09 > <! pix 00/00/00 > <! icons 01/07/11 > <! updates: 01/10/09 01/07/11 - still need ASINs for all of Tommy Peoples, research Parrenin 12/05/14 - updated - added pages for Bob & Carolanne Pegg, The Pratts > <! http://time-has-told-me.blogspot.com/2009_09_01_archive.html Perlinpinpin Folk / Perlinpinpin Folc "Al Biule" French trad group > <! Pyewackett "The Man in the Moon Drinks Claret" (1982) > <! Clive Palmer -- he never fails to satisfy and surprise. A founding member of the Incredible String Band >
---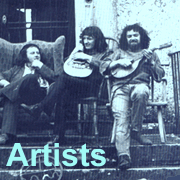 Trad & Folk
Artists and Albums
Hello! This page is part of an opinionated overview of Celtic and British folk music, with record reviews by me, Joe Sixpack... This is not meant to be taken as a "definitive" resource, but rather as a record of some of the music which has caught my interest. I am always looking for more good music to explore, so your comments and suggestions are welcome.
This is the first page covering the letter "P"
---
A | B | C | D | E | F | G | H | I | J | K | L | M | N | O | P | Q | R | S | T | U | V | W | X, Y & Z | Comps | Celtic Music Labels & Links | World Music Index
---

Parcel O' Rogues "Parcel O' Rogues" (Temple, 1999)



Early trad recordings from a teenage Scottish foursome that included fiddler John McCusker (later of Battlefield Band fame, along with various other projects) and Francis Macdonald, who went on to become the drummer for Teenage Fan Club...
Parchment "Light Up The Fire" (Pye/Grapevine, 1972)


(Produced by John Pantry)
Starry-eyed, pastoral UK folk-prog, with a Christian evangelical twist. Liverpudlian folkies Sue McClenan, John Pac and Keith Rycroft recorded for an Irish label in Belfast, but musically they are closer to English bands -- particularly Pentangle -- playing mystical folk songs acoustically in a contemporary rock-blues framework. The religious message is pretty blunt on a couple of tracks, more subtle on others. But this certainly seems like a band that would remain fairly obscure, even to fans of the '70s folk-rock scene. And those are just the folks who'd probably want to check this out, particularly fans of "folk freak" in the style of Tim Hardin, et. al.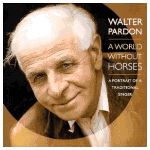 Walter Pardon "A World Without Horses" (Topic, 2000)



A collection of recordings made for the Topic label by Norfolk old-timer Walter Pardon, a real-deal traditional folk singer who was championed by the much younger Peter Bellamy, a hypertraditionalist singer who surely appreciated Pardon's no-frills a capella style (which he occasionally broke up with a light bit of accompaniment on the melodeon...) This is pretty barebones stuff, but with a sweetness to it that adds warmth to otherwise rather stark material. This is about as authentic as it gets!


<! A Norfolk folk singer, Walter Pardon was born in 1914 in the village of Knapton. He lived in the same house all his life and was even born in it, and worked as a carpenter. In the 1970Ős a tape of his was heard by Peter Bellamy, another singer, and Walter Pardon became known to the wider world. >
Walter Pardon "A Proper Sort" (Leader, 1974) (LP)


(Produced by Bill Leader)

Walter Pardon "Our Side Of The Baulk" (Leader, 1977)
(Produced by Bill Leader)

Walter Pardon "A Country Life" (Topic, 1982) (LP) <! Topic? >

Walter Pardon "Bright Golden Store: Songs And Music From Knapton In Norfolk" (Home Made Music, 1983)
(Produced by Mike Yates)

Walter Pardon "Put A Bit Of Powder On It, Father" (Musical Traditions, 2000)
(Produced by Mike Yates)
A 2-CD set, released posthumously after Pardon's passing in 1996... Includes Pardon accompanying himself on melodeon on some tracks.

Emmanuelle Parrenin "Maison Rose" (CBS/Ballon Noir, 1977)



(Produced by Bruno Menny & Emmanuelle Parrenin)
Beautiful, delicate French folk music, with a '70s folk-freak flavor. A classically trained harpist and vocalist, Ms. Parrenin -- who is sometimes referred to as the French Sandy Denny -- was in the thick of the Gallic folk revival, having performed in influential bands such as Gentiane and Melusine, which took old folk forms and interwove modern, sometimes brash musical ideas into the old sounds. Although she is joined her by some of her cohorts from those bands, this disc mostly features Parrenin performing on a variety of instruments - hurdy-gurdy, spinnet, dulcimer and percussion, with her ethereal vocals laced in among the gauzy, entrancing musical beds. There is a slight hint of sugary folkie twee in the more overt melodies, but overall this is a lovely, lulling album, the kind of record you can get a little lost in, and then, when it ends all-too suddenly, wonder where you'd been for the last half hour. It's very pretty, and very easy on the ears, and very much worth checking out.


<! B00005B6VF Emmanuelle Parrenin "Maison Rose" (1977) The musician : Emmanuelle Parrenin is a well-known female singer and musician from the french folk scene. After studying classical harp, she also learnt to play dulcimer, spinet, hurdy-gurdy, and participated to a lot of folk experiences (Melusine, Gentiane,É). "Maison rose" is her eighth album, initially released in 1977. From 1978 onwards, she has performed tours and shows in Europe, and contributed to numerous shows, choreographies, TV movies,ÉThe album: ItŐs a delicate and refined progressive folk, with elegant melodies. EmmanuelleŐs fragile, clear, sensitive, incredibly pure and beautiful voice soars above this subtle music. These dreamlike melodies, full of crystal clear dulcimer and spinet sounds, only can charm the listener. The sound engineerŐs work is also to mention, as he underlines the vocals and transforms many sounds. MagnificentÉ >

Niamh Parsons "Loosely Connected" (Greentrax/Green Linnet, 1992)



A powerful new voice on the Celtic trad scene, Arcady's vocalist Niamh (pronounced, "Neeve") Parsons emerges as a solo artist on this strong but uneven debut. Although she excels on several traditionally-oriented tunes, Parsons also indulges in some lamentable pop crossovers, following (in both instances) in the footsteps of foremothers such as June Tabor and Maddy Prior. This has some nice stuff on it, and reveals her as a surprisingly mature-sounding performer, with a gorgeous, multifaceted voice. Still, you're probably better off trying out one of her later albums -- they are more consistent and more tightly focused (and favorites of mine...!) Some of the rock stuff on here works (notably "Play A Merry Jig"), but some of the opening tunes stop just short of disaster, as do the leaden, Mary Black-ish slower ballads.
Niamh Parsons "Loosen Up" (Green Linnet, 1997)






<! her second album with the band, Loose Connections, which also features her husband, Dee >

Niamh Parsons "Blackbirds And Thrushes" (Green Linnet, 1999)



This was the Niamh Parsons album that really made me sit up and take notice. In this stately collection of traditional Irish tunes, Parsons fulfills the promise hinted at on her earlier solo album and her work with the band Arcady. This is easily one of the best Celtic albums of the last five years or so, with simple yet arresting arrangements, and absolutely gorgeous melodies. Parsons' voice draws well-deserved comparisons to June Tabor and Sandy Denny, not simply in terms of the purity of tone, but also in her ability to move and control her listeners. She is, quite simply, a fabulous singer. The material, too, is challenging, especially for know-it-all folkies who may be familiar with other versions of these fine songs -- "Sally Sits Weeping" is a second cousin to the well-known "My Johnny Was A Shoemaker" -- and the story-song, "The Maid On The Shore," will have modern listeners on the edge of their seats as a heroine is abducted by a band of lusty sailors intent on sharing her favors (which simply makes the wee lass laugh). How does it turn out? I ain't telling. You'll have to find out for yourself. But trust me, you can't go wrong with this record.

Niamh Parsons "In My Prime" (Green Linnet, 2000)



The title says it all -- in the span of a handful of years, Ms. Parsons has emerged as one of Ireland's most rewarding new traditionalists, with a voice that has become markedly earthy, stately, and resonant. Drawing on a variety of sources -- Scottish and English as well as Irish -- her new album is a further refinement of last year's majestic Blackbirds and Thrushes... Fans of June Tabor and Sandy Denny who have despaired of the Islands producing a comparable new diva may want to sit up and take notice of this lass... While a bit dour, Parsons has great emotional presence, and her choice of repertoire is flawless. If you haven't yet had the pleasure of her aquaintance, allow me to recommend this album as a start.

Niamh Parsons "Heart's Desire" (Green Linnet, 2002)



Bless this husky-voiced traditionalist Irish lassie... Most folks in her position would have gone overboard by now, capitalizing on their success as acoustic balladeers to dip into lavish pop crossover efforts, but instead Parsons heads in the opposite direction, stripping her music down even further and making it more pure. Although this album does have some sparse instrumentation, it feels almost entirely a capella, with each song peeled bare to its bare-boned roots. It might not help her top the charts in the US or the islands, but fans on either side of the ocean are sure to be pleased.
Niamh Parsons & Graham Dunne "The Old Simplicity" (Green Linnet, 2006)


Niamh Parsons & Graham Dunne "Live At Fylde" (Gramsham, 2007)



Patrick Street "Patrick Street" (Green Linnet, 1986)



The debut album from a latter-day Irish super-group, featuring singer Andy Irvine (of Planxty), fiddler Kevin Burke and accordionist Jackie Daly, along with guitarist Arty McGlynn and a changing cast of high-power collaborators. The repertoire shifts between solid instrumentals (jigs and reels, of course...), and songs that split evenly between traditional and contemporary material. For me, there's usually about a third of every Patrick Street album that moves me (the traditional songs, and the more melodic, soulful tunes...) And all things considered, that ain't a bad ratio! Anyway, this was certainly one of the most impressive and highly regarded of the first-tier Irish trad bands of the 1980s and '90s... Give 'em a whirl!

Patrick Street "No. 2 Patrick Street" (Green Linnet, 1988)



This may be my favorite of the Patrick Street records, a lively, robust set, with some powerful playing as well as gorgeous melodic ballads... Highly recommended!
Patrick Street "Irish Times" (Green Linnet, 1990)



Alas, this album veers a bit too far into the kind of contemporary stuff that's a little on the goopy romantic/spiritual side, as well as some rather leaden Irish Republican political material. Sometimes Patrick Street are a little too slick, but certainly never subpar -- any of their albums are well worth checking out.
Patrick Street "Corner Boys" (Green Linnet, 1995)


Patrick Street "All In Good Time" (Green Linnet, 1996)


Patrick Street "Made In Cork" (Green Linnet, 1997)


Patrick Street "Live From Patrick Street" (Green Linnet, 1999)



Patrick Street "Street Life" (Green Linnet, 2003)



Another rock-solid trad album, featuring Irvine, Burke, Daly, and guitarist Ged Foley. Includes plenty of fine, melodically pleasing instrumental reels and jigs, as well as several sweet vocal tunes. American old-timey music revivalist Bruce Molsky guests on "Down In Matewan," Irvine's tribute to the Depression-era American miner's union movement, recalling the martyrs of the Ludlow massacre, and the widespread animosity towards the reviled Pinkerton detective agency. This album is another gem, and a welcome indication that all involved plan to keep Patrick Street a haven for untainted traditional Celtic music. Recommended!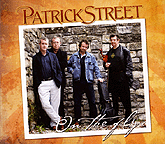 Patrick Street "On The Fly" (Loftus, 2007)



Another solid outing from this all-star Irish trad band. Kevin Burke, John Carty, Ged Foley and Andy Irvine simply soar on their instrumental numbers, while Irvine treats us to several of his patented brand of odd, arch historical ballads. The prize song here is "Sergeant Small," a bitter number from Australia about a migrant worker who is arrested for riding the rails, and his burning hatred for the policeman who brought him in -- strongly reminiscent of all those songs Irvine sings about nasty, black-hearted military men. He sings another couple of tunes of equal calibre, while Foley growls his way through "The Galway Shawl..." As I mentioned, the instrumental work is superb, some of the finest, liveliest, most soulful Celtic tunes you'll hear any time this year. If you like good, solid, reeal-deal Celtic trad, this record was made for you. (Available through the label, Loftus Music )
Patrick Street "Compendium: The Best Of Patrick Street" (Green Linnet, 2001)


Bob & Carolanne Pegg - see artist profile
The Peelers "Banished Misfortune" (Polydor, 1972) (LP)





<! Early '70's hippie UK folk trio who released this album in 1972. Very much in the "tradition" of the genre the group perform assorted tunes new and old using acoustric instruments such as dulcimer, banjo, Tin Whistle, guitar and concertina. Excellent period folkie artwork as well. Enchanting! (Freak Emporium) ................... A timeless collection of songs with a haunting feel created by a plethora of instrumentation including mandolin, dulcimer, concertina, harmonium , etc >


Pentangle - see artist profile



Tommy Peoples "An Exciting Session With One Of Ireland's Leading Traditional Fiddlers" (1976)


Tommy Peoples & Paul Brady "The High Part Of The Road" (Shanachie, 1976)



As fine a set of fiddle and guitar tunes as you're ever likely to find. Brady is pretty much in the background on this one, but that's just fine... Just listen to that fiddle dance and saw away! Recommended.
Tommy Peoples "A Traditional Experience With Tommy Peoples -- A Master Irish Traditional Fiddle Player" (1976)

Tommy Peoples/Paul Brady/Matt Molloy "Molloy Brady Peoples" (Mulligan's Music, 1977)


Tommy Peoples "The Iron Man" (1985)


Tommy Peoples "Fiddler's Fancy" (1986)



<! subtitled: "...Fifty Irish Fiddle Tunes Collected and Performed by the Irish Fiddle Legend" >
Tommy Peoples "Traditional Irish Music Played On The Fiddle" (1993)



<! (released in 1993, but recorded in 1982) >
Tommy Peoples "An Gleann Ciuin (The Quiet Glen)" (1998)


Tommy Peoples "Waiting For A Call" (Shanachie, 2003)



Another fine, fine instrumental album by this Irish master fiddler. When you're playing at the level Peoples is at, the need to push yourself and to find unusual new material -- or fresh takes on familiar tunes -- must be immense. On this new set, Peoples lives up to all our expectations... and then some! Odd, angular melodies, broken, unhurried rhythms, and keening, slight dissonances that create intricate new keys of their own are the hallmarks of his rugged yet eloquent, soulful style. Tune after tune will draw you in and richly reward close listening... I've never been a big fan of the endless jigs and reels of Celtic trad, but this album is a delight, full of surprising approaches to seemingly familiar music. No studio trickery or crossover touches either -- these tunes are played with the sparsest of instrumentation, either solo, or with a bit of guitar, but People's playing is ornate enough to match any hotshot trad band you can think of... An impressive performance... highly recommended!


<! http://en.wikipedia.org/wiki/Tommy_Peoples >


Planxty - see artist profile




The Pogues "Rum, Sodomy & The Lash" (WEA/Stiff Records, 1985)



(Produced by Elvis Costello)
I have a slightly uncomfortable relationship with the Pogues... Many, many years ago, when I first started DJ-ing on a certain freeform noncommercial radio station, it used to irritate me to no end that every, single, frikkin' time I would play a set of Celtic or British trad, that some listener would call up to request the Pogues. It's not that I didn't like the Pogues (although, other than this landmark album, I don't find them that interesting...), it was just that it seemed to cliched and obvious, and so sad that the sound of a tin whistle had such a strongly Pavlovian reaction for so many college radio listeners. Also the stereotype of the drunken Irish party animal, while doubtless of great use to many a fan in their formative years, got a little old after a while. The Irish=Pogues phenomenon seems to have died down, now, though -- I guess it's been a long time since the '80s, and not so many folks remember these raspy, unruly, folking punkers. Led by Shane McGowan, who had the gnarliest set of messed-up dental work anyone in America had ever seen on a pop star, the Pogues fused punk and trad in a dynamic style that few people could have anticipated, or equalled. Produced by the ever-fab Elvis Costello, this is their best, best known album, and also their most traditionally oriented. It includes a version of Eric Bogle's "The Band Played Waltzing Matilda," and Ewan Maccoll's "Dirty Old Town," along with several other old-style songs. The album is well produced, tightly focussed, and quite effective. Heck, I even went out and bought a copy, eventually, around 1998... Seemed like it was about time.


<! 130 x 130 >

Karine Polwart "Faultlines" (Neon, 2005)



I haven't heard this solo album (yet), but I really dig Karine Polwart's work with both the Battlefield Band and her old group, Malinky... So I look forward to tracking this disc down someday and checking them out, too. She's got a great voice!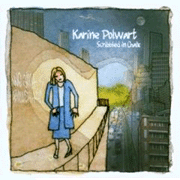 Karine Polwart "Scribbled In Chalk" (Spit & Polish, 2006)


Polwart's second solo album, accompanied by two bonus-laden EP's, Daisy and I'm Gonna Do It All, listed below... This is a beautiful modern folk record, with singer Karine Polwart leaping into the 21st Century in a lushly melodic folk-pop set that prompts favorable comparisons to artists such as Mary Black, Loreena McKennitt, Linda Thompson and Kate Rusby. The songs are introspective, inspirational, self-affirmatory and uniformly quite lovely, with captivating melodic hooks that wrap around one of the warmest and inviting voices in the contemporary British/Celtic folk scene. Although the stylistic shift takes her miles away from the trad material that many fans revere, it's a sure bet most fans will be happy with the change... This is a very listenable, lulling album -- definitely recommended!
Karine Polwart "Daisy" (EP) (Spit & Polish, 2006)


Karine Polwart "I'm Gonna Do It All" (EP) (Spit & Polish, 2006)

Karine Polwart "This Earthly Spell " (Hegri, 2008)



Karine Polwart "Fairest Floo'er" (Hegri Music, 2008)



After forays into pop-oriented songwriting, Scottish singer Karine Polwart dips back into traditional song wellspring, with a healthy dose of Robert Burns and fine examples of the Child Ballads catalog, such as the sombre "The Death Of Queen Jane." Polwart's voice is as fine as ever -- she's taking on more of that stately, "grand dame" tone that seems inevitable in the best female trad singers -- and the arrangements are simple and elegant, just her and guitar, for the most part, with a bit of piano one several songs. The album has a nice, light touch, and is the first release on her own independent label. If you liked her work with Malinky or the Battlefield Band, you'll want to check this album out as well.

The Poozies "Infinite Blue" (Pure/Compass, 1998)



An all-gal powerhouse ensemble of young Celtic trad artists, including harpists Mary McMaster and Patsy Seddon (of Sileas), Scottish vocalist Kate Rusby and accordeon whiz Karen Tweed. This is a wildly popular album; it helps if you like your trad sweetened with harps and fanciful melodic twists. Modernized, but not synthetic, this offers a nice middleground for purists and New Agers to meet.
The Poozies "Changed Days, Same Roots" (Greentrax, 2004)


The Poozies "Come Raise Your Head (A Retrospective)" (Compass, 2000)


Graham and Eileen Pratt - see artist profile
Christine Primrose & Alison Kinnaird "The Quiet Tradition" (Temple, 1990)



Christine Primrose "Aite Mo Ghaoil (Place Of My Heart)" (Temple, 1982)



An excellent set of Gaelic songs, softer traditional material made with the help of the Battlefield Band's Robin Morton. Primrose, a native of the Scottish Hebrides, has a lovely voice and, as the liner notes point out, her style of reflective balladry was quite out of fashion at the time this album was originally released. One of my favorite albums in the Temple catalog... recommended! (Note: the 1993 CD reissue has a couple of extra tracks...)

Christine Primrose " 'S Tu Nam Chuimhne (...And You On My Mind)" (Temple, 1995)



In this fine set of songs, vocalist Primrose pairs up with numerous collaborators -- dueting with a different instrument on each song. A fiddle on one, a harp, a trumpet, keyboards or pipes on others... Although a few modern touches intrude on a tune or two, most tracks are quite nice, and her traditionalist sensibilities predominate. Also, her passion: this is a heartfelt and frequently arresting album, with a singer bearing her talent at its rawest... Worth checking out!
Christine Primrose "Gun Sireadh, Gun Larraidh (Without Seeking, Without Asking)" (Temple, 2001)


Maddy Prior - see artist profile, and Steeleye Span
---
More Celtic/Brit Folk Albums -- Letter "Q"
---



Main Celtic/Brit Index
Main World Music Index


---