<! MP3 01/29/09, 01/05/11 > <! outside 00/00/00 > <! pix 01/05/11 > <! icons 12/02/10, 01/05/11 > <! updates: 01/29/09 > <! Rita Gallagher "May Morning Dew" One of the finest singers in Ireland today with a wide range of songs both rare and well-known including some from her native Donegal. The first of the two CDs, 'May Morning Dew' contains new recordings while the second CD is a re-issue Rita's acclaimed 1997 cassette 'Easter Snow'. A must for anyone with an interest in Irish traditional singing. > <! Gwendal "Gwendal" (Pathe, 1984) Recordings originally from the early 1970s by highly regarded French Celtic folk group. GIGYMEN - S/T 1974 UK FOLK ROCK & FOLK POP REMASTERED 180g GUERSSEN SEALED LP Gigymen "Gigymen" (Guerssen Records, 1974) - reissued on Guerssen - Originally issued as a private pressing of 100 copies in 1974. This edition issued in 2012. Pressed on 180g vinyl and 24-bit remastered from the original master tapes. Includes insert with rare pictures and linernotes. MUSICIANS: John Porter, Alan Harvey, Andy Thurston, Paul Marsh, and Alex Cooper. TRACKS: As I Roved Out, gone Are The Days, Plain Jane, Gypsy Laddie, Rocky Road To Dublin, Brother Herbert, Crumbledown, and DonŐt Let Her Go. DESCRIPTION: The first ever reissue of this lost treasure, originally an obscure private pressing of just 100 copies. Gigymen were a college circuit band from Cambridge who in 1974 recorded their only album at Spaceward Studios. Stunning folk-rock / folk-pop with pro-recorded sound, superb musicianship and strong songwriting. With influences ranging from Fairport Convention to The Beatles, here you'll find some superb folk-rock adaptations of traditional songs such like As I Roved Out, Gypsy Laddie, and Rocky Road To Dublin along with fab folk-pop with Beatlesque vocals on tracks like Plain Jane or Gone Are The Days. Mari Griffith "Welsh Folk" (Rediffusion, 1973) - UK mainstream > <! Bridie Gallagher "At Home" (Talisman, 1962) Bridie Gallagher "The Girl From Donegal" (Deltona, 1971) - Irish folk music from Bridie Gallagher, known as The Girl From Donegal. With accompaniment directed by Stan Butcher JAMES GRIFFETT & TIMOTHY WALKER "Bushes And Briars" (Hyperion, xxxxx) - guitar music(?) The Gaugers - Scottish revivalists The Gunns "Songs From Ireland" (Delyse Records, 1958) - The Gunn Family, the singing family of Dublin, with Hugh Gunn on guitar. 18 tracks including: On the One Road; Follow Me Down to Carlow; Duna; Clans of Ireland; Famine Song; The Minstrel Boy; Greensleeves; Shadrac; Whack Fol de Diddle; The Ould Orange Flute; The Irish Rover; a Shir a Bhata (Irawhata); Kentucky Babe; Notai; Pride of Petravore; Molly Brannigan; All in the April Evening; and Step Together. > <! Barry Gleeson "Path Across The Ocean" (Terra Nova, 2002) B000007Z5W With Kevin Conneff of the Chieftains Barry Gleeson "I Heard A Bird At Dawn" (Claddagh, 2005) B000AMCZ4C > <! Michael Gorman "The Sligo Champion: A Musical Biography by Reg Hall" (Topic, 2001) B00005QK7T B000R02ZW4 After playing fiddle in rural Sligo with the likes of Michael Coleman before he emigrated to America, Gorman became a mainstay of the vibrant London Irish scene. 2-CD set. SEVERAL OTHER ALBUMS - WORKED W/ MARGARET BARRY > <! Vin Garbutt "Tossin' A Wobbler" (Topic, 1978) B0037BBGU2 - MP3 Born at South Bank on 20th November, 1947 and educated at St. Peter's School. At theage of fourteen, he began to play the guitar and a.year later, on leaving school, Vin became an apprentice turner at I.C.I. Wilton. By the age of sixteen, he was making regular appearances at folk clubs and soon started to write his own songs, the first one being directed against his foreman at I.C.I. With singing appearances taking up an increasing amount of time he soon gave up his job and made a six month tour to Spain, Gibraltar and North Africa playing in bars and clubs. On his return to England Vin Garbutt made the decision to take up a professional career and toured all the major folk festivals. A string of bookings ensured regular appearances throughout this country and overseas and allied to his talents as a singer and guitarist, is his tremendous skill as a whistle player. Vin's unique style is captured on the L.P.'s that have been produced over the last few years: "Valley of the Tees", "The Young Tin Whistle Pest" recorded live, ÓKing Gooden ", "Eston California", "Tossin a Wobbler" and "Little Innocents", Many of his songs are based on local folklore and legends including "The Hermit of Eskdaleside" and others are linked with the legend of Roseberry Topping and the story behind Beggar's Bridge at Glaisdale. > <! Marc Gunn Tom Gilfellon "In The Middle Of The Tune" (1976) with Martin Carthy, Johnny Handle and Liz and Stefan Sobell Anne Lorne Gillies "O Mo Dhuthaich (Oh My Land)" (1997) > <! Green Man "What Ails Thee?" (1975) The label introduces this album : "Songs and a large selection of jigs and reels. Like many great relationships, Greenman grew out of several chance meetings in and around the Bedfordshire Folk scene in the summer of 1972. The band was born at a local pub, "The Gate", at Swan Bottom. Female vocals, fiddle, sax, mandolin and electric bass. Features ex-members of Druid- who would go on to become Melody Maker winners in the 1974 Rock Finals." > <! Mick Greenwood "Living Dream" (Columbia, 1971) w/ Tony Cox Mick Greenwood "...To Friends" (1972) long story online at: http://time-has-told-me.blogspot.com/2007_10_01_archive.html > <! Mac Gayden "McGavock Gayden" (EMI, 1973) rock? >
---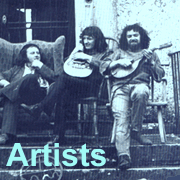 Trad & Folk
Artists and Albums
Hello! This page is part of an opinionated overview of Celtic and British folk music, with record reviews by me, Joe Sixpack... This is not meant to be taken as a "definitive" resource, but rather as a record of some of the music which has caught my interest. I am always looking for more good music to explore, so your comments and suggestions are welcome.
This is the first page covering the letter "G"
---
A | B | C | D | E | F | G | H | I | J | K | L | M | N | O | P | Q | R | S | T | U | V | W | X, Y & Z | Comps | Celtic Music Labels & Links | World Music Index
---
Gallery "The Wind That Shakes The Barley" (Midas/Guerssen, 1972/2014)



A reissue of an obscure (but rewarding) English folk album, with a basically traditional orientation, colored by some artsy tendencies. The band, featuring lead singers Barbara and Royce Seabourne, largely eschewed the pop/rock experimentations of the Fairport and Steeleye crowds, preferring a more stripped-down, acoustic sound... A strong set of old songs such as "Seven Gypsies," "Dowie Dens Of Yarrow" and "The Wind That Shakes The Barley," along with some less well-known songs.


<! vocals of Barbara and Royce Seabourne - similar to Mike and Mandy Morton of Spriguns Of Tolgus who formed in the same year of this release Seven Gypsies False Bridge Queen Of Hearts Gilderoy/Staten Island Harvest Home Let No Man Steal Your Thyme Dowie Dens Of Yarrow The Wind That Shakes The Barley Broomfield Wager Chaconne The Baron Of Brackley Icy Acres Band Members: Dulcimer Đ Barbara Seabourne Fiddle Đ Mark Uttley Guitar Đ Alan Morrison, Barbara Seabourne Mandolin Đ Mark Uttley Vocals Đ Barbara Seabourne, Royce Seabourne >


Dick Gaughan - see artist profile




General Humbert "General Humbert" (Dolphin, 1975) (LP)


An early album featuring Irish singer Mary Black...
General Humbert "II" (Gael-Linn, 1978/Shanachie, 1983) (LP)





<! General Humbert have been together since 1976. On this, their second album, they display their command of a wide range of musical styles -- Irish, Breton and English. Mary Black's fine singing complements the fresh and original instrumental arrangements to present a satisfying and interesting album >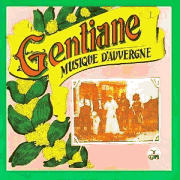 Gentiane "Musique D'Auvergne" (Cesame/Music & Words, 1979?)



A landmark, early-1970s French folk album that featured rugged acoustic versions of traditional music of the Auvergne, played on the original instruments. The rough patches were definitely left in -- or rather, reinserted -- giving this set a distinctive, challenging feel. Indeed, this can be pretty taxing to all but the most devoted traditionalists... But it's notable for the reintroduction of rural instruments such as the bagpipe and hurdy-gurdy into the French (and European) folk scene, laying the foundations for bands such as Milladoiro, et al, who pursued this style even further. Mostly it's an instrumental album, with a couple of songs featuring vocalist Emmanuelle Parrenin -- otherwise, lots of raspy, active fiddling and squeaky bagpipes, all played with a tremendously high energy level. Apparently this was the only album by this group; members went on to other groups such as La Bamboche and Melusine, a few of whose albums are also out on CD. Ms. Parrenin recorded several albums of her own, and in collaboration with others.


<! In the early 70s, Jean Blanchard, Bernard Blanc, Emmanuelle Parrenin, Gerard Lavigne and Denis Gasser founded the group Gentiane. This supergroup only released one album, but it had an unprecedented influence on the European folk music scene. Almost every tune on the album became standard repertoire for bagpipe, hurdy-gurdy and melodeon players and they could be heard on many sessions. The musicians later turned up in bands like La Bamboche, Melusine, and Confrerie des Fous. Now this great album has now been rereleased in the Folk Classics series on FrŽa Records. > <! B00005B6VF Emmanuelle Parrenin "Maison Rose" (1977) The musician : Emmanuelle Parrenin is a well-known female singer and musician from the french folk scene. After studying classical harp, she also learnt to play dulcimer, spinet, hurdy-gurdy, and participated to a lot of folk experiences (Melusine, Gentiane,É). "Maison rose" is her eighth album, initially released in 1977. From 1978 onwards, she has performed tours and shows in Europe, and contributed to numerous shows, choreographies, TV movies,ÉThe album: ItŐs a delicate and refined progressive folk, with elegant melodies. EmmanuelleŐs fragile, clear, sensitive, incredibly pure and beautiful voice soars above this subtle music. These dreamlike melodies, full of crystal clear dulcimer and spinet sounds, only can charm the listener. The sound engineerŐs work is also to mention, as he underlines the vocals and transforms many sounds. MagnificentÉ >

Genticorum "Le Galarneau" (Ozone Music, 2002)





<! label? >

Genticorum "Malins Plaisirs" (2005)

Genticorum "La Bibournoise" (Mad River Records, 2008)



Genticorum "Nagez Rameurs" (Mad River Records, 2011)



(Produced by Pascal Gemme & Olivier Demers)
An outstanding set of soulful French Canadian folk music, presented by a trio of young men who may well represent the future of this style in the same way that bands such as Planxty and the Chieftains led the Celtic folk revival of the 1960s and '70s. Led by fiddler Pascal Gemme, Genticorum excels at vocal harmonies with a haunting, somber, droning feel; fans of Gallic trad artists such as Gabriel Yacoub, Malicorne, Kornog and Pierre Bensusan will definitely want to check these guys out. There are several vigorous instrumental romps -- reels, mostly -- but as with European trad, I tend to focus more on the vocal numbers, all of which were excellent. Now that I'm hip to these guys, I'm going to make a point of tracking down their earlier albums.
Tom Gilfellon "Loving Mad Tom... And Other Unlikely Stories" (Leader/Trailer, 1972) (LP)
(Produced by Seamus Ewens)
English trad, as we like it. Newcastle's Tom Gilfellon appeared on a few compilation records, including a later stint as a guitarist, though here he picks and sings, both quite nicely. The opening track, "Mad Tom Of Bedlam," is an homage to one of the great mythic figures of British folklore, Mad Tom, the embodiment of craziness, dementia and wild abandon; other songs are of a more demure nature, trad standards such as "The Cruel Mother" and "The Outlandish Knight," as well as more modern fare, such as the Incredible String Band's "October Song." A very pleasant, understated set that's worth hunting for... Recommended!

Give Way "Full Steam Ahead" (Greentrax, 2003)



Somewhat perfunctory rock-flavored Celtic instrumentals by an all-gal Scottish band. I wasn't blown away by this; it sounds like an okay pub-band that got into a studio and cleaned up their sound. That's about it... nothing too distinctive, but it's pleasant nonetheless.
Give Way "Inspired" (Greentrax, 2005)



Golden Bough "Celtic Love Songs" (ARC Music, 2009)



(Produced by Paul Espinoza & Golden Bough)
Somewhat syrupy renditions of sentimental old ballads... I like the songs, actually -- a nice repertoire! -- although the performances from this long-lived California-based trio are a little cloying, if truth be told. Good musicianship, though, and great old tunes, not all of which are, strictly speaking, romantic love songs. Despite his last name, the group's male singer, Paul Espinoza, has a lovely, lilt-y, brogue-y voice, in the classic Irish style. The female vocals, from Margie Butler and Kathy Sierra (often singing in harmony) are a bit too trilling and precious (despite occasional glimmers of a more rugged, Maddy Prior-like keening). Overall this is a fine album, and listeners with a higher tolerance than I for sugary-sounding folk music will find a lot to enjoy here.

Dave Goulder & Liz Dyer "January Man" (Argo, 1970) (LP)


(Produced by Frederick Woods & Kevin Daly)
Long out of print, this is one of those old albums I picked up cheap years ago, and (foolishly!) donated to my public radio station. It's a nice folkie album, though not a dazzler. Dyer's voice is too "folk" in the American sense of the word -- a bit too Judy Collins-y for me, but okay. Goulder, though, is appropriately gruff, and his version of the title track is quite nice, as are a few other tunes on the album. Worth checking out if you can track a copy down.
Dave Goulder "Stones, Streams & Starlings" (Outer Green, 1995)


I have absolutely no idea what this sounds like, or when it was recorded... But I am intrigued!

Grada "Endeavor" (Compass, 2002)



Grada "The Landing Step" (Compass, 2004)



An absolutely gorgeous album, with bright, striking vocals by Anne Marie O'Malley, and sprightly, solid playing by the rest of the band. These folks are really top flight -- making some lovely-sounding modern trad-folk, and writing new material that fits right in with the tradition. Highly recommended!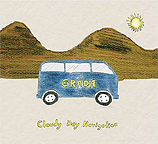 Grada "Cloudy Day Navigation" (Compass, 2007)



One of the preeminent new bands on the Celtic trad scene, here Grada throws their lot in almost entirely with the contemporary singer-songwriter camp of the trad-folk scene. Other than a few of the instrumental tracks, there are no traditional tunes on here at all(!) although the trad musical elements -- acoustic instruments, including fiddle, uilleann pipes, tin whistles and bodhran drum -- are certainly at the core of their sound. Singer Nicola Joyce handles most of the vocals, although the album closes with a male vocal on "Steerer John Begg," which is a standout track. I didn't find myself drawn in by most of these songs, but I'm sure many listeners will, particularly those eager for the Celtic trad scene to move in new directions. The musicianship is quite high, and the wealth of original material is impressive. The album also comes with an accompanying DVD disc that captures the band in 2006, playing a half dozen songs live at the Temple Bar, in Dublin.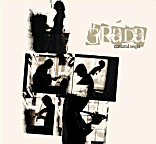 Grada "Natural Angle" (Compass, 2010)



(Produced by Tim O'Brien)
Although there's a strong traditional component, this album drifts into twee, crossover-y territory that I personally am not that into. It's not that they've gone overboard into some sort of New Age-y fusionfest, but they do sweeten things ever so slightly enough that some of the haunting qualities I like about Irish trad seem to get lost. Nicola Joyce is still the main singer, and for some reason I found her less appealing here than on their previous release. Still, there are some interesting song selections, and a subtle crossover with Celtic music and the the Appalachian/American repertoire, including versions of gothic old ballads such as "The Butcher Boy," "Pretty Polly" and "Louis Collins," which is credited to Mississippi John Hurt... All in all, an okay album, though it didn't really ring my bells.





Davy Graham - see artist profile


<! * Chaste Muses, Bards and Sages in 1971, with Joe Holmes, Free Reed Records, FRR007 * After Dawning, in 1978 with Joe Holmes, Topic, 1979; Ossian 1993 * Wind and Water, Topic, 1977 (solo) * Do Me Justice, 1983, Claddagh Records CC37CD (Buy from Chivalry Music) * Ye Lovers All, 1986, Claddagh Records, CC41CD (Buy from Chivalry Music) * Skylark: 4 albums - Skylark (1987), Claddagh - All of It (1989), Claddagh CC49CD, 1993 Green Linnet - Light and Shade (1992), Claddagh, CC57CD - Raining Bicycles (1996), Claddagh * ItŐs Of My Rambles, 1993, Northern Ireland Arts Council ACNI 003 (Part of Len's large collection of field recordings, published as book and tapes) * When I was Young (with P‡draig'n N' Uallach‡in and Garry O Briain), 1996 Shanachie 78019 (Buy from Chivalry Music) * For the Sake of Old Decency (with Cathal McConnell), 1993 Sage Arts Records SA22012 (Buy from Chivalry Music) * Ebb and Flow (w/ John Campbell) * Two For The Road (w/ John Campbell) >

Len Graham & Joe Holmes "Chaste Muses, Bards And Sages" (Free Reed, 1971)



<! 01/11: reissued on CD, but no ASIN yet >

Len Graham "Wind And Water" (Topic, 1977)





Len Graham & Joe Holmes "After Dawning" (Topic, 1979)





Len Graham "Do Me Justice" (Claddagh, 1983)

Len Graham "Ye Lovers All" (Claddagh, 1986)

Len Graham "It's Of My Rambles" (Northern Ireland Arts Council, 1993)

Len Graham & Cathal McConnell "For The Sake Of Old Decency" (Sage Arts, 1993)


Len Graham/Garry O Briain/Padraigin Ni Uallachain "When I Was Young: Children's Songs From Ireland" (Shanachie, 1998)



A lovely and delightful album, featuring pretty, lavishly melodic versions of over two dozen obscure Irish children's songs. Graham's old-man voice is always a delight, while for her part Ni Uallachain fills these songs out with a classic Celtic sonorousness. The material is pleasantly unfamiliar, playful and engaging, while the arrangements are richly fleshed out and satisfying. Nice disc -- highly recommended, especially as the title might lead some Celtic music fans to pass it by.
Len Graham & John Campbell "Ebb And Flow"

Len Graham & John Campbell "Two For The Road"


Great Big Sea "Great Big Sea" (Zoe/Rounder, 1993/2004)



These Canadian fellas offer an earnest, bouncy mix of upbeat, slightly dorky, soft rock and Celtic-by-way-of-Newfoundland trad, sort of like the Pogues but without all the drunkeness and 'tude And, hey, it's not bad! There's sort of a relentless, Muppetlike cheerfulness about their debut record which can wear down even the most snappish and grumpy of traditionalists. And it you're looking for some bright, lightweight pop, this could be a big winner for you. Worth giving a spin.
Great Big Sea "Up" (WEA, 1995)


Great Big Sea "Play" (WEA, 1997)


Great Big Sea "Rant And Roar" (WEA-Rhino, 1998)

Great Big Sea "Turn" (WEA-Rhino, 1999)


Great Big Sea "Road Rage" (Rounder, 2000)






<! live album >

Great Big Sea "Sea Of No Cares" (Rounder-Zoe, 2002)

Great Big Sea "Something Beautiful" (Rounder-Zoe, 2004)






<! 2004 cd-dvd >

Great Big Sea "The Hard And The Easy" (Rounder, 2005)



These mellow Canadian rockers score a grand slam (or the hockey equivalent...) with this fun set of traditional tunes from their seafaring home of Newfoundland. Easing up on their jam band tendencies, Great Big Sea live up to their name with a lively, earnest album of sea shanties and sailing songs... Ahhrrrr!! It's a fishin' life, up North! GBS give a rollicking, whole-hearted performance; fans of the good, old, yo-ho-ho gusto of the Irish Rovers should get a kick out of this fun, funky record. It's definitely worth checking out for the music alone, although the companion DVD is even more charming, capturing the trio in a series of informal jam sessions as they rehearse the songs and cheerfully explain where they learned each tune, also discussing the importance of music and DIY folksinging to the cozy Newfoundland social life. It's totally charming and will win over all but the stoniest of hearts. Nice album art, too!
Great Big Sea "Courage & Patience & Grit: Great Big Sea In Concert" (Rounder-Zoe, 2006)

Great Big Sea "Fortune's Favour" (Great Big Sea, 2008)


The Green Fields Of America "Live In Concert" (Green Linnet, 1989)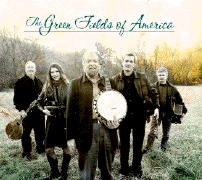 The Green Fields Of America "The Green Fields Of America" (Compass, 2009)



(Produced by John Doyle & Mick Moloney)
Moreso, perhaps, than many other folk musicians, Irish-born multi-instrumentalist Mick Moloney is a true scholar of Celtic music, and in particular of songs that document and reflect the long Irish diaspora to America. He has recorded several albums exploring the subject, and he moonlights as a college professor specializing in Irish-American ethnomusicology. In the late 1970s, he founded Green Fields Of America, which is both an academic/folkloric foundation and an amorphous musical ensemble in which various musicians are invited to join Moloney either in concert or, when we're really lucky, to record an album. This self-titled outing is another dazzling record, mixing high-energy instrumentals with great songs, soulfully sung, about immigration and emigration to the new world. Joining Moloney for this set are guitarists John Doyle and Robbie McConnell, as well as fiddler Athena Tergis and accordionist Billy McComiskey, forming a compact band that creates a big, joyful sound.

Marc Gunn & The Dubliners Tabby Cats "Whiskers In The Jar" (Mage Records, 2008)



Well, this is downright silly...!! Austin, Texas autoharpist Marc Gunn is also the town's biggest cat lover, and he is making a whole musical career out of crafting feline-oriented parodies of classic Celtic songs. This CD is the second in what may prove to be a long line of warm, fuzzy, purr-inducing albums, (starting with the now-legendary Irish Drinking Songs for Cat Lovers). Gunn's approach is more along the lines of those old Makem Brothers & Clancy albums, somewhat stripped down and with robust, jovial vocals. In addition to the surprising song selection (a puddy-tat parody of "Arthur McBride"! Now you're talking my language.) one of Gunn's great strengths is his intimate, couch-level understanding of the felid brain: I think my favorite songs on here are "Kitty At The Door" and "Danny Boy" which deal with the timeless scourge of cute little kitties who can't decide whether they want inside or out, and won't stop piteously meowing, either way. If, perchance you happen to know a cat lover or two who also like Celtic folk tunes, this disc could be the purrfect present. (For more info, check out: www.marcgunn.com )
---
More Celtic/Brit Folk Albums -- Letter "H"
---



Main Celtic/Brit Index
Main World Music Index


---