<! MP3 01/27/09, 01/05/11 > <! outside 00/00/00 > <! pix 00/00/00 > <! icons 01/05/11 > <! updates: 01/27/09 - Seamus Ennis could still use a little straightening out... > <! Derek & Dorothy Elliott "Derek & Dorothy Elliott" (Trailer, 1972) * Great tradfolk w/Dave Burland guitar & Nic Jones on fiddle. > <! Jim Eldon - played with Watersons in the '70s - from Hull - Jim Eldon "Fiddle And Song" (xxxxxxxxx, xxxxxxx) Jim Eldon "The Brid Fiddler" (Stick, xxxxxxx) Jim Eldon "Home From Sea" (Stick, xxxxxxx) > <! Dave Ellis is an influential English folk guitarist, singer and composer whose music is extremely difficult to categorise, due to its unique diversity and combination of styles. His early instrumental influences include guitarist Bert Jansch. Ellis' first vinyl album called "Album" (1973) won strong critical praise and is regarded as a classic, but the opportunity presented by acclaimed national TV and radio appearances (on such now-legendary TV shows as The Old Grey Whistle Test) was inexplicably never seized by his record company, at a time when the solo acoustic guitarist/singer-songwriter needed all the promotion they could get, no matter how good the material or performances. As result of the lack of promotional follow-up at that time, Ellis's guitar prowess has remained one of the best kept secrets of the guitar fraternity, influencing such successful artists as Mark Knopfler. >
---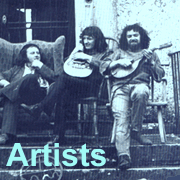 Trad & Folk
Artists and Albums
Hello! This page is part of an opinionated overview of Celtic and British folk music, with record reviews by me, Joe Sixpack... This is not meant to be taken as a "definitive" resource, but rather as a record of some of the music which has caught my interest. I am always looking for more good music to explore, so your comments and suggestions are welcome.
This is the first page covering the letter "E"
---
A | B | C | D | E | F | G | H | I | J | K | L | M | N | O | P | Q | R | S | T | U | V | W | X, Y & Z | Comps | Celtic Music Labels & Links | World Music Index
---
Seamus Egan "A Week In January" (Shanachie, 1990)


Seamus Egan "Traditional Music Of Ireland" (Shanachie, 1994)


Seamus Egan "The Brothers McMullen" (Soundtrack) (Fox Searchlight, 1995)


Seamus Egan "When Juniper Sleeps" (Shanachie, 1996)



A super-mellow mix of modern folk and Irish trad, which flirts with the slushier sounds of "New Age" easy listening. Egan is a talented young multi-instrumentalist, whose work with the band Solas and on the soundtrack to The Brothers McMullen gained him great notoriety before this album came out. The subtle inversions of trad, jazz and pop are skillful and clever, but I still find this disc a wee too goopy for my tastes.
Seamus Egan "In Your Ear" (Aniar, 1998)


Seamus Egan "Flute Tutorial" (Mad For Trad, 2000)

Emmet Spiceland "The First..." (1968)





<! The Emmet Spiceland was a band formed when brothers Brian and Michael Byrne of The Spiceland Folk Group joined forces with Donal Lunny, Brian Bolger and Mick Moloney's Emmet Folk Group around 1968. The Emmet Spiceland hold a special place in Irish music history as the first of their kind, bringing what was, at the time, a modern sound, to the previously stiff and conservative national airwaves. They were known for beautiful harmonies, pin-up good looks, mod dress sense and previously unheard of contemporary arrangements of Irish classics. The band enjoyed screaming Beatlemania-style scenes at public appearances after a number of chart successes, with the single "Mary From Dungloe" hitting number one. The single was taken from their album, 'The First' featuring songs by Shay Healy and Christy Moore, with orchestral arrangements by Phil Coulter. Christy Moore praised the band in a documentary of his life, accompanied by footage of a performance at the All Ireland final at Croke Park in Dublin. > <! In the mid-1960s, Donal Lunny, Brian Bolger, and Mick Maloney formed The Emmet Folk Group. The name Emmet-Spiceland came about when Mick Maloney left the band to join The Johnstons and Brian and Donal teamed up with Michael and Brian Byrne from Sheffield's Spiceland Folk shortly before winning the Wexford Ballad contest in 1967. (In the previous year the Emmet Folk had come second to The Johnstons). For a while the group was a quartet. The Byrnes' father, Tommy, was a Feis Ceoil winner three years running in the Thirties. However, Brian Bolger left the band within a short time and they continued as a trio. The Wexford success led to a recording deal and in February of 1968 their Mary from Dungloe topped the Irish singles chart. Noted for their tight harmony arrangements, the band went on to success with their recordings of Baidin Feidhlimuid (1967) and T‡ na B‡id. In 1969, Leo O'Kelly, who had been playing with the Tropical Showband from the age of 14 through 19, joined the band, replacing Donal Lunny who had reportedly "given up music to concentrate on his art." The trio did several tours over the next year, but their final tour (of the United States) featured Donal back in the band after Michael decided not to make the trip. They broke up after the tour with Leo going on to form Tir na Nog in 1970. Meanwhile, Donal focused on making jewelry for a time until he was ask by Christy Moore to play on the landmark album, Prosperous. The musicians who played on the album would go on to form the legendary Planxty, at which point Donal gave up jewelry making for good. >

Seamus Ennis "The Bonny Bunch Of Roses" (Tradition, 1959)


Lively a capella and solo instrumental numbers, played on uillean pipes and tin whistle; nice stuff, if a bit raw by modern standards. The pipering definitely has that spooky, spectral quality that makes so much of this stuff so good. Certainly worth checking out!
Seamus Ennis "Ceol, Scealta Agus Amhrain" (Gael Linn, 1961)






<! reissued 2008 >

Seamus Ennis "Forty Years Of Irish Piping" (Green Linnet, 1973)


Seamus Ennis "Irish Pipe And Tin Whistle Songs" (Legacy, 1976)


An American edition of The Bonny Bunch of Roses; not the same as the 1994 various artists collection listed below.
Seamus Ennis "The Wandering Minstrel" (Green Linnet, 1977)



Seamus Ennis "The Best Of Irish Piping" (Tara, 1995)


Admittedly, the keening wail of the uilleann pipes is not for everyone... For those disinclined, the noise can be downright irritating. That being said, the style simply doesn't get better than this, and part of the reason is that, far from trying to hide the difficult aspects of Irish piping, Seamus Ennis practically revels in it. This 2-CD selection is drawn from two albums Ennis recorded for the Tara label, The Pure Drop (from 1973) and The Fox Chase, (1978) and the set starts out with a real bang. On the second tune of the second disc, a medley of "The Blossoming Meadows/Kitty's Rambles," Ennis twists the tones beyond all reasonable limits, grinding the notes into odd, misshapen, primordial forms. Hardly content merely to learn and regurgitate the old songs, Ennis is a true musician, one who needs to play with and improvise around old themes. His work is playful, challenging and decidely experimental, unlistenable for some, yet a wellspring of creative depths for others... It's probably best taken in small doses, perhaps in a mix with other styles, but it's got an emotional and artistic resonance that's quite compelling, and is definitely worth checking out. For pipng fans, this is a must-hear record.
Seamus Ennis/Various Artists "Irish Pipe And Tinwhistle Songs" (Legacy, 1994)



Also with tracks by the Dubliners and Tommy Makem.
Seamus Ennis "The Return From Fingal" (RTE, 1997)

Seamus Ennis "Two Centuries Of Celtic Music" (Legacy, 2001)






<! * The Bonny Bunch of Roses (1959) * Forty Years of Irish Piping (1974) * The Pure Drop (1974) * The Fox Chase (1974) * The Best of Irish Piping (1974) (this is The Pure Drop plus The Fox Chase) * Irish Pipe and Tin Whistle Songs (1976)(USA release of "The Bonny Bunch of Roses) (Not identical to anthology of same name of 1994) * Feidlim Toon Ri's Castle (1977) * The Ace and Deuce of Piping * The Wandering Minstrel (1977) * The Return from Fingal (1997) * Two Centuries of Celtic Music (2001) * Sˇamus Ennis - Ceol, Scealta agus Amhr‡in (2006, remastered from recording first issued in 1961) >

Etchingham Steam Band "Etchingham Steam Band" (Fledg'ling, 1974/1995)



An Albion Band spin-off with singing sisters Shirley and Dolly Collins in on the fun. Although this album was recorded in 1974, it was not released until '95.
---
More Celtic/Brit Folk Albums - Letter "F"
---



Main Celtic/Brit Index
Main World Music Index


---