<! MP3 01/09/09, 01/03/11 > <! outside 00/00/00 > <! pix 01/03/11 > <! icons 01/03/11 > <! UPDATES: 00/00/00 - need to expand Gabriel Yacoub, Yetties > <! York Waits "Fortune My Foe" (Beautiful Jo, 2005) - Renaissance music Peter Yeates & Nick Voreas "Peter Yeates & Nick Voreas" (Duo, 1976) - private pressing >
---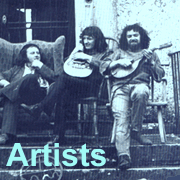 Trad & Folk
Artists and Albums
Hello! This page is part of an opinionated overview of Celtic and British folk music, with record reviews by me, Joe Sixpack... This is not meant to be taken as a "definitive" resource, but rather as a record of some of the music which has caught my interest. I am always looking for more good music to explore, so your comments and suggestions are welcome.
This page covers the letters "X", "Y" and "Z". Got any suggestions for X or Z?
---
A | B | C | D | E | F | G | H | I | J | K | L | M | N | O | P | Q | R | S | T | U | V | W | X, Y & Z | Comps | Celtic Music Labels & Links | World Music Index
---

Gabriel & Marie Yacoub "Pierre De Grenoble" (1973)



A starkly traddish set of old French folk tunes, performed by Gabriel Yacoub, the former lead singer of the French folk ensemble Malicorne, and several of his like-minded pals. This record is relatively grating, compared to the early Malicorne albums, or Yacoub's later work, but though most tracks feature prominent bagpipes, clompy Gallic reels and super-nasal vocal choruses, there are also a few sublime moments, sure to turn the ears of any world music devotee. The drony electric guitar-sitar combination on the title track, for example, is a song that I just can't wait to play on the radio! A raspy French record, but definitely one to track down. (Re-released on Yacoub's own label, at http://www.gabrielyacoub.com.)


<! had been in Alan Stivell's band >

Gabriel Yacoub "Trad. Arr." (Green Linnet, 1978)


A beautiful set of traditional French folk ballads, by the former lead singer of the French folk ensemble Malicorne, with help by trad folkies such as Barry Dransfield and Jean Blanchard. Yacoub later went on to become more of a new age-y space-out guitar whiz, ala William Ackerman, but his early stuff -- like this album -- was very nice and very much in keeping with the Celtic revival of the '70s. I really love this record; it's also worth it to check out the albums made with his band, Malicorne, earlier in the decade.
Gabriel Yacoub "Les Choses Les Plus Simples (The Simple Things We Said)" (Prime CD, 2001)



A stripped-down, mature, seemingly sedate album, with a heavy folkie base... At first blush, this acoustic outing may not appear as adventurous as earlier Yacoub records, but he gathers steam as the album goes along, and as ever, sounds quite lovely. Includes a few songs sung in English, and they ain't bad, either. If you're looking for something mellow, this is pretty nice.


<! Gabriel Yacoub "trad.arr" (1978) Gabriel Yacoub "Elementary Level Of Faith" (Allegria, 1986) B000025IEF Gabriel Yacoub "Bel" (Allegria, 1990) B000025TZD Gabriel Yacoub "Quatre" (Allegria, 1994) B000025L4V Gabriel Yacoub "Babel" (1997) B000023XER Gabriel Yacoub "Tri" (compilation) (1999) B00002DFJK Gabriel Yacoub "Yacoub" (Celluloid, 2001) B00005YJUM Gabriel Yacoub "The Simple Things We Said" (2002) Gabriel Yacoub "In Concert" Gabriel Yacoub "Je Vois Venir" (2004) B0002YJWEY B002Y5DHRC Gabriel Yacoub "De La Nature Des Choses" (Le Roseau, 2008) B0015SRM7U B001KPLCR4 >

The Yetties "Fifty Stone Of Loveliness" (Acorn, 1969)





The Yetties "Keep A-Runnin, It's The Yetties" (Argo, 1970)
An early album from this good-natured group from the town of Yetminster, in Dorset, England. Jaunty singalong tunes tailormade for old-fashioned pubs and the rhythmic swinging of pint glasses - some drinking songs, some ballads, a few country-dance instrumentals and a slow, mopey tears-in-your-beer tunes (such as the boozy Stephen Foster-ish "Take Your Time," which is an album highlight...) At first blush these fellas seem a bit too watered-down and Irish Rovers-y, but they'll grow on you. Lots of interesting songs in their repertoire, and once you get past the restrained production style, there's a lot to recommend here. f you can track down these older records, they're pretty fun!


<! One of England's longest enduring folk groups, the Yetties -- Bonny Sartin, Pete Shulter, and Mac McCulloch -- all originally hailed from the village of Yetminster, near Sherborne, in Dorset; hence their name. West Country natives, the threesome (originally a quartet with Bob Common, who left in 1979) steeped their music and stage banter in the songs, tales, and humor of their home. The trio turned professional in 1967, and made its first appearance on record the following year, with the release of Festival at Towersea on the Zeus label, which featured two tracks by the group, "The Leaf" and "The Thrashin' Machine." They cut their first LP, Fifty Stone of Loveliness, in 1969, for the Acorn label. They released two LPs in 1970, Who's A-fear'd: Songs and Music from Dorset and Keep A'Runnin' -- It's the Yetties! on Acorn and Argo, respectively (the latter a classical imprint of English Decca). They remained on Argo for seven more albums, through 1975, including Dorset Is Beautiful, which included one of their best-known interpretations of a folk song, "The Nutting Girl"; the album's title track also became their first single, in 1974. They remained on Decca until the end of the 1970s, when the label was sold and folded into the Polygram organization, periodically recording with guest artist Toni Arthur -- their final Decca LP was a live album. They've also had a long-running BBC radio show, called Cider and Song. The group has performed on four continents, and served not only as musical ambassadors for England but also played a key role in keeping various musical traditions alive -- among numerous other recordings, they've assembled books and recorded albums of folk music collected by the Dorset author Thomas Hardy and his family, and also recorded those songs on instruments belonging to Hardy and members of his family. They remain active in the 21st century, now one of the longest continuing folk music outfits in England. ~ Bruce Eder, All Music Guide >

The Yetties "Dorset Is Beautiful" (Argo, 1972)





The Yetties "Up Market" (Decca-UK, 1977)


Somewhat overripe, popped-up British folk from this Dorset-based band, with relatively traditional material backed by yo-ho-ho-ish singalong choruses reminiscent of the Irish Rovers. This album features orchestrations by the Alan Cohen orchestra, which are, I suppose, creative in some ways, but mostly pretty goofy. Uber-traditionalist Toni Arthur makes a comedic cameo on the music hall-styled "Come Outside," which closes the album. Nothing special though; you can skip this one.
The Yetties "A West Country Pub Party" (2005?)


The Yetties "Live With The Yetties" (2008)





<! The Yetties "Dorset Style" (Decca, 1978) The Yetties "The World Of The Yetties" (Argo, 1975) The Yetties "A Proper Job" (ASV, 1981) The Yetties "xxxxxxxxxxxxxxxxxxxxx" (xxxxxxxxxx, xxxxxxx) > <! Ygdrassil - Norwegian folk band >

Yorkshire Relish "Yorkshire Relish" (Traditional Sound Recordings, 1976)
Picking up where earlier bands such as Mr. Fox and the Watersons left off, this Yorkshire-based trio reveled in the craggy, untameable Northern English folk tunes of Leeds, York and environs. It's an acquired taste, sure, but great stuff if you love it! This is their first album -- accordionist Chris Parkinson joined the group afterwards, before going on to become a founding member of the House Band, and singers Derek and Dorothy Elliott had an earlier album out on the Trailer label in '72 that is of an equally high calibre... Not a lot of data about this group out there, but if anyone would like to volunteer some information (What other records did they put out? When?) I'm all ears!

The Young Tradition "The Young Tradition" (Transatlantic, 1966)


The Young Tradition "So Cheerfully Round" (Transatlantic, 1967)


Emerging on the London folk scene in the mid-'60s, Royston Wood, Heather Wood and Peter Bellamy set the pace for like-minded traditonalists and folklorists. Although they were not a tremendous success financially (disbanding in 1969, after years struggling on the folk club circuit), the trio had a tremendous influence on many of their musical contemporaries. Their keening, compelling, growling, craggy a capella harmonies would be echoed in the work of bands such as Dolly and Shirley Collins, Steeleye Span and the Yorkshire family ensemble, The Watersons. This CD pairs up the Young Tradition's first two albums, both remarkable and potent examples of the new group's considerable artistic presence. Love ballads, hunting songs, sea shanties and dirges, all with compelling lyrics delivered with gusto and conviction. The trio perfectly captures the old-world view and odd, antiquated style -- one can only imagine the impression they made on audiences in the clubs of the time! This is a beautiful and much welcome reissue; check this disc out and continue your explorations from here.
The Young Tradition "Chicken On A Raft" (Transatlantic, 1968)



A delightful, but all-too-short set of rollicking sea shanties. The title track is a real hoot. (Reissued on CD along with the 1969 album, Galleries and Heather and Royston Wood's 1977 album, No Relation -- both reviewed below.)

The Young Tradition "Galleries" (Transatlantic, 1969)



The final Young Tradition album -- not counting the Adieu To Old England album, which went unreleased until 1995 -- this is an interesting mix of influences, although still very much in the distinctive YT style. Several high-powered British folkies chip in on this album, including fiddler Dave Swarbrick, Ian Campbell, Sandy Denny (just barely), and Dolly Collins, who brought in her pals from David Munrow's Early Music Consort to help add instrumental oompf to several of the album's medieval-oriented tunes. This is the most experimental, or at least adventurous, of the YT albums, and even includes an odd tune combining ye olde vocal style with some of Bellamy's blues slide guitar, in sort of a warped, latter-day version of British skiffle. Apparently it was the Wood's growing interest in medieval and Renaissance music that led Bellamy to make a break with the group -- he preferred more modern material. Some folks have called this album a folk music Sgt. Pepper, although I think that comparison was mostly due to the Beatles album having just come out -- this is hardly as sweeping or as striking a release -- but it certainly is a noteworthy swansong for such an intriguing trio. This album has been reissued on CD along with the Heather and Royston Wood's 1977 album, No Relation, and the earlier Chicken On A Raft EP, which are both quite wonderful.

The Young Tradition with Shirley & Dolly Collins "Adieu To Old England" (Fledgling, 1969/1995)



A great set of Christmastime and wintery ditties, originally recorded in 1969. There's a nice stylistic variation, from the craggy-voiced growls of the late Peter Bellamy to some of the sweetest harmonizations the Collins sisters ever did. There's a cool variant version of "The Holly Bears A Crown," and several other semi-pagan spirituality tunes, some of it stark, some of it melodic. But this is one of the most accessible Collins-related albums I've had the pleasure to hear... Highly recommended!
---
More Celtic/Brit Folk Albums -- Compilation Albums
---



Main Celtic/Brit Index
Main World Music Index


---