v

<! MP3 01/10/09, 01/04/11 > <! update 01/10/09 > <! outside 00/00/00 > <! links 00/00/00 > <! pix 01/22/09 - still some strays > <! icons 01/04/11 >

---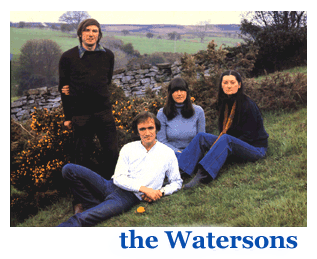 One of the great vocal groups out of the English folk revival, The Watersons employed stark melodic scales along with craggy polyphonic harmonies, and outstanding folkloric song selection. Mike, Lal and Norma Waterson hailed from Yorkshire, and were originally joined by their cousin John Harrison, performing as an a capella quartet. The group's career spans from the early 1960s to the present day, where they are joined by fellow traditionalist, Martin Carthy, who married Norma Waterson in 1972. Lal Waterson, sadly, passed away in 1998, and the Watersons have since transformed into the Waterson:Carthy ensemble, which includes Norma and Martin's daughter, Eliza Carthy, a contemporary folk phenomenon in her own right... Over the years the Watersons expanded their sound beyond its original all-vocals roots, yet always retained the defining, almost-harsh starkness which lay at the heart of their music. There are few things as arresting as hearing the Watersons going at it full tilt... Here's a quick look at their music.
---
Discography
---
Various Artists "NEW VOICES - AN ALBUM OF FIRST RECORDINGS" (Topic, 1965)


Here is the recording debut of this remarkable family ensemble... It comes from a sampler of early recordings from the British Isles folk revival. Five songs by the Watersons share space with fellow folkies Harry Boardman and Maureen Craik... Several of these songs have been reissued as part of the recent CD release, Early Days (listed below).

The Watersons "Fire And Frost" (Topic, 1965)



The group's first full album is a real doozie... A concept album which tracks through the calendar year, using various seasonally-oriented folk songs as its guideposts. Includes "pace-egging" songs... an old style which was sort of a musical form of trick-or-treating, where singers would go door to door asking for food or drink in exchange for a song or two. Besides the fascinating material, the Waterson's spooky polyphonous vocals were never more powerful. My personal favorite on here is the pagan faith-meets-Christian lyrics of "The Holly Bears A Berry." HIGHLY RECOMMENDED.
The Watersons "The Watersons" (Topic, 1966)

The Watersons "A Yorkshire Garland" (Topic, 1966) (LP)


A collection of songs from their native Yorkshire. This is one of their loveliest records -- the melodic aspects are strong, and the songs themselves are very captivating, tending more towards telling tales than setting moods. More accessible in many ways than some of their other albums.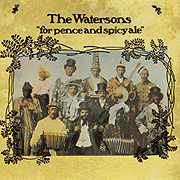 The Watersons "For Pence And Spicey Ale" (Topic/Shanachie, 1975)



One of their best-known (and most readily available) albums, this was the first album recorded after the band regrouped in the early 1970s, with guitarist Martin Carthy joining the family trio as their new fourth member. It's a wonderful record from start to finish, wherein their usual cragginess is somewhat tempered by Martin Carthy's slightly more upbeat melodic sensibilities. It features one of my favorite Watersons recordings, "The Country Life," an uptempo song with the irresistible refrain: "I like to rise/when the sun she rises/early in the morning/ and I like to hear them small birds singing... and to ramble in the new-mown hay." The rest of the album follows suit: this one is a gem.

The Watersons "Sound, Sound Your Instruments Of Joy" (Topic, 1977)



A revival of the pre-Victorian English hymnal tradition (which had been displaced in church services by organ music), this is about as nice as old-world gospel music can get. The routes to which the group reveals these melodies are often circuitous and challenging -- but uniformly quite lovely. There's also a mix of emotional tones here, from the occasionally funereal to the almost-bouncy, including "Heavenly Aeroplane," a song of an obviously more modern vintage than these mostly 19th-Century ditties. With Martin Carthy.

The Watersons "Green Fields" (Topic, 1981)



With Martin Carthy adding a robust vocal tone, the family turn in one of their strongest -- and most accessible -- albums. Many of these songs are positively playful in comparison to some of their more dour repertoire. Not as bouncy as the For Pence And Spicy Ale album, recorded a few years earlier, but in a similar vein. Recommended! (Note: the 1998 CD reissue includes extra tracks, drawn from some of the solo albums listed above.)

The Watersons "A Yorkshire Christmas" (Witchwood Media, 2005)


The final recordings of the full, original Watersons ensemble, recorded live in 1980 during a holiday celebration at Crathorne Hall in North Yorkshire... Also included some spoken pieces from other participants at the event.
---
Best Ofs
---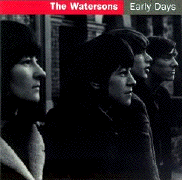 The Watersons "Early Days" (Topic, 1994)



This CD collects over two dozen tracks, taken from two early albums, as well as several unreleased and non-LP tracks. Stunning, of course. A great introduction to the band's classic recordings.
The Watersons "The Definitive Collection" (Topic, 2003)

The Watersons "Mighty River Of Song" (Topic, 2005)


An impressive 5-CD set, with four discs worth of music covering the breadth of the family's work, including various permutations listed above, and an additional disc of video material, featuring a 1960's vintage documentary called Travelling for a Living that chronicles the Watersons' early career. Pretty cool!
---
Solo Records & Side Projects
---

Lal and Mike Waterson "Bright Phoebus" (Trailer, 1972)
I can't pretend to know the ins and outs of the history of the Trailer/Leader label, or the curious motivations of its current owners. (Although more than a few Slipcue readers have written to try and explain it to me...) At any rate, the curators of Bill Leader's old catalog have sat idly atop one of the most significant troves of 1960s and '70s British folk recordings, leaving dozens of highly-prized albums out of print, despite the howling pleas of fans desirous that these old gems be reissued for the digital age. Among the treasures are the early albums of Nic Jones and this odd gem from the Waterson clan, an utterly kooky, clompy, experimental outing that saw them leaping far away from the severe traditionalism of their earlier albums into something akin to the folk-rock scene that had come up in their wake. Joining Mike and Lal are folk-fusion luminaries such as Maddy Prior and Tim Hart of Steeleye Span, guitarist Richard Thompson, and others in the orbit of Fairport Convention, as well as traditionalist Martin Carthy, who was to marry into the Waterson family. The album opens with the giddily daft "Rubber Band," a strong signal that this was not to be your "usual" Watersons album. The full ensemble joins them on several other songs, but other tracks have the rough-hewn, challenging timbre of Lal's keening voice, although with modern, somewhat challenging lyrics of her and Mike's own composition. As mentioned above, the album has remained out of print for decades... sort of. Along with a handful of other albums, the Trailer label has reissued this album, but (get this) only on CD-R format, rather than a proper CD. They don't mention this in the packaging (or explain why the inferior technology), and the full-on import price tag is a bit irksome, to say the least. That being said, the sound quality is fine and this is an amazing, unusual album. Fans who track it down will be pleased with the music, if not with the product. Recently, a tribute album came out on the Topic label, honoring this now rather-rare, out of print album (see "Related Records," below...) I was nonplussed by that disc, but when I finally was able to get a copy of the original, I was much more impressed.

Mike Waterson "Mike Waterson" (Topic, 1977)



Mike Waterson's only solo album. A much livelier and more humorous album than the Lal & Norma album above... His voice is ever-so-craggy, yet able to convey the wonderful nuances needed to make these old songs work for a modern-day audience. As compelling as any of the albums in the Watersons catalog -- a real delight for fans of this kind of music. The recent CD reissue also includes a couple of tracks fromt the Yorkshire Garland album. Highly recommended!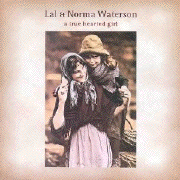 Lal & Norma Waterson "A True Hearted Girl" (Topic, 1977)



Along with their cousin, Maria Waterson, the gals of the group go off and release an impressive album -- predictably traditionalist, at turns both stark and sublime. As ever, the lyrics are fascinating, and the harmonies first-rate. It's interesting to hear them perform without Mike (he was off making his own album at the time)... you have to be in the right mood, but this album certainly pays off. The CD reissue includes a couple of bonus tracks drawn from the album, and a 1998 session of the Waterdaughters band.
Lal Waterson & Oliver Knight "Once In A Blue Moon" (Topic, 1996)



Lal Waterson and her son, Oliver, team up for an album of contemporary folk. What is about these Brits that there are so many great parent-child collaborations?

Lal Waterson & Oliver Knight "Bed Of Roses" (Topic, 1996)



A very serious set of well-written contemporary folk songs, recorded with sympathetic accompaniment by Waterson's son, guitarist Oliver Knight. All but two of the lushly arranged songs were co-written by Waterson and Knight; her rendition of Ewan MacColl's "" is the most traditional-sounding track on the disc, while "Lullaby," which closes out the album, is Knight's quiet tribute to Lal. The mournful air of the album is underscored by the passing of Lal Waterson; this album was apparently released posthumously, and is dedicated to her artistic spirit. If you like the more weighty end of the folkie spectrum, this is a very good album.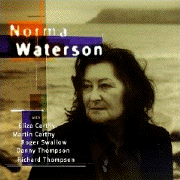 Norma Waterson "Norma Waterson" (Ryko/Hannibal, 1996)



A striking album, which decisively departs from the starkness of earlier works, achieving an almost torch-song like sensibility. Waterson's voice is bouyed by sensitive guitarwork from Martin Carthy (of course) and some nice violining by daughter Eliza. Danny Thompson also kicks in with typically understated accompaniment; really the only sour note here is some overblown lead guitar by Richard Thompson, but he only really gets in the way on a couple of tracks. Overall, this is a fabulous album for those in the proper mood.
Norma Waterson "The Very Thought Of You" (Ryko/Hannibal, 1999)

Norma Waterson "Bright Shiny Morning" (Ryko/Hannibal, 1999)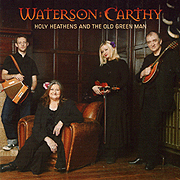 Waterson:Carthy "Holy Heathens And The Old Green Man" (Topic, 2006)



(Produced by Oliver Knight)
The Waterson-Carthy clan, augmented by youngsters such as Eliza Carthy and a trio known as the Devil's Interval, return to their traddier-than-thou British folk roots with a group of old wassails, carols and ballads that recall classic albums such as Fire And Frost and A Yorkshire Garland Indeed, many of these songs have been in the family's repertoire for decades and had originally been slated for earlier albums. The craggy, distinctive Watersons sound is alive and well: their melodies are curious and cloven-hooved and the harmonies have a rudimentary allure, a mystery and antiquity that draw you irresistibly in. The Christian anthems might not be for every folk fan, but equal historical balance is given to the pagan traditions as well... A fine album that barely dabbles in the modernizations and crossover appeal that the band has pursued in recent years... Sure to be a delight for long-time fans!
Norma Waterson "The Definitive Collection" (Highpoint, 2006)

Norma Waterson & Eliza Carthy "Gift" (Topic, 2010)


---
Related Records
---

Peter Bellamy/Various Artists "The Transports" (Free Reed/Topic, 1977)


In the 1780s, with the Americas closed as a dumping ground for the criminal class and other assorted ne'er-do-wells, England decided to ship its convicts off to the rocky shores of Australia. Among the hundreds of prisoners on the penal transports of the "First Fleet" were Henry Cabell and Susannah Holmes, a young couple who met in jail, but had to make it all the way to Botany Bay before they were allowed to be wed. This dense song-cycle chronicles their journey -- convicted of petty theft, detained for several years in an English jail before being deported to Australia, and finally wed under colonial law, later to become one of the founding families of the new nation. Peter Bellamy wrote the libretto, and enlisted a phalanx of the most talented British trad singers to help out, including June Tabor, Nic Jones, Martin Carthy and The Watersons, each taking on a role within the operetta. Dolly Collins provides orchestral arrangements which are mildly impenetrable or overly flowery at times, and in terms of overall tempo the album lacks variation, but the material itself is very powerful and the story is quite compelling. (For more folk music dealing with Australian history, also check out the various albums by Martyn Wyndham-Read.)
Blue Murder "No One Stands Alone" (Topic, 2002)


Oliver Knight "Mysterious Day" (Topic, 2002)



Various Artists "SHINING BRIGHT: SONGS OF MIKE & LAL WATERSON" (Topic, 2002)



An all-star cast recreates and expands on Mike & Lal Waterson's highly-regarded 1972 concept album, Bright Phoebus. I still haven't heard the original (it's still, sadly, long, long out of print...) but from what I gather here, it was certainly a departure from the Waterson family's normal fare of hypertraditional balladry. Social issues and general English gloom pervade many of these songs, which tell of comsumptive children dying slowly in the shadows of industry, and the passing of the old ways. Almost reluctantly, it seems, the album ends on an optimistic note, with the title track suggesting the possibility a spiritual renewal. Anyway, as far as this updated tribute goes, I can't really say I was wowed by it -- Dick Gaughan, Billy Bragg, Linda Thompson, Maddy Prior and others all contribute, as well as various members of the Waterson clan. And maybe that's part of the problem -- too many cooks, as opposed to (what I assume to be) the more cohesive feel of the original album. Overall, this album seems low-energy and diffuse, as well as a bit arid in that way that only English folk music can get. The high point is Richard Thompson's version of "Red Wine Promises," one of the songs from the original album. (Note: this disc is not a strict re-creation of Bright Phoebus. Several songs were omitted and others added on that were of the same general vintage.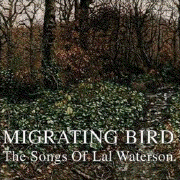 Various Artists "MIGRATING BIRD: THE SONGS OF LAL WATERSON" (EMI-Honest Jon's Records, 2007)



When Lal Waterson passed away in 2008, many in the folk and folk-rock communities were shaken and sad. She had long been a powerful figure on the British folk scene, both as a folklorist and as a contemporary songwriter. This reverent tribute album focuses on her original compositions, from the songs of the legendary "lost" album, Bright Phoebus to the many new songs that followed. A host of freak-folk luminaries are on board -- Vashti Bunyan, King Creosote, Victoria Williams, Alasdair Roberts, Richard James, Mark Olson and others -- each taking on one of Waterson's glum, grey-day compositions. Also noteworthy are tracks by the Willard Grant Conspiracy, Michael Hurley and Nancy Elizabeth... It must be said that this set, while not as severe or stark as the usual Watersons fare, still has a rather dour feel: although emotionally rich and texturally rewarding, Lal Waterson's work is a bit of a downer. The added layers of reverence make it difficult for most of these artists to escape the original template of stark, pensive moodiness, and while the results are very true to Waterson's spirit, there is also a slight, crushing gloom to it was well. Few of the singers veer far from the original musical template, one exception is alt-country old-timer Jeb Loy Nichols, who injects a bit of honky-tonk rhythm into the mix. Nonetheless, traditional folk fans and freak-folk modernists alike will find this a rich and rewarding album, a fitting tribute to one of the most original and resolute voices of the '60s folk revival.
---
Other Media
---
Lal Waterson "Teach Me To Be A Summer's Morning: A Portrait Of Lal Waterson" (Fledg'ling Books, 2013) (CD + Book)


A collection of writings, paintings and pictures by Lal Waterson, accompanied by an audio CD of demos and home recordings...


<! 72 pages >

---
Links
---
---



Main Celt/Brit Index
International Music Index



---