<! MP3 02/02/09, 01/05/11 > <! update 02/02/09 > <! outside 00/00/00 > <! pix 00/00/00 > <! icons 01/05/11 > <! JANSCH STILL NEEDS BIO > <! Jack The Lad Lindesfarne spin-off http://en.wikipedia.org/wiki/Jack_the_Lad Jack The Lad "It's Jack The Lad" (Charisma, 1974) B000B5QD5U Jack The Lad "The Old Straight Track" (Charisma, 1974) B000B5QD64 Jack The Lad "Rough Diamonds" (Charisma, 1975) B000B5QD6E Jack The Lad "Jackpot" (United Artists, 1976) B001QERGYC B003PYWMUE J.S.D. BAND "COUNTRY OF THE BLIND" - UK FOLK ROCK REGAL ZONOPHONE, xxxxx) > <! Nigel Mazlyn Jones "Ship To Shore" (Isle Of Light, 1976) - very rare private press haunting psych folk LP from singer songwriter Nigel Mazlyn Jones. 8 tracks. Two line inscription by Nigel on back cover ending in Peace to You, Nigel. 8 tracks including: A Singularly Fine Day; Take Me Home; The Man And The Deer; Follow Every Sunset; How High The Moon; Reality; Port Quin Song (The Lady On The Beach); Ship To Shore. - front, back cover pix available - >
---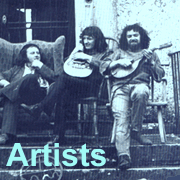 Trad & Folk
Artists and Albums
Hello! This page is part of an opinionated overview of Celtic and British folk music, with record reviews by me, Joe Sixpack... This is not meant to be taken as a "definitive" resource, but rather as a record of some of the music which has caught my interest. I am always looking for more good music to explore, so your comments and suggestions are welcome.
This is the first page covering the letter "J"
---
A | B | C | D | E | F | G | H | I | J | K | L | M | N | O | P | Q | R | S | T | U | V | W | X, Y & Z | Comps | Celtic Music Labels & Links | World Music Index
---

John James "Sky In My Pie" (Transatlantic, 1972)


John James "Head In The Clouds" (Transatlantic, 1975)


This single-disc reissue features two albums of obscure instrumental acoustic guitar music by Welsh guitarist John James. The first album, Pie In My Sky features duets with guitarist Peter Berryman, many with a choppy, blues-informed style that doesn't quite have the expansiveness or imaginative breadth of, say, John Fahey or Leo Kottke, although it is still quite nice. (Certainly better than anything I could play...) By his second album, though, James had grown considerably, and the melodies and phrasing are much, much richer. Underscoring this growth, one of the masters of the genre, John Renbourn, joins him on three of the album's tracks, and these duets are indeed quite lovely. Guitar music fans will find this disc of note.





Bert Jansch - see artist profile




Adrienne Johnston "Adrienne Johnston Of The Johnstons" (1975)
The lone solo album from a member of the Johnstons family band... Adrienne Johnston died not long after the release of this record.




The Johnstons "The Travelling People" (Hallmark, 1966)



<! 01 - The Travelling People 02 - Going Home 03 - The Banks Of Claudy 04 - The Alamo 05 - The Life Of The Rover 06 - Johnstons Motor Car 07 - Mary Of Dungloe 08 - I Never Will Marry 09 - The Curragh Of Kildare 10 - Leaving London >

The Johnstons "The Johnstons" (Transatlantic, 1968)



The debut album of the Johnstons family band, which also included Irish folk songwriter Paul Brady... This album was later reissued on CD along with the 1969 album, Barley Corn.

The Johnstons "Give A Damn" (Transatlantic, 1969)



Two late '60s albums by this influential British folk band, which in its early years included Paul Brady and Mick Moloney along with the Johnston Sisters, Luci and Adrienne. Give A Damn, recorded at the end of 1968, tackles social issues and folkie poetic yearnings in a rather clumsy manner, with the sisters warbling away in a most Judy Collins-ish fashion. The repertoire is ambitously chosen, though a bit lofty and quite modern: new tunes by Joni Mitchell and Dave Cousins, a couple of songs by Jacques Brel and Mort Schuman, a stab at traditionalism via Ewan MacColl, even a bit of Leonard Cohen. This is more of a modern "folk" album in the American mould, stretching towards the artsy singer-songwriter end of the spectrum and, frankly, a bit irritating and pretentious. Not my cup of tea, but it might be interesting to students of folk music folklore, and certainly to fans of Paul Brady who would like to explore his roots.
The Johnstons "Bitter Green" (Transatlantic, 1969)



Paul Brady emerges a bit from the background on this album -- although he's still not credited as a songwriter, he and Moloney help adapt some traditional tunes, and Brady's rich vocal style comes through on a couple of more Celtic-oriented songs, and this handful of songs are the real heart of these albums. This twofer CD reissue omits a couple of tunes from the original albums, and mysteriously opts to add a B-side from one of their singles -- probably no one but the most diehard of purists will even notice.
The Johnstons "The Barleycorn" (Transatlantic, 1969)



Released at the same time as Give A Damn, this record highlights their traditional side; the other disc showcased their interest in more contemporary material.
The Johnstons "Colours Of The Dawn" (Vanguard, 1971)

The Johnstons "If I Sang My Song" (1972) (LP)


By this time, the group had all but disbanded, and songwriter Paul Brady was the primary creative force...

The Johnstons "Give A Damn: The Folk-Rock Years" (Castle, 2003)



Although this collection shares the same title as their 1969 Give A Damn album, it is actually a best-of set drawn from various albums... Probably as good an overview as any!


<! Discography If I Sang My Song, 1972 Colours of the Dawn, 1971 The Johnstons Sampler, 1970 Bitter Green, 1969 Both Sides Now, 1969 The Barleycorn, 1969 Give a Damn, 1969 The Johnstons, 1968 Travelling People, 1966 >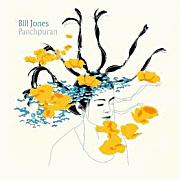 Bill Jones "Panchpuran" (Compass, 2001)



Why... choke! sputter...!! This here Bill Jones fellow is actually a girl!! While she doesn't have quite the vocal oompf of Niahm Parsons, or the sweetness of tone of, say, Kate Rusby, Jones is certainly no sloutch in the folkloric department, having picked out some of the oddest story-songs and variant forms I've heard in a while. Her voice is a little chirpy, but the songs are nice, including both Celtic and English material. Worth checking out!

Bill Jones "Turn To Me" (Compass, 2002)



Jones continues to dazzle on this start-to-finish stunner. Plenty of great songs -- both old and new -- and the young lady has a very appealing voice. Highly recommended!

Bill Jones "Two Year Winter" (Compass, 2003)



Amazingly, Jones just picks up greater depth and resonance as she goes along... This two CD set -- one disc of twelve sad, fabulous songs, and an additional four-song "Bits And Pieces" disc that sounds much like the first -- is a rich and rewarding listen, with a reflective, doleful air that is sustained over its entire length. he set has more emphasis on new compositions, by Jones herself and contemporaries such as Pete Morton, Anne Hills and Brian Bedford, and though there is less trad. arr. material, the entire album has a deep, old-world feel to it. What else can I say? This is another really great record, easily the equal of the Jones albums reviewed above. Trad fans should snap it up.
Nic Jones - see artist profile

Martyn Joseph "Whoever It Was That Brought Me Here Will Have To Take Me Home" (Appleseed/Pipe, 2004)



Gentle, well-sculpted, tuneful folk music... Not "folk" as in English trad as much as folk in the confessional, singer-songwriter-y sense... While this is a little too dense, anguished and flowery for me, I still was enchanted my Joseph's knack for developing catchy hooks, and several of these songs can really catch in your brain, notably "Wake Me Up" and "Every Little Sign." Joseph, who is known in part for his socially-oriented political material, reins it in a bit for this introspective, emotional album. It's still more for the contemporary folkie crowd, but quite nice all the same.
JSD Band "Country Of The Blind" (Regal Zonophone, 1971)

JSD Band "Black Album" (Cube, 1972)

JSD Band "Travelling Days" (LP) (Cube/Warner Brothers, 1973)


A pleasant, notably eclectic, folk-rock release by this under-remembered Irish band. The tracks vary widely from straight-ahead trad to mellow acoustic blues and clompy Celtic folk, as well as a few dreamier pop tunes that wouldn't be out of place on a Teenage Fanclub album. A pity so little of the old JSD Band material is available on CD... From what I've heard, they seem to have been pretty darn good. This disc is sure worth looking for!
JSD Band "For The Record" (Klub, 1997)

JSD Band "Pastures Of Plenty" (Klub/Lochshore, 1998)

---
More Celtic/Brit Folk Albums -- Letter "K"
---



Main Celtic/Brit Index
Main World Music Index


---