! RESOURCES: http://www.veteran.co.uk/Irish.htm http://www.veteran.co.uk/Scottish.htm http://www.veteran.co.uk/English.htm http://www.informatik.uni-hamburg.de/~zierke/folk/index.html > <! Various Artists "BORDERERS" (Kyloe) Scottish Various Artists - A Feast Of Scottish Folk (Alba Records, 1985) French(?) release from 1985. Folk music compilation LP featuring: Runrig, Dick Gaughan, Five Hand Reel, Archie Fisher, Barbara Dickson, Willie Hunter, Rab Noakes, Alba and others. Various(?) Various Artists "Folk Songs From Dorset" (Forest Tracks, 1975) (LP) - 1975 UK Private Folk - released on Forest Tracks in the U.S. in 1975. Obscure private release with British folk artists recording folk songs from Dorset collected from 1905 to 1907 by Henry and Robert Hammond. Various Artists "DING DONG DOLLAR: ANTI-POLARIS AND SCOTTISH REPUBLICAN SONGS" (Folkways, 196-) - can't figure out who ther performers were... > <! Various Artists "HAMISH HENDERSON COLLECTS, v.1-2" (Kyloe) Songs ballads and a story from the School of Scottish Studies archive. > <! Various Artists "ENGLISH COUNTRY MUSIC" (Topic, 1976) Folk music recordings made in 1962 featuring Walter Bulwer, Billy Cooper, Reg Hall, Daisy Bulwer, Mervyn Plunkett and Russell Wortley. Comes with the original inner sheet with notes by Mervyn Plunkett. > <! Various Artists "First O T'sort Yorkshire Dialect" (Transatlantic, 1978) - Speech recordings made in 1975 of the Yorkshire dialect. These recordings were made at the Ilkley Literature Festival > <! Various Artists "THE BOTHY BALLADS OF N.E. SCOTLAND v.1-4" (Sleepytown) Centring around what have become known as the 'Big Five'. The singing in this area seems as strong as ever. Featuring Joe Aitken, Jock Duncan, Gordon Easton, Tam Reid and Eric Simpson. > <! Various Artists "THE BEST BOTHY ALBUM EVER!" (Sleepytown???) (Legacy?) Compilation of Bothy songs from some of the finest singers including: Charlie Allen, Jock Duncan, Robert Lovie, Tam Reid, The Sair Heidies, Helen Sloan, Andrew Mayes, The Fife Yokels, Jim McFarlane, The Camperdown Singers, Jean Sunderland, Davy Marshall, Tom Wright, Morag McDicken, John Smith, Eleanor Birse, George Elrick, John Mearns and Willie Kemp. >

<! MP3 12/18/08 > <! update 00/00/00 > <! outside 00/00/00 > <! pix 00/00/00 * > <! icons 01/02/11 >
---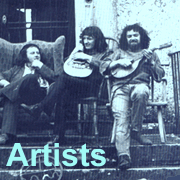 Celtic & British Traditional Music
Compilation Albums


Hello! This page is part of an opinionated overview of Celtic and British folk music, with record reviews by me, Joe Sixpack... This is not meant to be taken as a "definitive" resource, but rather as a loose assortment of some of the music which has caught my interest. I am always looking for more good music to explore, so your comments and suggestions are welcome.
This page covers Compilation Albums.
---
A | B | C | D | E | F | G | H | I | J | K | L | M | N | O | P | Q | R | S | T | U | V | W | X, Y & Z | Comps | Celtic Music Labels & Links | World Music Index
---

Various Artists "ABSOLUTELY IRISH" (Compass/American Focus, 2008)



(Produced by Mick Moloney)
An absolutely delightful live set, recorded and filmed for a American Public Television, exploring the roots, branches and the very mulch of Irish and Irish-American music. The venerable cultural historian Mick Moloney produced this extravaganza, gathering a high-powered horde of cohorts, including Liz Carroll, Karan Casey, John Doyle, Seamus Egan, Eileen Ivers, Joanie Madden, Susan McKeown and many others -- the cream of the Irish-American musical renaissance. The mix of instrumentals and vocal numbers is just perfect: there are several driving jigs and reels, but nothing that grates on one's nerves, and the song selections are all quite nice, and include several songs that are well off the beaten track. Moloney digs into his bag of historical knowledge and comes out with one of his trademark historical novelty songs, with the humorous immigrant ditty, "McNally's Row Of Flats," one of many songs on the theme of the Irish diaspora (including the haunting "Leaving Of Liverpool," which closes the album with a brilliant group vocal. This is the welcome sort of trad album that you can listen to from end to end, time and time again, with each audition leaving you a little bit richer than before. Highly recommended!
Various Artists "THE ACE AND DEUCE OF PIPERING: 1908-1947" (Interstate Music/Heritage, 1995)


A hardcore set of historical recordings of Scottish and European bagpiping... Generally speaking, I'm a huge fan of the Heritage label, and I'm sure this collection is a real doozy. Sure, bagpipes aren't for everyone, but if you're into it, there are probably few albums out there that will have the same range and depth as this one.
Various Artists "BALLADS" (Fellside, 1995)

Various Artists "A CHRISTMAS CELTIC SOJOURN" (Rounder, 2001)


A holiday collection curated by an American public radio DJ... This opens with a beautiful vocal number by Maddy Prior and also includes tunes by the Watersons and the Voice Squad. But for the most part, this CD is packed with super-mellow easy-trad -- drippy harps, sugary singing, etc. -- which, if you're into it, is probably pretty nice. Too mellow for me, though -- just not my cup of tea.

Various Artists "BALLINASLOE FAIR: EARLY RECORDINGS OF IRISH MUSIC IN AMERICA" (Traditional Crossroads, 1998)



The Irish diaspora led millions to America, and starting in the 1920s, many of the best emigrant musicians also journeyed onto wax, cutting hundreds of 78 RPM records. This is one of the best compilations of this early material, and has some of the best sound engineering of any of these Depression-era collections. The material may seem foreign even to lovers of Celtic folk music, since the melodic smoothness of the post-Clancy decades is absent from most of these tracks, instead, there is a heavy Vaudeville and music hall influence, with a constant undertone of ethnic theatre stereotyping, combined with a relative lack of finesse (when compared to the slick performances of the last few decades...) There are also a lot of great performances, from folks who could in a sense be considered the Al Jolsons or Bill Monroes of this genre. This CD is one of a handful of similar sets which are helping re-frame our understanding of Celtic music history, and, with its superior sound quality, is a great place to start for anyone who is interested in exploring the OLD stuff. Highly recommended.
Various Artists "BEAT THE RETREAT: THE SONGS OF RICHARD THOMPSON" (Capitol/EMD, 1994)


As noted elsewhere, I'm not a big fan of Richard Thompson's work. Or rather, it seems, of Thompson himself, since I found this tribute album to be pretty enjoyable. This includes a nice mix of rock and trad-folk heavy-hitters, from REM, Dinosaur Jr. and X to June Tabor, Maddy Prior and cajun folkies, Beausoleil. High marks go to Los Lobos for their doleful version of "Out Where The Drunkards Roll" and Syd Straw for her version of "For Shame Of Doing Wrong." There are mild mismatches here, but in general this is stronger and more consistent than most tribute albums, and highlights strengths in Thompson's writing that might sometimes be obscured by his somewhat boorish and lofty performance style. Recommended!

Various Artists "THE BIRD IN THE BUSH: TRADITIONAL SONGS OF LOVE AND LUST" (Topic, 1966/1997)



A saucy collection of ribald folk songs from the British Isles, including performances by Anne Briggs, Louis Killen, Frankie Armstrong, Norman Kennedy, and the venerable master of the early Britfolk scene, A. L. Lloyd. They all shine on this collection, and though you have to be attentive to follow the long narratives and sometimes rather complicated sexual metaphors, this disc has a lot of bang for the buck (if you'll pardon the expression...) This was originally just a split EP with Lloyd and Briggs, but has since been expanded to include material by the other artists -- presumably of similar vintage. All three of the Anne Briggs tracks -- "Gathering Rushes In The Month Of May," "The Stonecutter Boy" and "Martinmas Time" -- have since been gathered on retrospectives of her work, but the overlap is negligible, considering how delightful the other songs on here are. A nice find for fans of forbidden music.
Various Artists "BORDERLANDS: THE BEST OF SCOTTISH FOLK" (Castle, 2006)



An impressive box set that covers the early years of the Scottish folk revival... This 3-CD set includes iconic artists such as Archie Fisher, Silly Wizard and the McCalmans, as well as proto-traddies like Ian Campbell and coffeehouse folkies such as Owen Hand and spacey hippies like Shelagh McDonald... A nice mix, and a good bargain if you can find it at the right price!
Various Artists "A CELEBRATION OF SCOTTISH MUSIC" (Temple, 1988)





<! Battlefield Band (Author), Brian McNeill (Author), Dougie Pincock (Author), Cilla Fisher (Author), Hamish Moore (Author), Alan Reid (Author), Alison Kinnaird (Author), Christine Primrose >

Various Artists "A CHRISTMAS CELTIC SOJOURN -- LIVE" (Rounder, 2006)






<! DVD - Live B000WCDI00 >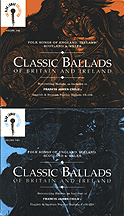 Various Artists "CLASSIC BALLADS OF BRITAIN AND IRELAND, v. I" (Rounder, 2000)


Various Artists "CLASSIC BALLADS OF BRITAIN AND IRELAND, v. II" (Rounder, 2000)



These stark old folk songs take a certain kind of listener, someone with an appreciation for storytelling and an interest in the past, and -- for want of a better phrase -- a love of the common folk. This is the British equivalent of American "old-timey" music... in fact it's where a lot of the old-timey repertoire came from: bawdy story-songs and mysterious old ballads raspily intoned by grizzled, wheezy country and giggling housewives. It's not for everyone, sure, but if you can get onto its wavelength, the emotional pull of this music is tremendous. Recorded over several decades by folklorist Alan Lomax, these tracks are captivating because of the subject matter, but also because of the immene charm of the various performers. When a particularly saucy lyric comes up, you can hear a smile come into the singers voice -- sometimes it even breaks out into a laugh. The awareness that this is, indeed, a living oral tradition -- that these are songs that people learnt to sing while drinking in pubs and working at plows, lends great depth to the music. Me... I love the stuff! Plus, the lavish packaging, with classy artwork and thick booklets accompanying each disc, makes this a special treat. (These are the latest releases in the astounding Lomax Collection folk series, which is projected to be over 100 CDs worth of archival releases.)

Various Artists "COMFORT AND JOY: A CHRISTMAS CELTIC SOJOURN, v.2" (Rounder, 2003)


A somewhat earthier holiday offering from Brian O'Donovan's "Celtic Sojourn" show, once again with selections from Maddy Prior The Watersons as well as Cherish The Ladies, Robbie O'Connell, Boys Of The Lough and others... The first volume in this series (reviewed above) didn't do much for me, but this disc is a pretty classy holiday offering, with some truly lovely harmonies, and odd, interesting versions of old songs that we know and love. Recommended!
Various Artists "A CONTROVERSY OF PIPERS" (Temple, 1980)


Organized by producer Robin Morton, this conclave of Scottish pipering includes members of bands such as The Battlefield Band, The Clutha, Ossian, Whistlebinkies and the short-lived Kentigern... If you like the squeeky-squealy of bagpipes, small pipes and such, then this album's for you!


<! Solo piping by pipers well known outside the confines of the piping world - all members of folk bands like Whistlebinkies, Ossian, Clutha, Kentigern. Much of the material is either original or rarely heard, covering the whole gamut of Scottish piping at its glorious best. >

Various Artists "DEEP LANCASHIRE" (Topic, 1997)



Harry Boardman, Mike Harding, The Oldham Tinkers and others are on this collection of craggy, plainspoken, hypertraditional music from Lancashire. Great stuff for the purists among us!
Various Artists "ELECTRIC EDEN: UNEARTHING BRITAIN'S VISIONARY MUSIC" (Universal, 2012)


An outstanding 2-CD collection that touches on the well-known artists -- Albion Band, Peter Bellamy, Shirley Collins, Nick Drake, Pentangle, Steeleye Span, et. al. -- as well as a wide sweep of obscuros and (even more) cult faves such as Bread, Love and Dreams, COB, Magic Carpet, Meic Stevens... A lot of fab artists, mostly with just one track apiece, but a great set of signposts for further explorations. Disc One is (mostly) acoustic and Disc Two is (mostly) electric... The CDs compliment a book by Rob Young that gives the historical context... Cool beans!


<! CD1 ACOUSTIC EDEN 1. Peter Bellamy – 'Oak, Ash and Thorn' 2. Traffic – 'John Barleycorn Must Die' 3. Bert Jansch – 'The Waggoner's Lad' 4. Fairport Convention – 'Stranger to Himself' 5. Archie Fisher – 'Reynardine' 6. Bread, Love and Dreams – 'Brother John' 7. Bill Fay – 'Garden Song' 8. Water Into Wine Band – 'Stranger in the World' 9. Tudor Lodge – 'Willow Tree' 10. Comus – 'Diana' 11. Meic Stevens – 'Yorric' 12. Magic Carpet – 'The Dream' 13. Sweeney's Men – 'The Pipe on the Hob' 14. Tim Hart & Maddy Prior – 'False Knight on the Road' 15. Dr Strangely Strange – 'Dark-Haired Lady' 16. Albion Country Band – 'I Was a Young Man' 17. COB – 'Music of the Ages' 18. Roger Nicholson – 'The Carman's Whistle' 19. Bridget St John – 'Fly High' 20. John Martyn – 'She Moves Through the Fair' CD 2 ELECTRIC ALBION 1. Richard Thompson – 'Roll over Vaughn Williams' 2. Steeleye Span – 'The Lark in the Morning' 3. Unicorn – 'Country Road' 4. Fairport Convention – 'A Sailor's Life' 5. Trees – 'Glasgerion' 6. Fotheringay – 'Gypsy Davey' 7. David Bowie – 'Black Country Rock' 8. John Martyn – 'Glistening Glyndebourne' 9. Mike Cooper – 'Paper and Smoke' 10. Shelagh McDonald – 'Mirage' 11. Spirogyra – 'Disraeli's Problem' 12. Mick Softley – 'Time Machine' 13. Shirley Collins & The Albion Country Band – 'Murder of Maria Marten' 14. Pentangle – 'Jack Orion' 15. Incredible String Band – 'Painted Chariot' 16. Nick Drake – 'Voices' >

Various Artists "EY UP MI DUCK! A CELEBRATION OF DERBYSHIRE" (Ram) (LP)


East Midlander poems, jokes, stories and songs from the likes of the Ashbourne Town Band, Ilkeston Brass, and the Ram's Bottom Band...


<! A Celebration of Derbyshire Dialect stories, poems, jokes, music and song from Ram's Bottom, Shirland Miners' Welfare Band, Derby Morris Men, Ilkeston Brass, Ashbourne Town Band Nice traditional folk LP depicting Derbyshire life. >


---
Celtic/Brit Folk Albums - More Compilations
---



Main Celtic/Brit Index
Main World Music Index




---