<! MP3 12/30/08, 01/14/11 > <! update 12/30/08 > <! outside 00/00/00 > <! links 00/00/00 > <! pix 00/00/00 > <! icons 01/14/11 >

---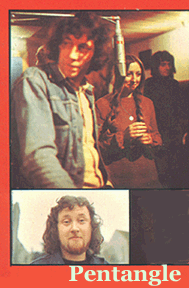 As far as the British folk supergroups go, I've always been partial to Pentangle... Founded in 1967 with guitarists John Renbourn and Bert Jansch, vocalist Jacqui McShee, percussionist Terry Cox and Danny Thompson, the world's most ubiquitous bass player, Pentangle was an early powerhouse in the English folk-fusion scene. The group's repertoire was remarkably eclectic, mixing folk, blues and jazz with perfectly-selected traditional and Renaissance material. Their approach was stately, even a little stuffy at times, but always with a vital, dynamic core... At the heart of the band was the soulful guidance of acoustic guitar god Renbourn, whose melodic grace steadily deepened as time went by. Here's a quick look at this fab old band...
---
Discography
---

Pentangle "The Pentangle" (Transatlantic/Reprise, 1968)



Their first outing together was almost entirely a jazzy affair, a logical extension of the deepening acoustic blues-jazz explorations that Renbourn and Jansch had been into for the last few years, as well as familiar turf for Jacqui McShee, who came to the group from a jazz background. There's some grand, bouncy material on here, a loping style that would later be refined on their well-known "Light Flight," the theme to a short-lived BBC-TV show. Great debut; perhaps not as folkish and trad as later albums, but definitely worth checking out.

Pentangle "Sweet Child" (Transatlantic/Reprise, 1968)



An impressive live outing... Sure, Jansch, Renbourn and company already had plenty of onstage time under their belts, but as a second release for their brand-new band, this is a pretty ambitious -- and ambitiously realized -- album. The group is all over the place, summing up and looking foward, with acoustic folk-blues, elegant trad ballads, lullabyes, trans-European folk songs and Renaissance aires, and even a Mingus tune or two. There are a few creaks and groans, a little straining at the edges... But of course, that's part of the charm. Lofty, but not overly so, and certainly with the talent and knowledge to back it all up. A great record, originally released as a 2-LP set. (Note: parts of this album are actually studio recordings, though I'm not sure which songs those would be... Regardless, this is a great record.)

Pentangle "Basket Of Light" (Transatlantic/Reprise, 1969)



This is the Pentangle album I grew up with, and am still quite fond of. Beautiful, elegant, with a poppy edge (that may be due to the influence of legendary producer Shey Talmy, who adds a nice melodic sensibility...) At any rate, this includes a couple of their more popular tunes, "Sally Go Round The Roses" and "Light Flight," which was used as the theme for an old BBC-TV show. A graceful, fluid album, entirely captivating and quite satisfying. Recommended!

Pentangle "Cruel Sister" (Transatlantic/Reprise, 1970)



Absolutely gorgeous... a tremendously soulful, heartfelt album, filled with expressive performances and first-rate material. The title track is a chilling English murder ballad, underpinned by a haunting and falsely "cheerful" refrain. Side Two of the album is taken up entirely by an 18-minute version of "Jack Orion," highlighting Bert Jansch at his finest. It must be admitted that the group, particularly Jacqui McShee, skirts perilously close to abject pretensiouness, but on the whole this is one of their best records. Their only true false step comes on "Lord Franklin," where McShee's meandering counterpoint to Jansch's otherwise straightforward reading of the lyrics is not only pointless, but sadly distracting. (By comparison, Nic Jones stuck strictly to the text some years later, and to devastating effect...) Overall, a sublime album.

Pentangle "Reflection" (Transatlantic/Reprise, 1971)



The Brits turn back to the colonies for this dreamy album, with gussied-up, ornate versions of American folk standards such as "Omie Wise," "Will The Circle Be Unbroken" and "Wedding Dress", as well as Bill Monroe's "Rain And Snow," one of the most striking arrangements on this album. Side Two of the record is taken up with flowery Pentangle originals. This is probably one of their mellowest records, but also one of their best. Nice stuff. It's also cool to hear them mix a banjo in on the sly!
Pentangle "Solomon's Seal" (Reprise, 1972)



The original master tapes for this album are said to have mysteriously vanished, which may account for its continuing "elusive" status. A pity, since this is another lovely album, a perfect continuation of the mellow, spacy vibe of the Reflection album of '71. Perhaps not their most perfectly realized album, but quite nice and definitely worth looking for. Includes a turn at "The Snows They Melt The Soonest," which was outstripped by the version Dick Gaughan recorded a decade later, but is still quite nice. Also includes some sweet reverby electric guitar work on several songs. Recommended.
Pentangle "Pentangling" (Transatlantic, 1973) (LP)

Pentangle "In Your Mind" (Ariola, 1978)

Pentangle "Open The Door" (Spindrift, 1984)


Pentangle "In The Round" (Rounder/Varrick, 1986)



A Renbourn-less edition of the band, featuring Jansch, McShee and Cox, along with guitarist Mike Piggott and pianist Nigel Portman Smith. This album is okay, considering how late in the game things are, but in general it lacks the subtlety and light touch that made Pentangle's early work so great; the straight pop and jazz influences are more obvious, and more distinct, and the overall feel is less acoustic. Pam McShee (presumably Jacqui's sister?) sings backup on a couple of tunes.
Pentangle "A Maid That's Deep In Love" (Shanachie, 1989)



A reunited original lineup, with Renbourn, Jansch, Cox, Thompson and McShee.
Pentangle "So Early In The Spring" (Green Linnet, 1990)


Pentangle "Think Of Tomorrow" (Ariola, 1990)

Pentangle "One More Road" (SPV, 1993)

Pentangle "Live: 1994" (Ariola, 1994)


Panned by one of the websites below... They say it's not worth the effort, and I'll take their word for it...
Pentangle "One More Road/Live: 1994" (Hux Records, 2007)

Jacqui McShee's Pentangle "Passe Avant" (Park)


Jacqui McShee's Pentangle "At The Little Theatre" (Park, 2000)


Jacqui McShee's Pentangle "Feoffees' Lands" (GJS, 2005)

Jacqui McShee's Pentangle "Feoffees' Lands" (DVD) (Grossmans' Guitar Workshop, 2007)

---
Best-Ofs
---
Pentangle "People On The Highway" (Transatlantic, 1985)


Pentangle "Early Classics" (Shanachie, 1992)



A pretty nice collection of tunes from the classic late '60s Pentangle lineup... This is probably the standard best-of for American listeners; it'll certainly work to whet your whistle and see if this band is for you... Recommended as a good starting place.
Pentangle "The Collection" (Castle, 1995)

Pentangle "Light Flight" (Snapper, 1997)


A swell, 2-CD, 40-song collection... Nice bang for your buck!
Pentangle "The Pentangle Family" (Castle, 2000)



A far-ranging collection which includes a hefty dose of Renbourn and Jansch's early, pre-Pentangle acoustic jazz and blues explorations, solo efforts made while the band was in full swing, and a fair sampling of tracks by Pentangle proper. Haven't heard it, but this looks pretty sweet.
Pentangle "Light Flight: The Collection" (Sony-BMG, 2002)


This 2-CD best-of set has the same name, but less music than the collection that came out in '97... Still, there's some fun stuff on here!
Pentangle "Pentangling: The Collection" (Sanctuary, 2004)



This is sort of a triple best-of set -- one disc of greatest hits by Pentangle the band, as well as an additional CD each profiling John Renbourn and Bert Jansch. A great introduction to all three parts of this particular puzzle -- you might find greater fulfillment delving deeper into the catalogs of all three, but if you just want a general introduction, this is a pretty stellar collection.


<! not the same as the 1973 LP "Pentangling" >

Pentangle "The Lost Broadcasts: 1968-1972" (Hux Records/BBC, 2004)

Pentangle "The Time Has Come: 1967-1973" (Castle, 2007)



A swell 3-CD box set... Covers their peak years, all classic material. Great overview of the band's early work, including a healthy dose of alternate tracks, outtakes and a 1968 concert recorded at the Royal Festival Hall. Pretty groovy!
---
Links
---
---



Main Celt/Brit Index
International Music Index



---