<! MP3 12/21/08, 01/03/11 > <! update 12/21/08 > <! outside 00/00/00 > <! links 00/00/00 > <! pix 00/00/00 > <! icons 01/03/11 >

---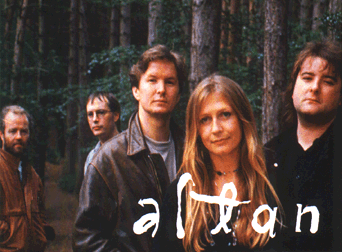 An Irish supergroup which retains admirably rough-hewn edges. Altan is anchored by fiddler and vocalist Mairead Ni Mhaonaigh, who sings angelically, yet looks a bit mad when she lurches over her violin to dash off a dazzling reel. Mhaonaigh is a Northern Irish traditionalist, who cherishes the local style of Donegal, which perhaps is a bit more craggy and wild than much of the Irish fiddling we hear today. Yet, this is not to say that Altan is a shaggy-sounding group -- instead, they are stunning. From their early recordings to the present day, Altan have skillfully balanced the most gorgeous songs with the most melodic jigs and reels... they are one of the few trad bands whose instrumental recordings I consistently find engaging.
---
Discography
---
Frankie Kennedy & Mairead Ni Mhaonaigh "Ceol Aduaidh" (Gael Linn/Green Linnet, 1983)

Frankie Kennedy & Mairead Ni Mhaonaigh "Altan" (Green Linnet, 1987)


Altan "Horse With A Heart" (Green Linnet, 1989)


Altan "The Red Crow" (Green Linnet, 1990)


Altan "Harvest Storm" (Green Linnet, 1991)


Altan "Island Angel" (Green Linnet, 1993)


Altan "Blackwater" (Virgin, 1996)



The band's first studio album to be released after the death of founding member Frankie Kennedy... With a strong emphasis on the fiddle, this is admirable for its non-corporate rawness... Still, I wish Mairead'd sing more! Love that woman's voice.
Altan "Runaway Sunday" (Virgin, 1998)



Aaahh... now that's more like it! Some instrumentals, but the emphasis is very much on Mairead's jaw-droppingly beautiful vocals. A simply wonderful album, sung mostly in Irish. Highly recommended.
Altan "Another Sky" (Virgin, 2000)



Altan "The Blue Idol" (Virgin/Narada, 2002)



Even when they're playing it safe (as I think they are on here), these folks still sound awfully damn good. For the most part, this is pretty straightforward, sweet-sounding trad. A few slick touches here and there, but nothing cloying or onerous; Paul Brady and Dolly Parton guest star; Mairead Ni Mhaonaigh shines. Worth checking out.
Altan "Local Ground" (Narada, 2005)








Mairead Ni Mhaonaigh "Imeall" (Moon, 2009)



<! Imeall is a limited edition studio album by Irish musician MairŽad N' Mhaonaigh. This is her first solo album to be released after 23 years of recording with her band Altan. It was recorded in 2007/08 in Stiśidi— na Mara ("Seafront Studio") (An Bhr‡id, T'r Chonaill (Tyrconnell), Co. Donegal, Ireland), the home studio of N' Mhaonaigh's friend and musician/producer Manus Lunny, overlooking the Atlantic Ocean and Donegal mountains and islands. The album features many of MairŽad's friends and regular collaborators including Tr'ona N' Dhomhnaill and D—nal Lunny. It also includes Manchester-born piper and flute player Michael McGoldrick[1] and Annbjżrg Lien, a member of String Sisters, with whom MairŽad plays fiddle and sings. Only 3000 copies were pressed. >

Altan "25th Anniversary Celebration" (Compass, 2010)



The band celebrates their twenty-fifth year(!) with a new studio album, bolstered by the RTE Concert Orchestra, led by David Brophy. Predictably, the classical-pop orchestrations may ruffle the feathers of a few fans, particularly tradder-than-thou purists, but as with many long-lived, trad-oriented ensembles, I'm sure Altan feel the need to try something new from time to time. The rich, traditional core of their music remains, however, and I actually don't find the added orchestrations all that intrusive -- mostly they just add emphasis to the traditional Celtic motifs, building on Altan's music, rather than distracting from it. And Mairead's voice is still absolutely gorgeous; both the instrumental and vocal tracks are quite lovely. Definitely worth checking out -- I'm a little surprised to say so, but I like this album a lot.
T With The Maggies "T With The Maggies" (2010)


That would be Triona Ni Dhomhnaill and her sister Maighread, along with Maighread Ni Mhaohaigh of Altan, and Moya Brennan singing a mostly-Gaelic set. I look forward to checking it out someday!
---
Best-Ofs
---
Altan "The Best Of Altan" (Green Linnet, 1995)


This single CD best-of is still floating around, but it has pretty much been superseded by the fab double disc collection below.
Altan "The First Ten Years: 1985-1995" (Green Linnet, 1997)


A stunning retrospective of their work issued on Green Linnet. Alternates between jigs, reels and songs -- the instrumentals are of unusual charm and the songs are all flat-out gorgeous. Includes several powerful concert tracks as well as great studio work. This 2-CD set is probably the best introduction to the band you can find... HIGHLY, HIGHLY recommended!
---
Links
---
The Altan Home Page includes tour dates, news releases, and a semi-complete discography.
Ceolas has a cool Altan page... and info on their history and other projects...
Green Linnet Records has the first five Altan albums in their catalog -- plus zillions of other great Celtic and world music releases!

---



Main Celt/Brit Index
International Music Index



---