<! MP3 00/00/00 > <! update 00/00/00 > <! pix > <! icons 00/00/00 >

---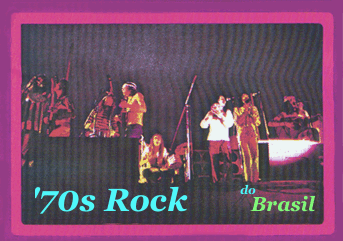 In the 1970s, Brazilian rock'n'roll followed along on several parallel paths, which only occasionally intersected. Many of the groups from the heavily commercialized, early-60s prefab jovem guarda teenybopper scene kept making albums well into the 1970s. Generally speaking, these continued along the pop cover-tunes path of their earlier work, or dipped even deeper into bland pop vocals, as with Roberto Carlos, the king of the scene. Many of the great tropicalia artists who pioneered psychedelic rock in Brazil moved on to become the superstars of the "MPB" scene, which also turned towards an increasingly-ornate pop direction; some -- like Jorge Ben -- delved into funk and soul-flavored groove music.
A handful of artists pursued (more or less) straight-ahead rock music... Many were inspired by the inroads made by the tropicalia movement, but keeping up with the times, they spun off in different directions. Ex-Mutante Rita Lee became something of a stadium rocker, and several prog bands flourished in the mid-'70s, while a few hardcore rockers and psychedelic bands also roamed the land. To be honest, I haven't heard all that many of these records... but as I check them out, I'll add my reviews to the Slipcue site.
---
Brazilian Rock: A | B | C | D | E | F | G | H | I | J | K | L | M | N | O | P | Q | R | S | T | U | V | W | X, Y & Z | Compilations
---
Related Styles: Jovem Guarda | Tropicalia | Disco, Funk & Soul | Other Brazilian Styles
---
O Terco - see artist discography
Tetine "Alexander's Grave" (High School, 1996)

Tetine "Samba De Mona Lisa" (2002)





<! A Spoken Narrative, Electronic Sambas and Atmospheric Melodies Fused with Film, Imagery and Video. The Piece was Created from a Score by Tetine (Bruno Verner and Eliete Mejorado) and Mixed with Samples from Funderground Actress Sophie Calle's Films 'double Blind' and 'no Sex Last Night'. Tetine Reworked the Narratives Into 12 Tracks to Create the Samba De Monalisa.>

Tetine "Bonde Do Tetao" (Tratore, 2004)

Tihuana "Ilegal" (Virgin-Brasil, 2000)


One of Brazil's few indie-ish modern rock bands, these guys mix ska-ish reggae, light funk ala Fishbone or the Red Hot Chili Peppers, along with a dash of Beastie-style, metallic punk-funk and some radio-friendly pop, all songs with appropriately perky, anthemic choruses. The album starts out with great promise, but the band seems to run out of ideas pretty quickly, and the riffs get stale. After about five or six songs, I was kinda bored, although there are several songs that are kinda catchy.
Tihuana "A Vida Nos Ensina" (Virgin-Brasil, 2002)

Tihuana "Aqui Ou Em Qualquer Lugar" (Sony-Brasil, 2002)
The punky bits are harder and more hardcore, the rapping is more strident, the reggae is all but gone, and the pop-rock sounds more artfully placed. At best, they still sound Beastie Boys-ish, although I suppose Linkin Park might be a better comparison... Still, for what it is -- slick, aggro, Portuguese-language hard rock/hip-hop -- this is pretty good. Productionwise, and in terms of the carefully modulated ragefulness, this stuff holds its own next to the American noise it seeks to emulate. It's a more grating sound than their earlier albums, but also far more skillful and engaging. Worth checking out, if you go for that sort of thing.
Titas "Titas" (Warner, 1984)

Titas "Televisao" (Warner, 1985)

Titas "Cabeca Dinossauro" (Warner, 1986)


Certainily one of the ugliest albums covers in the history of the Brazilian music industry...
Titas "Jesus Nao Tem Dentes No Pais Dos Banguelas" (Warner, 1987)

Titas "Go Back" (Warner, 1988)

Titas "O Blesq Blom" (Warner, 1989)

Titas "Tudo Ao Mesmo Tempo Agora" (Warner, 1991)
This is the last album with Arnaldo Antunes as a member of the band...
Titas "Titanomaquia" (Warner, 1993)

Titas "Domingo" (Warner, 1995)

Titas "Acustico MTV" (WEA, 1997)


Safe, but solid, pop from one of Brazil's most popular rock bands. Like many of these "unplugged" albums, this is perhaps less acoustic than it might be, but it's still a nice chance to hear them in a fairly stripped-down format. Turns out that, indeed, they are very skillful songwriters -- on the lighter side, but able to get funky when they want to, and they cover an admirable range of material, including a bit of reggae and ska-ish rock. Worth checking out.
Titas "Volume Dois" (WEA, 1998)


Slick, strummy, anthemic indierock with swirls of trip-hop and ska thrown in around the edges. This isn't electrifying, but it is well-produced and good for what it is; I suppose at this point they're pretty much like the U2 of Brazil... The Brazilian exotica factor only goes so far for me, since this isn't the kind of rock I listen to in English, either. But it is interesting to hear how these South American pop stars can tackle so many styles with such panache. Kind of Dave Matthews-y, but if you like Dave Matthews, then maybe you'd like to check this out.
Titas "As Dez Mais" (Warner, 1999)

Titas "A Melhor Banda De Todas Os Tempos Da Ultima Semana" (Abril, 2001)

Titas "Como Estao Voces?" (Sony-BMG/RCA, 2003)

Titas "MTV Ao Vivo" (Sony-BMG, 2005)

Titas "Titas 84/94, Um" (WEA, 1994)

Titas "Titas 84/94, Dois" (WEA, 1994)

Titas "e-Collection" (WEA, 2000)





<! The rock band was lined-up in Sčo Paulo in the early 80s (at the time they called themselves Titčs do Iź-Iź-Iź) and eventually established as one of the most important and creative Brazilian rock bands. The first album came out in 1984 and yielded the big hit "Sonífera Ilha". The second disc continued the pop trend presented on the first and produced the hit "Insensível". The following albums allowed them to craft their own style, combining rock'n'nroll, punk, hard rock, pop and jovem guarda (new school). "Cabeća Dinossauro", from 1986, is regarded as an essential BRock album, featuring hit tracks like "AA UU", "Igreja", "Polícia", "Cabeća Dinossauro" and "Bichos Escrotos". Then, they put out "Jesus Nčo Tem Dentes no País dos Banguelas", maintaining the band's importance through hit tracks like "Comida", "Diversčo", "Desordem" and "Lugar Nenhum". The fifth release, "Go Back", was recorded live at Montreaux (Switzerland). "Õ Blésq Blom" presented more experimental songs, such as "O Pulso" and "O Camelo e o Dromedário", as well as the standard rock hits "Miséria" and "Flores". "Tudo Ao Mesmo Tempo Agora" (1991) is the last album with Arnaldo Antunes as a Titčs member - he would soon leave the band and go after a solo career. The next album, "Titanomaquia", revealed a great grunge influence and no radio-friendly songs. "Domingo" (1995) transformed Titčs into a pop band, which would be confirmed by the huge sales figures achieved with the CD "Acústico MTV" (unplugged). Current line-up: Paulo Miklos (sax and vocals); Toni Belotto (guitar); Branco Mello (vocals); Nando Reis (bass and vocals); Sérgio Brito (keyboard and vocals); Marcelo Fromer (guitar) and Charles Gavin (drums). >
Tribalistas "Tribalistas" (Phonomotor/EMI, 2002) [Import]


Tribalistas "Tribalistas" (Blue Note, 2002)


A lovely little album! The band's name and all-star cast are an apparent tribute to the Veloso-Gil-Bethania-Costa mid-1970s supergroup, Doce Barbaros (The Sweet Barbarians), but in this case the musicians, neo-tropicalistas Arnaldo Antunes, Carlinhos Brown and Marisa Monte, go for tender restraint, rather than wild excess. It's a remarkably gentle, dreamy album, with an interesting blend of voices and styles. If I had to characterize it, I'd say this sounds more like an Arnaldo Antunes album than anything else, with its off-kilter sensibility and unhurried pace. Monte, who put this album out on her own Phonomotor label, plays the central vocal part, though, with both Antunes and Brown complimenting her in unusual harmony parts. Carloinhos seems a little lost in the mix, at least his former trademark Afro-Brazilian percussion is hardly as prominent as on other albums. All in all, this is a very pleasant, inventive and multi-textured record, well worth checking out!
Trio Ternura "Trio Ternura" (CBS) (1971?)
A cool psychedelic soul-pop album, produced under the auspices of crazed, ne'er-do-well avant-rocker, Raul Seixas, who was just about ready to get kicked off the CBS label himself for greenlighting his own solo album without the label head's approval. Enough about him, though... This album has some great '60s pop twists, LA-style orchestral stuff, cannily blended with driving funk, similar to early Sly & The Family Stone. They later released an album under the name of Quinteto Ternura. Retro fans pay heed: this is an album worth tracking down!
---
Brazilian Rock - Letter "U"
---



Other Brazilian Styles
Main Brazil Index


---