<! MP3 12/10/09 > <! update 00/00/00 > <! pix > <! icons 00/00/00 >

---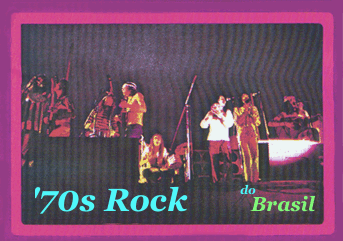 In the 1970s, Brazilian rock'n'roll followed along on several parallel paths, which only occasionally intersected. Many of the groups from the heavily commercialized, early-60s prefab jovem guarda teenybopper scene kept making albums well into the 1970s. Generally speaking, these continued along the pop cover-tunes path of their earlier work, or dipped even deeper into bland pop vocals, as with Roberto Carlos, the king of the scene. Many of the great tropicalia artists who pioneered psychedelic rock in Brazil moved on to become the superstars of the "MPB" scene, which also turned towards an increasingly-ornate pop direction; some -- like Jorge Ben -- delved into funk and soul-flavored groove music.
A handful of artists pursued (more or less) straight-ahead rock music... Many were inspired by the inroads made by the tropicalia movement, but keeping up with the times, they spun off in different directions. Ex-Mutante Rita Lee became something of a stadium rocker, and several prog bands flourished in the mid-'70s, while a few hardcore rockers and psychedelic bands also roamed the land. To be honest, I haven't heard all that many of these records... but as I check them out, I'll add my reviews to the Slipcue site.
---
Brazilian Rock: A | B | C | D | E | F | G | H | I | J | K | L | M | N | O | P | Q | R | S | T | U | V | W | X, Y & Z | Compilations
---
Related Styles: Jovem Guarda | Tropicalia | Disco, Funk & Soul | Other Brazilian Styles
---
Yahoo "Yahoo" (EMI-Odeon, 1988)
(Produced by Marcello Azevedo & Roberto De Recife)
Dreadfully tepid, vaguely "new wave" mainstream '80s-style pop-rock... In terms of its production style, his would have sounded at home with North American pop from about two or three years earlier. It's not overtly embarassing, but it's certainly not worth going out of your way to track it down, either. Nothing special, really. Bandmembers included Marcello Azevedo, Roberto De Recife, Marcelo Faria and Ze Henrique. The album closes with a cover of the Os Mutantes oldie, "Vida De Cachorro"; another song, "Mordida De Amor," was used as the theme of a Brazilian TV show.
Youngsters "Twist Only Twist/Os Fabulosos Youngsters" (Sony, 2000)


This 2-CD set reissues two albums from a pop-oriented jovem guarda band, 1963's Twist Only Twist and Os Fabulosos Youngsters, from 1964, both reviewed below... (By the way, does anyone know for sure if this group included future pop-rock star Leno? I forget where I read that, but would love to verify it one way or the other...) This twofer reissue includes several bonus tracks, presumably taken from singles or EPs - the bonus tracks on this disc are clearly not of the same vintage as the '63 LP: "Falar E Facil" is a groovy, fuzzed-out pop-psych song with vocal harmonies drawn from the Hollies, and the flip, "Te Adoro," has some groovy jangly guitars: I'm guessing '66 or '67 on these tracks. Disc Two's bonus tracks include "Ajoen, Ajoen," and a version of Duke Ellington's "Caravan."
The Youngsters "Twist Only Twist" (CBS, 1963)


Honking saxophones and a dit-dit-ditty organ figure prominently in this charming early jovem guarda rock band. For whatever reason, they sang some songs in Spanish, I guess hoping to sell records outside of Brazil, though it's not clear if any of the band members were non-Brazilian. Anyone know? Some songs are in Portuguese, too, although mostly the record is of instrumental rock music, sort of the sub-surf early '60s frat-rock. Not mindblowing, but a nice piece of the Brazilian rock puzzle.
Os Youngsters "Os Fabulosos Youngsters" (CBS, 1964)


This perky album features pop covers with a heavy tilt towards "British Invasion" material, such as the Dave Clark Five's "Glad All Over" and "Do You Want To Know A Secret," by the Beatles, as well as Curtis Mayfield's "Um, Um, Um, Um, Um, Um" and a Trini Lopez tune. Unfortunately, they mostly cover these songs in English rather than in Portuguese (or even Spanish, as on their earlier album...) Oh, well. They were still a cute band, I just wish they'd been a little "more Brazilian." On the plus side, the guitars are groovier and used more prominently, as on surfy songs like "Teenage Trouble"; there is one cool vocal tune, "L'Esercito Del Surf," with an unidentified female vocalist who I'm very curious about...


<! was Leno in this band? > <! teenage trouble a cover of who? "Mannion" on song credit, also covered by The Angels (JG) >

Youngsters "The Youngsters" (Polydor)
From the looks of it, this is a late '60s release - 1968 or '69 perhaps? Anyone know for sure?


<! late '60s from the look of it...? >

Inacio Zatz "La Nave: A Volta Ao Mundo Em 19 Melodias" (Dabliu, 1998)



Inacio Zatz "Zatz" (Dabliu, 2000)



A striking, surprising, and quite pleasant new example of the Brazilian mix'n'match method of music making... The album opens on a potentially troublesome note -- a piercing, BB King-style, electric blues riff, the sort of thing that in the United States has signified a muscle-bound, moribund musical genre ("urban blues") that has completely lost its creative edge for the last few decades... Naturally, when you hear someone in Brazil pick up a twang bar and wail away, your first instinct is to run and hide -- yet far from sucking, Inacio Zatz is a gas. For one thing, he's not a blues musician... at least he's not limited to the style. Actually, he doesn't seem to be limited to any style: this is an impressively eclectic record, incorporating bossa nova, afro-bloco percussion, Asian traditional and various shades of rock with equal ease. A few overly-goofy moments, but on the whole, well worth checking out!
Inacio Zatz "Santos Football Club Lonely Band" (Inacio Zatz, 2004)


Zero "Obra Completa" (EMI, 2005)


"New romantic" new wave-pop from Sao Paulo. This disc combines all the material from their two EMI-Odeon albums, 1985's Passos No Escuro and Carne Humana, from 1987.
Zero "Electro Acustico" (Sony, 2000)

Tom Ze - see artist discography
Zumbis Do Espaco "Aqui Comeca O Inferno" (Voice Music, 2005)





<! dark metal? lots of songs about devils and werewolves > <! from ALLBM: Zero "Passos No Escuro" (EMI-Odeon, 1985) "new romantic" '80s pop Zero "Carne Humana" (EMI-Odeon, 1987) < ZERO Banda na linha "new romantic" surgida em Sčo Paulo em 1983. Liderada pelo vocalista Guilherme Isnard, contou com nomes de peso da música alternativa paulista da década de 1980, como Fábio Golfetti (guitarrista, fundador do Violeta de Outono). Gravou um compacto simples pela CBS, contendo as músicas "Heróis" e "100% Paixčo". Em 1985, com nova formaćčo, o Zero lanćou o mini-LP "Passos no Escuro" (EMI, 1985), grande sucesso nas rádios, que tocavam a faixa "Agora eu Sei" (em que Guilherme fazia dueto com Paulo Ricardo, do RPM) e "Formosa" continuamente. Em 1987, o Zero lanćou o LP "Carne Humana", que nčo conseguiu repetir o źxito de vendas do disco anterior (200 mil cópias), embora o grupo ainda gozasse de prestígio suficiente para abrir os shows de Tina Turner no Brasil. O Zero encerrou suas atividades em 1989, com direito a shows de despedida. Guilherme Isnard convocou alguns dos membros originais para uma volta comemorativa de 15 anos de banda em 1999, e o sucesso da empreitada fez com que o show rodasse o país.>


---
Brazilian Rock - Compilation Albums
---



Other Brazilian Styles
Main Brazil Index


---