<! MP3 10/23/12 > <! pix 10/23/12 > <! icons 10/23/12 > <! UPDATES: 10/23/12 - lots of adds >

---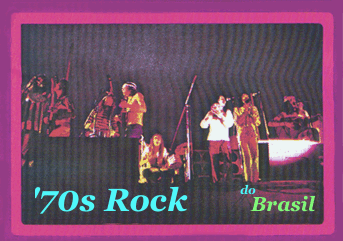 In the 1970s, Brazilian rock'n'roll followed along on several parallel paths, which only occasionally intersected. Many of the groups from the heavily commercialized, early-60s prefab jovem guarda teenybopper scene kept making albums well into the 1970s. Generally speaking, these continued along the pop cover-tunes path of their earlier work, or dipped even deeper into bland pop vocals, as with Roberto Carlos, the king of the scene. Many of the great tropicalia artists who pioneered psychedelic rock in Brazil moved on to become the superstars of the "MPB" scene, which also turned towards an increasingly-ornate pop direction; some -- like Jorge Ben -- delved into funk and soul-flavored groove music.
A handful of artists pursued (more or less) straight-ahead rock music... Many were inspired by the inroads made by the tropicalia movement, but keeping up with the times, they spun off in different directions. Ex-Mutante Rita Lee became something of a stadium rocker, and several prog bands flourished in the mid-'70s, while a few hardcore rockers and psychedelic bands also roamed the land. To be honest, I haven't heard all that many of these records... but as I check them out, I'll add my reviews to the Slipcue site.
---
Brazilian Rock: A | B | C | D | E | F | G | H | I | J | K | L | M | N | O | P | Q | R | S | T | U | V | W | X, Y & Z | Compilations
---
Related Styles: Jovem Guarda | Tropicalia | Disco, Funk & Soul | Other Brazilian Styles
---

Odair Cabeca De Poeta "Rebulico" (RCA, 1979)


(Produced by Renato Correa)
Lyricist Odair Tadeu de Freitas, along with his band Capote (featuring guitarist Vincente Barreto) crafted an at-times uneasy blend of rock, funk and northeastern baiao and forro. Taken from the Brazilian standpoint, as an extension of traditionally-inclined styles, this is pretty wild stuff. But viewed through the filter of North American rock and funk, it's pretty goofy-sounding and clumsy. Still, Odair was one of the most important Northeastern rockers to follow in the path laid down by Alceu Valenca, and this record actually sounds more interesting than most of the Valenca albums I've heard to date. Didn't rock my world, but it's worth checking out.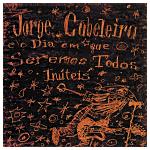 Jorge Cabeleira "E O Dia Em Que Seremos Todos Inuteis" (Sony/Manguenitude, 1994)
An underwhelming, noisy, busy-sounding alt-rockish manguebeat set... Sounds sort of generic and flatly produced... Lots of noise, but little direction. Anyway, it didn't do much for me.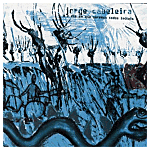 Jorge Cabeleira "Alugam-Se Asas Para O Carnaval" (Sony, 2001)


A typically eclectic manguebit mix of loud, guitar-heavy alt-rock and mellower, more melodic indie-pop, with plenty of regional Brazilian influences, and a smidge of weirdo-folk psychedelia as well: fans of Os Mutantes, Nacao Zumbi or Pato Fu might dig this as well. This record was a little too grating for me to get into; it's conceptually interesting, but not something I'd want to listen to over and over again. Perhaps the most unusual track is the bluesy, Black Crowes-ish "Rock Do Diabo," with a slashing slide guitar and jam-band vibe that's unlike the rest of the record, or, indeed, like most Brazilian rock. Worth checking out if you're into challenging, difficult, modern Brazilian rock.
Cabruera "Cabruera" (Alula, 2002)


Cabruera "O Samba Da Minha Terra" (Nikita, 2004)


Cabruera "Proibido Cochilar: Sambas For Sleepless Nights" (Piranha, 2005)



A reshuffled version of their O Samba Da Minha Terra album... A dense, challenging, lively, irritating, inventive, noisy, amazing blend of regional Brazilian styles (such as forro and coco, along with creatively appropriated rock, rock-funk and tweaky acid-rock-samba... As on their earlier albums, Cabruera touch bases with contemporary manguebeat bands such as Pato Fu and Nacao Zumbi, as well as older psychedelic/samba pioneers such as Novos Baianos, who also mixed rootsy regional sounds with hard-edged "American"-style rock'n'roll... This is a little too aggressive and Red Hot Chili Peppers-ish for me, but in between the slamming testosterone injections, there's some really cool, surprisingly subtle experimental musicmaking... Definitely worth checking out!

Os Caculas "Os Caculas" (RCA, 1969)
One of the numerous Brazilian "nuggets" from the hippie era... This particular album starts out as more or less a set of perky sunshine pop with pert pop arrangements around an earnest female-led vocal chorus with a Mamas & Papas kind of feel. Midway through they stir things up a bit with the mildly (and pleasantly) psychedelicized "A Moca Do Karmann Ghia Vermelho," which has some grinding electric guitars and slightly more aggressive vocals. Then they revert to their mellow folk-pop vibe, with other album highlights including a cover of the Youngbloods "Get Together" (rendered in Portuguese as "Aconselhar E Facil") and the moderately funky closing track, "Meus Pes Descalcos Vao Pisando As Ruas Do Mundo." Not a super-duper psychedelic gem or anything, but cute and fun to groove out to, in a kitschy kinda way.
Celly Campello - see artist discography
Tony Campello - see artist discography

Os Canibais "Os Canibais" (Mocambo, 1967)
Tentative, amateurish jovem-guarda rock... Considering their name I expected some badass garage rock, but instead it's more of a Herman's Hermits/Searchers/Turtles vibe, purposefully tame, musically unchallenging, but perhaps slightly more charming because of the band's unpolished, clumsy performances. Plus, they were from Rio, not Sao Paulo, and everyone knows Cariocas can't rock... Intriguingly, the last three tracks are pretty decent... I halfway suspect the band got better as the sessions came to a close(!) Not a real nugget in the wham-bam kinda way, but a slice of history nonetheless... The group was around for a while, and recorded several singles; in 1970 they momentarily morphed into a band called Bango, and recorded another full album, which I think may be reviewed around here as well. Plus they have some new records which you can download for free (legally, I think!) on their website...
Capital Inicial - see artist discography

Os Carbonos "Serie Bis - Jovem Guarda" (EMI/Copacabana, 2000)


Mainly sluggish, mid-tempo teeniebopper ballads, recorded between 1969-81, well after the real Jovem Guarda boom. Although there are plenty of potentially interesting cover tunes ("Bus Stop," "Mellow Yellow," Arthur Adams' "Anna"...) none of the performances are very exciting... this is basically the Brazilian equivalent of the kind of oldies cover band you'd hear at a country fair up here in the States... Of note, though, is their version of "Never Never," by Uruguay's Los Shakers, which is still pretty rinky-dink, but noteworthy because of the pan-Latin American link.
Os Carbonos "Selecao De Ouro" (2007)

Erasmo Carlos - see artist discography
Roberto Carlos - see artist discography
Ana Carolina - see artist discography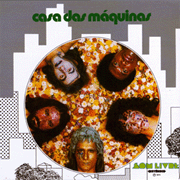 Casa Das Maquinas "Casa Das Maquinas" (Som Livre, 1974)



The first album from a rock band that came out of the ashes of two groups, The Clevers and Os Incriveis. This is a prime example of mid-1970s Brazilian rock mimicking the trends up North, in the good old U. S. of A. This is an almost perplexingly diverse offering, kicking off with the KISS-ish heavy rock of "A Natureza," sliding next into a prog-psychedelic recitation tune worthy of tropicalista Tom Ze. The hard-rock side of their work gets lost for a few tunes as the band slides into a soft-rock sound, more in line with the AOR ("album oriented rock") that dominated the American charts at the time... Plenty of bands come to mind: Procol Harum, Three Dog Night, The Isley Brothers, maybe a dash of Cheap Trick or Styx. For a comparison in the Brazilian sphere, late-vintage Os Mutantes comes to mind, when the band had settled into its pop-prog mode. And, yeah, if you like those old Mutantes records, you'll want to check this out as well. It's a surprisingly strong offering, if a bit cheesy at times. Worth checking out!
Casa Das Maquinas "Lar De Maravilhas" (Som Livre, 1975)

Casa Das Maquinas "Casa De Rock" (Som Livre, 1976)

Casa Das Maquinas "Ao Vivo Em Santos" (1978-ish)
Apparently, there's also this pirate LP that captures the band live, in 1978. No info on the album's provenance, etc.

Cascabulho "Fome Da Dor Da Cabeca (Hunger Gives You A Headache)" (Piranha, 1998)



An interesting mix of manguebeat and forro from this inventive group out of Recife. They stick to their Northeastern roots throughout, although the introduction of rock and rap elements is pretty smooth and effective. A little less aggressive and overblown than contemporaries such as Chico Science or Lenine, these guys have less punch, but sound more subtle. This album didn't blow my mind, but I liked it and think it's definitely worth checking out.
Cascabulho "E Caco De Vidro Puro" (Atracao, 2003)






<! date? >

Cascadura "#1" (1997)





Cascadura "Entre!" (1999)





Cascadura "Promo" (2002)





Cascadura "Vivendo Em Grande Estilo" (Tratore, 2004)


Cascadura "Bogary" (Tratore, 2006)





<! Cascadura - rock band http://pt.wikipedia.org/wiki/Cascadura_%28banda%29 Cascadura "#1" (1997) Cascadura "Entre!" (1999) Cascadura "Promo" (2002) Cascadura "Vivendo Em Grande Estilo" (Tratore, 2004) B00079LWI8 B000X7RQNO Cascadura "Bogary" (Tratore, 2006) B000IB12YE >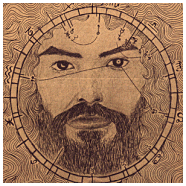 Marinho Castellar "...E Banda Disritmia" (1980)
A kooky collision of hippiedelic, difficult-listening folk-freak indulgence and undefinable regional Brazilian influences... This starts out with a fairly straightforward, sweet-sounding acoustic number, and just gets weirder and weirder and more challenging and odd. The male-female vocal tradeoffs bring Os Mutantes to mind, but this never gets as loud as they do, or strays as far from a central style. Lots of Nana Vasconcelos-y percussion and headphone-oriented fillips drift in and out of most songs -- goofy guitar riffs, a triangle here and there, doo-wahh choruses, just because -- anchored by delicate, folkish songwriting and gentle vocals. Is Castellar undercutting himself with all the distractions? Maybe, but he manages to make the mishmash listenable and pleasant, so I'd say not. Some songs may get on your nerves, but the album itself is delightfully weird and definitely worth a spin!
Cazuza - see artist discography
Chico Cesar - see artist discography
Charlie Brown, Jr. - see artist discography
China "Um So" (EMI-Cardume, 2006)


A 6-song EP of contemporary rock, some of it playfully punky, some of it tempered by Brazilian bossa, and some of it kind of mellow and Calexico-ish. Worth checking out.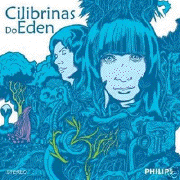 Cilibrinas Do Eden "Cilibrinas Do Eden" (Philips, 1973)


A stunning psychedelic-rock reissue from the vaults of the Brazilian tropicalia scene... This is cool acid rock album from Rita Lee, of the band Os Mutantes, singing here with her friend Lucia Turnbull and (as was common in her early solo career) some help from her buddies in the Mutantes bands. Turnbull is a cipher to me -- outside of this album, I know very little about her -- but this album is a real dazzler, one of Lee's grittiest and most impressive rock records, better than pretty much anything she did with her '70s solo band, Tutti Frutti. It features Brazilian cult classics like "Ainda Bem (Bad Trip)" and some of the wickedest electric guitar work of her career. This album was built around an electrifying performance at the 7th International Song Festival, in 1972 -- a live concert single (also included here) led to a studio recording, all of which is pretty striking. The album's original liner notes make nods towards Alice Cooper and the subversive hard rock of the era, and unlike the 1970s Mutantes and Tutti Frutti albums, this disc doesn't tilt as heavily towards a commercialized, stadium-rock sound, sticking instead to the more piercing, disturbing end of the glam/hard-rock/psychedelic spectrum. It's pretty cool, if not entirely the kind of record you'd want to relax to at home. If you can track it down, this is definitely worth snapping up.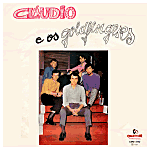 Claudio E Os Goldfingers "Claudio E Os Goldfingers" (Chantacler, 1967)
Earnest but often lethargic late-'60s jovem guarda, with echoes of Roberto Carlos' RC-7, especially the meandering electric organ of bandleader Claudio de Souza, whose playing doesn't really work most of the time, but is still a charming reminder of the era. The repertoire includes some originals and some covers of '60s pop hits ("Goldfinger," for example) but nothing that'll knock your socks off... Not a great record, really, and not as teenybopper super-cute as other stuff from the time, but worth checking out if you're hardcore into the style.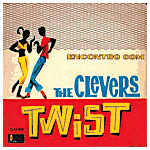 The Clevers "Encontro Com The Clevers - Twist!" (Continental, 1963) (LP)


A solid surf/instrumental rock set by the band that later changed its name to Os Incriveis... Later, in a move worthy of Don Kirshner or Phil Spector, the labels put together a new group called The New Clevers, and issued several albums under that name... But this was the real, original band, and they were pretty good. If you like the whole Cliff Richards/Shadows sound, you'll probably get a kick out of this as well.
Colera "Tente Mudar Amanha" (Ataque Frontal, 1985)
Brazilian hardcore punk, circa 1985. The inner label says something about "introducing Suburbio Geral..." Their lead singer, perhaps? Anyone know more about these guys?
Baby Consuelo/Baby Do Brasil - see artist discography

Cordel Do Fogo Encantado "Cordel Do Fogo Encantado" (Rec Beat, 2001)


(Produced by Nana Vasconcelos)
Experimental Brazilian rock, seemingly equally influenced by manguebeat artists such as Nacao Zumbi and the dadaist tropicalismo of Tom Ze. Heavy on the percussion, this disc drifts and ambles, avoiding rock guitar cliches and has a certain fresh playfulness to it, with spaced-out, Allan Ginsburg-ish poetic lyrics. It's a bit meandering, not melodically that satisfying, or filled with overt pop hooks, but it's still interesting to know that there is this sort of searching, difficult-listening avant-ish pop being made in Brazil. Producer Nana Vasconcelos's guiding hand is easily felt on this far-ranging set; he also plays percussion on most tracks. Kinda sounds like Quinteto Violado after a particularly long night, with a slight hangover, but still up for some more fun.

Cordel Do Fogo Encantado "O Palhaco Do Circus Sem Futuro" (Rec Beat, 2002)


(Produced by Cordel Do Fogo Encantado, Ricardo Bolognini & Boguinha Dub)
More of the same; an unusual sonic excursion, certainly different than most Brazilian pop, and worth checking out, if you want to go a little on the wild side. Their first album might be slightly better, but either disc will hit you about the same.
Cordel Do Fogo Encantado "MTV Apresenta..." (Trama, 2005)





<! DVD B000BP2XVS >


A Cor Do Som - see artist discography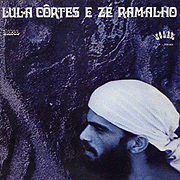 Lula Cortes & Ze Ramalho "Paebiru" (Rozenblit/Mocambo, 1974)



Northeastern rock pioneer Ze Ramalho plays various instruments on this aggressivley experimental pysch/prog/avant rock album, backing Lula Cortes of the Brazilian psych band Satwa... For many, this is a lost treasure of Brazilian acid rock; I just found it to be tremendously irritating and jaggedly textured. If your taste in jazz tilts towards improvisational "free jazz," where constantly pushing against the envelope is an end in and of itself, then this album might be a real treat... Personally, I like a little more melody. (So I'm square; sue me, daddy-o.) This is an interesting historical relic, I suppose, but I far prefer the spacy folk-rock of Ramalho's first few solo albums...
Lula Cortes "Rosa De Sangue" (Rozenblit, 1980)






<! Rozenblit? > <! 10/12: in iTunes >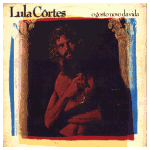 Lula Cortes "O Gosto Novo Da Vida" (1981)
One: If you want me to like your record, don't use the soprano saxophone. Two: don't use it, ever. This is an odd, discursive, languid album, with Cortes basically talking, sometimes half-singing, over a sparse, fusion-ish sound bed -- formless synths, loping electric bass, some guitars, and that f___ing soprano sax. The songs themselves are inconsistent and lopsided, lazily realized with irregular bursts of life -- a generic rock solo, and little dash of forro, some brief flurry of psychedelic intensity -- and then it lapses back into soft-pop tedium. It's artsy, but it's not very good. I mean... Well, no... it's just not very good. Seriously. There's not a single song on here that I'd want to hear again.
Gal Costa - see artist discography
---
Brazilian Rock - Letter "D"
---



Other Brazilian Styles
Main Brazil Index


---