<! MP3 10/27/12 > <! pix 10/27/12 > <! icons 10/27/12 > <! UPDATES: 10/27/12 - reposted w/ adds >

---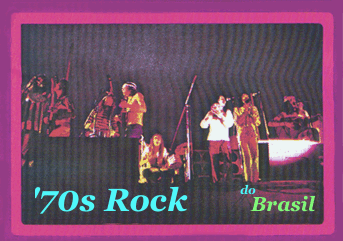 In the 1970s, Brazilian rock'n'roll followed along on several parallel paths, which only occasionally intersected. Many of the groups from the heavily commercialized, early-60s prefab jovem guarda teenybopper scene kept making albums well into the 1970s. Generally speaking, these continued along the pop cover-tunes path of their earlier work, or dipped even deeper into bland pop vocals, as with Roberto Carlos, the king of the scene. Many of the great tropicalia artists who pioneered psychedelic rock in Brazil moved on to become the superstars of the "MPB" scene, which also turned towards an increasingly-ornate pop direction; some -- like Jorge Ben -- delved into funk and soul-flavored groove music.
A handful of artists pursued (more or less) straight-ahead rock music... Many were inspired by the inroads made by the tropicalia movement, but keeping up with the times, they spun off in different directions. Ex-Mutante Rita Lee became something of a stadium rocker, and several prog bands flourished in the mid-'70s, while a few hardcore rockers and psychedelic bands also roamed the land. To be honest, I haven't heard all that many of these records... but as I check them out, I'll add my reviews to the Slipcue site.
---
Brazilian Rock: A | B | C | D | E | F | G | H | I | J | K | L | M | N | O | P | Q | R | S | T | U | V | W | X, Y & Z | Compilations
---
Related Styles: Jovem Guarda | Tropicalia | Disco, Funk & Soul | Other Brazilian Styles
---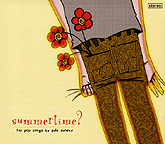 Pale Sunday "Summertime...?" (Matinee, 2005)



Dreamy, jangly indie-pop from this Sao Paulo-based band... Singing mostly in English (with the exception of one song, titled "1978"), these guys flawlessly emulate their models, namely the mopey, wistful '80s British twee-poppers of the Sarah label variety, and numerous lo-fi janglecore bands from the USA... They have the sound down to a "T", though if you know what to listen for, you can pick out their cute Brazilian accents and doubtless find it quite charming. Personally, I wish they'd sung more numbers in Portuguese, 'cuz I like that sort of thing from "foreign" bands, but it's still cool to find such a competent indie band coming out of Brazil... There are precious few, as far as I can tell... If you like cute, introspective guitar-pop bands with mopey, solipsistic lyrics -- indeed, any other bands on the Matinee label -- then check these guys out. They know what they're doing.
Pale Sunday "A Weekend With Jane" (EP) (Matinee, 2003)


Pale Sunday "Shooting Star" (EP) (Matinee, 2010)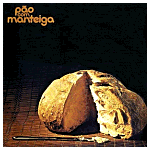 Pao Com Manteiga "Pao Com Manteiga" (Continental, 1976)
Downtempo '70s prog, with a wispy, cosmic, stargazing vibe. Lazy, chunky electric guitars, kooky, irritating vocals. Reminds me of Rita Lee's Tutti Frutti stuff, with less of a spasmodic, rock'n'roll drive... But the hippie harmonies are the same. I guess this is kind of interesting, though it's not really my scene. Authentic, yes... Captivating? Ummm... Guess it depends on your perspective.
Os Paralamas Do Sucesso - see artist discography
Pato Fu - see artist discography

Pedro Paulo "Apresenta Os Sucessos" (Columbia/OKeh, 1969)



Soft rocker Pedro Paulo kind of picked up where Roberto Carlos left off -- as Carlos drifted towards his iconic status as a Spanish-language crooner, Paulo kept singing old-fashioned teenybopper pop tunes. Considering when these albums actually came out, they were hopelessly out of fashion, but if you just take them for what they are and compare them to Carlos's rather similar releases from 1962-66, Paulo's work holds up pretty well. He was more consistently uptempo and "rocking" than Carlos, and recorded fewer American pop covers. On the second album, he gets a little more modern, opening the disc with "Maria Helena," a funky original by Brazilian soul singer, Hyldon Souza. Yeah, sure, it's mainly pretty wimpy stuff, but for the JG scene, this ain't bad. (Reissued along with Volume Two in 1999 as a 2-CD set.)
Pedro Paulo "Apresenta Os Sucessos, v.2" (Columbia/OKeh, 1970)


Pavilhao 9 - see artist discography
Diana Pequeno - see artist discography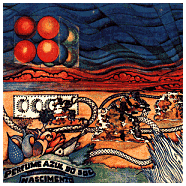 Perfume Azul Do Sol "Nascimento" (Chantecler, 1974)
Psychedelic heavy/hippie rock straight from the tropicalia playbook: fans of Novos Baianos or Gal Costa's rock records of 1969-71 will get a kick out of this Sao Paulo-based band which featured a female vocalist named Ana, as well as a couple of prog-psych vets from bands such as Som Nosso Cada Dia and Os Incriveis... It's a decent record which seems thrilling when it starts out, but falls a little flat after a few tunes; they're authentic and up to date, doing the same stuff as the other bands, but they don't quite have the propulsive spark to make this the kind of record that'll really wow you. Still, students of Brazilian rock will definitely want to check this out.


<! Perla - covered ABBA >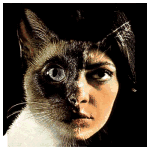 Persona "Som" (1975)
Wanky Brazilian lo-fi hippie-prog, with lots of kooky, spaced-out guitar noodling and ineffective "drumming" as the primary accompaniment. This band featured lead guitarist Luis Sergio Carlini and percussionist Franklin Paolillo, later of Rita Lee's post-Mutantes backup band, Tutti Frutti. This self-released record probably seemed a lot cooler when they were high on whatever they were high on, and I suppose it's a fascinating historical relic, etc. etc., but it's really pretty bad music. It doesn't really hold up well, no matter how rare it was.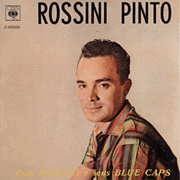 Rossini Pinto "Rossini Pinto" (CBS, 1964)


Pop composer Rossini Pinto was one of the major players in the teen-oriented 1960s jovem guarda pop-rock boom; as a songwriter, producer and lyric translator, his imprint was all over the work of all the other artists in the scene, with versions recorded by Jerry Adriani, Roberto Carlos, The Fevers and The Golden Boys, to name a few. I don't think he really got a fair shake as a performer, though, as this was his only solo album in a decades-long career. Having come to this album after hearing dozens of drab and perfunctory JG rock runthroughs, I have to say I was really impressed. Backing Rossini up here were Renato E Seus Blue-Caps, one of the best-known JG bands, and they give one of their liveliest, jangliest performances -- what I really like, though, are Rossini's vocals. He has an imperfect voice and an offhand delivery that I find quite appealing; there's an imperceptible roughness that's almost like American hillbilly music, a lack of polish that makes him sound refreshingly human. Plus, what a swell set of tunes! Although the JG scene was awash with saccharine, slurpy pop ballads, Pinto tilted towards bouncy, upbeat material. There are a couple of cover tunes on here -- most notably "His Latest Flame," which kicks the album off -- but most of the songs are Rossini originals, and most of them are pretty fun. For my money, this album is way cooler than many of the better-known jovem guarda discs -- it's got more grit and more pep to it than most. Definitely worth checking out!

Mylene Pires "Mylene" (Fast Horse, 2003)


(Produced by Ramiro Musotto)
A beautiful album, merging modern Brazilian electronica with sumptuous, soft pop balladry... Anyone who's impatient waiting for Bebel Gilberto to come out with a new album owes it to themselves to check this disc out. Pires shares a similarly eclectic, modern approach, and may even have a more nuanced, far-reaching (if less overtly dynamic) sound than the widely-renowned Bebel G. Percussionist Ramiro Musotto mans the board as producer, and compliments Mylene's laidback style with wispy samples and snippets that don't seem intrusive or cliched... The only weak moment is on a cover of the Beatles tune, "Eleanor Rigby," which pulls us out of the trancy vibe set by the rest of the record... But as musical sins go, this is a pretty minor misstep. All in all, this is a lovely release, well worth checking out.
Mylene Pires "O Que E Que Ha?" (MCD, 2005)


Pitty "Admiravel Chip Novo" (Deckdisc, 2003)


Pitty "Anacronico" (Deckdisc, 2005)


Pitty "(Des)Concerto Ao Vivo" (Deckdisc, 2007)


Pitty "Chiaroscuro" (HPI, 2009)

Pitty "A Trupe Delirante No Circo Voador" (2011)


Plebe Rude "O Concreto Ja Rachou" (EMI, 1986)
(Produced by Herbert Vianna)
One of the early bands of the 1980's punk/BRock scene, Plebe Rude hailed from Brasilia, and had been together for several years (since 1981) before recording this debut album, with assistance from Herbert Vianna, of the band Os Paralamas do Sucesso. A fine example of the then-vibrant hard rock scene of the times.
Plebe Rude "Nunca Fomos Tao Brasileiros" (EMI, 1987)
(Produced by Herbert Vianna)

Plebe Rude "Plebe Rude III" (1989)

Plebe Rude "Mais Raiva Do Que Medo" (Natasha, 1992)

Plebe Rude "Enquanto A Tregua Nao Vem Ao Vivo" (2000)


Plebe Rude "R Ao Contrario" (Tratore, 2006)

Plebe Rude "Para Sempre" (2007)


The Pop's "Na Base Do Ie, Ie, Ie" (Equipe, 1966)
(Produced by Oswaldo Cadaxo & Tony Vestane)
Mostly a collection of surfy/Shadows-y rock/pop guitar instrumentals, with a pair of jovem guarda pop ballads ("Solidao," "Inspiracao") bookending the twang tunes. Surf music devotees will want to track this down, for sure -- this was a good band, worth knowing about -- but if you're primarily interested in Brazilian rock music, music that sounds distinctly Brazilian, this is mostly stuff that you can hear bands anywhere in the world play. "Solidao" is a nice sappy JG song, but that's about it. Stay tuned, though: despite the unneeded apostrophe, The Pop's evolved into a much more interesting band.


<! liner notes: Silvio Jose, bass; J. Cesar, solo guitar; Pippo, rhythm; Parada, drums >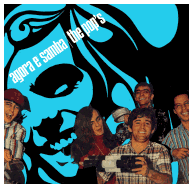 The Pop's "Agora E Samba" (Equipe, 1968)
A wildly kinetic "easy listening" album, blending uptempo samba drumming with inventive, jazzy electric guitar and a particularly manic organist -- sort of like Walter Wanderley on crack. I have to admit, this album got on my nerves after a while, but there are plenty of great performances and catchy grooves on here. For fans of instrumental novelty pop, this record'd be a real find... A groovy intersection between youthful samba-soul, goofy muzak and hardcore batucada percussion. Who knew?

The Pop's & Oswaldo Nunes "Ta Tudo Ai" (Equipe, 1969)
A groovy set, wherein the rock chops of the punctuation-challenged Pop's are harnessed to the swinging multi-stylistic tornado of singer Oswaldo Nunes, an energetic, expressive performer who apparently died young, but recorded some neat material, including this intriguing album. Like Jair Rodrigues or Wilson Simonal before him, Nunes could be alternately explosive and schmaltzy; I enjoyed him in both modes. There are plenty of regional touches, including an undercurrent of forro and baiao, as well as old-school samba; hearing the crunchy, fuzzy electric guitars in the mix is a gas, and although the Pop's sound a little less committed to their chores as backup vocalists, this is a great record, one that'll get you up and dancing before you know what hit you. Definitely worth tracking down!

The Pop's "Feliz Natal" (Equipe, 1969)
(Produced by Oswaldo Cadaxo)
A surfy holiday rock-instrumental album, with plenty of standards ("White Christmas," etc.) and some homegrown South American tunes as well. This is mildly groovy, but not distinctively "Brazilian" in any way -- any number of prefab rock bands up North could have cranked this out as well. Great version of "Jingle Bells," though!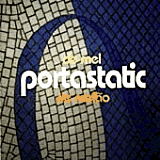 Portastatic "De Mel, De Melao" (Merge, 2000)



(Produced by Mac McCaughan & Brian Paulson)
This isn't really from Brazil, but don't let that stop you...! It seems that Merge Record's main man, indie-rock god Mac McCaughy, has been on a big Brazilian kick for a while and, after taking a trip down south, finally worked up the gumption to put out a tribute disc. This five-song EP is great: I'd love to hear a full-length follow up, maybe with some tropicalia-inspired original material as well as the classics... As it is, though, this is pretty engaging, with freshly translated versions of oldies by Caetano Veloso, Gilberto Gil, and other tropicalia legends, along with a nice ballad from bossa-jazz chanteuse, Joyce. These are heartfelt, sonically rich and musically perceptive. Check it out!
Portinho "Noel Rosa & Portinho Da Samba" (Philips, 1964)
Brassy big band/orchestral versions of Noel Rosa catchy samba-cancao classics. It's a very jaunty little record, very corny, too, but also pretty listenable. I guess I'd class this as a guilty pleasure -- I'd be a little embarrassed to have friends catch me listening to it, but it's got a kooky, kitschy groove, nonetheless.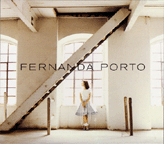 Fernanda Porto "Fernanda Porto" (Trama, 2003)



She's been hailed as Brazil's best electronic-pop diva, but frankly, I found this disc to be a bit generic and unadventuresome. It's okay -- sort of similar to Bebel Gilberto's Tanto Tempo album, though less inventive and more aggressively "pop" -- but it didn't really wow me. The electronica aspects are too uni-dimensional -- a dip into this or that readily-identifiable dance style, blips, boops and beats, drum'n'bass grooves that have been heard a bazillion times before, and little aural texture to help flesh them out. This is probably best taken in small doses, with a song here and there mixed in with other artists... For about half the record, it's innocuous an easy on the ears... And then after a while the unvarying perkiness starts to wear thin. Please note, I'm fairly critical of dance music and electronica in general, and for those of you who are in a more clubby frame of mind, this album will probably sound completely brilliant and fresh. Take what I say with a grain of salt.
Fernanda Porto "Ao Vivo" (Trama, 2006)



Fernanda Porto "Giramundo" (Trama/Circular Moves, 2006)



(Produced by Fernanda Porto)
Can't say I'm really loving this new, self-produced record by up-and-coming Brazilian electronica diva Fernanda Porto... There's a rushed, careless feel about the album that, I suppose, is a reflection of the club-oriented "baile funk" scene, which prizes high-energy exuberance above all else. I think Porto would have been better off exploring the silky, multi-textured electronic/ambient style of her previous album, but who knows? Maybe that sort of subtlety and sultriness is too "tired" these days, amid the coolness-obsessed, hip, happening young-uns. All I know is that rapid-fire club music like this doesn't do much for me, nor does it support Porto's modest voice as well as her more relaxed, thoughtful arrangements. You might wanna check it out for yourself, though -- maybe I'm just too old and geezerly to get what she's doing.
Fernanda Porto "Auto Retrato" (EMI, 2009)


Fernanda Porto "The Best Of Fernanda Porto" (Trama/Circular Moves, 2006)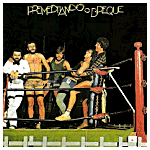 Premeditando O Breque "Preme" (Spalla, 1981)
This kooky, eclectic Sao Paulo band came out of the intellectual, university-educated wing of the late-1970s MPB scene. Playing in a variety of historical and regional styles, they mixed satire and scholarship with a playful, chaotic spirit... Perhaps they aspired to be sort of a Brazilian Bonzo Dog Doo-Dah Band? I don't most of the references, but the humor-filled feel of the band is easy to pick up on... This was their first album, and featured a lot of acoustic musicianship -- they'd get a bigger, poppier sound as time went on.

Premeditando O Breque "Quase Lindo" (Continental/Devil Discos, 1983) (LP)


A wildly eclectic band hones their craft within a too-smooth pop production style... While it's obvious that they are (partly) playing for laughs, the slick pop sound is a jarring contrast to their anarchic spirit. The album opens with the swank, big-bandy "Sao Paulo, Sao Paulo," a Tony Bennett-esque Brazilianization of the "New York, New York" theme; the rest of the record runs through a variety of genres, but all with the same clean, round-toned studio sound -- which is itself partly what they make fun of. Kind of a weird record, not quite my cup of tea, but worth checking out if you're interested in hearing Brazilian stuff that's off the beaten track.
Premeditando O Breque "O Melhor Dos Iguais" (1985)

Premeditando O Breque "Grande Coisa" (1986) (LP)

Premeditando O Breque "Alegria Dos Homens" (1991)

Premeditando O Breque "Vivo" (Velas, 1996)

---
Brazilian Rock - Letter "Q"
---



Other Brazilian Styles
Main Brazil Index


---