<! MP3 10/27/12 > <! pix 10/27/12 > <! icons 10/27/12 > <! UPDATES: 10/27/12 - reposted w/ adds >

---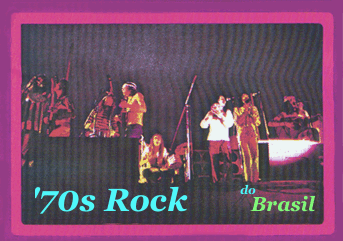 In the 1970s, Brazilian rock'n'roll followed along on several parallel paths, which only occasionally intersected. Many of the groups from the heavily commercialized, early-60s prefab jovem guarda teenybopper scene kept making albums well into the 1970s. Generally speaking, these continued along the pop cover-tunes path of their earlier work, or dipped even deeper into bland pop vocals, as with Roberto Carlos, the king of the scene. Many of the great tropicalia artists who pioneered psychedelic rock in Brazil moved on to become the superstars of the "MPB" scene, which also turned towards an increasingly-ornate pop direction; some -- like Jorge Ben -- delved into funk and soul-flavored groove music.
A handful of artists pursued (more or less) straight-ahead rock music... Many were inspired by the inroads made by the tropicalia movement, but keeping up with the times, they spun off in different directions. Ex-Mutante Rita Lee became something of a stadium rocker, and several prog bands flourished in the mid-'70s, while a few hardcore rockers and psychedelic bands also roamed the land. To be honest, I haven't heard all that many of these records... but as I check them out, I'll add my reviews to the Slipcue site.
---
Brazilian Rock: A | B | C | D | E | F | G | H | I | J | K | L | M | N | O | P | Q | R | S | T | U | V | W | X, Y & Z | Compilations
---
Related Styles: Jovem Guarda | Tropicalia | Disco, Funk & Soul | Other Brazilian Styles
---

<! Orlandivo - ??? >

Os Ostras "Os Ostras" (Top Cat/Abril, 1997)



Os Ostras "Operacao Submarina" (Top Cat/Abril, 1998)



(Produced by Brian Butler)
Ska-tinged, surfy, power-pop indie-rock from Brazil? I am so there! The first song is a bouncy indie-pop tune that's kinda catchy... Unfortunately most of the rest of the songs are just straightforward surf-garage instrumentals, and while it's cool to know that there are bands in Brazil that play this style of music, it's not something you couldn't hear plenty of places elsewhere. Os Ostras play well, though: bet they were fun live, too!
Os Ostras "Os Ostras" (Top Cat/Abril, 1997)


Ostheobaldo "Passa O Corredor" (EMI, 2003)





<! alt-rock >

Otto "Samba Pra Burro" (Trama Music, 1998)



(Produced by Apollo 9)
First-rate Brazilian electronica, liberally mixing hip-hop beats and samba riffs into a richly-textured ambient backdrop, with the occasional drum-and-bass skittering-about. The best tracks on here are outstanding -- and where there's one record this good, more are sure to follow. Otto was once the percussionist for the band Mundo Livre s/a... Sounds pretty good, too, here on his first solo outing...

Otto "Condom Black" (Trama Music, 2001)



Otto gets a bit spacier and mellower on this disc, in some ways perhaps less "electronic", but still kinda cool. He even does a bit of more or less straight-up shoegazer electric guitar pop, and sings on hseveral songs. I can't say that this album leapt out at me the way the best tracks on Samba Pra Burro did, but it's certainly easy on the ears and worth checking out if you want something kinda mellow to listen to. (By the way, I know that Beto Lee, who pitches in on this album, is Rita Lee's son... does anyone know if Valmir Gil, who also plays on this album, is related to Gilberto?)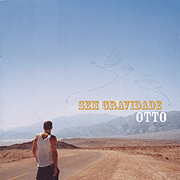 Otto "Sem Gravidade" (Trama Music, 2003)



(Produced by Apollo 9 & Otto)
Getting even looser and more indierock, Otto opens up with the giddy, guitar-y "Lavanda," followed by the dance-y "Tento Entender," which features guest vocals by Rita Lee (and her son Beto, on guitar....) The rest of the album slips into spacier, less poppy material, odd, off-kilter tunes that have a laidback, bossa-esque feel to them. By using less high-tech sound processing over the lyrics, Otto reveals the plainness of his own voice, giving this album a more personal, intimate feel. Another mellow record, certainly worth checking out.
Otto "MTV Apresenta" (Trama Music, 2005)

Otto "MTV Apresenta" (DVD) (Trama Music, 2005)

Otto "Certa Manha Acordei De Sonhos Intranquilos" (Nublu, 2009)






<! Ovelha - rock?? Ovelha Negra - rock?? >


---
Brazilian Rock - Letter "P"
---



Other Brazilian Styles
Main Brazil Index


---