<! MP3 10/24/12 > <! pix 10/24/12 > <! icons 10/24/12 > <! UPDATES: 10/24/12 - reposted w/ adds >

---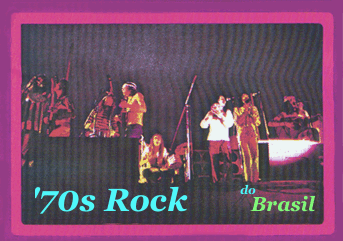 In the 1970s, Brazilian rock'n'roll followed along on several parallel paths, which only occasionally intersected. Many of the groups from the heavily commercialized, early-60s prefab jovem guarda teenybopper scene kept making albums well into the 1970s. Generally speaking, these continued along the pop cover-tunes path of their earlier work, or dipped even deeper into bland pop vocals, as with Roberto Carlos, the king of the scene. Many of the great tropicalia artists who pioneered psychedelic rock in Brazil moved on to become the superstars of the "MPB" scene, which also turned towards an increasingly-ornate pop direction; some -- like Jorge Ben -- delved into funk and soul-flavored groove music.
A handful of artists pursued (more or less) straight-ahead rock music... Many were inspired by the inroads made by the tropicalia movement, but keeping up with the times, they spun off in different directions. Ex-Mutante Rita Lee became something of a stadium rocker, and several prog bands flourished in the mid-'70s, while a few hardcore rockers and psychedelic bands also roamed the land. To be honest, I haven't heard all that many of these records... but as I check them out, I'll add my reviews to the Slipcue site.
---
Brazilian Rock: A | B | C | D | E | F | G | H | I | J | K | L | M | N | O | P | Q | R | S | T | U | V | W | X, Y & Z | Compilations
---
Related Styles: Jovem Guarda | Tropicalia | Disco, Funk & Soul | Other Brazilian Styles
---
Gabriel O Pensador - see artist discography
Mona Gadelha "Mona Gadelha" (Movieplay, 1996)



Mona Gadelha "Cenas & Dramas" (Eldorado, 1999)


The second album by Mona Gadelha... Funky rock with a danceable groove on many tracks... A Slipcue reader had written me to recommend Gadelha's work, comparing her to similar artists such as Fernanda Abreu and Ana Carolina, and although Gadelha's production values aren't as slick as those major label gals, I think the reader hit the nail on the head. The modern rock guitars may be a little over-obvious at times, but this is certainly a different sound for Brazilian pop, and several songs are pretty good. Worth checking out.
Mona Gadelha "Tudo Se Move" (Brazilbizz, 2004)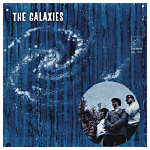 The Galaxies "The Galaxies" (Som Maior, 1969) <! Som Maior? Really?? >
This one is a super-duper weird one... Just listening to this English-language folk-rock set, I was skeptical that this was really a Brazilian record, but according to Senhor F -- the world expert on weird, rare Brazilian rock -- this album was a collaboration between English expatriate David Charles Odams and American-born Jocelyn Ann Odams (presumably his wife?) who made the scene in '60s Sao Paulo and cut an album with the backing of a garage band with some connection to Os Baobas. The band is okay -- crude drumming, fun, fuzzy electric guitars -- though the Odamses are laughably bad. Not quite Foot-Foot-Shaggs bad, but certainly bad enough to become a Dr. Demento-ish college radio kitsch fave, sort of a mediocre '60s folk duo doing Merseybeat covers with some unsuspecting Brazilians backing them up, thinking they were the real deal. There are goofy versions of songs by Lee Hazelwood, Donovan, Love, Unit 4+2 and the like. But, yes, it is a Brazilian album, or at least it's a part of Brazilian rock history. Ah, Sao Paulo... always something new and surprising!

Mario Garcia "Sr. Cisne" (Itaipu, 1982)
Torturously dull electric guitar instrumentals, with obvious debts to noodly rock-fusion pickers such as Stevie Vai, Jeff Beck, and Carlos Santana, although there's little on here that's as fluid or imaginative as anything those dino-dudes ever did... Apparently Garcia was into exploring the African musical traditions in Uruguay and other Latin American locales, as well as the "trio eletrico" style of the Recife Carnaval parades... The Brazilian connection you can hear, but the other stuff seems pretty well buried under the dreadful rock influences. Really not a record I need to hear again... ever.

The Gentlemen "The Gentlemen" (1972)
A late-edition album by these veterans of the jovem guarda... The Gentlemen originally formed in 1966, with Ze Ramalho as a founding member, though he was long gone by the time this disc came out... This disc starts out with a blistering acid-rock fuzz-guitar instrumental song, clearly influenced by Carlos Santana; what follows is a parade of softer rock-pop songs, including several cover tunes, which varies in tone from (early) Bee Gees wimpy to Animals-esque bluesiness. A taste of heavy rock reasserts itself on songs such as "Vazio," "O Embarque" and "Eu Juro," but mostly this is softer stuff, mainly in line with the JG scene of the late '60s. Keep in mind the scene they came out of: compared to top bands such as The Fevers and Renato & Seus Blue Caps, though, these guys sound relatively rugged. Definitely worth checking out if you're into the JG sound.
Ze Geraldo - see artist discography
Giane "Esta E Giane - A Voz Docura" (Chantcler, 1964)

Giane "Giane" (Chantcler, 1965)

Giane "Suavemente" (Chantcler, 1965)

Giane "Vitrola Digital" (Warner, 2007)


A best-of set for this jovem guarda minor-leaguer...
Gilberto Gil - see artist discography

The Gilbertos "Os Eurosambas: 1992-1998" (Midsummer Madness, 1999)


Indierock doesn't have a particularly large following in Brazil, but this was one of the most widely available albums of its kind to come out of the tiny indie scene. Released by the folks at the Rio-based Midsummer Madness 'zine, this is unfortunately a less-than stellar album, rehashing musical themes from the US and European twee and lo-fi scenes, though with little drive or focus, as far as I can tell. Songwriter Thomas Pappon previously fronted a band called the Fellinis and ran the independent Stiletto label (none of which I've heard or have first-hand experience with...) but here he seems self-indulgent and diffuse, trying all sorts of techniques but without generating much spark. Dunno; maybe it's just me. Still, there's plenty of international lo-fi rock and twee stuff that I have heard and liked (or disliked), so I think I have enough of a background in rock to know a disappointment when I hear one. Still, for thise who are curious, this may be a disc worth checking out, if just to know what's out there...
Golden Boys - see artist discography
Pepeu Gomes - see artist discography
Lanny Gordin - see artist discography
Graforreia Xilarmonic "Ao Vivo" (2007)





<! rock music, with Frank Jorge (is he on this album?) >


Beto Guedes - see artist discography






---
Brazilian Rock - Letter "H"
---



Other Brazilian Styles
Main Brazil Index


---