<! MP3 10/24/12 > <! pix 10/24/12 > <! icons 10/24/12 > <! UPDATES: 10/24/12 - reposted w/ adds >

---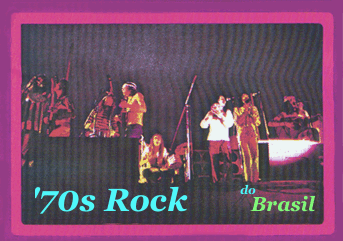 In the 1970s, Brazilian rock'n'roll followed along on several parallel paths, which only occasionally intersected. Many of the groups from the heavily commercialized, early-60s prefab jovem guarda teenybopper scene kept making albums well into the 1970s. Generally speaking, these continued along the pop cover-tunes path of their earlier work, or dipped even deeper into bland pop vocals, as with Roberto Carlos, the king of the scene. Many of the great tropicalia artists who pioneered psychedelic rock in Brazil moved on to become the superstars of the "MPB" scene, which also turned towards an increasingly-ornate pop direction; some -- like Jorge Ben -- delved into funk and soul-flavored groove music.
A handful of artists pursued (more or less) straight-ahead rock music... Many were inspired by the inroads made by the tropicalia movement, but keeping up with the times, they spun off in different directions. Ex-Mutante Rita Lee became something of a stadium rocker, and several prog bands flourished in the mid-'70s, while a few hardcore rockers and psychedelic bands also roamed the land. To be honest, I haven't heard all that many of these records... but as I check them out, I'll add my reviews to the Slipcue site.
---
Brazilian Rock: A | B | C | D | E | F | G | H | I | J | K | L | M | N | O | P | Q | R | S | T | U | V | W | X, Y & Z | Compilations
---
Related Styles: Jovem Guarda | Tropicalia | Disco, Funk & Soul | Other Brazilian Styles
---

Jacildo E Seus Rapazes "Lenha-Braca E Bronca" (1964) <! or '66? >
Cooler-than-usual Beatles-era jovem guarda rock, with a distinctly rough, garage-y, surf/frat-rock feel; if other JG bands were emulating Bobby Sherman and Annette Funicello, these guys sound more like they were into the Kingsmen or the Champs. Their songs are clunky and fun; it would be nice to hear these guys collected on a set of more obscure JG bands... they seem like a very sincere, authentic expression of Brazilian fascination with American-style rock -- it's not perfect-sounding, and that's what makes it nice.
Jammil E Uma Noites -- see artist discography
Joelho De Porco "Sao Paulo 1554 - Hoje" (Crazy, 1974)


Joelho De Porco "Joelho De Porco" (Som Livre, 1978)


Joelho De Porco "Saqueando A Cidade" (Continental, 1983)


Joelho De Porco "18 Anos Sem Sucesso" (Eldorado, 1988)





<! http://cliquemusic.uol.com.br/artistas/joelho-de-porco.asp >

Joelma "Joelma" (Continental)


A pop vocalist from the jovem guarda era, Joelma Giro fit into the same mould as, perhaps, Connie Francis or Sylvie Vartan -- a reasonably perky, youthful singer who worked at the edge of outright rock'n'roll, but tapped into the teeniebopper vibe. One interesting feature is how much Italian pop she covered... One assumes she was of Italo-Brazilian heritage? Anyway, this isn't the best music of the era, but it's hardly the worst. Upbeat, fun, not cutting edge or totally rockin', but certainly worth a spin.

Joelma "Joelma Muito Mais" (Continental, 1968)


A lot of cover tunes -- including more Italian stuff -- and a lingering rock'n'roll sensibility on a tune or two. "O Mar Nao Falara" is a bouncy, fun tune, one of the standouts of her catalog, though the rest of the record is pretty syrupy.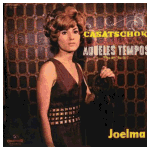 Joelma "Casatschok: Aqueles Tempos" (Continental, 1969)


The rock vibe is almost totally absent, and with more straightforward '60s pop arrangements at the fore, her limitations as a singer become more apparent... Perhaps it's just the tenor of her voice, the low register and limited dynamics, that turn me off, but I wouldn't say this is a record you have to knock yourself out to track down. But if you enjoyed The Lawrence Welk Show ages ago, and would like to hear a Brazilian equivalent, then this might be your record.
Joelma "Vitrola Digital" (Continental, 2007)

The Jordans "Serie Bis: Jovem Guarda" (EMI, 2000)

The Jordans "25 Sucessos" (2002)


Frank Jorge "Vida De Verdade" (Trama/YBrazil, 2003)



Excellent! A simple, unassuming set of contemporary melodic power-pop, sung em Portugues by songwriter Frank Jorge (formerly of the bands Cascavelettes and Graforreia Xilarmonica...) While not as bright or aggressive as some of the foundational '70s power-pop bands, such as The Romantics, Eric Carmen, et. al., this is still quite nice, even moreso since Frank sings all his lyrics in Portuguese, rather than English. (Yay.) This album is very much in keeping with the modern power-pop scene, recalling artists such as Frank Bango, The Wondermints, Pearlfishers, etc. If you like "foreign" indie rock, this is definitely an album you'll want to pick up! (PS - does anyone know if this is the same Frank Jorge who was active in the 1960s Jovem Guarda scene? Or is it just two different Brazilian rockers with the same name?)


<! other albums: "Carteira Nacional De Apaixonad" B00008O709 "Trilha do filme Houve Uma Vez Dois Ver›es" >

Jota Quest "J. Quest" (Sony/Chaos, 1996)

Jota Quest "De Volta Ao Planeta" (Sony/Chaos, 1998)



(Produced & Arranged by Jaques Morelenbaum)


Jota Quest "Oxygenio" (Sony/Chaos, 2000)


(Produced by Marcelo Susskind & Ronaldo Viana)
Sometimes jittery, often ornate alt-rock/pop. The uptempo numbers (which may have been singles) such as "Oxygenio" and "Velocidade" are too hyperactive and cluttered for me, but softer songs, like the synthy "Dias Melhores," are kinda nice. I don't really listen to this kind of mainstream pop much -- in English or in Portuguese -- and it sounds a bit too prefab for me, especially with the layered guitars, etc. But for the style, I guess this is okay. Mostly seems pretty cheesy.
Jota Quest "Discotecagem Pop Variada" (Sony, 2002)

Jota Quest "MTV Ao Vivo" (Sony, 1996)

Jota Quest "Ate Onde Vai" (Sony-BMG, 2005)

Jota Quest "Rio De Janeiro: 28/01/2005" (Sony-BMG, 2005)






<! aka "Bootleg Ao Vivo"? > <! other Jota Quest -- DVDs B0007TKHLQ "Clipes" B000NIVJ9K "Ate Onde Vai">

Jovem Braza "Samba Jovem" (RCA Victor/Vik, 1966)
This teen-oriented project included pianist Mario Castro-Neves, along with bassist Novelli as well as guitarists Chico Feitosa and Pedrinho (of the jovem guarda rock band, The Fevers), jamming together on a fusion of bossa nova and teenybopper rock... Haven't heard it, but I sure am curious!




Os Jovens "Os Jovens" (CBS, 1967)


(Produced by Jairo Pires)
These guys get name-checked in relation to Brazil's tiny garage-rock scene of the late 1960s, and are included in fine collections such as the "Hearts Of Stone" compilation. Although this album is tamer and closer to the mainstream of the "ie-ie-ie" pop, than their more raucous singles, it still shows a hipness and toughness that a lot of their JG contemporaries didn't quite have. Includes covers of Dave Clark Five and P.F. Sloan songs, as well as homegrown Brazilian rock by the likes of Renato Barros and Luiz Ayrao... Worth a spin!
Jupiter Apple "Plastic Soda" (Trama, 2000)


Jupiter Apple "Hisscivilization" (Nolandman, 2002)


Hip Brazilian indie-rock, with an icy cool, ironic attitude. I liked the first track a lot -- a fifteen minute long, Moog-drenched prog-pop jam that could be compared to the ever-dreary Stereolab, yet is redeemed through its amatuerish rough edges, and comes off a bit more krautrock-y... something that the folks from Can could be proud of. The rest of the album is okay, too, though less audacious than this opening salvo. I was disappointed, though, that the lyrics were in English, rather than Portuguese -- it would have been much more fun the other way around. (Not that it matters that much; these songs are driven more by their grooves than by the lyrics... But I still prefer hearing "foreign" pop singers performing in their native languages; it seems so much more compelling and true to one's roots, somehow...) All in all, this disc is interesting for the light it sheds on Brazil's nascent indiepop scene, and it stands on its own with the UK and European music it seeks to emulate, though it also doesn't quite set the woods on fire. I'm telling you: they shoulda sung in Portuguese!


<! Jupiter Maca in this band? Also has a solo album >

Jupiter Apple "Uma Tarde Na Fruteira" (Elefant, 2007)



(Produced by Thomas Dreher)
Far-flung, clever, eclectic, bilingual indie-pop -- this set is less groove-oriented and Stereolabby and more guitar-y, with chunky bits, psychedelic flights and spasmodic shifts galore. Os Mutantes are an obvious point of reference, since these guys are also from Brazil, but Redd Kross are another possible touchstone. Definitely worth checking out if you are interested in Brazil's teeny, off-the-radar indie scene. (PS -- I love the graphic art homage to the old Elenco label's cover art... Very groovy!)

Jupiter Apple "Jupiter Apple And Bimbo Presents Bitter" (Tratore, 2007)

Jupiter Maca "A Setima Efervescencia" (Polygram, 1996) <! label? info from AM >


(Produced by Egisto; Arranged by Marcelo Birck)
Jangly indie-rock, sung in Portuguese, with nods to music by folks such as XTC and The Buzzcocks, with plenty of Beatles-y baroque psychedelia in there as well, and lots and lots of guitar. While I can appreciate the stylistic diversity and the pioneering elements (historically, Brazil hasn't been a major hotbed of indiepop...) I have to admit I found most of this record too shrill and irritating to really get into. But if you're eager to hear the Brazilian spin on classic indiepop and power-pop music, you'll definitely want to give this one a whirl.
---
Brazilian Rock - Letter "K"
---



Other Brazilian Styles
Main Brazil Index


---