<! MP3 10/27/12 > <! pix 10/27/12 > <! icons 10/27/12 > <! UPDATES: 10/27/12 - reposted w/ adds >

---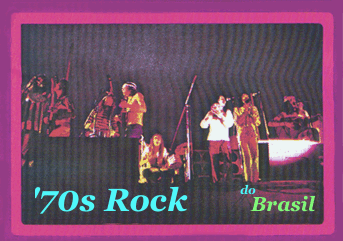 In the 1970s, Brazilian rock'n'roll followed along on several parallel paths, which only occasionally intersected. Many of the groups from the heavily commercialized, early-60s prefab jovem guarda teenybopper scene kept making albums well into the 1970s. Generally speaking, these continued along the pop cover-tunes path of their earlier work, or dipped even deeper into bland pop vocals, as with Roberto Carlos, the king of the scene. Many of the great tropicalia artists who pioneered psychedelic rock in Brazil moved on to become the superstars of the "MPB" scene, which also turned towards an increasingly-ornate pop direction; some -- like Jorge Ben -- delved into funk and soul-flavored groove music.
A handful of artists pursued (more or less) straight-ahead rock music... Many were inspired by the inroads made by the tropicalia movement, but keeping up with the times, they spun off in different directions. Ex-Mutante Rita Lee became something of a stadium rocker, and several prog bands flourished in the mid-'70s, while a few hardcore rockers and psychedelic bands also roamed the land. To be honest, I haven't heard all that many of these records... but as I check them out, I'll add my reviews to the Slipcue site.
---
Brazilian Rock: A | B | C | D | E | F | G | H | I | J | K | L | M | N | O | P | Q | R | S | T | U | V | W | X, Y & Z | Compilations
---
Related Styles: Jovem Guarda | Tropicalia | Disco, Funk & Soul | Other Brazilian Styles
---
Guilherme Lamounier - see artist discography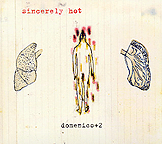 Domenico (Lancellotti) +2 "Sincerely Hot" (Pingpong, 2003)



An atypical band, seeking an atypical audience, this trio was known a year earlier as Moreno Veloso +2, gaining widespread praise in Brazil and abroad for an alluring mix of indie rock, electronica and modernized MPB. Part of their acclaim came from the presence of Moreno himself, son of the mega-superstar Caetano Veloso, who showed much of his father's adventurous musical spirit and relaxed performance style. But, having established itself as a "world music" band to content with, the Plus Twos went ahead and followed the ultrademocratic game plan they'd set out with at the start, to have each of the band members record a disc under their name... This time around, it's drummer Domenico's turn, and the shift in musical direction is quite remarkable... This album boasts a pronouncedly modern, American-style tilt towards brash, bright electronic pop and indierock motifs worthy of any critic's darling out of Seattle, Portland or Chicago. The band dips into some softer, textured melodies that borrow from the bossa nova stylebook, but for the most part the point seems to be to make sure that we can see that the kids in Brazil are keeping up with hipsters in the rest of the world. This disc may not have the same mellow, mystic allure as their debut, but it's still pretty darn good, and consistently engaging. Worth checking out! (See also: the +2 discography page.)
Domenico Lancellotti "Cine Prive" (Malintenti Dischi, 2011)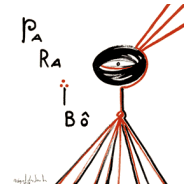 Hugo Leao Filho "Paraibo" (Shadoks, 1978/2009)


(Produced by Padua Carvalho & Hugo Leao)
A groovy, chaotic semi-psychedelic rural rock outing from a guy who was in Ze Ramalho's circle of friends, and previously played lead guitar in the early-'70s Brazilian rock band The Gentlemen... Leao was asked by poet Antonio de Padua Carvalho to help put some of his poems to music, and the result is pretty cool. This is similar to work by Lula Cortes and Ze Ramalho from around the same era, though more cohesive and listenable that Corte's albums, less interested in annoying listeners just for the sake of annoying them. A nice mix of electric and acoustic, regional and rock'nroll, with impassioned vocals that manage not to sound corny or melodramatic. Definitely worth a spin! (Originally recorded in 1978, this was reissued in 2009 by Shadoks Music.)
Rita Lee - see artist page and Os Mutantes
Legiao Urbana - see artist profile
Lenine - see artist profile
Leno / Leno & Lilian - see artist profile
Lilian / Lilian Knapp - see artist profile
Ed Lincoln - see artist discography
Arto Lindsay - see artist discography
Little Joy "Little Joy" (HPI/Rough Trade, 2005) <! is HPI a label or distributor?? >


(Produced by Noah Georgeson)
A collaboration between Rodrigo Amarante (of the Brazilian indiepop band Los Hermanos) and Fab Moretti of the Strokes, with additional vocals from Binki Shapiro... It's an English-language album, but I'll forgive Amarante... just this once!
Liverpool "Por Favor Sucesso" (Equipe, 1969)



(Reissued on CD and LP by Shadoks Music.)

Robert Livi "Serie Jovem Guarda: Apaixonado/Robert Livi" (Sony-Columbia, 2000)



A 2-CD reissue of two old jovem guarda albums, Apaixonado and Robert Livi


<! serie Jovem Guarda > <! 04/12: look up his other, later albums >


Lobao - see artist discography




Os Lobos "Miragem" (Top Tape, 1971)
A cool mix of styles - jangly pop-psyche, denser, jazzier proggish art-rock and bouncy, piano-led music-hall shuffles, reminiscent of The Kinks, with a touch of shimmering Byrds-iness in there as well. The alternating male-female vocals invite comparison to Os Mutantes... Personally, I like these guys better: their artistic output is more consistent and they seem a little less full of themselves (although there are a few similarly sluggish, spaced-out moments as well... Goes with the territory, I guess...) Overall, a great hippie-era relic! At least one bandmember, Dalto, went solo later in the 1970s...
Pedro Luis E A Parede - see artist profile

Luizinho & Seus Dinamites "Choque Que Quiema" (RCA Victor, 1964)
Twangy, surfy/garage-y rock; rough-edged stuff from the jovem guarda era. Luizihno "got" American-style rock... but just barely! Nonetheless, the shakiness of these performances is a big part of their charm... This is undeniably authentic teenster rock, with lots of energetic lead guitar work and several fun songs. Pretty cool little relic.
---
Brazilian Rock - Letter "M"
---



Other Brazilian Styles
Main Brazil Index


---